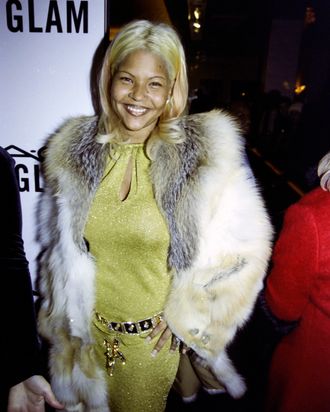 Misa Hylton
Photo: Steve Eichner/WWD/Penske Media via Getty Images
If you take a look back at the most iconic hip-hop fashion moments of all time from artists like Mary J. Blige, Lil' Kim, and Missy Elliott, you'll notice that Misa Hylton is the common thread. The stylist turned fashion architect and designer — an early pioneer of the "ghetto fabulous" aesthetic — laid the blueprint for hip-hop style and helped craft the image of its most famous faces throughout the '90s. Her résumé highlights range from creating Lil' Kim's one-sleeve lavender jumpsuit at the 1999 MTV Video Music Awards and fur-embellished bodysuit at the Source Hip-Hop Awards later that year to styling music videos for Jodeci, Foxy Brown, and Faith Evans. In a decade of minimalism and forgettable trends, Hylton's over-the-top looks — often characterized by casual streetwear pieces mixed with luxe furs, big bling, and bright colors — broke through the noise and became synonymous with hip-hop culture.
The New York native tells the Cut she's always been fascinated by the idea of shaping someone's image through fashion, hair, and makeup … yes, she was that girl in high school who made prom dresses for her classmates and did their glam better than the professionals. Hylton was essentially styling friends and family before she even knew what a stylist was. So when she got the chance to turn her passion into a legitimate career, she was ready — even though she was just 17 years old. "I was dating Puffy (Sean "Diddy" Combs) at the time. He had just gotten promoted from intern to A&R at Uptown Records, which means he was in charge of not only the sound and the production but also the looks," Hylton says.
When Combs started working with R&B quartet Jodeci, Hylton stepped in as his assistant and "right-hand" woman. Their first job together was styling Jodeci for the band's "Gotta Love" music video. At the time, R&B singers wore mostly suits and hard-bottom shoes, so getting Uptown Records music executive Andre Harrell to agree to combat boots, baggy jeans, and hoodies took some convincing. But Hylton and Combs stood behind their unconventional idea, and Harrell eventually gave in. The fresh concept was "hugely successful," Hylton says, which gave her the opportunity to work with none other than Blige, who was also signed to Uptown Records at the time.
By helping Blige transition to a more glamorous, feminine image and styling her for music videos like "You Remind Me" and "Everything," Hylton made a name for herself among industry insiders and record-label executives. She became the go-to stylist for hip-hop artists who wanted to have fun with fashion or take risks with their looks. "Even people who didn't know which direction they wanted to go in with their style — but knew they wanted to do something unique and special — would call me," she says.
And soon, she found her fashion soul mate in then up-and-coming rapper Lil' Kim. The duo made magic together throughout the late '90s — from red-carpet looks that got the whole world talking to innovative performance outfits that helped shoot the rapper to superstardom. "With the success of Mary J. Blige, I had made it, right? But when Kim came along, that took me to the next level of my career," Hylton says. "It was a level-up moment."
She's since worked with the best in the business (50 Cent, Elliott, Faith Evans, Kimora Lee Simmons, and Beyoncé), mentored top celebrity stylists (Wouri Vice, Mariel Haenn, and Marni Senofonte), and launched a nonprofit that helps make the fashion industry more accessible called the Misa Hylton Fashion Academy. Here, the self-proclaimed fashion architect reflects on pivotal moments throughout her career and her lasting impact on hip-hop culture.
Tell me more about your time spent at Uptown Records. How did that environment influence you creatively?
It changed the trajectory of my life and what I was doing. I was around all these tastemakers, taking in so much knowledge and just observing. Sean is a powerhouse and a marketing genius. He's someone who is courageous. He believes in everything he does and believes that everything is possible. Growing up, I had Russell (Simmons) and Andre and Puffy and so many other amazing people to learn from, which really gave me the confidence to create in the way that I do. I hung out with all these huge moguls, people of color who made it to this successful status in life. I got so much insight about music and fashion and culture at the highest level.
All the girls are referencing your looks these days. Who did you reference in the '90s?

I was always inspired by my environment and the people in my environment. I was inspired by the hood — the streets are the runway for me — and my heritage, my Japanese culture and Jamaican West Indian culture.
In 1997, you styled Foxy Brown for her "I'll Be" music video. What was that experience like?
The director, Brett Ratner, wanted an elevated look. That plum dress with the cutouts on the side is Norma Kamali. Jay-Z wore a Versace suit with Chanel sunglasses, which were mine. I was wearing them, and he was like, "Let me see those glasses." He put them on and loved them. They ended up being a standout piece in his look.
And how about Mary J. Blige's "Everything" music video a few months later?
We shot it in Hawaii. The looks were ethnic and sort of East Indian inspired. It just so happened that Norma Kamali had a whole collection inspired by that. So we pulled from Kamali, and I also did some custom designs. I was part of an amazing glam team made up of (makeup artist) Nzinghas, who killed it with the face gems, and (hairstylist) Dionne Alexander. We all went on to become the glam squad for Lil' Kim.
During the shoot, we were in a mix of Hunger Games and Survivor. We were on boats with sharks around us; everybody was getting seasick. We shot in a cave and then on top of mountains and cliffs, which was very dangerous. No guides or anything. It was crazy! I guess it was worth it, though, because the music video is beautiful.
Some of your most memorable looks were worn by Lil' Kim. What was the inspiration behind her "Crush on You" music video?
It was inspired by The Wiz (the 1978 musical starring Michael Jackson and Diana Ross). There were all of these different monochromatic scene changes, which I was very excited about because I love a monochromatic look. I wanted to take it to the next level, so the hair had to match the clothes. It wasn't like today, when you can buy colored hair extensions anywhere. So I had to go to a costume store on 14th Street and buy a blue wig, a yellow wig, and a green wig.
The great thing about that moment was that she crossed over to MTV, which was a huge deal at that time. Not many female rappers, Black artists, or hip-hop artists crossed over. But when you did, you made it. So because of that video and the creativity of it — people had never seen anything like that before — along with all of her talent, it was the perfect recipe for success. She was a game changer. And from there, it went up and up and up. We had no idea the fashion heights we would reach together.
And we can't talk about Lil' Kim without talking about the purple pastie heard round the world. Were you trying to make history with that look, or were you just having fun with fashion?
No, we were just having fun with it. We had no idea the impact that look would have. This is before social media and before a lot of outside opinions. So we really got to cook up our ideas and create special moments without anyone else's influence. We just loved the look. And if we loved it, that's what mattered.
Did you realize you had done something special when she hit the red carpet? When did it sink in?
We were so in the moment; I don't know if I had time to take it all in. After the show, we went straight from the venue to some club, where we shot the "Quiet Storm" music video. My mind was on the video. We shot all night long. I didn't know everyone was in a frenzy over this look until the next morning when we finally came up for air. Remember, there was no social media. I called my mom, and she was like, "Do you know your look for Lil' Kim is everywhere? It's all over the news this morning, every show is talking about it." She said, "I'm surprised you would create something like that with the breast out … but I love it!"
You recently styled City Girls for their "Twerkulator" music video. I'm curious if your approach has changed over the years, knowing that music-video looks essentially live on the internet these days. There is somewhat of an incentive to create fashion moments that will go viral. Does that impact your decisions as a stylist?

No, I don't think about wanting to create looks that will go viral … they just do.
Legendary quote! I'm obsessed.
Haha, I don't think that way, though. I'm not thinking backward. If I'm thinking, We got to do something that's going to go viral, I've already lost. The way I create, the energy I create, is authentic. It's about connecting with the client, understanding the goals of the label and the artist, taking it all in.
It's co-creation, so understanding who the talent is, what they like, and what makes them feel alive. It's taking in all that information and creating something that I think is really beautiful, dope, fly, or amazing for the artist. That's the way I've always created, and the way I will continue to create. So I'll continue to go viral.
In recent years, stylists have talked openly about racism in the fashion industry, especially when it comes to pulling from luxury fashion houses. Did you experience that as a Black stylist dressing Black celebrities?
Absolutely. Early on, when I was first starting, it was very difficult to form relationships with luxury fashion brands. They saw no value in working with us. The designers and fashion houses that helped me at that time were 5001 Flavors, April Walker, and Girbaud.
Fast-forward to now, and Black people are the ones always moving the needle. We're the ones who come with so much style and so much swagger and so much energy that you can't deny it. Hip-hop culture has always been about authenticity and living outside the box — whether it's through music, art, or fashion — and it's exciting. I really feel like hip-hop and Black fashion are keeping the fashion industry alive right now.
As someone who helped introduce streetwear to the fashion world, how do you feel about luxury brands taking inspiration from it?
I didn't do it for credit; I did it because I love what I do. However, you don't want somebody else to get your credit when you've done something, you know what I mean? I've been able to be recognized through different opportunities, like The Remix (a 2019 documentary detailing hip-hop's impact on the fashion industry, also staring Mary J. Blige and Dapper Dan) and media articles like this one. And I'm cool with that.
But I think it's terribly unfortunate that there are so many other great people who have not been recognized, and some who may never be recognized. That's why I'm always going to mention people who are still powerfully representing hip-hop and Black fashion, while creating some of the most standout looks to date.
What has changed the most about hip-hop style in the past few decades? What has stayed the same?
Hip-hop style continues to evolve because it's rooted in reflecting where we are in the world and what's going on around us at any given time. But core elements remain the same. If you go back to the '80s and '90s, it was all about whose chain could hang the longest. Whereas now, we still have the chain but it's evolved into a choker style. Door-knocker earrings as well. It's still the same style but with a modern twist. The same earrings I wished I could get as a preteen and were able to get as an adult are still so very special to all of us to this day. I could go on and on! Simple hoops, for example. If you don't have a pair of simple hoops, I don't know what you're doing. You've got to have a pair of simple hoops. That's a staple for sure.
The elements are still there. It's about the details: the sneakers, the jewelry. It's about swagger. It's about color. It's about representing where you're from. All the things that make hip-hop ghetto fabulous and authentic, that's the energy and it's always going to be there.
Misa Hylton Is (Still) the Blueprint