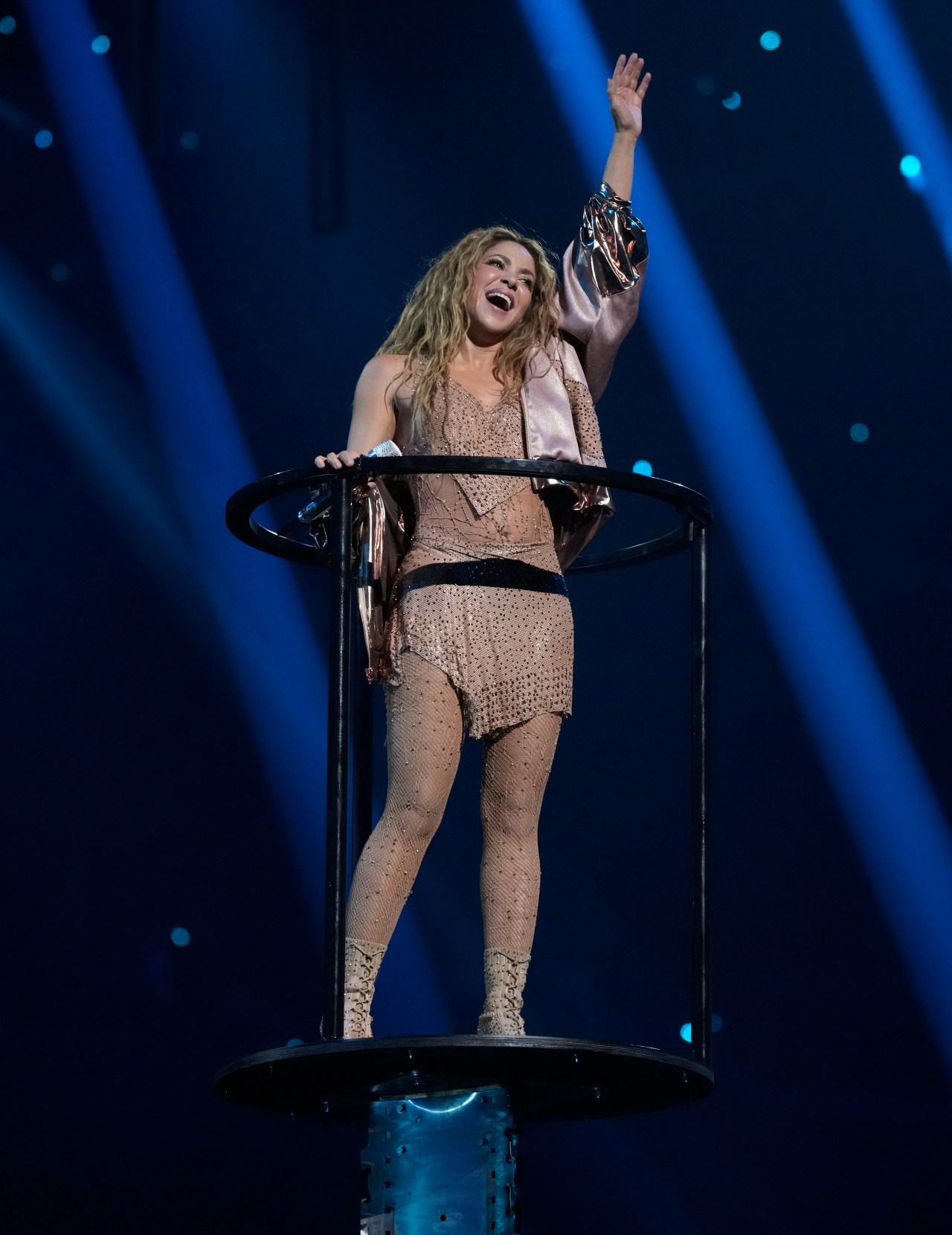 At the 2023 MTV Video Music Awards, surprises were many — emcee Nicki Minaj performed her latest single, the dreamy "Last Time I Saw You" before jumping into a brand-new tease of a fiery new trap cut from her highly-anticipated "Pink Friday 2" album.
"I ain't nothing like you," she raps, "I'm on a whole other level."
That wasn't the only unexpected news: Within the first half-hour, the boy band NSYNC reunited on stage to present the first award for best pop video, which went to Taylor Swift.
In coordinating suits, Justin Timberlake, Joey Fatone, Lance Bass, Chris Kirkpatrick and JC Chasez shared the stage with Swift. Bass handed Swift a friendship bracelet just as fans do at the superstar's shows. "You're pop personified," she told the group.
She later returned to the stage at the Prudential Center in Newark, New Jersey, to pick up the song of the year trophy for "Anti-Hero."
Shakira received the Video Vanguard Award and performed an incredible bilingual medley of her decades of hits — "She Wolf," her collaboration with Rauw Alejandro "Te Felicito," the viral, record-breaking "Shakira: Bzrp Music Sessions, Vol. 53" with Bizarrap among them — in a set introduced by her "Hips Don't Lie" collaborator Wyclef Jean.
"MTV Thank you for being such a big part of my career since I was only 18 years old," Shakira said, also thanking her parents and her children, who she brought to the show.
"Especially, I want to share this award with my fans who always, always support me through thick and thin. Thank you so much for being my army and help me fight all my battles," she said before switching to Spanish. "This is for you my people, my Latin American people, inside and outside this country. Thank you for inspiring me and for injecting me with so much strength and so much desire to move forward, I love you so much."
Diddy received the Global Icon Award from Mary J. Blige and his daughter Chance Combs. He is third recipient of the award, following the Red Hot Chili Peppers in 2022 and the Foo Fighters in 2021.
The legendary rapper also performed at the VMAs for the first time since 2005. It was an incredible collection of some of his biggest hits like "Bad Boy for Life" and "Mo Money Mo Problems," joined by some of his greatest collaborators: Yung Miami, Keyshia Cole, and sweetest of all, his son, King Combs.
"Love wins, y'all, love wins," he started his speech. "I started out as a paper boy, I didn't know I was going to be here." He then led the audience with a chant of "bad boy."
"This is for 30 years," he continued. "I pray to God that you get to do what you love for 30 years."
Lil Wayne opened the show for a performance of his new single "Kat Food." Immediately afterward, Olivia Rodrigo brought her "Vampire" music video set to the stage, before launching into her cheeky pop-punk single "Get Him Back!"
Between the two tracks, snippets of her sold singles played aloud – at the same moment, she was rushed from the staged in a pre-planned "malfunction," further mirroring the "Vampire" video and symbolizing a move from her first record to her second.
The live sets were many: Cardi B and Megan Thee Stallion brought "Bongos" to life with big choreography; Demi Lovato played a rock 'n' roll medley of her biggest hits: "Heart Attack," into "Sorry Not Sorry," "Cool for the Summer" before the best K-pop award was given to Stray Kids.
Later, Anitta would win "Best Latin," delivering one of the more endearing acceptance speeches of the night — "I wanna thank myself," she laughed. "Because I work so hard!"
Doja Cat played a medley of new songs from her forthcoming album, "Scarlet", which takes aim at fame and the parasocial relationships it inspires — "Attention, "Paint the Two Red," and "Demons" — surrounded by dancers painted red.
French Montana used his position as best R&B presenter alongside Ashanti to draw attention to Morocco earthquake relief, spotlighting a relief fund that he said he would personally donate to. Montana grew up in Morocco before moving to the United States.
For the first time, only women are nominated in the show's artist of the year category. Swift, Beyoncé, Doja Cat, Nicki Minaj, Karol G and Shakira are contenders for the night's prize. Swift is the top nominated artist of the evening.
The show is packed with stars, with Rodrigo, Cardi B, Offset, Megan Thee Stallion, Haddish and Karol G among the attendees. On the red carpet, country singer Kelsea Ballerini and "Outer Banks" actor Chase Stokes matched in red outfits, making their relationship red carpet official.
The show will also celebrate 50 years of hip-hop with a star-studded, multi-generational finale performance: DMC, Doug E. Fresh, Grandmaster Flash and the Furious Five, LL Cool J and Minaj will join forces.
Swift's 11 nominations include seven for her "Anti-Hero" music video. She's followed by SZA with eight. Swift currently has 14 VMAs to her name, placing her behind Beyoncé, who has 28 (including two with Destiny's Child), Madonna, who has 20 awards, and Lady Gaga, who has 19.