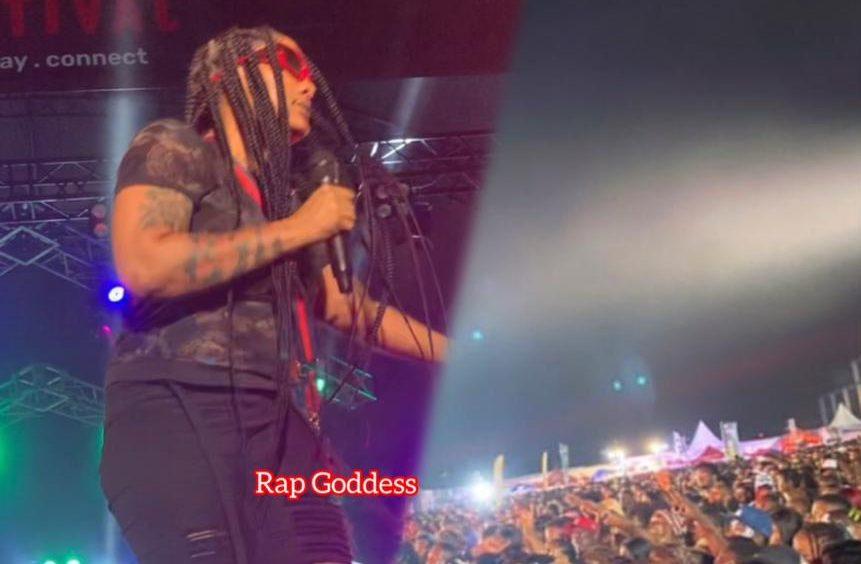 Rap Goddess who is legally known as Maureen James is undoubtedly the best and most beautiful female rapper in Nigeria. Rap Goddess is known for her unique vibes and energy on stage, she's considered the best female rapper and performer in the Nigerian music industry, having shut down several shows and stadiums with her unreleased track titled "Love Sick" a hip-hop rap song that is particularly inspired by the life experience of disappointment and relating to men who cheats on their loyal girlfriends. 
The over thirty thousand strong crowd at the recent Bole Festival was trailed by her melodic rap song, 'Love Sick', screaming and shouting out loud 'I love you', to her.
Rap Goddess is no longer unfamiliar as she's the founder/CEO of RG Entertainment. She has been consistently active for over a decade and is known as the hottest Nigerian female hip-hop pioneer and a social media star.
Rapper, Rap Goddess is loved and supported by Nigerian male celebrities especially legendary rappers, as they have constantly shown support towards her yearly concert "Easter Rap Fiesta" a yearly hip-hop show featuring A-list Nigerian rappers.
Rap Goddess has over 2 million views on most of her Instagram posts and lots of engagements due to her street credibility. 
She said she is focused on putting out evergreen music and is currently working on putting out an EP.