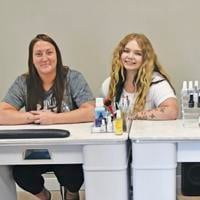 Chetek is welcoming the opening of another local business! Mystic Nail Studio is a full service nail salon offering its services by appointment to the area. The salon had its soft opening Monday, Aug. 28, and has a grand opening celebration scheduled for Sunday, Sept. 10, from 11 a.m. to 2 p.m. The event will have refreshments and prize drawings.
Erica Burri, owner of Serenity Studio Tanning Salon in Chetek, graduated from Chippewa Valley Technical College in May and is now a certified nail technician. Wishing to offer the best in availability and services to clients, Burri has hired Keery Summerlin to assist in the day-to-day operations and services as the Mystic Nail Studio Manager. Burri and Summerlin were in the same class at Chippewa Valley Tech College, "She and I hit it off, and I knew I was going to need an extra set of hands at the nail studio, and she is a great nail tech," Burri said. "I'm really excited to start this journey with Erica and offer Chetek and the surrounding area a great nail salon experience," Summerlin concluded.
The nail salon operates within the same building as the tanning studio but its clients will access the nail studio via the side door on the building.
The studio consists of three nail desks and three massage pedicure chairs.
Clients will have more than 240 colors and shades to choose from for gel, lacquer and acrylic nail polish.
The studio offers gel polish pedicures and manicures, regular polish manicures and pedicures and nail art.
Burri noted that the salon is offering special VIP packages for children that include a complimentary glass of sparkling juice while adults 21 and over are offered a complimentary glass of wine while being pampered.
The nail studio has a refer a friend program and loyalty cards for clients. Mystic Nail Studio will have specials to coincide with the holidays, including Halloween, Easter and Christmas.
Mystic Nail Studio, located at 210 Second Street, offers nail services by appointment Monday through Friday and has availability on Saturdays and Sundays for those with busy schedules during the week. Give Burri and Summerlin a call at 715-931-0389 to schedule an appointment or visit the Vagaro booking website at www.vagaro.com/mysticnailstudio to make an appointment.
Mystic Nail Studio accepts payment by credit card, cash, Venmo and Paypal. There is a fee if using a card to pay for services at the studio, but Burri has an ATM on site for clients who would prefer to avoid the extra charge.
Check out the Mystic Nail Studio Facebook page for updates, specials, and pricing.