SPOILER ALERT: This interview contains spoilers for Episode 7 of "The Real Housewives of New York City" Season 14 now streaming on Peacock TV and airing on Bravo TV.
Jessel Taank of "The Real Housewives of New York City" is calmly waiting in the reception area of PMC's New York headquarters Accompanying her is her mother, Nilam, who is visiting from London, and Taank's patience stands in contrast to how the internet has painted her. Through seven episodes of the new season, among the show's ardent fandom, she's the "Real Housewives" cast member audiences love to hate, and has been called both "entitled" and a "princess."
Dressed in an oversized, immaculately crisp white button-down that doubles as a dress by Jill Sander, daringly, Taank sips a hot coffee. "You can't see the makeup on the collar," she says.
For much of this rebooted season, in which Bravo introduced a brand-new cast to "The Real Housewives of New York City," Taank has been the show's villain. She has been called "spoiled" for her reaction to Jenna Lyons' giving her (and the other members of the cast) a lingerie set that in her view made Taank look, as she complained on camera, "like a Christmas tree." Erin Lichy called her a "lunatic" on camera after their coffee date — an attempt to reconcile — ended with them more at odds than ever.
Even former "Real Housewives of Beverly Hills" star Brandi Glanville weighed in on Taank's marriage to husband Pavit Randhawa. During her "Unfiltered" podcast, Glanville called Taank's comments toward him "condescending and emasculating."
Taank is unphased, yet this most recent episode may add a new layer to her on-screen persona. She has been openly sharing her fertility journey on camera for a reason, which is to buck the taboos behind Indian and Asian culture about how to have children. Her twins were conceived via IVF after five treatment cycles, and she wants more conversations around these issues.
This week, audiences get to see a raw and emotional side of Taank as she finally opens up to her mother to reveal this secret. In a tearful exchange, Taank, who calls her mother her best friend, tells her the twins were conceived through IVF and delves into why she'd kept that from her.
And of course, being "Real Housewives," there's also drama, as Brynn Whitfield is confronted by Lichy for flirting with her husband, Abe, during their vow renewal ceremony. Taank is literally seated in the middle of them, as they all make Christmas wreaths.
At our office, Taank is in a jolly mood, cracking only once as she talks about what it means to her to finally share her IVF journey. In this interview, she discusses being the season's villain, a scene with Lyons that didn't air, sharing her IVF secret with her mother — and her husband Pavit's newfound popularity.
As Brits, we don't talk about anything, and as Asians, we don't either. So in the scene when you finally tell your mom that the twins were conceived through IVF, what did that mean to you to be able to tell her?
It was really important for me. There's a lot of opinion about why would I do this on a national TV show. There was a very clear reason, because of what you just said — no one talks about it in our culture. I went through it alone, and I think that there are so many women who are isolated and feel very alone going through it. I wanted to give them a reason not to feel alone.
At one point, you say gossip-spreading within Asian culture is "Fucked up." Can you talk about that?
In Indian culture, they want us to harp on the negatives. I get it if it's every culture. I didn't want anyone to take it, and have them talk about it — because you know that inherently what's going to happen.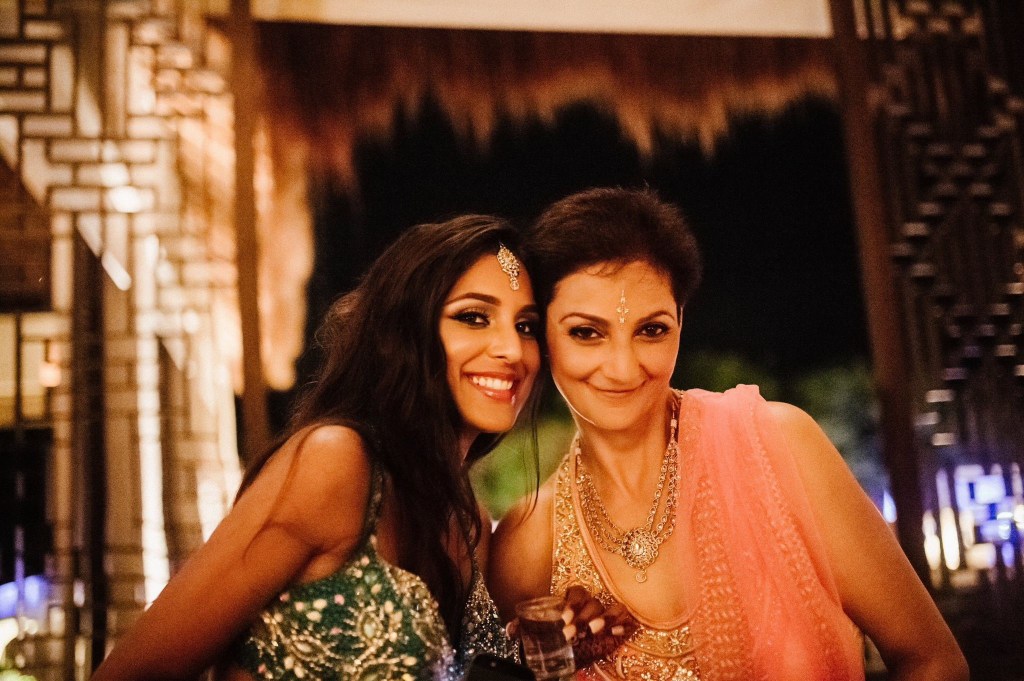 What has it been like for you to give yourself to the world in this way?
I'm doing the best I can. The first two or three episodes I shared a lot, and there wer not-so-great conversations happening about our marriage and how I am. I surround myself with such positive energy and positive vibes that to be exposed to all of this gossip and not-so-great opinions was tough. I could have very easily come in there and said, "I'm great. My family is great. My kids are great, and I have this great life." But it's not true.
Don't get me wrong, things are great — but it's not perfect. I think in the media or on Instagram, and even on my Instagram, you see this perfectly curated page with pictures, outfits, families and vacations. I think it was important for me to go behind that.
What was it like being caught between Erin and Brynn as Erin called Brynn out for flirting with Abe at the wreath-making?
I was at the wrong place at the wrong time. I should have been with Pavit at the bar.
I could see both sides of the story, but ultimately I knew Brynn was 100% joking and didn't mean anything. Erin's husband, Abe, was laughing during the whole interaction, so I didn't feel like he needed saving. Because believe me, I would have stepped in if there was even a slight sense that this wasn't pure banter.
What did Pavit think of you asking Jenna to be in a threesome?
Pavit adores Jenna — he would probably kick me to the curb, and nerd out with her on all things business.
So, one reason I was Team Jessel right away was because you're British and maybe you're just being sarcastic and dry. But Americans aren't getting this. Did you find that?
There was a big cultural disconnect. I feel like I've lived in the United States long enough, but I'm still very sarcastic and dry. Things I find funny and dry, people don't, and I'm like "Wait a minute!" That scene in the first episode where I'm cleaning the table and telling Pavit and my mom, "This place is a mess," people were commenting she needs a divorce. Look at the way she talks to her husband and her mom. It's the delivery and tone and how you sound. If someone raised in the States said that, I think people would be easier on them.
Are you misunderstood because of that disconnect?
Very much yes. I'm also just quirky as a person. I think Jenna says it. There is no malintent with anything I say, ever. Half the time, I feel like I'm laughing and joking and I have a playful tone, but people didn't tap into that for some reason. They thought I was being contrived, or whatever it may be. No. It's just sarcasm.
What's it been like for you seeing everybody fall in love with your husband Pavit?
I'm not surprised, put it that way. I think it's very easy to love him. He's the funniest guy in the room at any given time, and he is the life of the party. He's someone who's quietly confident — and he's not the loudest, but once you get to know him, you are addicted to being around his personality.
He's very unaware of how funny he is, and that comes from him being so quick to the punch. Before we started filming, I told him, "People will probably love you more than they love me." Which is exactly what is happening.
Is there a scene that's been cut from the first seven episodes where you're like, "Oh, I wish they had left that in?"
People ask me what's the hardest thing, and watching this back, I know the sequence of things that happened and whole scenes get cut out, and you're like, "Wait, that doesn't happen, and that doesn't make sense anymore."
The one scene I wish people had seen is me apologizing to Jenna. I did it the night of the sushi dinner when we were sitting around the table. I had bought her a thank you card and had written a soliloquy, a beautiful letter because I felt really bad about my reaction to it. That's not something that I would do, necessarily, but we were all joking about lingerie. I don't think I put myself in her shoes in a way that I should have — I gave her my note, and I said I'm sorry. It was this really nice scene.
Going back, how has the response been from the Indian community?
98% of the Indian community has been so supportive. They're so proud and so excited. A lot of my close friends or even acquaintances are like, "If anyone is going to do this, it should be you." And there's the two percent that are very judgy, and saying, "Why are they talking about that on TV?"
Purposely, I wanted to open that narrative up. In doing so, I've received an overwhelming amount of messages from girls who are going through IVF, and hiding it from their parents. And friends who ask me, "What vitamins did I take?" but also ask me not to say anything to anyone else.
Take us back to your journey moving here from the U.K.
I didn't have this extravagant, lavish life in London. It's because of my mom's brothers that I'm here. They lived in council housing, and left when they were 18 years old. He worked really hard, and became a hugely successful photographer. That was a big inspiration for me. I thought if he could do it, so could I. So, I went to live with my uncles. It was supposed to be for two weeks.
You know, I say the word "immigrant" and people were confused, but coming from England, you're moving to another country. That's what immigration is.
I had to work my way to the top. I did unpaid internships. I had to beg companies to sponsor my visas. I remember I had to come home back to England, and it was easy to fall back into it and stay, but I kept on because I was determined. But it was tough.
You moved around for a bit, living in Los Angeles, and then back to New York. What ended up drawing you back here in recent years?
New York is where I started my career, my marriage and my life in America. It's always been home to me. After the boys were born when Pavit and I were living in L.A, we really felt pulled back to the city where we met, and lived for nearly a decade. Not to mention, my mom often comes to help with the kids when Pavit's traveling back and forth to Dallas for work, and she definitely prefers a six-hour flight over a 12-hour one.
So, have you found a preschool for the kids?
We just got their first assignment and we're really excited.
How are you going to feel once they're out of the house?
I'm popping bottles. It's so funny, because I may say that now, but I think it's going to be tough.
What have you learned about yourself being on the show?
I think watching yourself back is always very hard. There were like moments where I was like, "Oh my God, please delete that." But I think it's the best learning to see how you are, how people perceive you and what you can do better to receive compliments or criticism.
You have your PR company, The Know. How is that going?
It's going great. After having the twins. I worked so hard to get my career up and running. And then you have kids, and it was, do I continue to work 12 hours a day and not be present for them, or do I take a step back and be more present, and be a mother and do it on my own terms?
I want to take a step back and help the female entrepreneur or designer who doesn't necessarily have the means to pay for a big agency. And based on that, I've built this network of people who can come to me with launches to help their profiles.
So, who are some of your favorite designers?
I feel there's a big wave of women designers coming out of the gate. On the show, I wear Sally LaPointe 90% of the time. She is so smart. If you go to her website, it's organized by color which I think is genius. If you need a black dress, everything is black. I love designers, like Ronny Kobo who create for versatility so if you're working and then have to go to dinner. I love what Altuzarra is doing. There are a number of Indian designers who I love.
I'm launching Oushq, a platform for South Asian clothing that is bringing Indian designers together. They don't have the means to market themselves in the US and give them a platform.
What can we expect from the rest of the season?
The show hasn't overwhelmed you with who we are off the bat. I think everyone's story is slowly trickling out. You see Jenna being this career woman, but you'll see more of her personal life start to come out, because everyone is very curious about Jenna Lyons. Same with Ubah and Sai.
But we all have our moments, and I think it helps put into context who we are as women.
This interview has been edited and condensed.