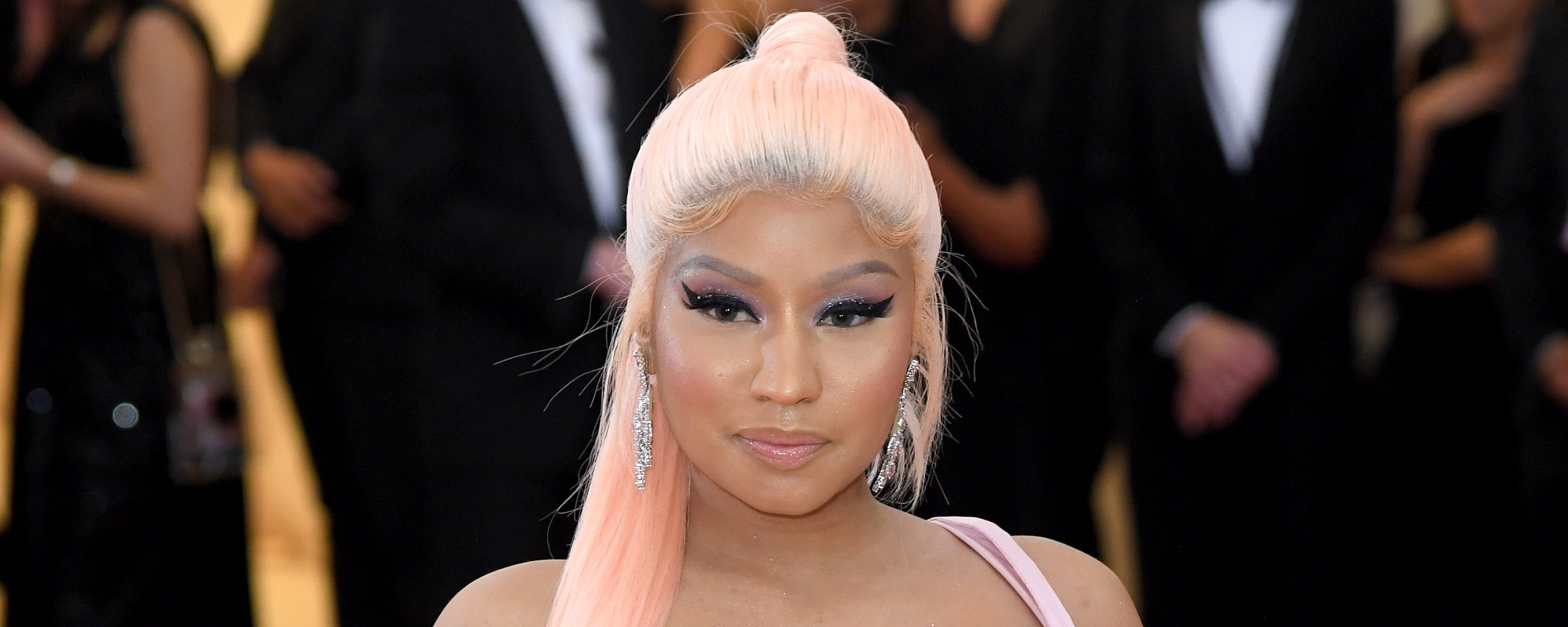 We are now just over two months away from the November 17 release of Nicki Minaj's fifth studio album Pink Friday 2, a sequel to her 2010 debut LP. As she continues to slowly reveal information about the project, Minaj has now given her fans a look at the cover art for Pink Friday 2, which she posted to Instagram on Monday night (September 4).
Videos by American Songwriter
Draped in a garment made by Vetements, Minaj's elegant artwork for the album sees her riding a mystical train above a utopian society. Noting that this is one of two covers she plans to use for the project, Minaj thanked make-up artist Pat McGrath for providing creative direction for the photo shoot, as Vogue has noted that McGrath is "the most influential makeup artist in the world."
Monday's cover art reveal came just three days after the 40-year-old singer-rapper released "Last Time I Saw You," the third promotional single for Pink Friday 2. Spearheaded by her soft-spoken, melodic singing and aided by sleek raps in the verses, "Last Time I Saw You" is another excellent step in the right direction for the album, which will be Minaj's first since 2018.
"I can't thank you enough for your love and continued support," Minaj wrote in a note to her fans accompanying the song's arrival. "I have not been excited about the release of a song to this extent for maybe… I don't know I can't even tell you, I don't even remember when! I hope that it's therapeutic for you. I hope that even after, it makes you reflect and that if you are reflecting on a time, or a person that you wish you could go back in time and have a do over etc… I hope that you are still able to smile at the end of the song by realizing that you now have a chance to treat the people that you love, that are still in your life the way that expresses to them what they mean to you."
[RELATED: Nicki Minaj Urges Drake to Release 'For All The Dogs']
Now with three singles under her belt and the cover art squared away, it's uncertain if Minaj has any more tricks up her sleeve between now and the LP's release. However, she continues to hammer away at the idea that this will be the most precious and impressive full-length effort in all of music this year, as she looks to reclaim her throne atop the female hip-hop landscape.
"Just know that 'Pink Friday 2' is going to be the best album thats been released in years!!! LOVE YOU," she added in the aforementioned note.
Photo by Karwai Tang/Getty Images