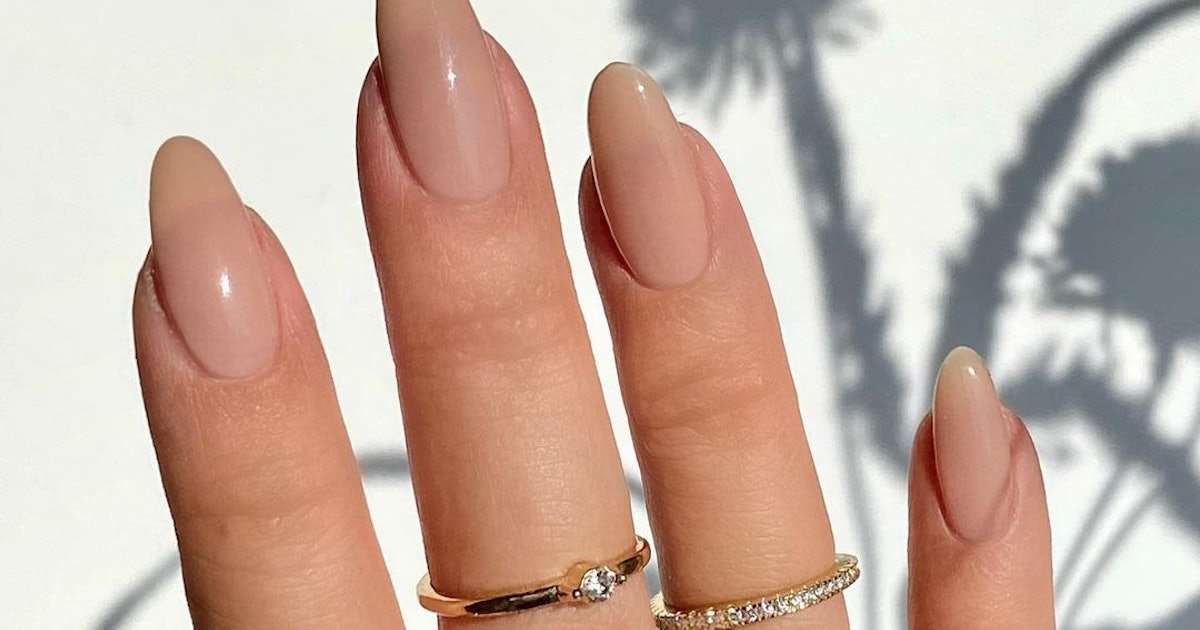 Fact: When fall rolls around, moody shades often become the go-to choices for manicures. Maybe it's the eagerness to usher in the beloved season or simply the desire to leave bright citrus and neon pink polishes in the dust. Regardless of the reason, the shift to simpler color palettes, like nude for example, is just as optimal. To be fair, the neutral shade is a staple nail color year-round. However, come autumn, variations of the hue can be even more alluring. This season, the best nude nails include a range of options that embrace artistic designs and viral trends like half-moons and ombré effects.
Now, that's not to say that a solid coat of polish is completely out of the question. If you consider yourself a minimalist or prefer to keep your nails more quiet luxury than art deco, you still have options. Given that nude refers to varied tones, you can easily mix and match shades to create a tonal manicure or lean into glossy and matte finishes to change things up ever so slightly. The nearly naked look is also a top choice, not to mention, an unexpected way to wear nude this fall.
With such diverse offerings that flatter any and every complexion, it's easy to see why this shade continues to prevail for autumn. Ahead, 10 fresh nude nail ideas to inspire your post-Labor Day manicure.
Touch Of Sparkle
Nearly naked nails are an elegant accessory to any outfit in your closet. This fall, why not add a touch of shimmer to your polish to give them a subtle gleaming look? Whether you opt for a pinky nude polish or something a little more neutral, a small dose of sparkle will go a long way in making your manicure stand out.
Chrome Dipped
Contrary to popular belief, nude does not have to be boring and bland. To update a basic natural manicure try adding in some drizzles of gold chrome polish that lend a cool look. The gilded color and melted effect will easily shift your set from simple to edgy without missing a beat.
Milky Half-Moons
Accentuating the natural lunula portion of your nail is a unique way to rock the trendy half-moon design that took over Instagram this summer. Using a sheer milky nude shade simply coat your nail from base to tip then add a dap of extra polish around the curved moon-shaped base.
Contrasting French Manicure
There are tons of ways to modernize a classic French Manicure, but this update with seasonal colors is one of the most refreshing. The contrast between the differing finishes is what sets the look apart from the sea of standard manicures. Once you've mattified your base polish, use a glossy top coat to create the French tip. The result is a chic and dignified way to spice up the traditional design.
Nude Aura Nails
Though aura nails typically utilize bold colors like blue, yellow, or purple, the design has a toned-down approach when done with nudes, ideal for the chilly months ahead. Even better? Thanks to the neutral palette, this trendy design looks just as good on short nails as it does on longer lengths.
Lipgloss Nails
Lipgloss nails are still going strong for autumn and the shiny finish is particularly stylish when paired with a simple nude-colored polish. For the most natural look, have the manicurists shape your nails into a round or oval shape before applying several coats of sheer polish. Last but certainly not least, add a layer of high-shine top coat for maximum gloss appeal.
Double Ombré French Manicure
You've probably seen more than a few versions of this captivating design on your FYP as of late. This version blends variations of nudes with caramel and cream hues to create an enticing design that's perfect for fall. Since this design depends on length and surface area, choosing a long square or coffin-shaped extension will be best for bringing the illusion appearance to life.
Beige
Of the many hues that make up the spectrum of nude, beige is one of the most compelling for fall. Instead of a rich clay-like color, it has soft tan undertones that relay an earthy autumn vibe. The key to nailing (no pun intended) this color, lies in choosing a shade that best complements your skin tone. Luckily, the gamut of options is vast, making the task and the look even easier to achieve.
Diamond Studded
Whether worn around your neck or in your hair, diamonds are never a bad idea. That same sentiment rings true for nail art. On a base of nude polish, scattered rhinestones are one of the quickest ways to zhuzh up an old manicure. While you can decorate any nail size or shape, a medium-length almond nail will look refined and natural.
Vanilla Nude Ombré
It's no secret that nude and cream colors blend well together. But if it's proof you need, then look no further than this beautifully blended set. The dreamy nail look features a gradient of pinky nude polish at the base and a soft cloudy white that extends throughout the tip. With a merge of natural colors, this ombré design is the perfect way to elevate a simple solid nude look.