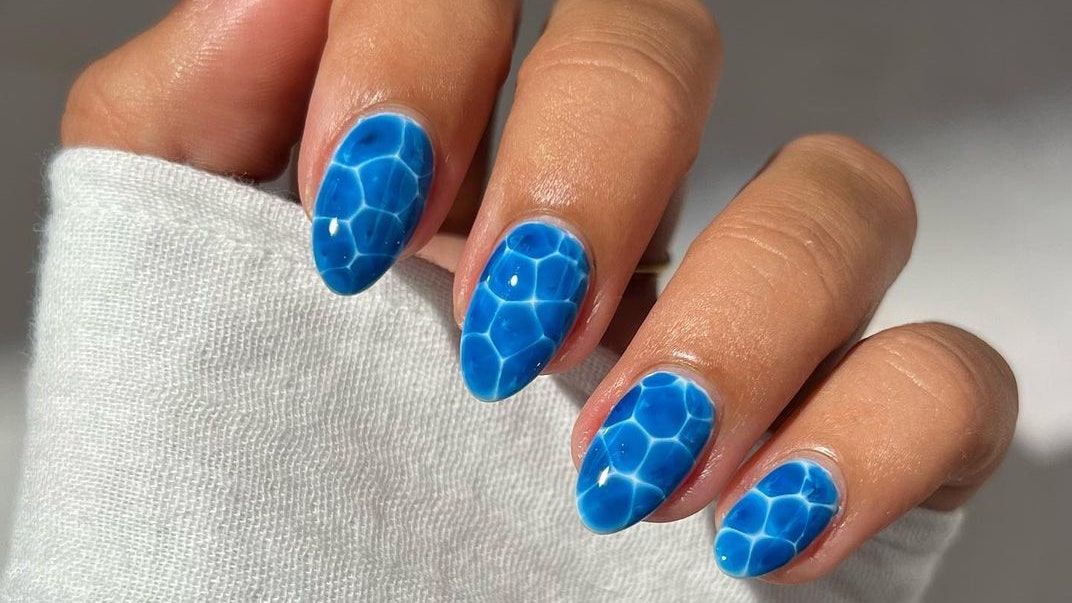 Nguyen recommends creating this design with gel nails, which can be a bit easier since you're able to cure the polish and don't have to wait for it to dry in between steps. Plus, the blooming gel helps to create the wavy water effect. 
Step 1: Paint one coat of an off-white color. 
Step 2: Cure coat.
Step 3: Paint one coat of blooming gel, but don't cure.
Step 4: Use a dotting tool to dot the nail with the blue color of your choice. The blooming gel will help dilute and spread the color.
Step 5: Once colors are properly bloomed, cure coat.
Step 6: Paint top coat and cure.
If you're looking for more of a textured water drop instead of the pool design, that would require "a builder gel to create the shape of water droplets using a dotting tool," explains Nguyen. "This can be a bit of trial and error and takes a steady hand."
Nguyen says that she especially loves the design on almond-shaped nails. You don't have to have super long nails to rock this trend, but it is nice to have a little more room to get the design just right. 
Ready to dive in? Ahead, pool nails inspiration for your summertime mani. 
Deep End
Pool Nail Tips
Pool Floaties
Water Droplets
French with Flowers
Octopus Nails
Mismatched Pool Nails
Koi Nails
Multicolored Pool Nails
Accent Pool Nail
Watercolor
Nautical
Surfs Up
---