Editor's Note: Delving into the archives of pop culture history, "Remember When?" is a CNN Style series offering a nostalgic look at the celebrity outfits that defined their eras.
(CNN) — Upon reflection, the odd couple sensibilities that captivated viewers of "The Fresh Prince of Bel-Air" were in place even before the cameras started rolling. The perfectly mismatched casting of Will Smith, then known as one half of a successful rap duo hailing from West Philadelphia, and James Avery, a classically trained Shakespearean actor, as nephew and uncle respectively made for a hilarious, if at times uneven, pairing in the early seasons of the show.
There was nothing on air at the time quite like "The Fresh Prince." The NBC sitcom told the story of a fictionalized version of Smith, a troubled teen who moves to California to live with wealthy relatives after getting into a gang fight in his hometown. Smith, and his character (also named Will Smith), hailed from the insurgent hip-hop generation whose bombastic music and style had created a burgeoning cultural movement in the United States. Avery as Philip Banks (or Uncle Phil), in contrast, represented the post-Civil Rights class of professional Black Americans who had come to harness their rage through more 'respectable' vehicles.
"It was the perfect storm, because the idea of showing urban youth on television was still quite a bit of a novelty," said Elena Romero, co-curator of the exhibition "Fresh Fly Fabulous: 50 Years of Hip Hop Style," on display earlier this year at the Museum at FIT at the Fashion Institute of Technology in New York.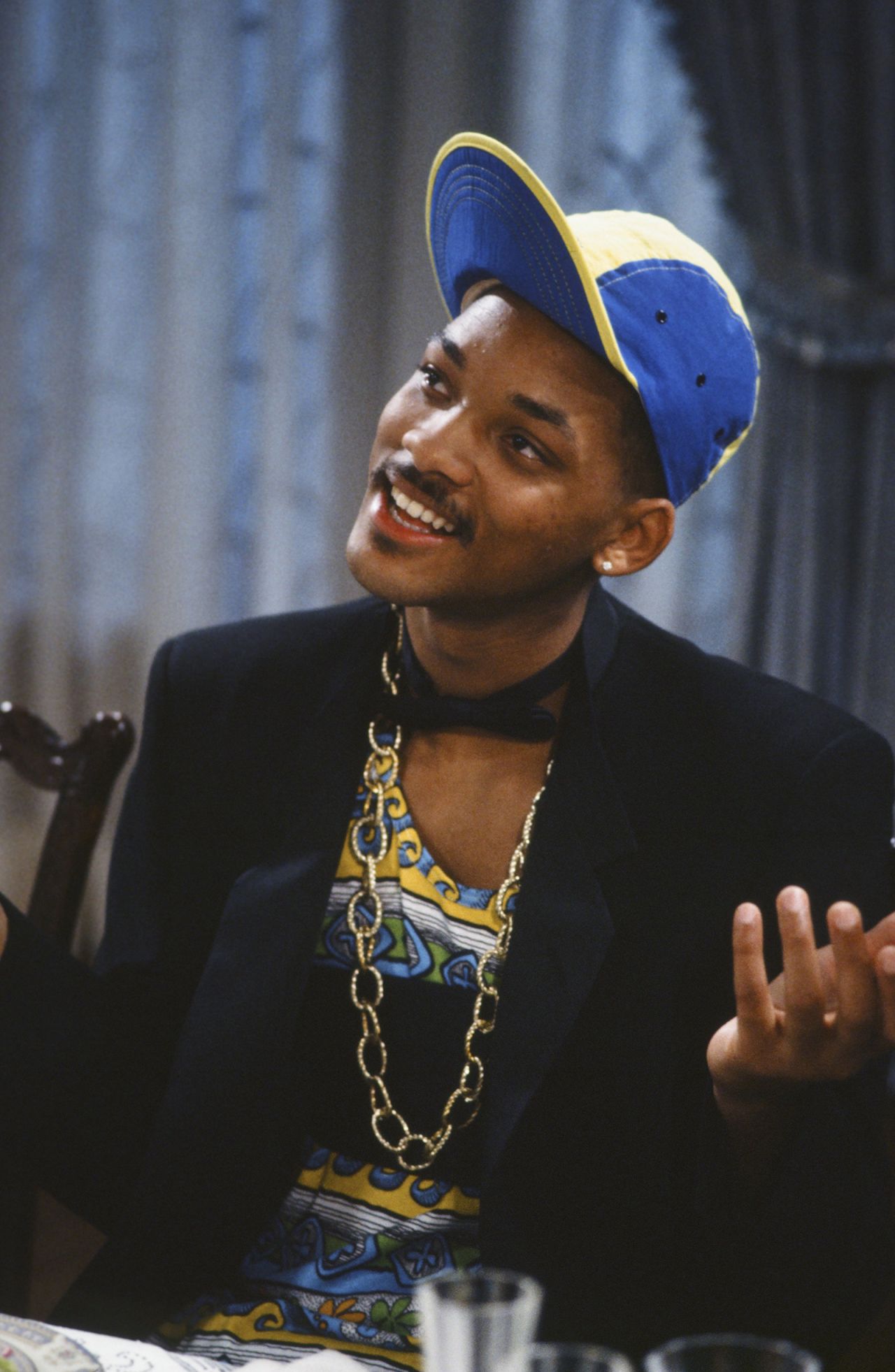 During the show's run, fashion played a key role in how both sought to be perceived by the world — and each other, serving as a rich visual representation of their generational and social clashes.
In the pilot episode, Smith takes the formalwear given to him by his Uncle and reframes its messaging: wearing a printed crew neck shirt in place of a white button down, his tie around his neck like a scarf coupled with a thick gold chain, and a blue and lime green fitted cap on his head In subsequent episodes, he could be seen donning the typical uniform of the street kids of the late 80s, clothes popularized by rappers like Run DMC, LL Cool J, and the Fresh Prince himself: colorful, baggy, ill-fitting clothes, tracksuits, sneakers and even crop tops, a style choice the real Smith would cringe over in recent years.
Uncle Phil, conversely, stuck closely to upper middle-class regalia, with suits, sweater vests, and golf polos. This conflict came to a head in the show's season three premiere episode, "How I Spent My Summer Vacation," when he kicks Smith out after he returns from Philly with twists in his hair and funkier clothes, some of which resemble prison wear. "What's the difference between me wearing this and you in the '60s?" Smith asks in the episode. "You wore a dashiki and an afro."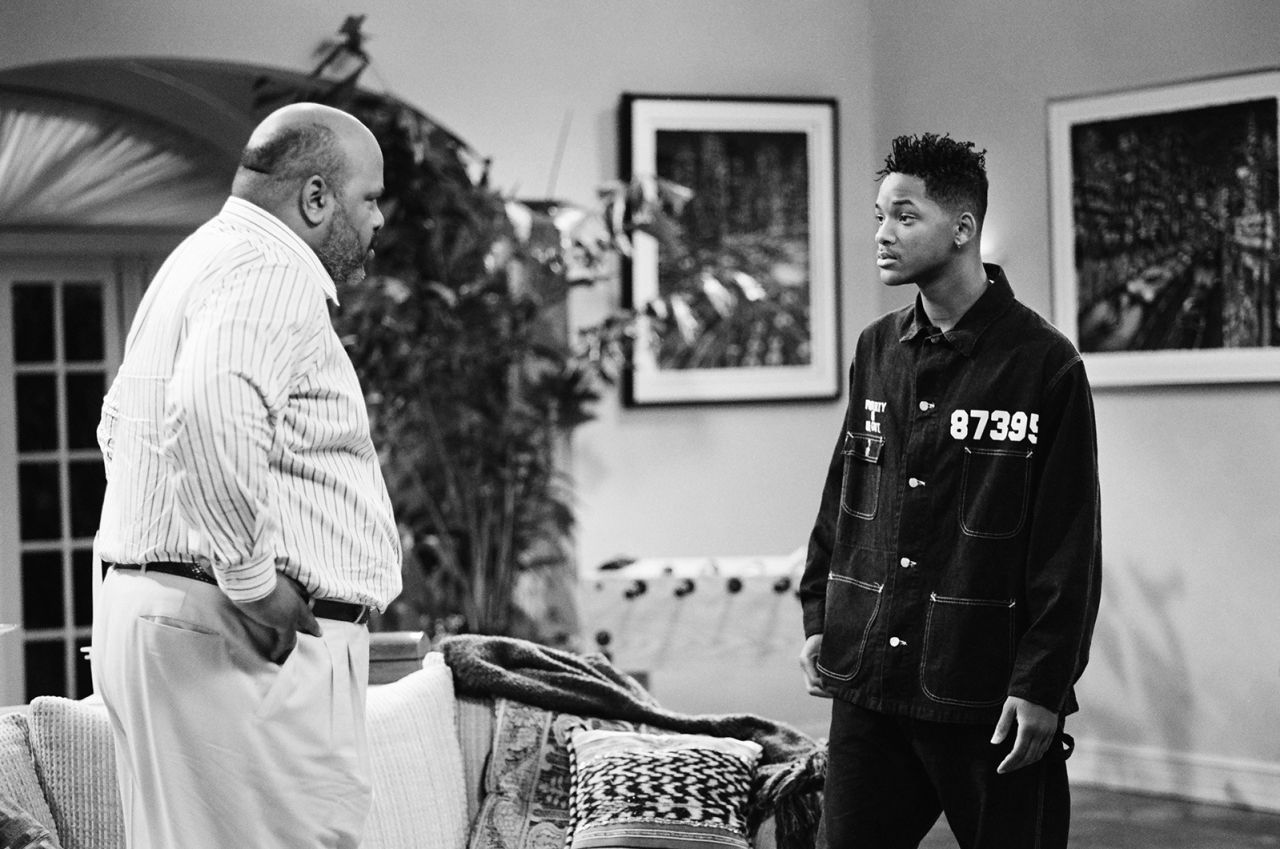 ("I was making a cultural statement," Uncle Phil responds, arguing Smith is just "drawing attention to yourself.")
Because just as the dashiki and other sartorial choices popular among Black Americans — and Black American activists specifically — in the '60s and '70s made for obvious political, and politicized, messaging, the clothing worn by rappers and hip hop aficionados was in turn coded similarly, whether by its wearers themselves or via the White mainstream's gaze. Hip-hop fashion addressed the intersection of race and class in the US, and the ostentatious survival of those able to overcome fraught socioeconomic conditions: The gaudy gold jewelry. The flamboyant colors. The oversized clothing that harkened back to the days when Zoot suits were en vogue. It delivered the message of a generation of Black youth who refused to be dwarfed by the world.
"Afrocentrism is a central theme, this idea of the Black and brown community wanting to be respected  — which is completely tied to civil rights," Romero explained.
In an early review of the "Fresh Prince," Entertainment Weekly acknowledged that, "now that it's a pop-cultural force, rap music has been embraced by NBC." Even before his turn as a bonafide sitcom star, Smith often acted as a buffer between hip-hop and mainstream America. As a rapper, he defaulted to a more 'accessible' musical style, that invoked the storytelling and flow of acts like Grandmaster Flash and The Sugarhill Gang while bemoaning more about living under the dictatorial power of his parents' than that of the police.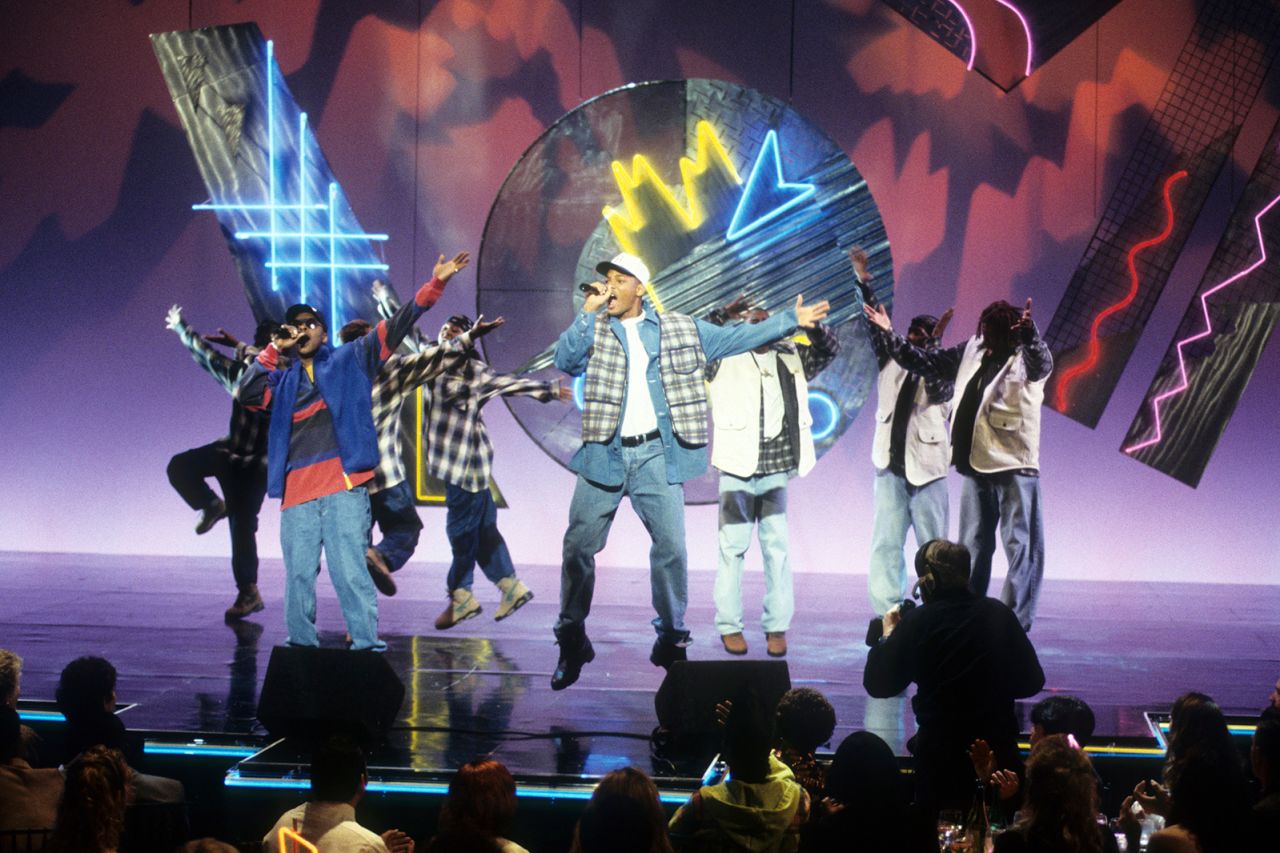 Smith's maturation as a character — and an artist and performer more broadly — came as hip hop itself was beginning to find itself footing in the world; certainly, "The Fresh Prince of Bel- Air" has long concretized its place in culture. And as the series went on, Smith and Banks would eventually find more common ground, this too reflected in their wardrobes. In a season six promotional still, for example, Smith can be seen dressed in all beige casual wear to match his relatives — although noticeably styled with a pair of Timberlands.