For those who have luxury handbags, finding a place to put them while at restaurants can be difficult. Depending on their size, they might not fit comfortably on the table. You may not want to sit it on the floor, and coat check may not be offered.
However, restaurants are increasingly adopting designated places to stow your bags. Already a common sight in high-end dining rooms, stools and other compartments are being more widely adopted in eateries to better accommodate guests, Bloomberg reported.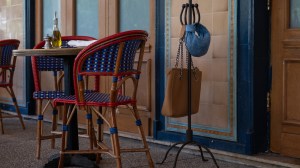 There are several different kinds of ways restaurants have offered places to store bags. Pavyllon London has miniature stools. Aba, a restaurant located in Bal Harbour, Florida, also offers wooden stools for purses, as seen in the lead image for this article. Miami's Le Zoo restaurant offers hook stands that can safely stow several bags at a time. Rare Steakhouse at the Encore Boston Harbor resort has small, white upholstered chairs that match the eatery's decor. 
Shingo, located in Coral Gables, offers convenient hand-woven baskets that sit underneath a customer's chair. "I'm happy to see these points of service becoming more of a trend," its chef-owner Shingo Akikuni told Bloomberg. "Fine-dining-only service points have made their way into more mainstream restaurants as service, generally, has become elevated across the industry."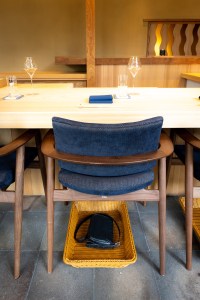 In other countries, bag stowage is extremely important, which may be partially driving the trend. For instance, in South America and Russia, placing your bag on the floor is bad luck and believed to cause the person behind the act to lose money.
Restaurateur Stephen Starr said that he's installed stands for bags at his three Miami spots. "A restaurant has to go beyond its food to draw in a guest, and paying attention to the details is where you can show an added level of hospitality," Starr told Bloomberg. "We don't want our guests to be distracted by small, yet important, details like where to hang their bag. By providing a place for your purse, we take that worry away for the rest of your time there."