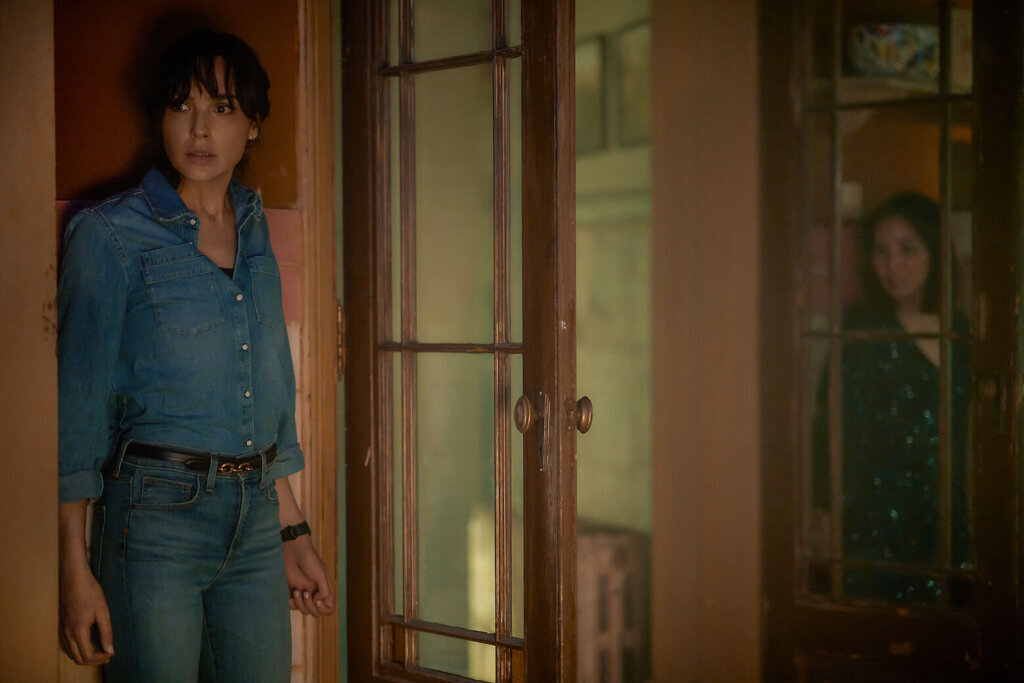 WTOP's Jason Fraley reviews 'Heart of Stone' (Part 1)
After bursting on the scene in "Batman vs. Superman: Dawn of Justice" (2016), Gal Gadot made movie history when "Wonder Woman" (2017) became the top-grossing female-led superhero film ever (since broken by "Black Panther 2: Wakanda Forever") and the biggest domestic opening for a female director (since broken by "Barbie").
After mixed reviews for "Wonder Woman 1984" (2020), "Wonder Woman 3" is apparently not in development for the new DC Universe, despite Gadot's hopeful claims earlier this month. Not to worry, Gadot doesn't need the lasso and gold bracelets to kick butt thanks to the Netflix original film "Heart of Stone," an action flick that doesn't really do anything new, but provides a roller coaster two hours, if you can follow the complicated plot.
The story follows a group of MI6 intelligence operatives extracting an arms dealer from the Italian Alps with the technical support of Rachel Stone (Gal Gadot), a secret agent for an undercover global peacekeeping agency known as The Charter. Her main mission is to stop the hacker Keya Dhawan (Alia Bhatt) from stealing the agency's top weapon, The Heart, an A.I. quantum computer capable of breaching and operating any device in the world.
The movie wastes no time in showcasing Gadot's action chops. The opening sequence has her talking into earpieces at a casino like Tom Cruise in "Mission: Impossible" (1996) before parachuting off a snowy mountain like Roger Moore in "The Spy Who Loved Me" (1977). Rather than the Bond theme playing, her parachute snags a wire, forcing her to turn it into zip line, then drop into a high-speed snowmobile chase — all in the first 15 minutes.
Beyond such extravagant set pieces, her hand-to-hand combat skills are most apparent during a fight sequence in a Lisbon flat around the 30-minute mark. Director Tom Harper ("Peaky Blinders") has Gadot start out of frame left, then emerge left-to-right for a precision chop or kick to the baddies. As audiences discovered in "Fast Five" and "Wonder Woman," Gadot gained real-life experience as both an Israeli army veteran and a former Miss Israel.
While Gadot is an established action star, it's surprising to see kinetic scenes from Jamie Dornan, who shows a completely different side from his brooding Christian Grey in "Fifty Shades of Grey" (2015), or his blue-collar father in Kenneth Branagh's semi-autobiographical "Belfast" (2021). As Dornan scales a helicopter in "Heart of Stone," I half expected Ellie Goulding's "Love Me Like You Do" to start blaring like it did on the "Fifty Shades" soundtrack.
The helicopter accesses a massive aircraft hovering over Western Africa like a blimp, which houses our central McMuffin: The Heart. The concept of an A.I. system controlling all technology isn't new — it was the premise of "Avengers: Age of Ultron" (2015) with Tony Stark's J.A.R.V.I.S., transforming into a new life and new Avenger, Vision. This time, the villain says, "Why control one atomic bomb when you can control them all?" It's "Oppenheimer" on steroids!
Despite this lack of originality, screenwriters Greg Rucka and Allison Schroeder provide plenty of twists and turns to keep us guessing, including one moment that really jolts. That said, I wish the Netflix preview text didn't tease "a whopping mid-movie twist that hits with the force of a jump scare" because I was waiting for the big shocker.
At times, the script becomes too complicated for its own good. Viewers are accustomed to MI6 secret agents, but when there are super duper secret agents beneath that, it's hard to keep track of who's double-crossing who.
The viewing experience is further complicated by the various nicknames for the Charter guardians: Stone is also "Nine of Hearts," Glenn Close is "King of Diamonds," BD Wong is "King of Clubs," Mark Ivanir is "King of Spades," Matthias Schweighöfer is "Jack of Hearts" and Sophie Okonedo is "King of Hearts" but also "Nomad." It feels like the film is trying to cram in characters from a source novel, but it's an original screenplay — why so complicated?
In the end, "Heart of Stone" isn't terrible, but it certainly isn't great either. It's another one of those Netflix original action romps like Chris Hemsworth's "Extraction" (2020), a mediocre vehicle for a former superhero to shine on streaming. Like "Extraction," "Heart of Stone" will probably get a sequel as it currently ranks atop the Netflix Global Top 10 with 35.2 million views, four times the next closest entry. Get ready for "Heart(s) of Stone 2!"

WTOP's Jason Fraley reviews 'Heart of Stone' (Part 2)
Get breaking news and daily headlines delivered to your email inbox by signing up here.
© 2023 WTOP. All Rights Reserved. This website is not intended for users located within the European Economic Area.