By Carleen Nelson-Nesvig, STN Writer
It's back to school time. Let's get dressed.
Alexandra Ulery has an eye for fashion. The recent Saline High School graduate was first runner-up for the 2023 Miss Saline Court and is President of the Saline chapter of the Fashion Institute of Design and Merchandising Fashion Club.
"In such a fast-moving fashion world, staying on trend can definitely be expensive," says Alexandra. "To save money without compromising style, I would suggest considering investing in clothing with staying power. Look for trends that have remained popular for more than five years, as such pieces can be handed down generation to generation or to younger siblings without feeling outdated."
Alexandra was one of three recent high school graduates to join this STN writer in exploring our fashion future and local community efforts to provide school clothing trends, options, and savings. Sophia Bauman, Saline Pageant Queen 2023, and Katie Booher, Queens Court, were also along to provide insight and add to the fashion adventure.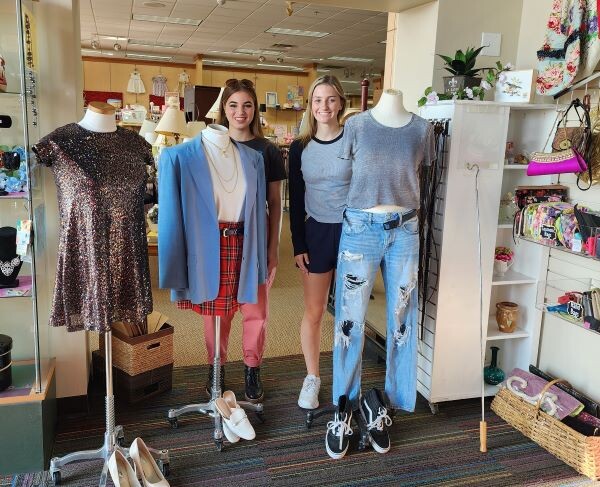 Hand-me-downs are an excellent way to save money on clothes, but there's another. "Thrift shopping is an excellent way to find unique and sustainable pieces, and gender-neutral clothing options make hand-me-downs even more convenient, saving significant expenses," adds Alexandra."
"I am definitely moving towards sustainability in my own closet," she continues. "I love fashion, so I have a tendency to over-consume clothing. To try to prevent that, I like to make a shopping list of pieces of clothing I want to look for when shopping. That way, I don't get distracted by everything else and buy something I don't need."
And what does the President of the Fashion Institute of Design and Merchandising Fashion Club look for when shopping?
"I look for natural fibers that can biodegrade and basics that I can wear frequently with other mix-and-match garments," explains Alexandra. "I also try to make sure that I've thought of three different ways I can style each piece on my list so I can be sure I'll be able to wear it again and again."
Throwback graphics from the late nineties and earlier are making a comeback in simple and seasonless children's clothing. Vintage rock tees, bold prints with planets, cars, and futuristic designs, along with dark tie-dye and oversized hoodies, are trending among children.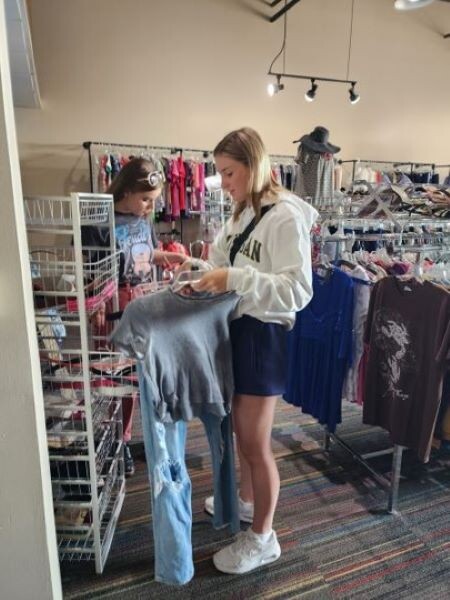 Recently, a new wave of style aficionados has tapped into their inner bohemian spirit, seamlessly integrating elements of this iconic trend into their street style. The streets have become a canvas where patchwork denim tells stories, pastel florals exude timeless elegance, and macramé dresses celebrate artisanal craftsmanship.
Resale shops are a great place to find these emerging fashions.
"I include signature pieces, like my leather jacket, in at least one of my planned outfits, so I also know I'll want to wear that new piece," she adds. "Lately, I have also been going with thrift items and mending some items I already have so that I can keep wearing them or so that they fit me better. It gives me the option of having timeless pieces in addition to today's offerings."
Beverly Schultz, CATO's Assistant Manager for Ypsilanti based woman's clothing boutique, told STN that to entice a younger clientele, CATO has added a fashion trend of mixing patterns with prints, stripes, checks, circles, flowers, geometric designs, and more as one ensemble into their inventory.
Pointing to a mannequin wearing a shirt with stripes on the body and printed flowers on the short sleeves, Schultz explains, "This allows more flexibility in design and is what younger buyers are looking for today. A side benefit is that these pieces can be worn interchangeably and save money for the fashionistas."
What about brand name pieces and costs? Nu2U Store Manager Amanda Cody-Noel says, "If you're looking for back-to-school shopping on a budget, Nu2U Again is a place you'll want to go. We are really lucky with some of the quality and branding clothing donations we get in. You can regularly see brand names like Nike, Under Amour, Eddie Bower, Loft, Perry Ellis, and Lululeom, to name a few. And the prices can't be beaten as the majority of the name brand clothing range from seven to twelve dollars."
Nu2U Again is located at 1311 E. Michigan Ave in Saline. Cody-Noel adds, "You can't beat the prices of our brand-name clothing and have a blast coordinating all the items you find to wear."
Nu2u Again is well-known for creating employment opportunities for individuals with different abilities. Still, Jamie highlights the store's newly expanded suite is dedicated entirely to women's fashion, offering an extensive selection of clothing, shoes, jewelry, purses, accessories, and dressing rooms.
By now, most of us know the advantages and benefits of shopping locally. Another local shop, the Resale Boutique, looks forward to your visit. It is a charming consignment boutique offering the best quality, affordable preowned designer and brand name clothing, handbags, shoes, jewelry, and accessories. The store is located at 206 W. Michigan in Saline.
According to Jamie Westcott, The Resale Boutiques Store manager, "Students looking for a return to school fall fashions should look no further! Come in and browse our delightful consignment boutique. If you're lucky, you might stumble upon a few new items to make you feel your best on that first day of school. Our specialty lies in curating the finest casual everyday wear, ensuring that you'll find something perfect for your style in our inventory."
Photos by Carleen Nelson-Nesvig