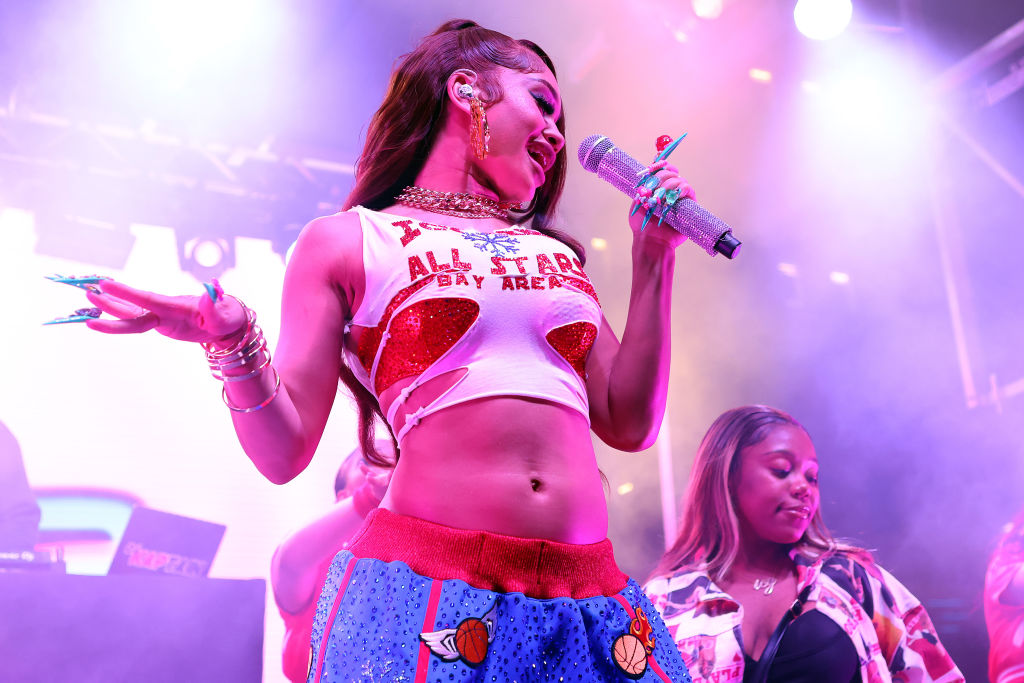 In a recent interview with PopSugar Saweetie listed four artists that she dreams of collaborating with. Her answers were Nicki Minaj, Missy Elliott, Solange, and Trina. She said that she specifically picked women because there's something special that happens when two women collaborate on music. "I think that something special happens when two worlds collide," the rapper explained. "When we're making music we are putting our soul and our spirit into it. Women in a room together is just magical, I think it's great that we create magical moments that the world can witness."
Saweetie went on to list some up-and-coming female artists that she likes. Ice Spice, GloRilla, Lola Brooke, Tia Korine, Lil Kayla, and Stunna Girl made the list. Some fans interpreted this as an extension to her list of potential future collaborators. Fans in the comments quickly got behind her potentially collaborating with Nicki. "If Saweetie and Nicki get on a track, Erica Banks will lose it," one comment said. "Saweeti plus Nicki visuals would be crazy- that shiiii got me brick just thinking bout it!" another comment reads.
Saweetie's Dream Collaborators
Over the weekend Saweetie released two new singles. The first was called "SHOT O'CLOCK" and saw her getting confrontational in her familiar demeanor. The second was called "BIRTHDAY" and featured the singer teaming up with YG and Tyga for a banger of a track. That collaboration is fittingly appropriate as she and YG have been facing dating rumors for months. They recently went out on a date night but what ended up getting the most attention was YG's questionable outfit. 
Saweetie, YG, and Tyga are all three headed out on tour together later this year. The trios "Str8 To The Klub" tour takes off in September and runs all the way until November. They'll make 14 stops along the way in various North American cities. They're also bringing along Kamaiyah, Wallie The Sensei, and DJ Vision. What do you think of Saweetie's list of dream collaborators? Let us know in the comment section below.
Read More: Saweetie Says She Still Intends To Release "Barbie" Song Despite "Barbie World"
[Via]