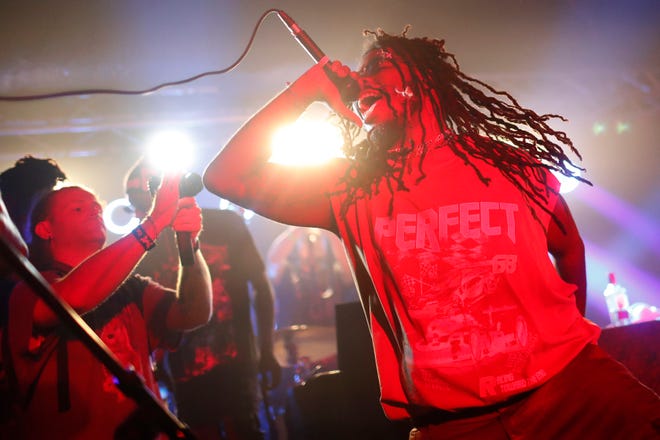 No matter how long you've been a fan of Athens hip hop, the annual Scrapstock festival is one of the best-curated concerts you can attend to experience some of the local scene's best and brightest.
Now in its fourth year, Scrapstock takes place Friday and Saturday is a labor of love put together by Sam Lipkin, founder of Volumes Hip Hop and well-known for being among the city's most consistent supporters of its fastest-growing and most eclectic category of music.
Lipkin told the Banner-Herald that this year's shows represent the culmination of everything she has been building towards as an event planner and promoter, and that the months-long selection process for the artists involved was intended to present two days of "pure hip hop" that would feature talented MCs from across the local scene. Both nights will include art, food and vendors.
"I wanted to show people that the Athens hip hop scene is large enough to have its own festival," said Lipkin, who has received assistance from Aubrey Entertainment for the shows. "I think (this year's concerts) are going to show people just how many different kinds of hip hop are happening here."
'Nemesis Project':D.I.Y. concert showcases Athens hip hop's next generation
Scrapstock Kick-Off Party
WHERE: Athentic Brewing Company (108 Park Ave.)
WHEN: Friday, Aug. 25 from 6:30-10:30 p.m. (Free admission)
DETAILS: Performances by Caulfield, Motorhead 2X, Only1Riggs, Cardynal, Molly Tu Hott, BayBay, P.O. The Priceless One and Amun-Ra. The show will take place on the brewery's outdoor patio with food by Homy's Kitchen and 10 vendors including artwork, fashion lines, thrifted clothing, and assorted merch from the performers. Turntablists djbobfish and Jiig will be spinning tunes all night.
Scrapstock Main Event
WHERE: Southern Brewing Company (231 Collins Ind. Blvd.)
WHEN: Saturday, Aug. 26 from 3-10:30 p.m. ($15 in advance, $20 at the door)
DETAILS: Performances by East Rich, Trvy & The Enemy, S.U.R.F., BYV_Trubb, Blesstheplaya, Goodie, Tyl3r Davis, Cam the Artisan, Kxng Blanco, Wix Patton, Minnie Lea, Wyatt Patton, GUE$$ and Indigo Sound. The show will take place on the brewery's outdoor stage with food from Bucket O' Shrimp and 15 vendors including giveaways from Urban Greenhouse and Mad Pepper Company. Jiig and djbobfish will be on the 1s and 2s throughout the event.
Admission to the Aug. 25 concert is free. To purchase advance tickets for the Aug. 26 event, visit eventbrite.com/e/scrapstock-2023-southern-brewing-company-tickets-647600890697.