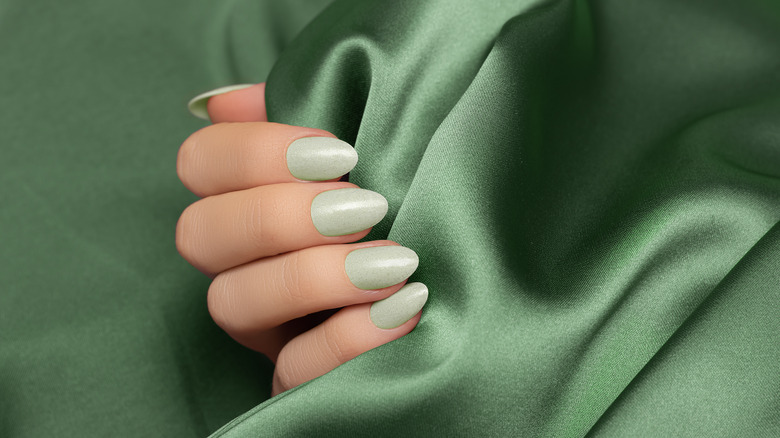 Dev_Maryna/Shutterstock
If you're not ready to let the mermaidcore trend go, seafoam green nails are the next best thing. Seafoam green is a beautiful cool-tone green, with hints of blue that remind us of the beauty of the ocean. Picking this as our next nail color allows us to take in the best parts of summer while we still have it. This color looks amazing on anyone and gives a refreshing look that you won't find anywhere else.
To get the look, go for a pistachio-like color (which can be dark or light) that has hints of blue. Once you pick your nail polish, there are several ways to wear the color. Place it on your natural nail for a solid-color manicure, or even incorporate it into your nail design through French or reverse French tips. The choices are truly endless with this cool and summery hue. And best of all, it looks great with both short and long nails. 
Embrace a short manicure
If you just want to just appreciate the beauty of the seafoam green, ditch the acrylic nails and add them to your regular manicure. Short nails are great because of their simplicity, plus these nails create a clean look that keeps the focus on the color that you chose.
Incorporate it into your nail design
For those who already have a design picked out in their head, take a risk and make it seafoam green. Adding this color takes your nail art up a notch because it's not a common shade to use, but at the same time, it's not too overwhelming. There will still be room for the other colors used in your design to shine. 
Add a French tip or two
French tips are always a great option when doing a new nail set. Seafoam green as a French tip color remixes the classic nail and creates a fun new take we are sure you will love. To add even more interest, you could even incorporate decals or nail art on a feature nail.
Mix it up with reverse French half-moons
Reverse French half-moons are a simple touch that can give your nails an artistic vibe, without being too intricate. Half-moon designs are crescents painted at the base of your nails. This design looks amazing when it's mixed in with chrome to create a chic aesthetic.
Embrace a seafoam marble set
If you're looking for a chic minimalist nail design for your next manicure, consider a marble pattern. Marble sets are intricate designs that give an elegant touch to any manicure. Though most people will opt to get marble nails at the nail salon, you could also replicate this nail art at home. You'll just need your nail polishes, including a metallic shade, some nail brushes, and a piece of plastic wrap, which you'll crumple and use as a textured stamp to imprint the mix of colors on your nails.