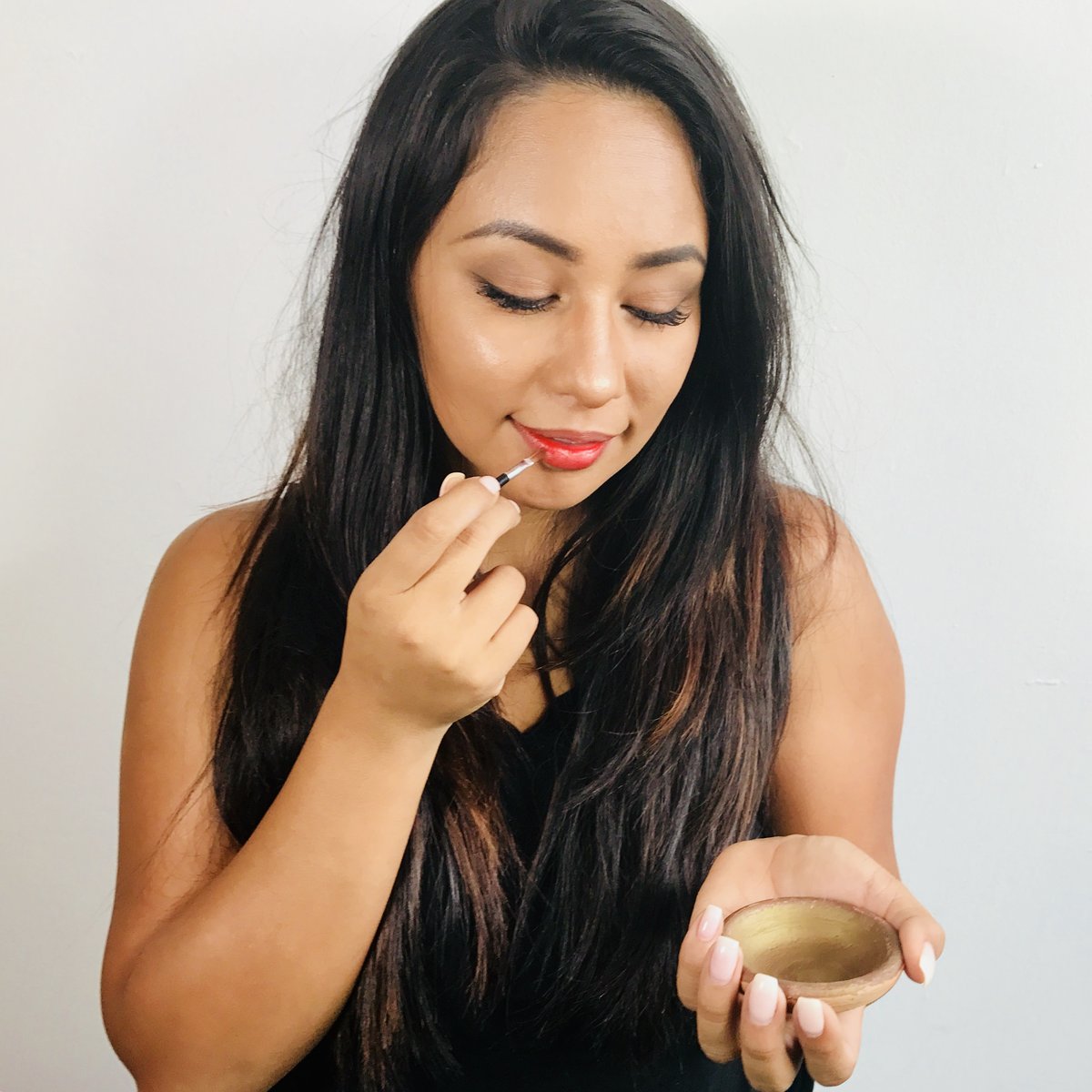 The viral TikTok trend surrounding the Moroccan Clay Lip Stain, or Aker Fassi, can be attributed to its unique and all-natural properties that provide a beautiful lip and cheek tint. The product's main ingredients, poppy powder and pomegranate rind, are dried and hardened in the sun, resulting in a Terracotta pot. To use the lip stain, one needs to dissolve the pigment by rubbing it with water or oil, creating a versatile and easy-to-apply cosmetic.
Women in Morocco have been using Aker Fassi for years to achieve a natural glow, as it not only imparts color but also contains moisturizing, softening, and antitoxin properties. This traditional beauty secret has now gained widespread attention and popularity thanks to the power of social media, particularly TikTok.
TikTok content creators have been sharing their experiences with the Moroccan Clay Lip Stain, praising its effectiveness and simple application process. As a result, it has become a sought-after beauty product, especially for those who are interested in natural and organic beauty solutions.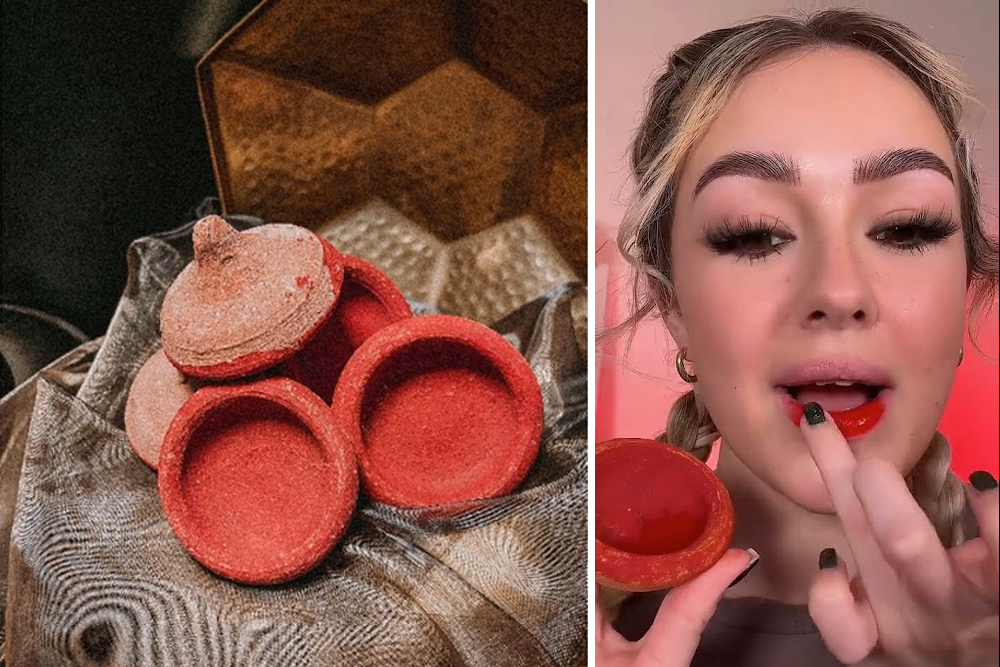 However, despite the hype, acquiring Aker Fassi may present challenges for those outside of Morocco. It might not be readily available in local stores, and international shipping or traveling to Morocco to purchase it could be difficult or expensive.
As with any viral trend, it's essential to exercise caution and verify the authenticity and safety of products before trying them. Additionally, different skin types may react differently to certain ingredients, so patch testing is recommended before applying the lip stain to a larger area.
If you're eager to achieve that gorgeous, sun-kissed glow without traveling all the way to Morocco, we've got you covered!
 1. Lip Exfoliator:
Before diving into the world of lip stains, ensure your lips are well-prepped and smooth. A lip exfoliator is a must-have to slough away any dry or flaky skin. We recommend the "Sugar Lip Polish" by Fresh. This gentle exfoliator infused with brown sugar crystals and nourishing oils will leave your lips soft and plump, creating the perfect canvas for the lip stain.
2. Lip Balm:
Hydration is key when it comes to applying lip stains, as they can sometimes be drying. Keep your lips moisturized and supple with the "Aquaphor Lip Repair Ointment" by Eucerin. This cult-favorite balm soothes and protects your lips, providing a smooth base for the Moroccan Clay Lip Stain.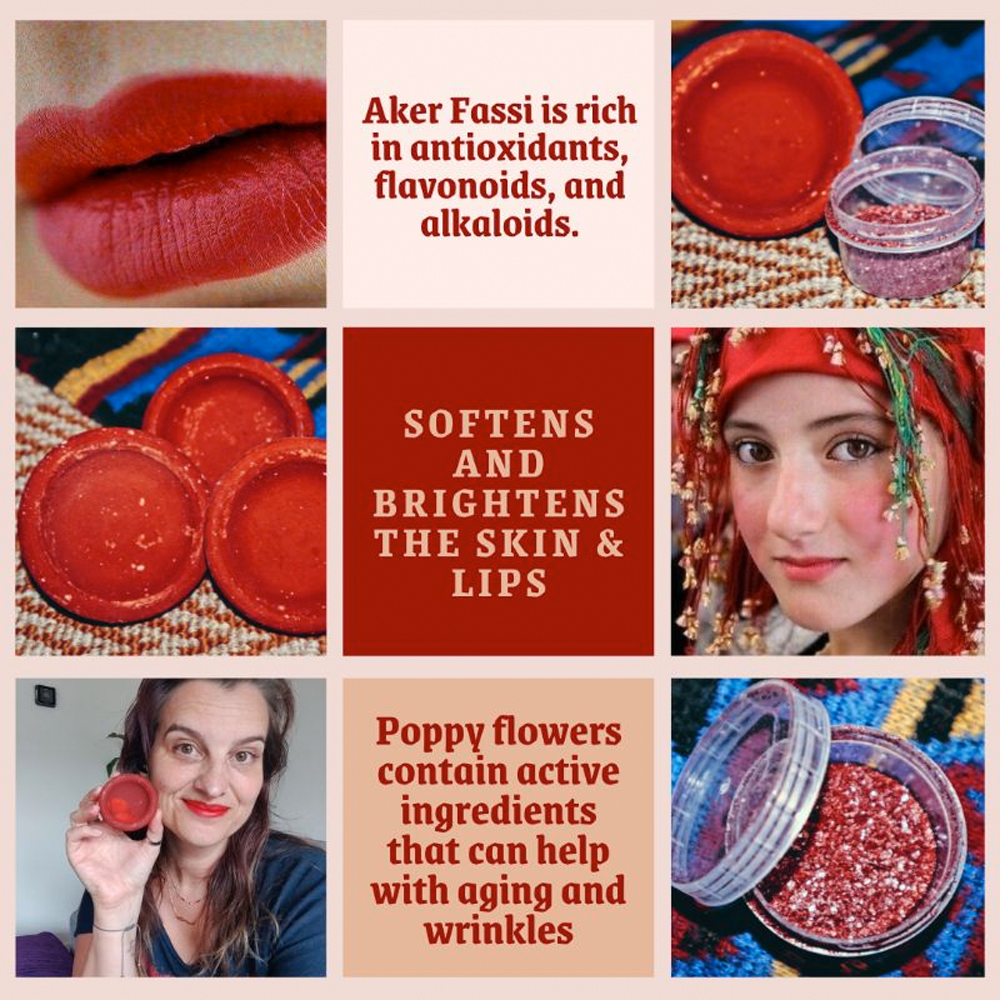 3. All-Natural Lip Stain:
For an authentic Moroccan-inspired lip stain experience, try the "Fruit Pigmented Lip & Cheek Tint" by 100% Pure. This natural formula is derived from fruits like pomegranate and raspberry, mimicking the ingredients used in Aker Fassi. Available in various shades, it delivers a long-lasting, buildable color for both lips and cheeks.
4. Natural Makeup Brushes:
For flawless application, invest in high-quality makeup brushes. The "EcoTools Start the Day Beautifully Kit" offers an array of soft, synthetic brushes designed to apply and blend lip stains seamlessly. These eco-friendly brushes are cruelty-free.
5. Lip Stain Sealer:
To ensure your lip stain lasts all day, lock it in with a lip stain sealer like "Fenty Beauty Gloss Bomb Lip Luminizer" This cult classic product forms an invisible shield over your lip stain, making it smudge-proof, water-resistant, and kiss-proof.
6. Highlighter:
To accentuate your radiant glow, add a touch of highlighter to the high points of your face. We recommend "Haloscope" by Glossier. This dew effect highlighter stick contains genuine crystal extracts that add a natural, luminous sheen to your cheeks and lips.
7. Dewy Setting Spray:
For that perfect, luminous finish, set your makeup with a dewy setting spray like the "Dewy Finish Setting Spray" by NYX Professional Makeup. This lightweight mist locks in your makeup while imparting a healthy, radiant glow.
8. Multi-Purpose Lip & Cheek Stain:
For a versatile product that you can use on both lips and cheeks, the "Benetint Cheek & Lip Stain" by Benefit Cosmetics is a top pick. This rose-tinted stain delivers a long-lasting flush of color, perfect for achieving the Moroccan clay-inspired look.
9. Makeup Remover:
Lastly, to ensure easy removal of your lip stain at the end of the day, rely on a reliable makeup remover like the "Micellar Water" by Bioderma. This gentle yet effective cleanser wipes away makeup, leaving your skin fresh and ready for your next beauty adventure.
Embrace the Moroccan Clay Lip Stain trend and experiment with these brand makeup product recommendations to achieve a radiant, natural, and sun-kissed look that will turn heads wherever you go. Remember, confidence is the key to owning any makeup look, so wear it with pride and embrace your inner beauty!