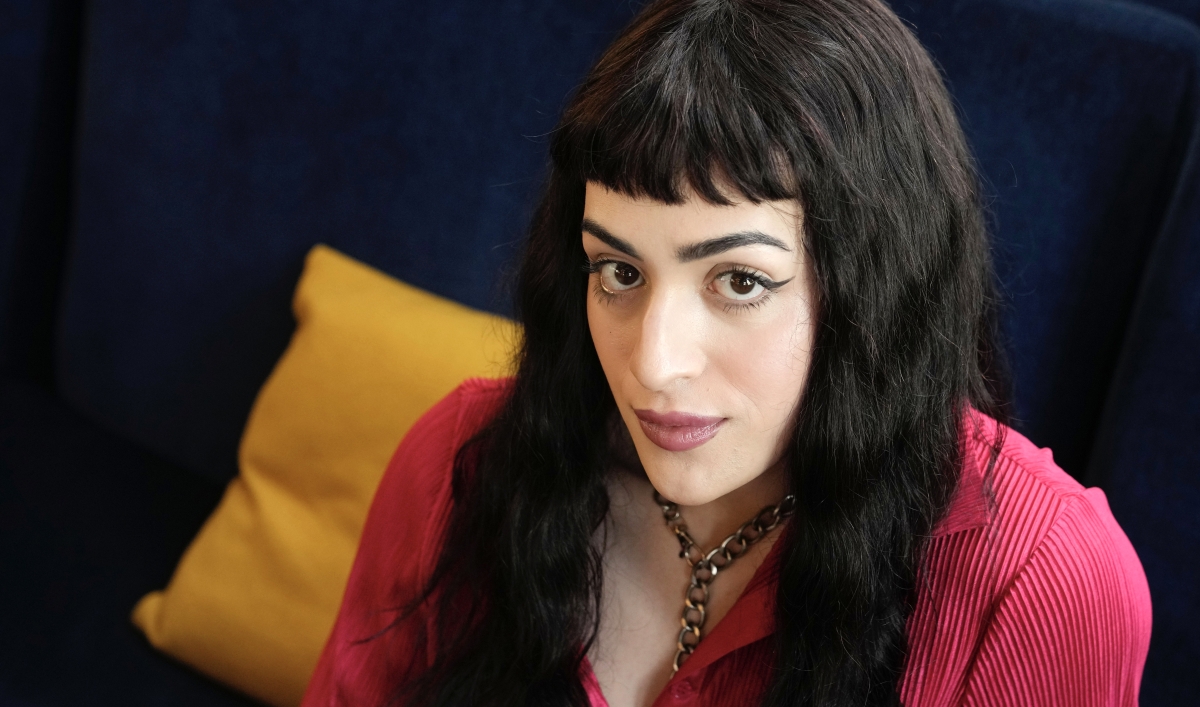 Last June, at a music festival in Barcelona, Spain, the Puerto Rican rapper and reggaeton trailblazer Villano Antillano took a break in the middle of a song to address the crowd.
"In memory of the women and trans women killed in Puerto Rico and the world," she said. "Never forget."
She went on to sing "Mujer," one of the songs on her debut album, "La Sustancia X," from last December, which she has described as the soundtrack of her transition into a woman.
She rapped in Spanish in the chorus: "I am a woman full of power./I can decide how to defend myself./I can kill, but I can be understanding./I can love you or subjugate you./Deprive you or provide you./You can't tell me what to do./I control the pencil; I have the brush./I am the master of dawn."
Villano Antillano's lyrics are bold and explicit, reveling in pride and often reclaiming homophobic slurs as a means of self-affirmation. Her stage presence is just as eloquent: She can be sassy and playful or impassioned and defiant — but whether rapping or dancing, her fans say, she is always magnetic.
The artist is emerging as one of the most transformative figures in reggaeton and the broader urbano movement — the Spanish-speaking music scene encompassing other hip-hop-influenced genres, like trap.
"Energetic, attractive, a fire, an explosion!" said Angélica Vilariño, a fan from Puerto Rico who attended Barcelona's Primavera Sound festival. "It makes me want to move my bottom, to dance with my friends!"
Amanda Soliván, another fan from Puerto Rico, described the artist's energy as sensual, even sexual: "Women are taught we cannot express our sexuality, but seeing her doing it so openly, regardless of what people say, inspires you to do the same."
Soliván praised Villano Antillano for her message of female empowerment, which she said contrasts sharply with the history of sexism in reggaeton: "She is showing that women, people in the [LGBTQ] community, everybody can be part of this genre."
The singer's breakthrough came a year ago. It was a rap session in collaboration with Argentine producer Bizarrap, which has surpassed 200 million plays both on Youtube and Spotify.
Shortly after, Villano Antillano was invited to perform the song live by reggaeton superstar Bad Bunny during one of his massive shows in Puerto Rico. The following two nights, Bad Bunny invited on stage Young Miko and RaiNao, two other Puerto Rican artists from the LGBTQ community.
In an article for Rolling Stone magazine, journalist Frances Solá-Santiago called the gesture "monumental" and said Bad Bunny "co-signed a women-led revolution that's been brewing in Puerto Rico over the past several years."
In this revolution, Villano Antillano is one of the leading figures, said Ashley Oliva Mayor, the co-director of Hasta' Bajo Project, a group preserving the history of reggaeton in Puerto Rico.
"She is a pioneer," said Natalia Merced, a content creator at Hasta' Bajo Project, about the artist. "While there are other queer women in the genre, nobody is doing it quite like her, being so genuine and vocal."
The causes for reggaeton's "queer turn," as Oliva Mayor calls it, are a changing public, which has become more accepting of diversity, but also the transformation of the music business.
Merced said the digital revolution is allowing people from marginalized groups, who may lack support from the industry, to record and release their songs at a low cost online while building a fan base through social media.
"There's still so much prejudice that these artists may not be able to go to a label, show their music and get signed up," she said. "Sadly, they must prove themselves first."
That was the case for Villano Antillano, who started independently. Her first EP, "Tiranía," was released in 2019, and her Soundcloud page features tracks dating back to September 2018.
Villano Antillano, whose real name is Villana Santiago Pacheco, was born in 1995 in Bayamón, near the Puerto Rican capital of San Juán. She grew up in a family of music enthusiasts; her father of Argentine rock and her mother of R&B stars like Missy Elliott and Destiny's Child.
She left her home at the age of 17 but didn't begin transitioning until the age of 25. 
"Being a queer person in Puerto Rico and the Caribbean is very difficult, and being a trans woman is unspeakable," she told El País. "Men seek you out at night, but during the day, they would stone you to death."
The average life expectancy for trans women in Latin America is between 30 and 35 years, according to a 2015 report by the Organization of American States.
Her experiences as a trans person were also shaped by the political status of Puerto Rico, which she denounces as a colony "sequestered" by the United States. "It may sound far-fetch, but I didn't understand the concept of sovereignty because my country is not sovereign, so it took a long time to understand that I could have agency," she said in an interview with SXSW.
Villano Antillano's candor, both in her personal life and political views, makes her stand out in the reggaeton scene as a radical figure — but some believe she is returning to the genre's very essence.
"She is the evolution of reggaeton, its future, but at the same time, is its purest expression," Merced said. "Reggaeton is very political."
Reggaeton started as an outlet where marginalized people in Puerto Rico could talk about their experiences, Merced said. From the early 1990s, the genre was censored by authorities, with police raiding record stores and seizing reggaeton CDs, which were deemed pornographic. 
"They accused it of being violent, of corrupting the youth, but the violence they talked about was the one they were suffering due to police and drug trafficking," Merced said.
While both Merced and Oliva Mayor acknowledge the sexism in reggaeton, they said that they believe it's also been overplayed as part of the vilification of the genre. 
"Reggaeton is not the only male-dominated music genre, nor the only one haunted by machismo," Oliva Mayor said.
"Reggaeton is just as misogynistic as any other music genre because it's a reflection of the patriarchal society we live in," Merced said. "But reggaeton has been demonized, and in Puerto Rico, it was specifically used by the government and dominant classes as a scapegoat for society's evils."
The different music genres that coalesced into reggaeton were all shaped by the African diaspora, such as dancehall and reggae en español, developed in Jamaica and Panama, as well as hip hop, born in the Bronx, New York.
"Reggaeton exists because Puerto Ricans living in New York played a fundamental role in the creation of hip-hop," Merced said. "They would visit their families in Puerto Rico and bring the music, the fashion, the dancing, and teach it to their cousins, their brothers—that's how this mix came into being."
In a few decades, reggaeton would go from being marginalized music in Puerto Rico to becoming the island's greatest cultural export, following the breakthrough in the 2000s of early stars like Tego Calderón, Don Omar, and Daddy Yankee, as well as female pioneers like Ivy Queen.
The genre reached new heights with the 2017 collaboration between Daddy Yankee and Luis Fonsi, "Despacito," and more recently with the stunning ascension to the urbano throne of Bad Bunny, the top artist on Spotify globally for three years in a row.
But as Puerto Rican music enjoys unparalleled commercial success, artists like Villano Antillano continue to push boundaries while staying true to the genre's roots.
"Long live reggaeton and the urbano movement," Villano Antillano told the crowd in Barcelona. "And long live women in the urbano scene, and long live trans women in the urbano scene, and more importantly, long live black women in the urbano scene, because it belongs to them."
Related: 'It's the new soccer, where stars are born': Trap music boom inspires Argentine youth