Soulja Boy recently brought his SouljaWorld Tour to Atlanta. The infamous tour has been making waves throughout North America, with the viral sensation's energetic performances and surprise guest appearances from artists like Bow Wow and Yung Joc, taking center stage.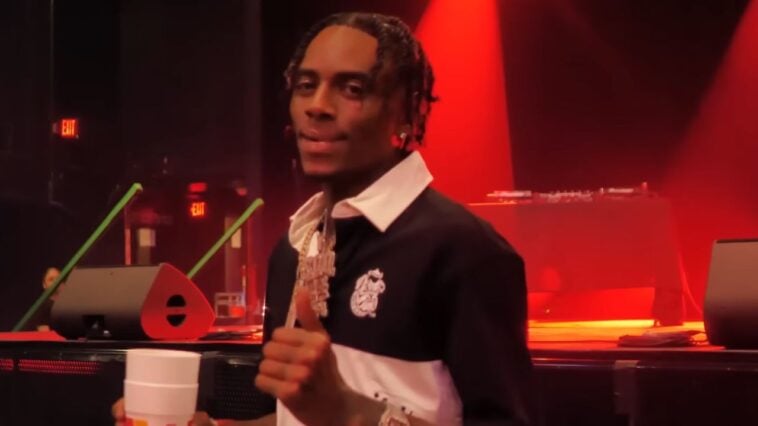 99 Views
Comments Off on Soulja Boy's 'SouljaWorld Tour' Delights Fans With Star-Studded Surprises: Bow Wow, Yung Joc, & More
Soulja Boy's EPIC 'SouljaWorld Tour'
On Sunday, September 10, the "Kiss Me Thru The Phone" artist took over the stage at his SouljaWorld Tour to Atlanta, shocking fans in the Buckhead Theater. Dressed in a dazzling diamond-coated outfit, Soulja Boy, whose real name is DeAndre Cortez Way, captivated the crowd with his high-energy performance. 
The Atlanta native performed some of his hit songs, including "Turn My Swag On," "She Make It Clap," and "Rick and Morty," sending the audience into a frenzy.
Adding to the excitement, Yung Joc joined the "Turn My Swag On" rapper on stage, exciting the already ecstatic fans with his Atlanta staple "It's Goin Down" followed by "Dope Boy Magic." The collaboration between the two artists electrified the atmosphere, setting the stage for an unforgettable night. 
Non-Stop Nostalgia
The surprises didn't end there. Another Atlanta sensation, Bow Wow, made an unexpected entrance, sending the crowd into a frenzy of nostalgic energy. The rapper/actor, known professionally as Shad Moss, joined Soulja Boy on stage to perform their 2006 hit song "Shorty Like Mine," bringing back memories and excitement from their early careers.
Following the concert, Soulja Boy took to Instagram to express his gratitude, sharing highlights and moments from the Atlanta takeover. He captioned the post, "Atlanta I love you forever no cap," indicating his appreciation for the support he received from his hometown.
With 10 more shows to go, the "SouljaWorld" Tour continues its journey across North America, with the next stop being in Charleston, SC, on September 13. Fans can expect more surprises and nostalgic vibes as the tour comes to a close on September 24th in Santa Ana, CA.
Flo Milli Announces Upcoming Tour
In the realm of tours and fan surprises, rising star Flo Milli also recently announced her upcoming "Thanks For Coming Here, HO" Tour. The exciting news was revealed through an Instagram post, revealing the tour dates and locations.