It's four years to the day since Marks & Spencer dropped out of the FTSE 100 for the first time since the City share index's 1984 inception.
It was a major blow for one of the UK's biggest retailers – and symptomatic of a series of existential problems it faced. Share prices were close to a 20-year low; annual profits had slumped to less than £100m. But for newly appointed company chair Archie Norman, these figures were far from the only concern. Upon taking up his position, Norman promised a radical shake-up to fix the drifting business.
Last week, after the retailer announced soaring profits, it appeared that his efforts had paid dividends (quite literally). Underlying pre-tax profits rose by 21% to £476m in the year to 1 April, with sales increasing 9.6% to nearly £12bn; this year, share prices have already rocketed by 72%, and a return to the FTSE 100 is on the cards. It's a remarkable turnaround.
"There wasn't just one challenge facing the business," says retail analyst and founder of consumer consultancy Insight with Passion Kate Hardcastle, "there were many. The biggest issue was a certain arrogance: M&S weren't willing to accept the fact they could ever lose their high street crown.
"The consumer was not always put at the company's heart," Hardcastle says, "be it issues with fit, availability, the quality shift in clothing products they have known and loved for years – or indeed much more seismic issues around the advertising campaigns or even taking away the free biscuit you used to get in an M&S cafe with a tea of coffee. This is a brand that refused to take credit cards apart from their own, were slow on the uptake for the loyalty card, and didn't develop their stores. M&S shops weren't even permitted to have music at one point."
Catherine Shuttleworth, retail analyst and chief executive of Savvy Marketing, agrees: "The business was old, clunky and boring, but now they're out of their ivory tower."
Personnel changes, she believes, have helped: in May 2022, Stuart Machin and Katie Bickerstaffe became joint chief executive officers. "The setup is reflective of a business fit for the 21st century."
In key areas such as food, fashion, stores and digital, the business has been transformed. But experts are pointing to a cultural shift, too. "There's a fresher feel now," says Shuttleworth, "from its products to its talent base. Plus there's been a change in the way the public sees them." Once perceived to be stuck in the past, M&S is now campaigning to revitalise our high streets and on issues such as VAT on period pants.
Fashion

It seems M&S is back in fashion. "It's buying better and working quicker," says Shuttleworth. "M&S used to be slow, but it's looking far more agile: making more in the UK, getting items on sale quicker and more regularly, and improving the supply chain. Plus, its got rid of its difficult to work out sub-brands."
Bringing in talent has helped, including Maddy Evans from Topshop taking on womenswear. Marketing and pricing are clearer. "They've shaken off the dusty reputation, while remaining affordable and accessible – their hugely popular £39.50 dresses are a perfect example." Three years ago M&S ranked sixth in dress market share and now holds third spot.
Women's denim sales have grown over several years, cementing M&S's leading market share – the Sienna Everyday jean is now its bestselling fashion item. More than 23,000 of its denim midi skirts have already been sold this year. "It's still the go-to place for basics like pants, bras and T-shirts," says Shuttleworth, but across generations it's also now seen as a spot for other clothing purchases. They have buyers who know who they're buying for."
Angie Smith, a Sydney-based editorial and celebrity stylist with more than 20 years of experience, agrees. "They are favouring a more androgynous and ageless demographic," she says, "and are creating pieces that are true wardrobe classics. I've also seen a big improvement in their denim buy." She believes they're appealing to a new generation of shoppers. "A younger market is now considering shopping there because of social media – the fashion content they're putting out is very much geared towards a TikTok audience."
Still, the retailer has further challenges, and not only from more sustainable shoppers reducing regular fashion spending. "The Jaeger relaunch really could have been something," says Hardcastle, "but it's still to find its true audience and potential." In 2021, M&S bought the business from administrators.
Food
On the shop floor and behind the scenes, M&S's food has had a shake-up. In the wake of Covid, and amid a cost of living crisis, shelves are filled with products that cater to customers' dual demands: value items to keep daily costs down, and higher-end, dine-in options for those who have, post-pandemic, traded going-out for staying-in. Sales in its "Remarksable value" range – benchmarked against competitors – were up 40% last year, and featured in more than 20% of customer baskets. A shop once perceived to be prohibitively expensive for many locked prices on a range of about 150 everyday family favourites for three-month periods. Its well-known "dine-in' offer – once seasonal – is also now constantly available.
Efficiency has also been driven by a shift in supply chains. "Marks always had a very expensive supply chain in food, run by a third-party company called Gist," Shuttleworth says. In July 2022, it announced it was acquiring Gist in a deal worth up to £255m. In the year up to April 2023, M&S outperformed all major full-line supermarkets. "By bringing Gist in-house," says Shuttleworth, "they're setting up to become a full food retailer."
Not everything, however, has been smooth. In 2019, M&S agreed a £750m joint venture with the online grocery company Ocado. The aims was to replace Waitrose's 4,000 products on Ocado with 6,000 of its own. But with Ocado making losses of more than £500m, the deal has not yet delivered on expectations.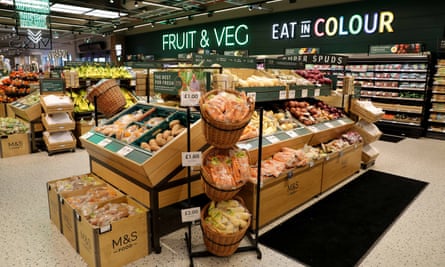 Stores
In January this year, M&S announced major changes to its nationwide network of stores, with plans to open 20 large ones and create 3,400 jobs as part of a £500m rejuvenation plan. Months earlier, it had set out plans to close 67 "lower productivity" sites – about a quarter of its estate of bigger stores. Previous administrations, Shuttleworth argues, were reluctant to reshape the in-store offering, whether by moving away from high streets or improving the customer experience. "These plans are big and brave," she says, "and will see shops where customers want them." That means big investments in major city centre stores – mopping up House of Fraser and Debenhams market share – in places like Liverpool, Manchester and Birmingham, but also opening in retail parks in places such as Northampton. And it's paying off: through the store rotation programme, M&S will see a reduction in lease liability of £309m.
Digital
Ask any retail expert what the key to M&S's future sustained success will be, and you will be told that it needs to be "omnichannel": meaning an integrated approach to the customer experience in the digital and physical world.
"In the last few years, they've invested a huge amount in getting this right," says Richard Lim, chief executive of Retail Economics, "by building the digital infrastructure to make a more cohesive journey between what happens online and in store." Their customer app – Sparks – now has a base of 4.3 million active users, a 40% increase year on year. Click and collect sales were up 20% in the last financial year.
"The purpose of their stores has evolved," says Lim: more than 60% of online orders are collected at stores, and more than three-quarters of returns are processed through the store network. "That's good for business," explains Lim. "Customers returning online purchases to stores protects profitability as the business doesn't have to pay the cost of returns, and gets stock back into the supply chain, but customers will also spend on their store visit, whether planned or impulse."