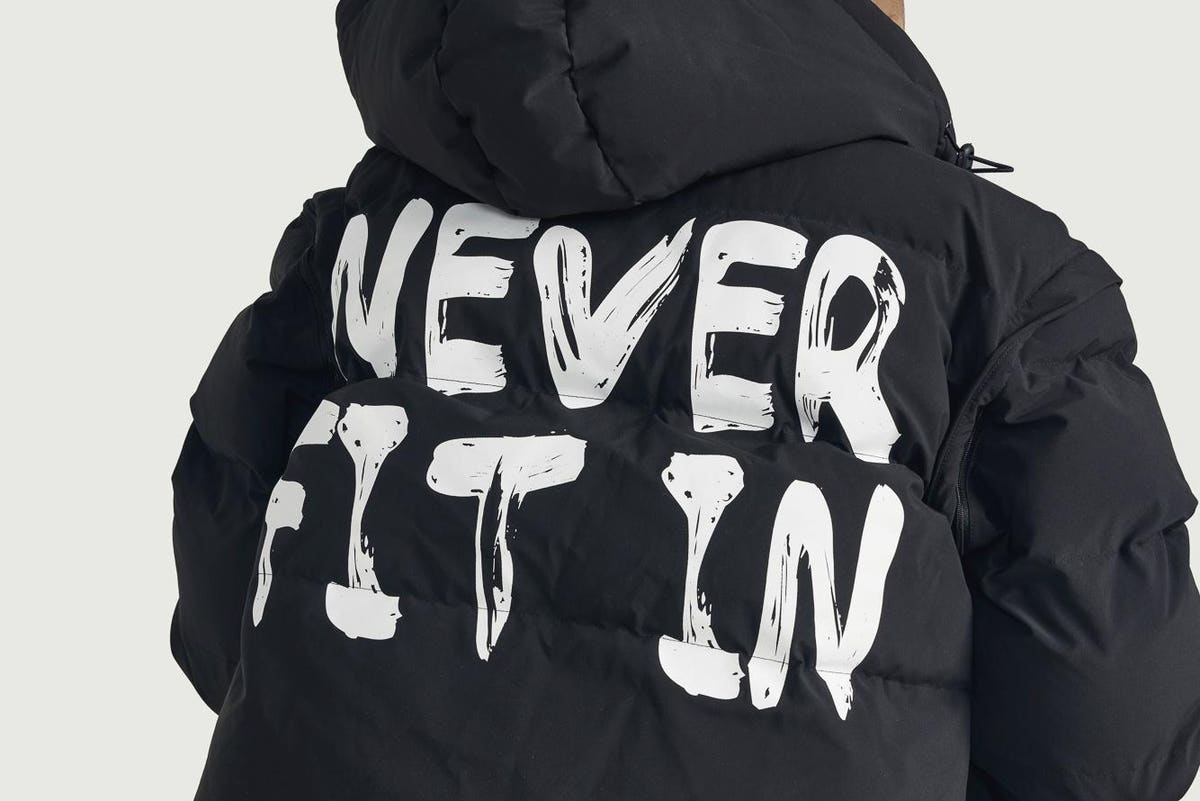 Lindsay Barnette founded Kultured Misfits in 2015, leaning on her disposition of not fitting in. Today, the Atlanta-based streetwear brand has collaborated with fellow entrepreneur Tisha Thompson of LYS Beauty, releasing a limited edition three-piece capsule collection called "Love Letters."
In celebration of Black Business Month, LYS Beauty, the first Black-owned clean cosmetics brand at Sephora, and Kultured Misfits have crafted a premium unisex streetwear collection that combines aesthetics while paying homage to Black Greek life, associated with HBCUs. This collaboration shares the sentiment of 'not fitting in' and has created a partnership between two brands that reflect a sub-cultured expression.
"I met Tisha, the founder of LYS Beauty, through my Director of Operations on my team. She is his sister-in-law, and she's been a big supporter of KM over the years," Barnette details. "When I heard she was launching her own beauty brand and what LYS stood for, I just knew we needed to work together."
"We spoke more – the synergies just became obvious that our brand messages of 'Love Your Self' and 'We Were Never Meant To Fit In' really were speaking to similar audiences and encouraging similar messages.
The "Love Letters" collection promotes a message of self-love, authenticity, and empowerment, something both Barnette and Thompson know all too well. Lindsay Barnette, Creative Director of Kultured Misfits, also emphasizes this collaboration as significant in encouraging people to embrace their individuality – the label's ethos.
Barnette explains, "When we thought about beauty, specifically from the LYS brand standpoint, we looked at color palettes, bold, striking details, and versatility to speak to a wide range of women. From the streetwear side, we looked at the silhouettes, the fabrics, the cuts, and the versatility/function that the pieces could bring. Ultimately we wanted this collection to feature pieces that felt both feminine and street, at the same time. It needed to speak to the relatability of the everyday woman mixed with the luxury found in both beauty and streetwear, telling the story of both brands in one."
Thompson, Founder and CEO of LYS Beauty, expresses, "I'm thrilled to collaborate with Lindsay and Kultured Misfits to celebrate Black Business Month with the "Love Letters" launch. LYS Beauty offers clean beauty products with a wide range of shades at affordable prices. The mission is to challenge the notion that clean beauty and high-performance products cannot coexist." Tisha's expertise in the beauty industry and dedication to redefining beauty standards have led to LYS Beauty's groundbreaking entry into the cosmetics retailer Sephora.
"Both LYS Beauty and Kultured Misfits are on a steadfast mission to arm the next generation with a level of self-confidence and compassion that positively shifts how they show up in the world," said Thompson. These collections of everyday pieces serve as a reminder to oneself and align with everything we preach as mission-based brands."
Kultured Misfits is creating a community for those who reject conformity. The brand inspires through its meaningful graphics and motivational mottos on quality garments. The "Love Letters" collection embodies self-confidence and authenticity.
Barnette says, "For Kultured Misfits, each collection is driven by our commitment to our mission, the love for the details and the meaning behind each piece that allows us to connect to our community and I've seen LYS Beauty do the same in the beauty category, which made this feel like an important and unique partnership for us. And this feels like just the beginning." Barnette has cultivated her brand within the city of Atlanta, garnering the attention of fellow entrepreneurs and harnessing the energy into a meaningful business motto.
The collection features three key pieces, including the Black W. Puffer Vest Jacket, a versatile garment that transforms from a jacket to a puffer vest. It showcases graffiti-style taglines like "Love Yourself" and "We Were Never Meant to Fit In," embodying the collaboration's empowering theme. The Kultured Misfits W. Quarter-Zip Pullover, a color-blocked pullover in Confident Blush and Empower Plum, carries impactful messages with embroidery such as "Love Yourself" and "Never Fit In" on the back and sleeve.
"My personal favorite from the collaboration is our "Love Your Self" W. Puffer Vest/Jacket. It embodies everything we sought out for in this collab," Barnette affirms. "A piece that can be dressed up – for a night out with full make-up – or dressed down for a casual day. We wanted the functionality of the jacket to be what drew people in. The removable sleeves and hood allow it to be multiple pieces in one. And the "Never Fit In" paintbrush detail on the back, just adds the touch of art that we love. To me, it is the perfect piece that truly bridges the gap between fashion and beauty."
Lastly, the W. Cargo Jogger Pants in Empower Plum exhibit meticulous design details like leg embroidery, ribbed cuffs, waistband, and cargo pocket designed to hold LYS Beauty products. Each piece in the collection reflects the spirit of empowerment, self-acceptance, and authenticity.
Lindsay Barnette's fashion brand, Kultured Misfits, continues to make waves in the fashion industry through exciting collaborations, joining forces with basketball legends Shaquille O'Neal and Quavo for TNT's premiere episode of "The Game Plan." Also expanding its reach to the NBA stage with the captivating project, "When Two Worlds Collide," Kultured Misfits is in collaboration with the San Antonio Spurs. By working closely with the Spurs, Barnette celebrates the spirit of competition and unity, creating a fashion line that resonates with sports enthusiasts and fashion fans alike.
The "Love Letters" capsule collection will be available in inclusive sizing – and is the first design from Kultured Misfits for women. Launched this summer, this "Love Letters" capsule exclusively sells on kulturedmisfits.com and lysbeauty.com.