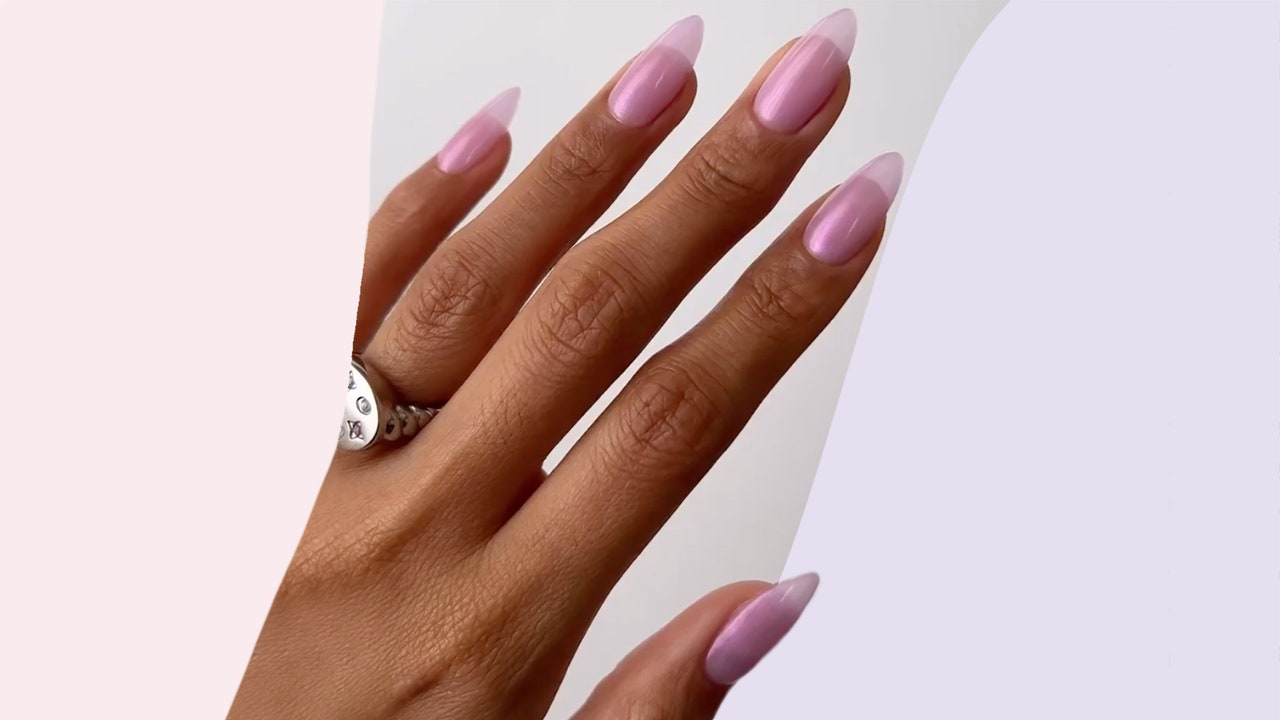 K-Beauty has yet again inspired another rising mani trend. This time it's the turn of syrup nails which are steadily gaining clout on TikTok having already generated nearly 10 million views. So we asked Jin Soon Choi, pro celebrity nail artist and founder of nail brand, Jinsoon, to run us through everything we need to know about the delicious aesthetic.
What are syrup nails?
Exactly as sweet as they sound, "syrup nails replicate the appearance of liquid syrup, akin to the glossy, high-shine finish of jelly nails," confirms Jin. "Achieved using either gel or regular nail polish along with a glossy top coat, this nail style gives a lustrous, wet-like sheen across the nails. Given their fresh and lightweight nature, these nails have gained popularity as a trend suitable for everyday wear," she adds.
And since the trend centres around the finish more than the shade, there's lots of room for personalisation. "The effect can be in a variety of colours and shades — white, pink, coral and purple are particularly popular, as is a milky syrup finish," says Jin.
How to create syrup nails?
The good news is, you can treat your self to syrup nails in the salon, or have a go at home. "The idea is to mix any colours with the base coat to achieve the appearance of a translucent syrup hue," explains Jin, who recommends a 1:2 ratio. "Some achieve this look through the layering of syrupy nail polish, while others opt for an ombre-like effect," she says.
How to create Ombre Syrup Nails?
Ombre nails are trending in their own right, right now. But for a dewy twist, you can graduate the colours from light to dark, while keeping the finish glossy and syrupy. The ombre Frenchie is particularly popular. "This technique starts with a pure white at the nail tips and gradually becomes sheer as you move upward, resulting in a natural appearance without distinct boundaries," explains Jin.
"To achieve a clear syrupy colour, mix a pure white nail colour with the clear base coat at a ratio of 1:1 for the nail tips. Or, for a lighter syrup effect, use a ratio of 1:2 or 1:3, especially if you don't have a sheer cream finish nail polish," says Jin.
Start by applying a base coat.
Take a straight sponge, tap it into the mixed colour, and gently press it onto foil or vinyl to reduce the amount of polish on the sponge. Then, gently tap the sponge from the nail's end towards the top.
Similarly, create darker ends for the second and third layers.
Apply one or two coats of JINsoon Dew [or another sheer, organza, white polish] all over the nails. In comparison to step 2, the white border will disappear, creating a soft syrupy gradient.
Finish by applying a glossy top coat. This final step completes the white syrupy gradient, giving the illusion of flowing condensed milk.