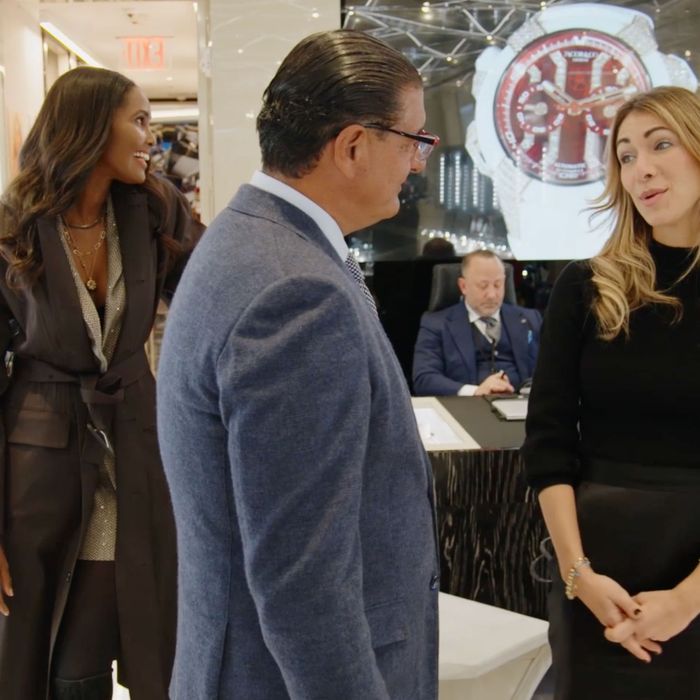 For as different and fresh as this new era successfully set out to be, there are some inescapable truths and recurring themes that this series is incapable of straying from no matter how hard it tries. And in this episode, the echoes of our bygone city ring out louder than ever — The Real Housewives of New York City finally becomes RHONY.
In preparation for Erin's anniversary party, Ubah takes her to her friend Jacob Arabo's jewelry store to borrow diamonds for the event. Though a far cry from the Jovani showroom, when Ubah starts mentioning Prince Albert, we're suddenly thrust back to our collective past life on the Upper East Side. If they say "Prince Albert" one more time, Sonja Morgan will materialize in front of them and start talking about smokey eyes, updos, and Gstaad. While trying on half a million dollars worth of jewelry, Erin says that she wants to move past her conflict with Jessel, even though she's still annoyed that she insinuated that Erin doesn't support other women. It's a classic RHONY dig, made famous by Ramona Singer yelling it to Bethenny on the phone while wearing a big white coat and letting Coco roam into traffic. The sheer "ordacity" of Bravo not to give us a flashback.
Speaking of Jessel, she and Brynn are doing their own party prep, where she asks if Brynn looked closely at Erin's invitation. There's a glimmer of mischief in her eye as she casually says, "There's just, like, a lot of … sponsors at the bottom." And sure enough, we cut to the invitation with a long list of sponsors that Brynn compares to a Coachella poster. We need Ramona and Jill's verdict on what the social register would make of this. Brynn asks how things have been since the cackling hags incident, and Jessel iconically says that she thinks her apology at her event was all-inclusive, so she doesn't feel the need to apologize anymore.
Meanwhile, safely out of the crossfire is Jenna, who's busy helping her friend and Schitt's Creek star Emily Hampshire redesign her home. Interior design work is something that she's gotten to dive into since leaving J. Crew, and says that she got more attention for renovating a Brownstone than she did for her career in fashion — which I don't think is true. Speaking of other ventures, like a good friend, Emily uses this Zoom call as an opportunity to do a mini-infomercial for Jenna's line of false eyelashes.
Ahead of their big party, Erin and her husband Abe celebrate their official anniversary at David Burke Tavern, which is a restaurant and not (as I mistakenly thought) Neil Patrick Harris's husband. It's an Upper East Side spot that the pair haven't been to in a while since Erin doesn't like going above Canal Street. More room at the M&M Store for me then, Erin.
When Abe orders a drink on the rocks, the server asks if he wants a big rock or a bunch of rocks, to which Erin says she also wants a big rock. And just like that, Abe whips out a ring box and gives her a massive diamond. The timing was almost too perfect to believe, and sure enough (based on table continuity errors), the smooth transition was seemingly actually cobbled together by the masterful editors. In either case, Erin wins.
Going from one happy couple to another happy couple, we then stop by Jessel and Pavit's place where the celibate pair discuss pre-school applications — a fitting storyline given that that was the original premise for the show back when the working title was Manhattan Moms. But naturally, they're on two different pages and Pavit nearly falls over when he sees that the school costs $62,000. "Tom Cruise sent his kid here, you could be rubbing shoulders with that," Jessel argues, despite the fact that they're both much too tall to rub shoulders with Tom Cruise. But wait, the application needs them to list any boards they're on, so she asks if Pavit's a part of anything other than the Street Food Association of New York City, which she earnestly refers to as his "fried chicken committee." Jessel Taank is simply a star, and to top it all off, she accidentally calls her child "socially inept" in the application — which is apparently genetic.
Finally, it's the night of Erin's party at the extravagant Hall des Lumieres, a massive former bank, which has inspired me to have my next birthday party in one of the overheated ATM vestibules of a TD Bank. Unfortunately, Ubah can't make it on account of a positive COVID test, which has become a recurring trope on Housewives, but luckily all of the other women are able to attend (Jenna ran out of Christmas trees to decorate). Brynn arrives in a big white fur and sunglasses, Jenna greets Erin with an ass grab, and Jessel sports a shiny purple dress with poofy feathered sleeves.
Apparently summoned by the mere presence of feathers, in walks RHOSLC's Meredith Marks, with famed fashion designer Brooks Marks in tow, who Erin invites over for Shabbat. This crossover, masterfully timed to just weeks before SLC's premiere, clues us in to Meredith and Erin's pre-Bravo friendship, continuing the fascinating pattern of Housewives from different cities having been connected long before the cameras showed up (Bethenny Frankel and Kyle Richards, Brandi Glanville and Kristen Taekman, etc.). It proves that people don't choose to be Real Housewives; they're born that way.
Speaking of being born that way, Jenna notices a hot dude, prompting Sai to question what her deal is and ask if she'd ever sleep with a man again, to which she says yes. The "B" in LGBTQ is not a silent letter, to quote Uma Thurman's Foghorn Leghorn accent in Red, White, and Royal Blue. She also lets slip that she's now single, which is news to the other women, who quickly seize this rare opening and probe Jenna for details. In what felt like a dig for keeping this girlfriend private, Sai asks if they broke up because the girlfriend wanted to be more "seen," and Jenna says that it was the opposite. Trying not to break the fourth wall, she dances around things a bit but seems to allude that it had something to do with her signing up for Real Housewives.
So Jenna is officially one of the single women, the leader of whom is, of course, Brynn, who's been spending the party on the prowl, with her sights set on both Erin's dad and husband. In what's sure to be a point of contention later this season, Brynn tells Abe that if things don't work out with Erin, she's available. It's a short-lived flirtation, though, and she quickly tells him that she's more interested in Erin's dad, so she'd have to call her "mom." Little did Brynn know that soon enough there would be hoards of Bravo viewers who'd be calling her mother.
The speeches begin, and by the inclusion of the "Speaker No. 1" chyron at the bottom of the screen, it's clear we're in for the long haul. "You guys, he has four pages in his hand," Jenna warns the other horrified women. As (what feels like) the entire party passes the microphone like it's a baton, Jessel and Brynn browse dresses online, Sai wonders when NOBU closes, and eventually, Erin's sister Kelley (or Patti Harrison doing a character) comes up to scold them for talking. Brynn's natural instinct to clap back makes a brief appearance as she asks if she's going to go around to everybody else to scold them too, but ultimately all of the women (boringly) concede that Kelley's right and apologize.
Finally, after a DNC's worth of speeches (or RNC by the look of the crowd), it's finally time for Erin and Abe to exchange vows — something they never did the first time around. Is it technically a vow renewal if it's the first time they're delivering them? Hopefully not, because then they'd be avoiding the famous Real Housewives curse. They read their vows off their cell phones because there was apparently no room left in the budget for a classy notecard, and Abe quotes the Grateful Dead in what feels like a shameless attempt to get into Andy Cohen's good graces.
With the speeches over, a starving Sai plots her escape to NOBU — continuing the season-long arc of Erin being incapable of feeding anybody (unless you count food from Catch, which some apparently don't). But before she slips out, the ladies all watch as a random woman's hair catches fire before them. It's quickly extinguished, but Sai's seen enough and pulls an Irish goodbye. Erin takes notice and umbrage, especially considering that Sai made a big deal of Jenna leaving Erin's house without saying goodbye. But to be fair, nobody was ablaze back in the Hamptons.