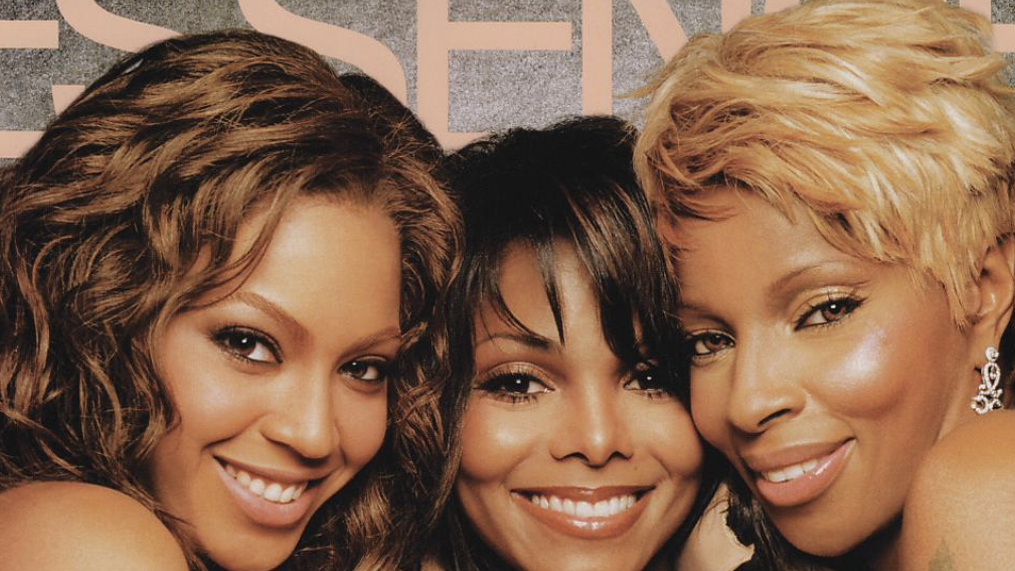 As we venture into the new millennium, ESSENCE is on a roll. Despite the legacy brand's reluctance to embrace what hip-hop was becoming, eventually the company would get on board with the times. While in the 90s was a decade of innovation and newness, ESSENCE stayed abreast not only of global issues, but showcased some of the best and brightest Black stars of the time.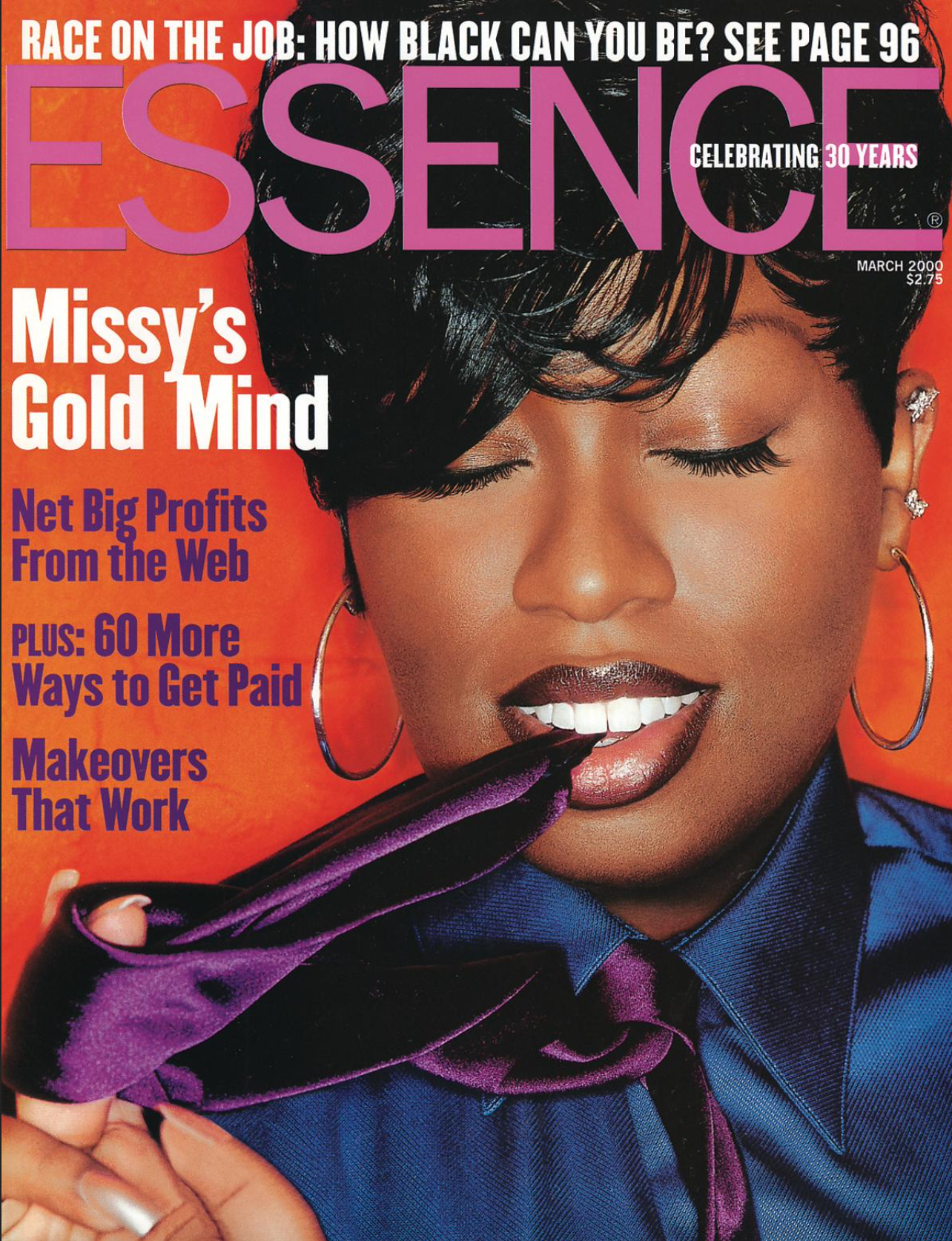 In the early years of the new millennium, ESSENCE magazine celebrated the remarkable talent of Missy Elliott by featuring her in their March 2000 issue. At this point in her career, Missy had already solidified her status as a groundbreaking female rap artist, having released two highly successful albums, Supa Dupa Fly in 1997 and Da Real World in 1999, both of which achieved RIAA platinum certification. 
Her unique style, and unapologetic approach to self-expression not only challenged the conventions of the hip-hop industry but also empowered a generation of women in the music industry. Missy's influence extends not only to her chart-topping hits but also to her pioneering music videos, which pushed the boundaries of visual storytelling in music. Her ability to challenge stereotypes and redefine beauty standards has left a lasting legacy, making her a role model for artists who aim to break barriers and pave their own unique paths. Even after nearly a quarter of a century, Missy Elliott's mark on the music industry continues to be felt, reminding us of her enduring impact and cultural significance.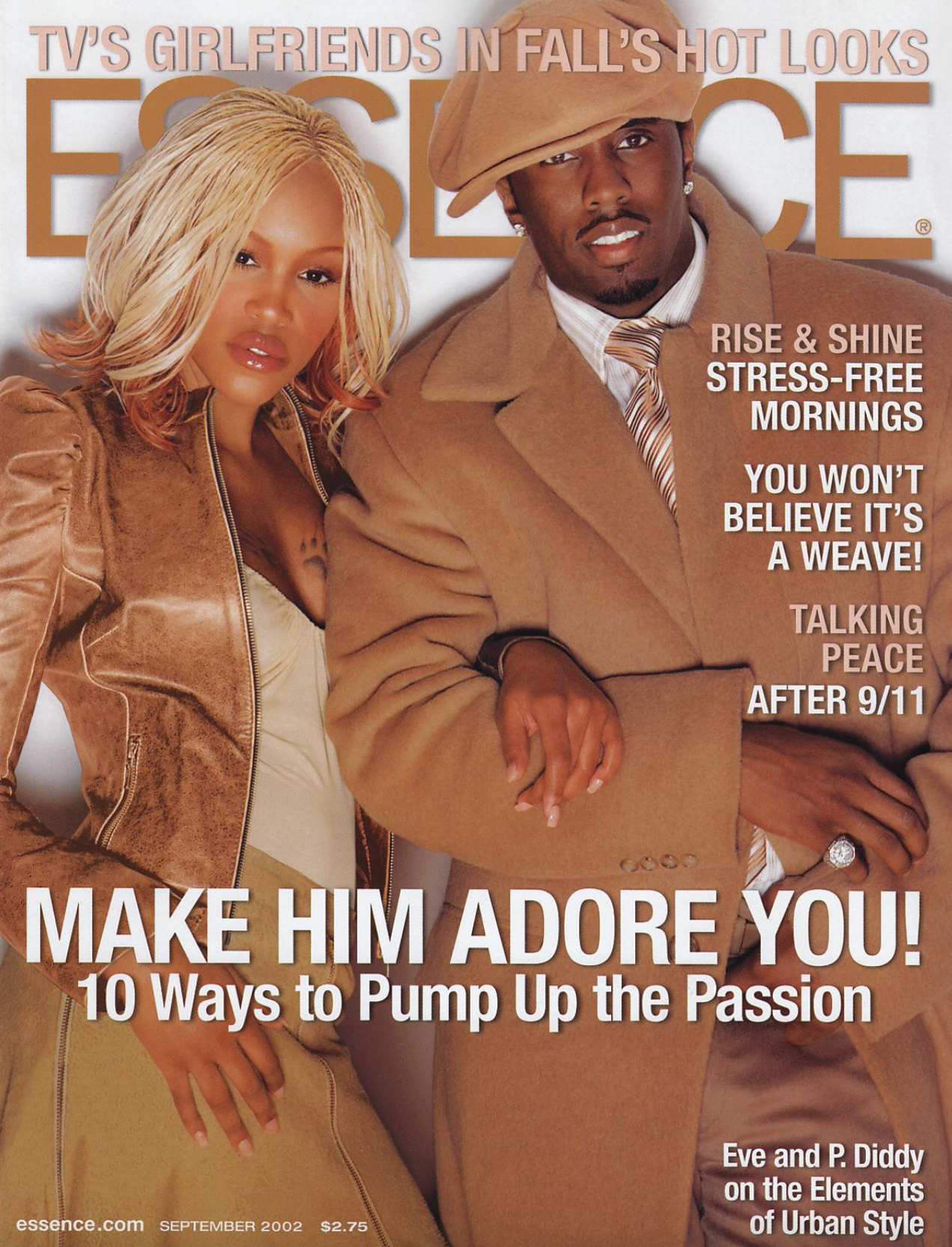 In September 2002, ESSENCE magazine played a pivotal role in celebrating the evolving landscape of hip-hop by featuring Eve and Diddy on its cover. This choice of cover stars was not only a reflection of the magazine's commitment to showcasing influential figures in the music industry but also a recognition of the transformative nature of hip-hop during that era. Eve, known for her powerful lyrical prowess and fearless approach to addressing social and cultural issues through her music, represented the growing prominence of female artists in hip-hop. Her presence on the cover was a testament to the expanding opportunities for women in a genre that had traditionally been male-dominated.
Simultaneously, featuring Diddy (Sean Combs) was a nod to the ever-evolving entrepreneurial side of hip-hop. Diddy had not only made a name for himself as a successful rapper and producer but had also become a formidable business mogul with ventures in fashion, music production, and entertainment. His inclusion symbolized the multifaceted nature of hip-hop as it extended beyond music into various industries, solidifying its position as a cultural and economic powerhouse.
ESSENCE's decision to spotlight Eve and Diddy in 2002 was a reflection of the magazine's commitment to capturing the zeitgeist of hip-hop's transformation, showcasing not only the genre's musical innovation but also its cultural impact and the diverse talents shaping its future.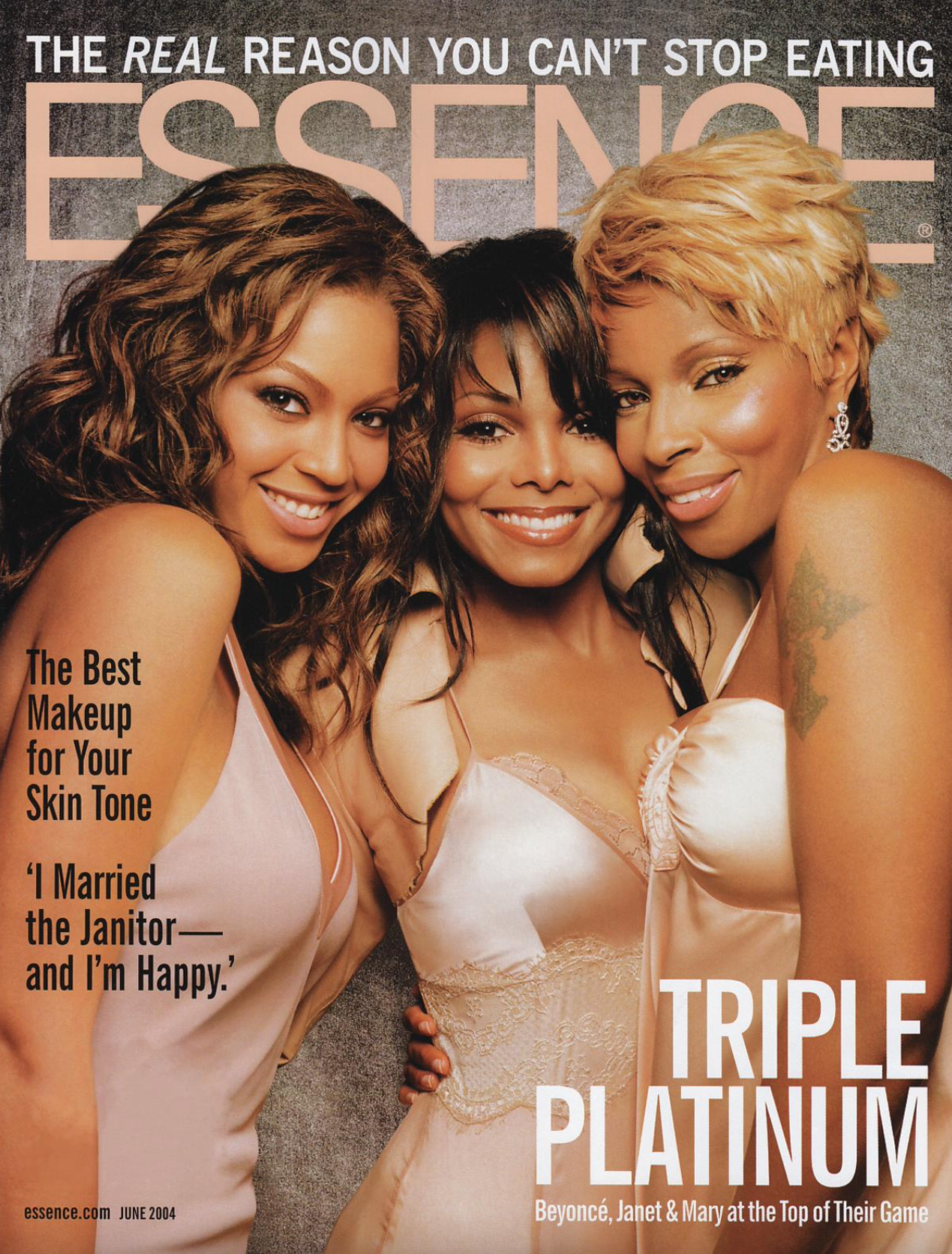 In July 2004, ESSENCE magazine made a powerful statement by featuring a remarkable group shot that included three iconic women in the music industry: Beyoncé, Janet Jackson, and Mary J. Blige. This cover marked a significant moment in the magazine's history and in the broader context of music and pop culture. At this time, each of these artists had reached pivotal points in their careers.
Blige, with her sixth studio album, had firmly established herself as the reigning queen of R&B, known for her raw and emotionally charged performances that resonated deeply with her audience. 
Beyoncé, fresh off the release of her critically acclaimed debut solo album Dangerously In Love, was making her mark as a solo artist following her Destiny's Child days. Her inclusion on the cover symbolized the emergence of a new era in R&B and pop music, one marked by her immense talent and charisma.
Jackson, on the other hand, had faced backlash and controversy following the Super Bowl incident earlier that year. ESSENCE's decision to feature her was a gesture of solidarity and a recognition of her status as a trailblazing artist who had pushed boundaries in music and performance. It provided a safe haven and a platform for her to express herself amid the media frenzy that surrounded her.
This ESSENCE cover was a celebration of these three women's contributions to music, their resilience, and their impact on the industry. It highlighted the diversity of talent and the enduring power of female artists in the world of entertainment. Moreover, it demonstrated ESSENCE magazine's commitment to not only celebrating success but also providing a space for artists to be seen and heard, irrespective of the challenges they may face. In doing so, the magazine played a significant role in shaping the narrative around these iconic women.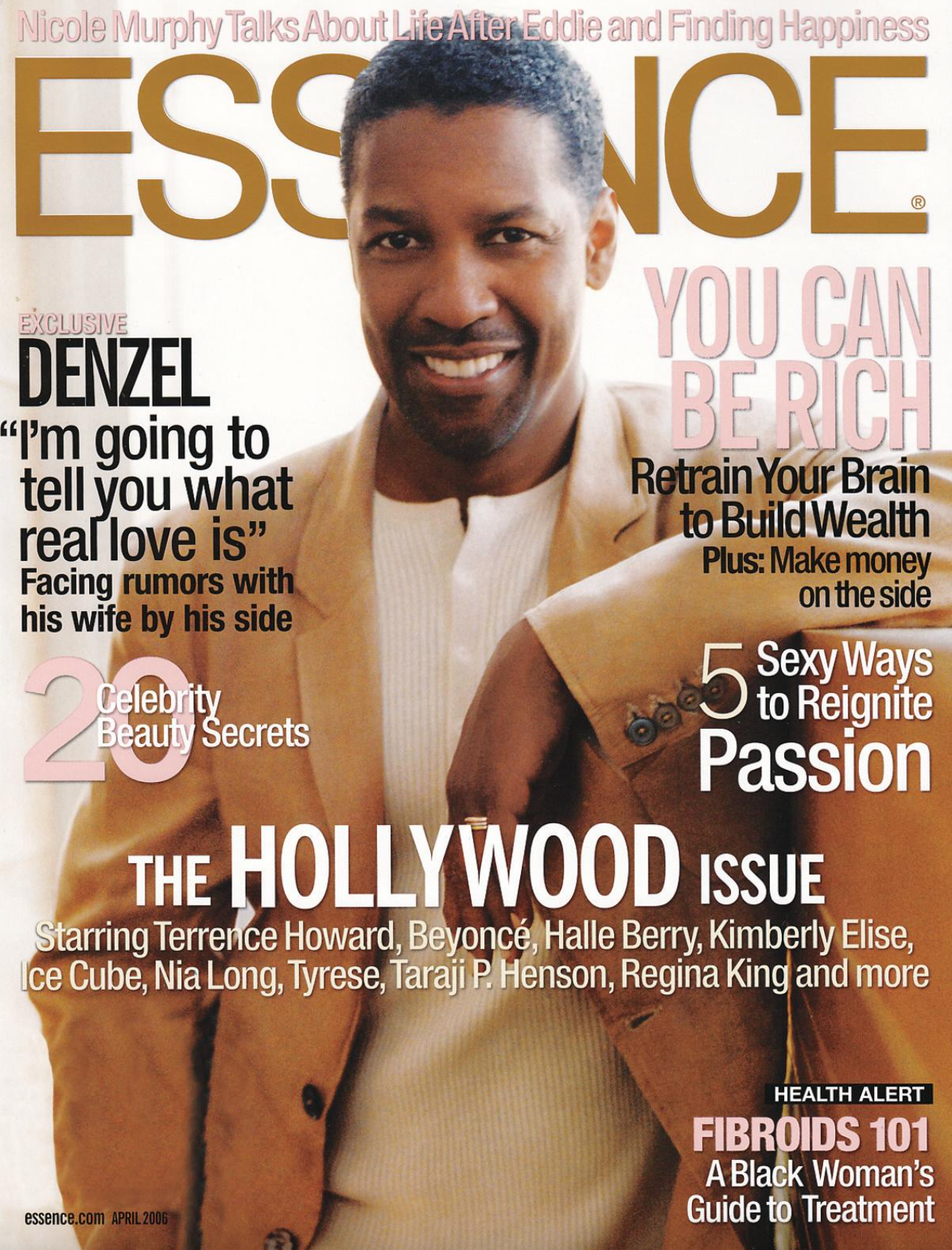 In April 2006, ESSENCE magazine presented an iconic Hollywood issue, featuring none other than the legendary actor Denzel Washington on its cover. This cover choice was a testament to Washington's enduring star power and his significant contributions to the world of cinema. At that time, he was riding a wave of success, with his recent film Inside Man having just hit theaters and another promising project, Deja Vu, on the horizon.
Washington's presence on the cover was more than just a celebration of his acting prowess; it represented the magazine's recognition of his influence and the impact he had made not only in Hollywood but also in the broader context of African American representation in the film industry. Throughout his career, Denzel had portrayed a wide range of characters, each with depth and authenticity, breaking down racial barriers and showcasing the diversity of roles African American actors could undertake.
Inside Man and Deja Vu were just the latest entries in his impressive filmography, demonstrating his versatility as an actor. His ability to tackle a variety of roles, from intense dramas to action-packed thrillers, made him a beloved and respected figure in the entertainment world. ESSENCE's decision to feature him on their cover underscored the magazine's commitment to recognizing and celebrating excellence beyond what you could see onscreen, but also within his marriage—it was a beautiful display of Black love to the African American community.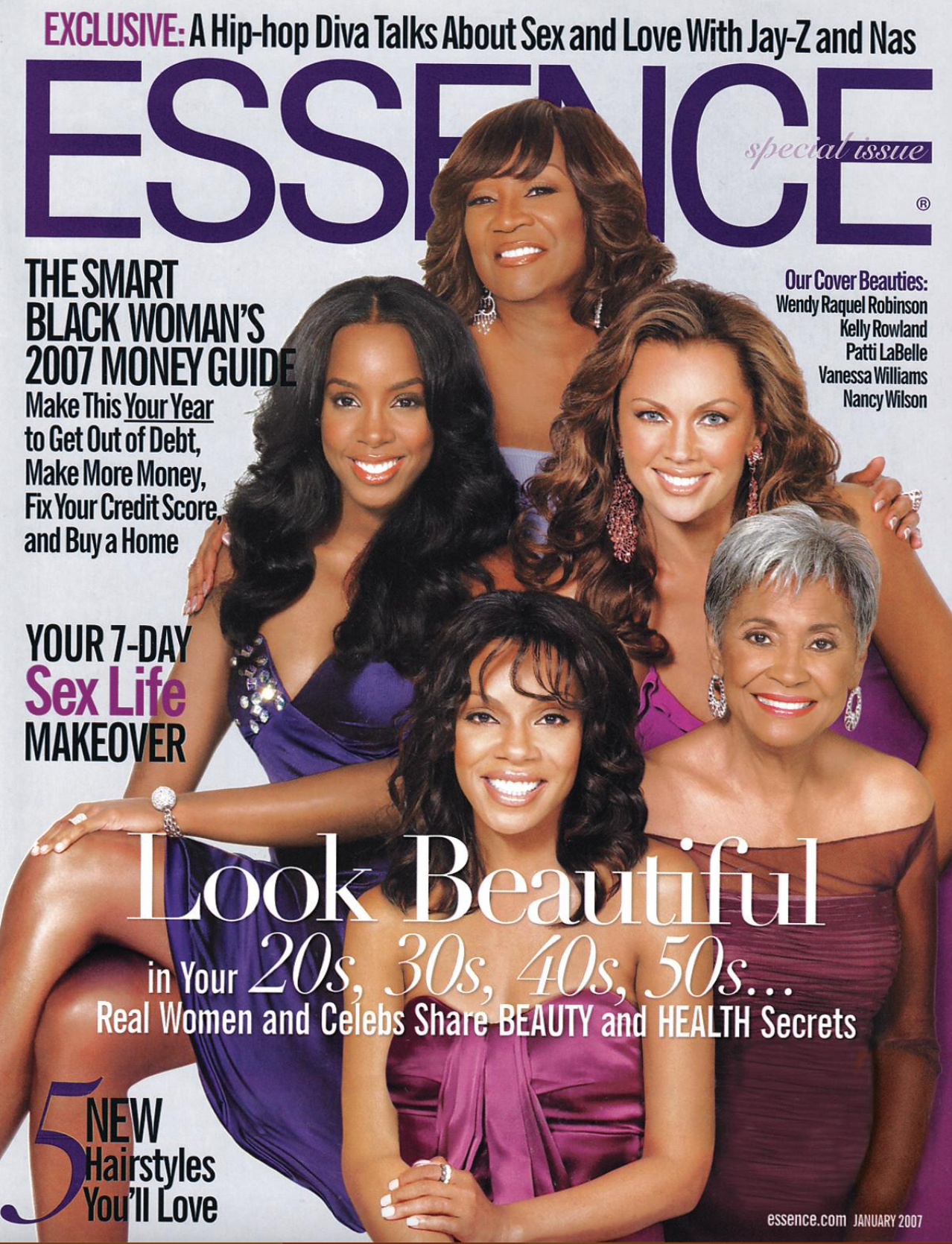 In January 2007, as the decade was drawing to a close, the magazine continued its tradition of capturing Black excellence and empowerment with an unforgettable cover. This particular issue featured a groundbreaking group shot that showcased the incredible talent and diversity within the African American community. The cover stars were a formidable ensemble of accomplished women from various generations and fields, each making their mark in the entertainment industry and beyond.
Wendy Raquel Robinson, known for her roles in hit TV series like The Steve Harvey Show and The Game, represented the contemporary wave of Black actresses who were breaking barriers on television and in film. Her presence was a testament to the ongoing evolution of opportunities for Black women in the entertainment industry.
Kelly Rowland, a former member of Destiny's Child and a successful solo artist, symbolized the legacy of Black women in music, showcasing the achievements and influence of contemporary artists. Her journey from a chart-topping girl group to a solo career was a testament to her talent and determination.
Patti LaBelle, a legendary soul and R&B singer, brought timeless star power to the cover. Her iconic career spanned decades, and she was celebrated not only for her incredible vocal prowess but also for her contributions to the music industry as a whole.
Vanessa Williams, a multi-talented actress, singer, and former Miss America, represented the enduring legacy of Black excellence in the world of pageantry and entertainment. Her achievements were a source of inspiration for aspiring artists.
Nancy Wilson, a jazz and pop music legend, added a touch of classic elegance to the group. Her presence on the cover acknowledged the rich history of Black women in music and their lasting impact on the industry.
This ESSENCE cover from January 2007 was a beautiful mosaic of talent, achievement, and empowerment. It celebrated the achievements of Black women across generations and served as a reminder of the diverse and dynamic contributions they made to society and culture. ESSENCE's decision to bring together these remarkable women highlighted the magazine's commitment to showcasing the multifaceted nature of Black excellence, both past and present, and its dedication to inspiring future generations.