Covering our Autumn/Fall 23 issue, the artist sits down with album collaborator and fellow songstress, Amber Mark.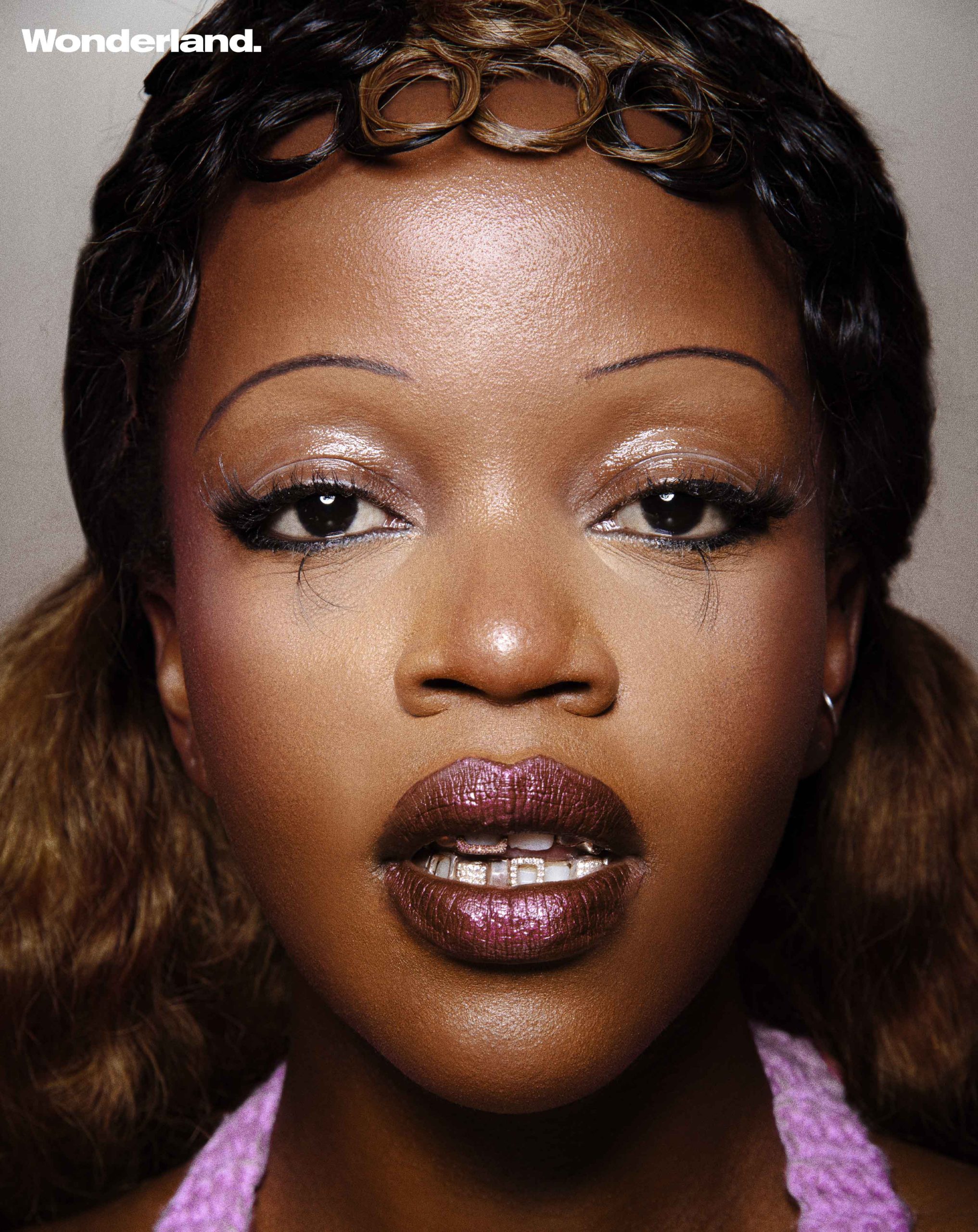 In case you haven't heard, the Hip-Hop genre has hit the big 50—a milestone underscored by legends such as Missy Elliot, Lauryn Hill and Foxy Brown, to name a few. Five decades on, Hip-Hop maintains the global fire it incited from '90s New York City, releasing Tkay Maidza from its embers and into the spotlight.
Adopting an experimental approach to the Alt Hip-Hop genre, the Zimbabwean-Australian artist is celebrated for pulling references from the icons of the cultural movement and blasting them into her own, visually captivating, universe. After the release of her "Last Year Was Weird" EP trilogy between 2018 and 2021, Maidza took a well-deserved break from releasing fully-formed projects. But, after spending some involuntary time in Berlin courtesy of a lost passport or two and some self-healing, she is back and this time she has one thing on the brain: karma.
With new album Sweet Justice hurtling towards release, the artist sits down with Sweet Justice collaborator and fellow songstress, Amber Mark, to detail the process behind her latest project, and how infiltrating the L.A. music scene led her to a "holy grail" list of collaborators on the new project.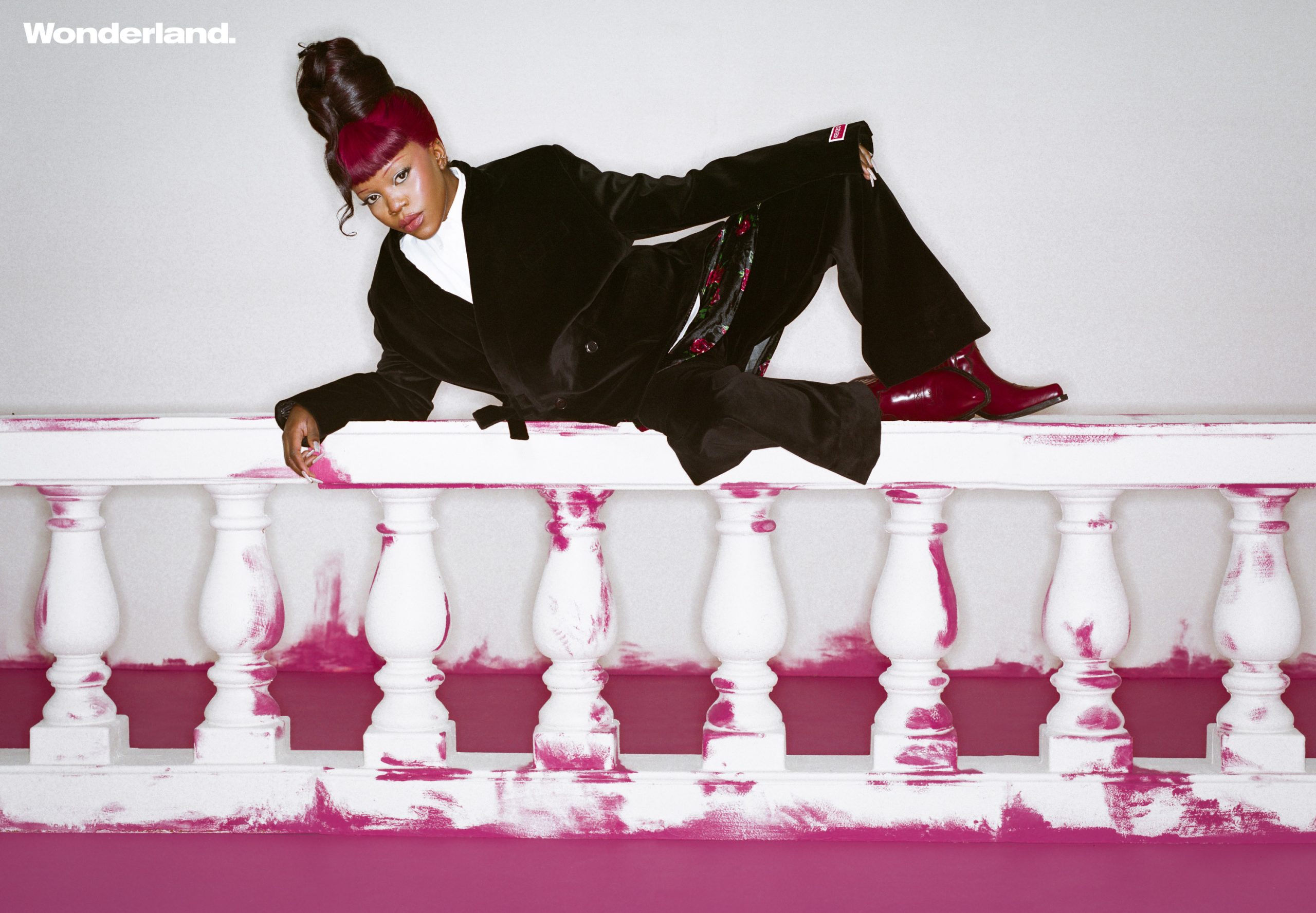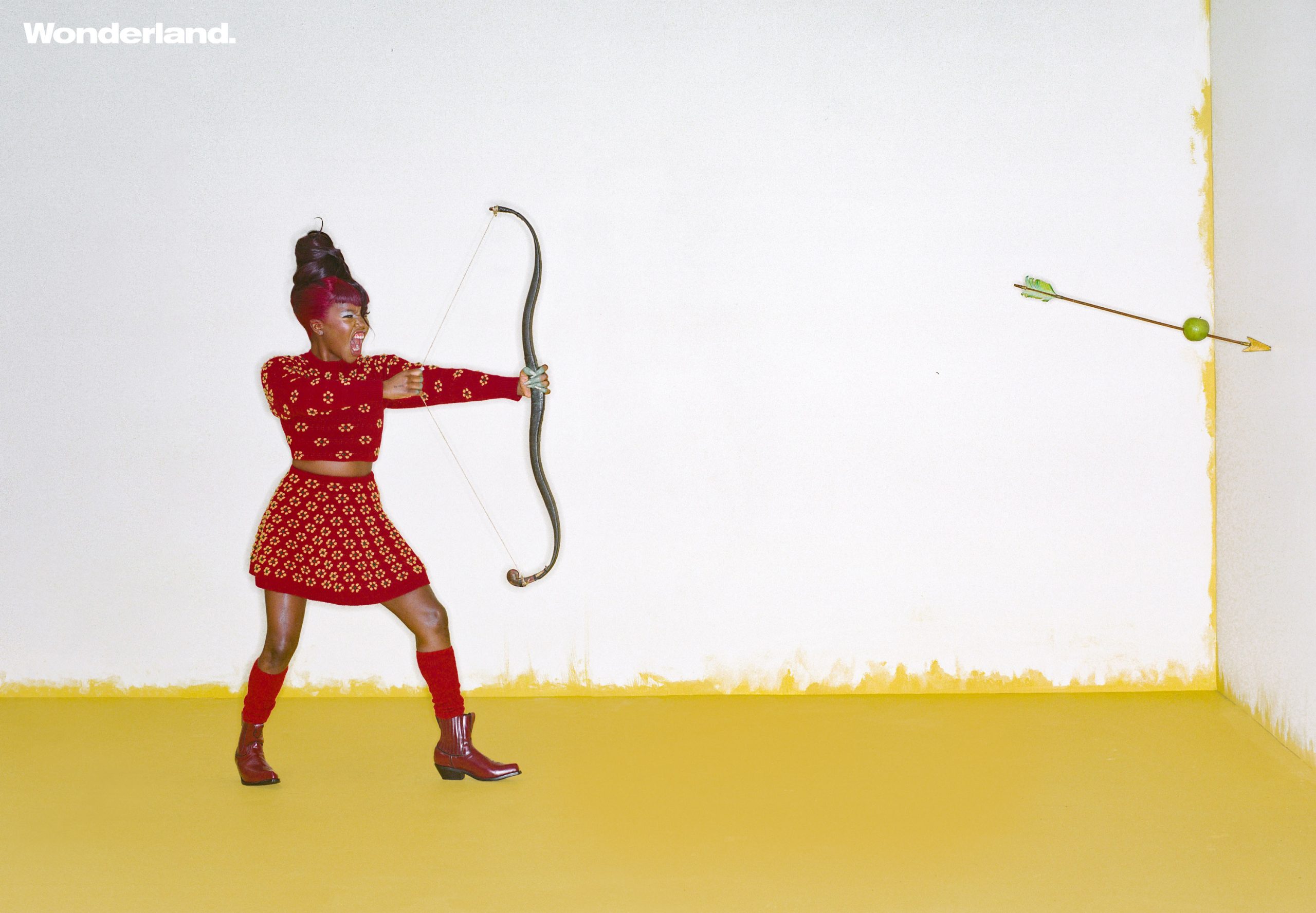 AM: So I'm gonna start with my first question and that is, do you remember how we both first met?
TM: I've been a fan of yours for probably 10 years. So I knew early Amber, before you came back with "What It Is". It all started to come full circle when my DJ, Sherwyn, that I tour with said he was working with you and that was how we actually met.
AM: And now it has come full circle because we have a song together! I'm honoured to be a part of this album.
TM: I am so honoured to have you. I felt like it was the perfect song to have you on as well. Having Lolo Zouaï on the track solidifies it in a way that I wouldn' have been able to achieve on my own. It's cool having three different females on the track to give their perspective.
AM: So you were born in Zimbabwe and then grew up in various parts of Australia. Have those music scenes influenced your sound?
TM: My dad and my uncle have been in so many bands. I was going to their shows every weekend. They would play more uptempo South African music with guitar focus; a lot of music from Zimbabwe is happy and it's about overcoming adversity. I think that has added to my musical influence because I'm always seeking solace and happiness. Australia is so suburban and there's nothing going on there, so I wouldn't say that the music scene in Australia really shaped how I sound. I'm still an outlier, I don't sound like anyone there. But I think that's what made me become who I am; I was on the internet, on MySpace, Tumblr and SoundCloud. When Dance started to fuse with Hip-Hop, that's when I found music more interesting. I started discovering Kendrick Lamar, Denzel Curry, Rico Nasty and Azealia Banks. It made me realise the world is so much bigger when I step outside my parents' house. I group my career into two parts and the first is before Tkay. Before Tkay is trying to figure out what's happening and keep the label people happy and chasing a hit. When I dropped my debut album, I was like, 'Wait, I don't even know where I'm gonna go next because I've been following a sound.' That's when I decided to start delving into more soulful sounds, and it could be Dance music but it had to have the feeling of realness that I was brought up on.
AM: I feel like that's something I struggle with as well. There are all these voices in your ear and that can be kind of overwhelming. It's such a beautiful thing to go back to your childhood, I think that really grounds you and it's almost effortless and simple. Something else I wanted to mention was that prior to music, you played tennis and you could have gone pro, which is pretty insane. What do you attribute to the success you experience with the different projects that you undertake?
TM: It's really interesting because I often think about this. I feel like my work ethic and my ability to focus comes from my tennis background. But then if I really don't like doing something, I will fail at it. I had a hot streak with tennis for four years; I was so obsessed with it. When I was turning 16, I was at a point where I had to decide whether I really wanted to commit to it or not. At the time I was getting anxious and I didn't really understand what that feeling was at that point and I would shut down and be non-responsive. That started becoming a big problem because my parents were like, 'We are literally paying for your training, you're not putting in any effort, what's going on?' I had no idea what was going on but I knew I didn't want to be there. In that moment, I started playing around with music, just recording random covers and putting them on YouTube. I could sit down and work on a song for 10 hours and it wouldn't feel old, I was just so obsessed with it. That started to take me away from tennis.
AM: Okay, so I want to ask about the collaborators that you've worked with for your upcoming album. The first single you dropped from the new album was "Silent Assassin". We saw that a lot of fans in the YouTube comments were thrilled to see that you had collaborated with Flume on that track and the
album has the likes of Kaytranada producing on it. How do you choose who you are going to collaborate with and how involved are you in the production process?
TM: I'm pretty involved across the board. I feel like the more I'm in the studio whilst the song is being made, the more personal it feels. The whole lineup of people I am working with on this album, including collaborators, producers and visual artists, have been my holy grail for the last eight years. It is everyone that I've always wanted to work with. When I was starting music, artists like Duckwrth were people I would have loved to be in a circle of friends with. Flume understands the fundamentals of what makes a beat knock but then he takes it to space. I feel like everyone does that on this album. I feel like I've been building up to this moment by moving to L.A. and expanding my network.
AM: Those are some big names. Kaytranada! That is insane.
TM: Kaytranada and Amber on a track? I would cry.
AM: What is currently your favourite track from the album? I know these are your children and you probably can't pick one.
TM: I am going to say "Woke Up and Chose Violence" because we just shot the music video for that. Am I able to screen share? We had another video made for it but it didn't make sense. I asked the label if we could change it, even though they'd already spent so much money on it. But now we have gone for a black-and-white video that looks kind of scary, let me show you.
AM: This looks insane!
TM: They put worms on my face, it was insane. I was dying.
AM: Oh my God, your face!
TM: I haven't even shown you the crazy stuff! I don't know if we are going to include this but I pretend to eat a dead goldfish.
AM: Is it plastic?!
TM: No, it is a dead goldfish. But no goldfish were harmed in the making of the video. It arrived that way.
AM: No fucking way, for real?
TM: Yes! So that's what I was doing at the weekend. I'm really excited for our song together, "Out of Luck". It sounds like '90s Rihanna.
AM: I am very excited, I can't wait. This has been your first full album drop since 2017. Why did you feel like now was the right time to release a new album?
TM: Before this album I did a three-part series called "Last Year Was Weird" and that was me reintroducing myself to everyone in the world. Post-EPs is the best place I've been in my life, I finally can leave my parents' house and be an adult. I just wanted the album to be a victory lap of the EPs, just to further cement what I have been doing. With this new album, it was interesting because I started off with one producer and then I had a whole set of life issues happen which forced me to venture out, I had to find new managers and lean into my support system.
AM: You previously described your EPs as "The first one was: we're coming out of the ground. The second one was: we're vibing. And the third one is: we're flying". If you and I were the main characters in a feature film and Sweet Justice was the motion picture music for that film, what would it be about?
TM: I feel like it is a movie where we have a kingdom and some of the people in the kingdom might try to attack it but they don't realise that there is no place like home. It is the ultimate kingdom, with flying cars, everyone shoots bows and arrows, and there are dragons! It is basically Avatar.
AM: Oscar-winning! I see it already. The new album has been described as "not a revenge album, but one that does stem from a profound sense of karma." What drew you to this theme?
TM: I love reading tarot cards and I have given people readings and they have come out of it saying, 'You were so right!' The EPs were based on the High Priestess and that's about unlocking your intuition, finding awareness and finding confidence but then it slowly turned into the Empress which is about re-birth and having that divine feminine energy. Whenever I would get readings regarding the next chapter, I kept getting the justice card. So when I was in London in 2021, I was touring with Ashnikko, we were going back to the hotel and I saw a statue of Lady Justice. I was like, 'Oh my God, I keep seeing the word justice so often.' So, that is where the title of Sweet Justice came from.
AM: I want to talk a little bit about your visuals because you do some insane ones. It's something I really appreciate about you as an artist. I want to know how you seek inspiration for all of it.
TM: Definitely from the '90s. It's like something you grew up on, but how is it you? And the way I make it my own is by adding my own daily influences to the project. I have "Ring-a-Ling" and I was like, 'This sounds like a Christina Aguilera snake charmer music video to me.' So my main outfit in the hero shot has snake print on it. And then the next look, I have prosthetics on that make it look like a snake shedding its skin.
AM: The other question I have that's related to this is if you can have a designer create all of your looks for this project, who would it be?
TM: Alexander McQueen would be insane. Or, Alexander McQueen collaborating with Moncler. Just the biggest blanket to ever exist. What about you?
AM: Do you know the designer, Rui Zhou? I love everything that they do. Also, Vivienne Westwood. So apparently, this year marks 50 years of Hip-Hop. How do you feel about the progression of Hip-Hop since its inception?
TM: I really appreciate the way that Hip- Hop has evolved. Being from Australia, my exposure to American music was Rap music. When I was 16, I discovered Kendrick Lamar and I listened to Kanye West properly. And Nicki Minaj was coming out as well as Drake and Lil Wayne. I was a MySpace kid and all of their quotes were everywhere. You know when someone's finally able to speak the way you think and put words that you never really thought of into sentences and you're just like, 'Damn, yeah, I do have haters.' I really appreciated that. I also love the way that it's evolved with so many sub-genres. It makes it feel like we are all part of something; like we belong somewhere. I hope it continues to be that way.
AM: I think a lot of people hate on contemporary Hip-Hop and don't even consider it to be part of the genre but I think it's an ever-expanding place. I think music in general is.
TM: And all of it is a by-product of what's happening in society. So it makes sense that right now it's uptempo, and it's Jersey Club because we've been inside for two and a half years. No one knows how to act right now.
AM: Who are some female Hip-Hop artists currently on the come-up that you think we should be looking out for?
TK: Bktherula. I really love ilyhook. TiaCorine, she sings the song "FreakyT". Those are my top three.
AM: Okay, so you've toured with some big names out there such as Billie Eilish and Charli XCX. What were some of your favourite memories from your time on the road in general? And what are some of the things you learned?
TM: The last year and a half has been really cool. I mean it was Billie and then Dua Lipa! The food is insane. That's one thing I'll always appreciate because you know you're gonna be eating good, and you're gonna be healthy and balanced. It is important to be balanced so you don't get burnt out. The other thing I've learned is to break your set up so you take people on a journey. It is obviously harder as a support act because you have less time, but it's almost giving everyone a 'best of'.
AM: What would be a dream venue for you to perform at?
TM: I would love to play at the Hollywood Bowl. That'd be really sick. I have also never played Coachella. That's still on my bucket list.
AM: Okay, so since we're talking about the future, what are some things you hope to achieve in the next five years?
TM: To make my ops cry [laughs].
AM: [Laughs] Revenge!
TM: I obviously want to make more albums and I want to continue growing. I want to get that healthy balance of touring and writing. Also, I'm just gonna say win a Grammy, because why not manifest?
AM: It is gonna happen, I can smell it.
TM: Or win a VMA, I want to make a video that wins one. It'll be cool to start venturing into helping with creative direction and developing artists in that way.
AM: Amazing, thank you so much. I am honoured to be a part of the album and honoured to be a part of this. I can't wait for the album to drop.
TK: I am excited about your new project!
AM: Girl, I am stressed about it!
TK: She is going for the Grammys.
AM: Always.
Photography
Bethany Vargas
Editorial Director
Charlotte Morton
Editor In Chief
Toni-Blaze Ibekwe
Senior Editor
Ella Bardsley
Art Director
Livia Vourlakidou
Makeup
Jamie Diaz at Paradis NYC
Hair
Antoine Martinez at Paradis NYC
Set Design
Wesley Goodrich
Production Director
Ben Crank
Producer
Isabella Coleman
Production Assistant
Lola Randall
Art Direction Assistant
Beth Griffiths
Art Direction Intern
Will Glen
Video Creative Director
Mike Anderson
Director of Photography
Aaron Morganstein
Production Assistant
Radiance Pictures
Special Thanks
MSA Studios