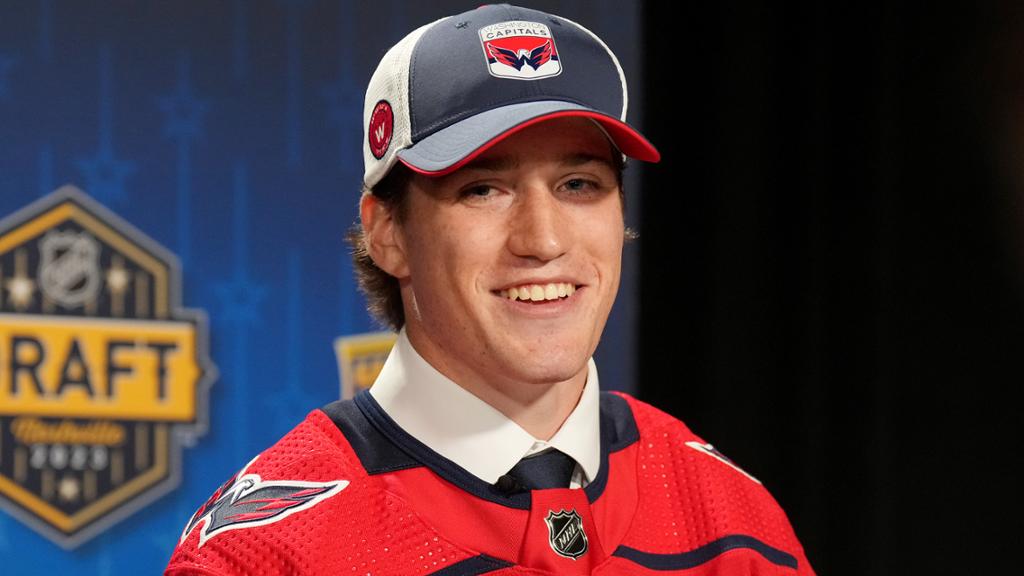 NHL.com is providing in-depth prospect analysis for each of its 32 teams from Aug. 1 -Sept. 1. Today, the top five prospects for the Washington Capitals, according to NHL.com.
Capitals 32 in 32: Season preview | 3 Questions | Fantasy projections
1. Ryan Leonard, F
How acquired: Selected with No. 8 pick in 2023 NHL Draft
2022-23 season: USA U-18 (NTDP): 57 GP, 51-43-94
Being in position to select Leonard after he stood out for the USA Hockey National Team Development Program Under-18 team last season was the silver lining for the Capitals after they missed the Stanley Cup Playoffs for the first time since 2014. The 18-year-old (6-foot, 192 pounds) has the offensive skills and physical and mental makeup of a power forward that has drawn comparisons to Washington forward Tom Wilson.
"I'm not comparing him to Tom Wilson, but he's got that kind of swagger," Capitals assistant general manager, player personnel Chris Patrick said. "He's willing to compete. He's willing to get in guys' faces. He's willing to challenge guys."
Leonard is headed to Boston College this season.
Projected NHL arrival: 2025-26
Video: Leonard drafted by the Washington Capitals
2. Ivan Miroshnichenko, F
How acquired: Selected with No. 20 pick in 2022 NHL Draft
2022-23 season: Avengard Omsk (KHL): 23 GP, 3-1-4; Omskie Krylia (RUS-2): 4 GP, 0-3-3; Omskie Yastreby (RUS-Jr.): 12 GP, 10-4-14
Cancer-free after being diagnosed with Hodgkin's lymphoma in February 2022, Miroshnichenko (6-1, 185) signed a three-year, entry-level contract with Washington on May 1 after being permitted to terminate his contract with Omsk in the Kontinental Hockey League. The 19-year-old native of Ussuriysk, Russia (6-1, 185) gave the Capitals an up-close look at his offensive skills, including the quick release on his shot, during their development camp last month and they're looking forward to seeing how he adjusts to playing and living in North America.
He'll likely at least begin the season with Hershey of the American Hockey League.
Projected NHL arrival: Next season
3. Vincent Iorio, D
How acquired: Selected with No. 55 pick in 2021 NHL Draft
2022-23 season: Washington (NHL): 3 GP, 0-1-1; Hershey (AHL): 63 GP, 2-20-22
Iorio gained valuable experience as a first-year pro last season, including playing in his first three NHL games with Washington and helping Hershey win the Calder Cup with five points (one goal, four assists) in 15 AHL playoff games. The Capitals are deep on defense, but the 20-year-old (6-4, 200) will get a good look in training camp and will probably be among the first call-ups this season if there is an injury.
"My ideal development world for him would be he plays anywhere from 10-20 games with Washington this year and then next year is more into full-time duty," Patrick said. "I don't know if that will happen because of other bodies or whatever, but I think if he continues on his current track, that would be very attainable for him."
Projected NHL arrival: This season
XX PLACE SEASON PREVIEW VIDEO HERE XX
4. Hendrix Lapierre, F
How acquired: Selected with No. 22 pick in 2020 NHL Draft
2022-23 season: Hershey (AHL): 60 GP, 15-15-30
After playing six games for Washington in 2021-22 before returning to the Quebec Major Junior Hockey League for the rest of the season, Lapierre (6-0, 180) spent last season with Hershey learning to play through the long grind of a professional season and working on becoming a more well-rounded player. It paid off in the playoffs when the 21-year-old had six points (three goals, three assists) in 20 games during Hershey's Calder Cup run.
"He's certainly doing the right things at the AHL level, showing that he's willing to make those kind of commitments to be a more complete player and be ready for the NHL game," Patrick said.
Lapierre will get an opportunity to show how much he has grown as a player in training camp, but is likely headed back to Hershey because of Washington's forward depth.
Projected NHL arrival: Next season
5. Alexander Suzdalev, F
How acquired: Selected with No. 70 pick in 2022 NHL Draft
2022-23 season: Regina (WHL): 66 GP, 38-48-86
Suzdalev (6-2, 172) thrived with Regina last season playing alongside center Connor Bedard, who was selected by the Chicago Blackhawks with the No. 1 pick in the 2023 NHL Draft, and led Western Hockey League rookies in goals, assists and points. The 19-year-old will have an opportunity to take another step this season with Hershey or return to Regina if the Capitals feel he's not yet ready.
"You had to parse out a little bit who he was playing with and stuff, but I think what he is and where he is now is basically what we hoped when we drafted him," Patrick said. "Good skill level, offensive guy. Physically, needs to get more mature. … I think playing the pro game gets you stronger pretty quickly."
Projected NHL arrival: Next season