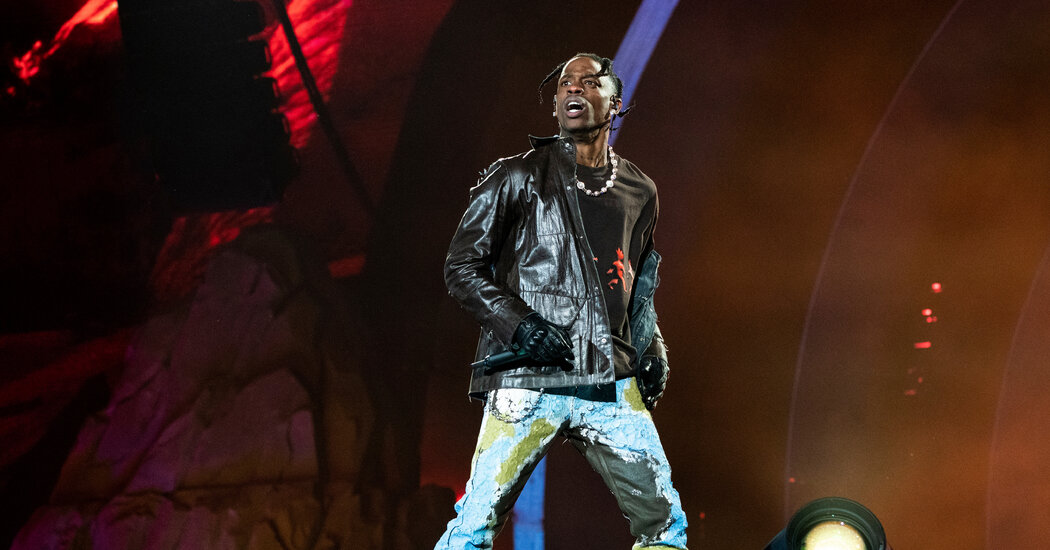 The rapper's "Utopia," his first album since his Astroworld Festival in Houston turned tragic in 2021, opens with the equivalent of 496,000 sales in the United States.
Almost two years ago, the career of the rap star Travis Scott had seemed in doubt after the catastrophe of his Astroworld Festival in Houston, where 10 people were crushed to death and hundreds more were injured.
The authorities investigated Scott's role, but in June prosecutors announced that a grand jury had declined to indict Scott and two festival officials. A number of civil lawsuits against Scott and festival organizers, however, remain pending.
That cloud was no deterrent to Scott's fans, who have sent the rapper's latest album, "Utopia," straight to No. 1 on the Billboard 200 chart. It had the equivalent of 496,000 sales in the United States, including 331 million streams and 252,000 copies sold as complete package, according to the tracking service Luminate. That was by far the biggest opening for any hip-hop album this year.
Scott gave an album-release concert on Monday at the Circus Maximus in Rome, which featured a surprise guest: Ye, formerly known as Kanye West, who was making his first live appearance after he made a series of antisemitic remarks last fall. Those incidents resulted in his being largely exiled from the music business, and his lucrative fashion partnerships with Adidas and Balenciaga were canceled.
When Scott released his last album, "Astroworld," in 2018, he was one of the music world's kings of "bundling" — selling fans an album that came with concert tickets or, particularly in Scott's case, merchandise like T-shirts, key chains and hats. Industry complaints that the practice was distorting the charts grew loud enough that in 2020 Billboard largely ceased counting bundles on its charts. But fans kept buying music-plus-collectibles packages, and three months ago Billboard tweaked its rules once again, allowing what it calls "fan packs": physical copies of an album with a single merchandise item.
Scott's "Utopia" was released in a variety of collectible CD and vinyl variants, including 15 deluxe boxed sets and what Billboard deemed two compliant fan packs (a CD or vinyl LP that came with a single item of branded merchandise). Of the 252,000 copies "Utopia" sold in album form, 111,000 were digital downloads, 63,000 were CDs and 79,000 were vinyl LPs, which Billboard said is the biggest week of vinyl sales for any R&B or hip-hop album since at least 1991.
Also this week, Post Malone opens at No. 2 with "Austin," which had the equivalent of 113,000 sales, including 101 million streams. Morgan Wallen's "One Thing at a Time" holds at No. 3, the "Barbie" soundtrack is No. 4 and Taylor Swift's "Speak Now (Taylor's Version)" is No. 5.
On the Hot 100 singles chart, Wallen's "Last Night" returns to No. 1 for a 15th time, while Jason Aldean's "Try That in a Small Town," which rode of wave of controversy and media coverage to the top spot for a single week, falls to No. 21 with big drops in streaming and download sales.