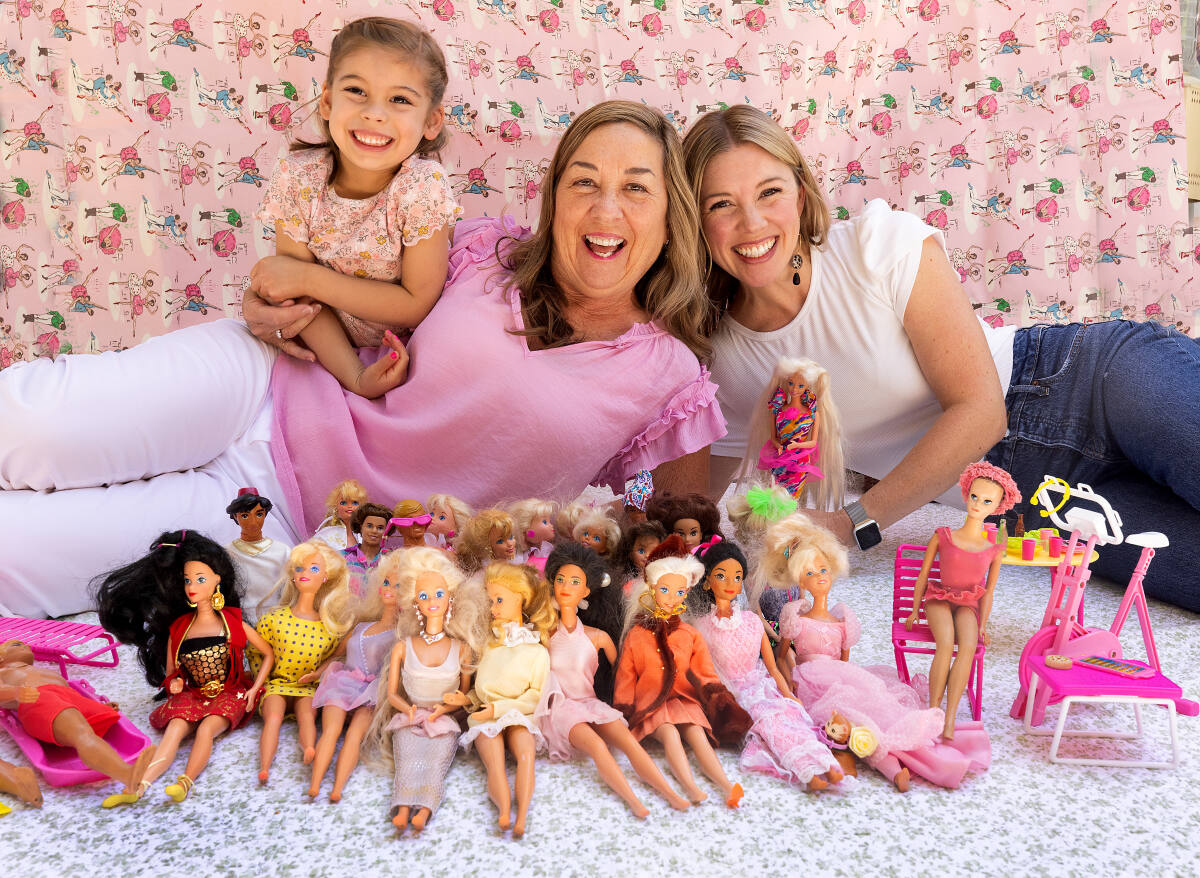 "I never thought," she added, "how much that influenced everything,"
But when she became pregnant with her daughter Kira, her feelings "became more complicated.
"I didn't want her to suffer from wanting, striving for that unrealistic vision of perfection, and I never envisioned buying her a Barbie doll. We were horrified that the very year we had our daughter, a new Barbie named Kira was released in stores — the name I had chosen, with the exact same spelling."
But when Kira was 8, a babysitter gave her her entire collection of Barbies, and Rogers was forced to release control and hope for the best. One sweet memory is how her husband, Mike Kamrath, now 74, got down on the floor and played dolls with his daughter.
Kamrath, a contractor, remembers how he always had three or four of Kira's Barbies riding in the truck with him. The dolls were a way to connect with his daughter.
"It was fun. It was more just about us being together. I wouldn't even have mattered if it hadn't been Barbie. We would have found something else to play with. It was being able to spend time with each other. I didn't realize how important it was, but over the years I've realized just being there for your child is 80%, just playing and enjoying each other."
He even saw "Barbie" the movie and was impressed how director Greta Gerwig unpacked so many issues in what on the surface is a fun romp.
"She (Gerwig) did an excellent job recognizing problems with both patriarchy and matriarchy, which in this case is Barbieland," he said. "Gerwig is able to get us to think about this. She's making all kinds of judgments. She's not saying this is how you should think about it. It's more 'This is what I saw. What do you think about it?'"
Barbie as a spy
One point many women make in reflecting on the influence of Barbie is that despite how the doll may have been packaged and sold, it was the girl who made the Barbie, a point Gerwig makes in "Barbie" the movie.
For Randi Rossman of Graton, it wasn't Barbie the fashion model or Barbie the beach bunny. It was Barbie the spy. Think: "Charlie's Angels."
"One of my favorite times to play was way early, before anyone got up other than my dad, who had to be at work before dawn at the radio station (KSRO). He'd look in at me, shake his head, and head to work. Anyway, I'd sit on the heater, with the lovely heat billowing my nightgown around me, and my doll world spread over the floor.
"But my Barbies weren't about wearing pretty dresses and going on dates," she added. "They were spies.
"By late 1960s, they worked for (U.S.) Sen. Alan Cranston. I guess I'd heard his name on the news and thought he was important, so he was the one my Barbies reported to from their missions in London, Paris and Russia or wherever they were 'sent.'"
But Barbie's physique was inescapable. "On the downside, there was the image issue, and that ridiculous figure," Rossmann said. "But added to that, one outfit came with a robe, pjs and a tiny bathroom scale that read 116. … Something about that tiny fake scale got into my brain and that became the ultimate weight I believed I had to hold onto as I became a teen and an adult. Over time I was able to let that go, and it never led to any food issues, but it's frightening to realize the power of a tiny piece of plastic."
Not surprisingly, Rossmann parlayed her early interest in undercover investigations into a longtime career as a cop reporter for The Press Democrat.
Bewitched by Barbie
Mary O'Leary of Marin City said her parents didn't allow her to play with Barbie, who they considered "inappropriate."
Instead, she was given baby dolls and encouraged to play house. But as she got older, she noticed her friends' Barbies and became "bewitched by their collections of dolls, clothes and playthings." She wanted to play with the dolls more than her friends because Barbie, she said, "represented a world of endless material goods that was out of my reach.
"I slowly became bothered by the confusion I felt as a young person in the early days of second-wave feminism," she recalled. "My family preached the importance of education and delaying parenthood until maturity, but my father was fascinated by the female form as exhibited in TV beauty contests.
"I looked at Barbie's impossible figure and found mine lacking in every way. … I know that fulfillment in life comes from relationship and meaningful work, not looking perfect like Barbie. But she is more popular than ever, and girls of all ages strive to be like her. I don't think we should ban Barbies like my parents did, but I do think that finding passion in work (and) activities should be stressed over fashion, figure and youthful looks."