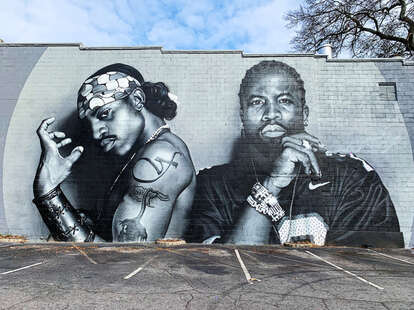 Photo by Jonathan Mannion
Photo by Jonathan Mannion
When André 3000 famously said "the South got somethin' to say" after OutKast's historic win at the 1995 Source Awards, he put the world on notice. Atlanta's rap scene had only come to be a few years earlier in the '80s, but it quickly blossomed into a hub for hip-hop.
Artists like Kris Kross, Kilo Ali, Goodie Mob, TLC, Organized Noize, So So Def founder Jermaine Dupri, and countless others laid the foundation for Atlanta's hip-hop presence, sourcing inspiration from the city they came up in. When Ludacris, TI, 2 Chainz, and Gucci Mane came onto the scene, Atlanta's reputation as a breeding ground for hip-hop greats was catapulted into the stratosphere.
Since then, Atlanta has only grown as a cultural behemoth and is, what many consider to be, the center of the hip-hop universe. Countless city locales have been name dropped in lyrics and frequented by stars of the genre. So as we celebrate the 50th anniversary of this groundbreaking music genre, you don't have to look far to take in a piece of music history.
From recording studios where famous tracks were laid to clothing stores that have dripped out our hip-hop heroes, here are some of the landmarks and locations around Atlanta that were critical in shaping the city's undeniable culture of hip-hop.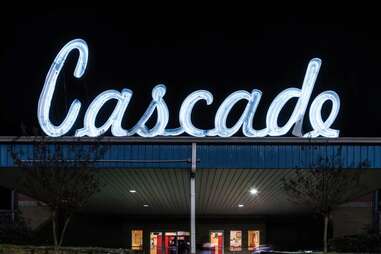 Cascade Skating Rink
Westside
The Cascade Skating Rink rose to prominence in the late '80s and early '90s as Atlanta's hip-hop scene began to legitimize itself in the music industry. Jermaine Dupri, Dallas Austin, and the members of TLC could be seen at the roller rink early in their careers, and Cascade was put on the map nationally after its feature in the film ATL which starred Atlanta natives T.I. and Big Boi. Usher has been spotted here recently in preparation for his upcoming residency in Vegas, so there's no telling what celebs you may spot once you lace up your skates.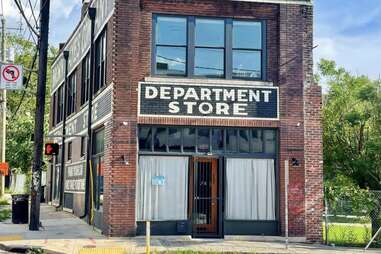 The Department Store
Old Fourth Ward
Located on the corner of Edgewood and Boulevard in Old Fourth Ward, Erosol aka The Department Store was once the center of the city's underground hip-hop scene. People would enter on the first floor, which was an open area with a fully stocked bar and featured music curated by a local DJ. But its second floor is where the true essence of this establishment could be felt. As the only venue in the area with a real stage, it was pivotal in the early careers of 21 Savage, Trinidad James, Two-9, Makonnen, and others. If you were there on the right night, you could even see André 3000 pop in from time to time. Although the building still stands, the Department Store as people knew it closed its doors in 2016.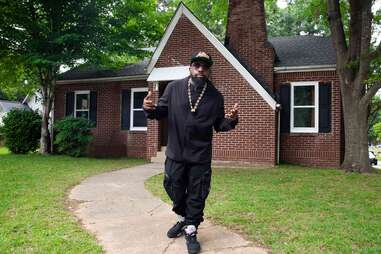 The Dungeon
Downtown
This one will require a bit of advance planning, but true hip-hop fans can spend the night in the historic home where OutKast and other local greats recorded their early hits. Known as The Dungeon, this place was home of Organized Noize founder Rico Wade's mother and the basement houses an epic recording studio and listening lounge that would define the city's early hip-hop sound. As time progressed, Wade and the gang transitioned to a new studio space, and the house was eventually sold, but Big Boi purchased the house in 2021, renovated it into a haven for OutKast fans, then listed it on Airbnb.
Lenox Mall
Buckhead
Opened in 1959, this world famous mall sits in the heart of Buckhead. T.I. used to hand out his CDs in its parking lot, and Lenox Mall has been shouted out by Childish Gambino, Nicki Minaj, Drake, and many others. Its upscale shopping made it an aspirational place for many of the up-and-coming rappers of the '90s and 2000s, so being able to shop there symbolized that you "made it."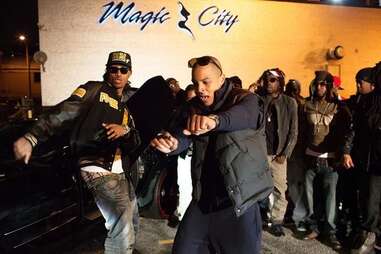 Magic City
Downtown
You can't tell the story of hip-hop in Atlanta without mentioning its heralded gentleman's club, Magic City. It's located right across the street from the Greyhound station, so it's the first thing many people see when they enter the city. This strip club has been mentioned in songs by Snoop Dogg, Drake, Meek Mill, Rick Ross, Travis Scott, Killer Mike, and countless others, and music industry veteran and producer Jermaine Dupri says he still uses it during the creative process to gauge if a track is hot or not.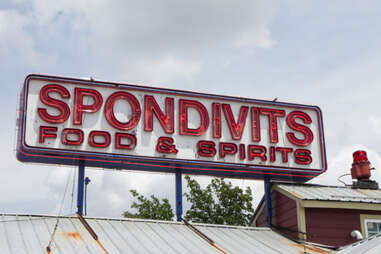 Spondivits
East Point
Long before Jeezy said the phrase "eat at Spondivits four times a week," this restaurant was a staple in hip-hop lore. Throughout its history, rappers like Gucci Mane, 2 Chainz, Yo Gotti, Lil Yatchy, and more all name dropped the seafood restaurant in their lyrics. Located on Virginia Avenue in East Point, this place is known for its live music, vibrant atmosphere, and crab legs by the bucket.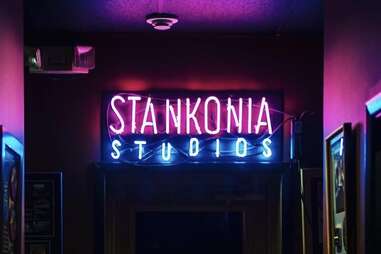 Stankonia Studios
Buckhead
This place is much more than just a recording studio, it's an integral landmark of hip-hop history in Atlanta and beyond. Stankonia is the birthplace of Outkast's earliest hits, and it's also where the chart-topping album of the same name was recorded. It's still open as a recording studio today, but now the public has the option to host live events and release parties in this heralded music hub.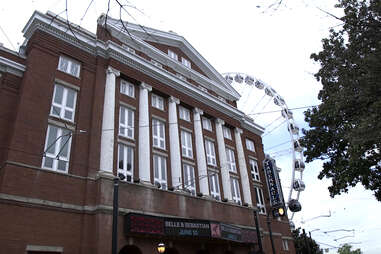 Tabernacle
Downtown
Opening in 1911 as a church, this historic building was converted into a music venue in 1996 and has been a bucket list venue for local performers ever since. It has been heralded by hip-hop enthusiasts for years due to its variety, highlighting both budding acts, established artists, and everything in between.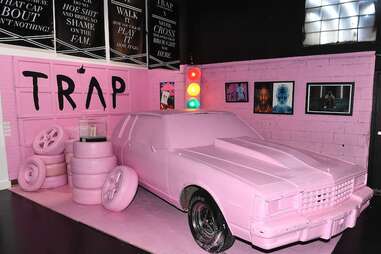 Trap Music Museum
Westside
Founded by Atlanta native Clifford "T.I." Harris, this Westside establishment sits where many feel the hip-hop's subgenre of trap was created. It was first presented as a museum that featured artifacts from artists like Gucci Mane, Jeezy, and 21 Savage, among others, and highlighted the history of trap music in an immersive and unique art experience open to the world. In addition to the museum, visitors can also enjoy a drink at the bar, explore its escape room, or take a photo in front of the legendary pink car from 2 Chainz's rollout for the 2017 album, Pretty Girls Like Trap Music.
Walter's Clothing
Downtown
Since 1952, Walter's Clothing has been a cornerstone of Atlanta's sneaker culture. The shop stocks high-end sneakers, hats, and the most up-to-date pieces in urban fashion. It's also a place you can bump into a celebrity, athlete, or entertainer at any given moment. The store with a "name to remember" is located within the parameters of Georgia State downtown, and appears frequently in the lyrics of rappers like Jeezy, Future, OutKast, Gucci Mane, and more.
Okla Jones
is an Atlanta-based journalist who writes about food, fine arts, and entertainment. His work also appears in 
ESSENCE
, 
Creative Loafing Atlanta
, and 
Consequence of Sound
. Follow him on Instagram at 
@coolhandoak
.