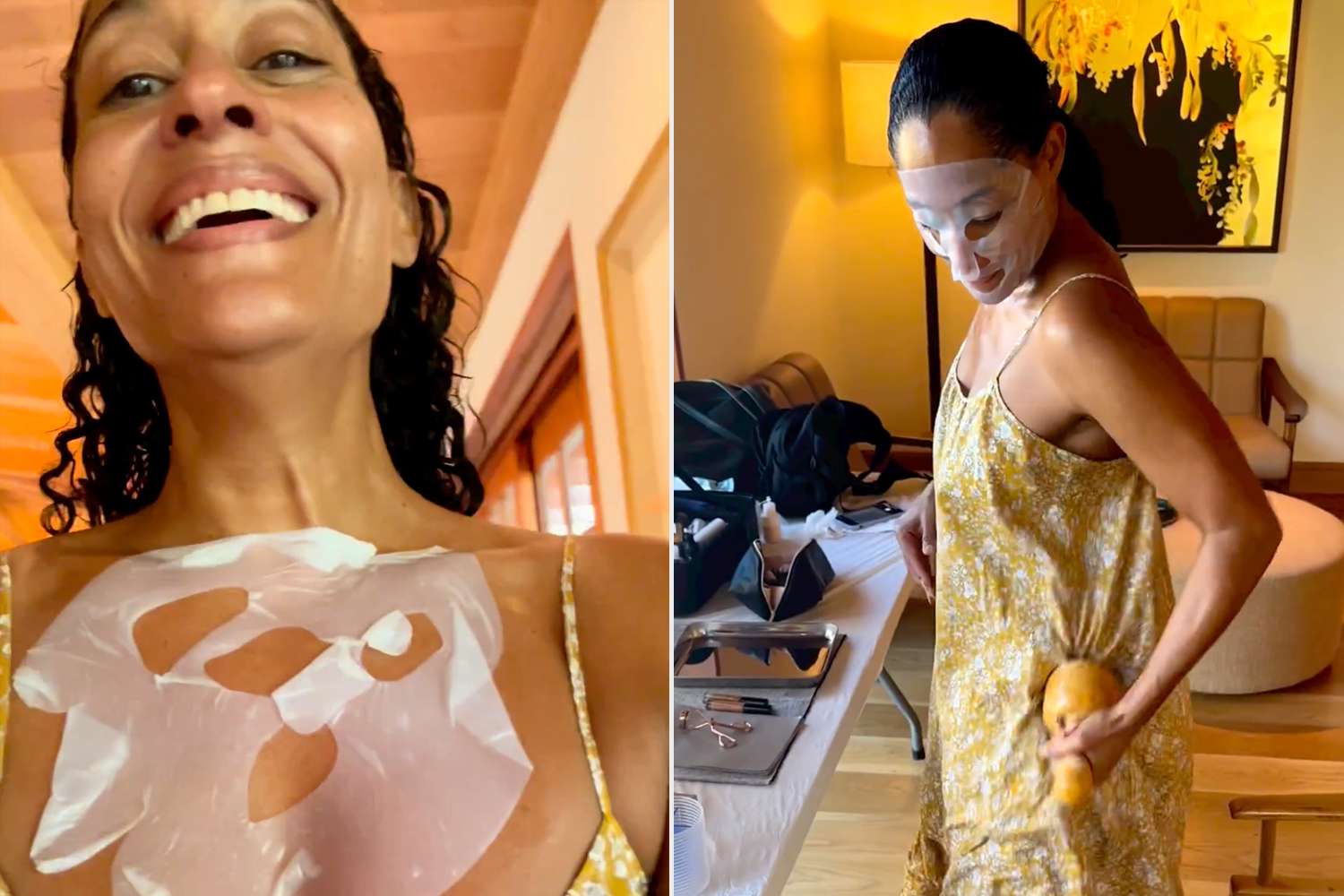 Tracee Ellis Ross is sharing the secrets to looking so good at 50.
On Monday, the actress posted a hilarious Instagram video of herself using a selection of wooden instruments, which she referred to as "torture tools," on different areas of her body.
"Y'all think this sh*t is a game?!? 😂😂 thank you @olfaperbalparis for these torture tools that seem to lift and smooth this 50 year old kit," the black-ish star captioned the video.
The clip begins with the camera zooming in on Ross' face, which is covered by a face mask, as she starts using one of the wooden tools — known as a "rolling bell" by the French brand — in an upward motion on her leg.
"50 what?" Ross shouts at the camera. "50 what? Years old." The person filming then begins giggling as Ross massages her leg with the rolling bell and shows off her technique.
The star then switches to a different wooden tool known as a "pimple."
"This is the one I like on my booty," Ross said before standing up to use the product on both sides of her butt. "I want to lift it up but I can't do that right now because I don't have undies on," she continued of her yellow patterned dress.
"This is also good back here," she added as she switched back to the rolling bell and used it on her butt.
"😂taking notes for sure 🙌🙌," wrote one of her 11.2 million followers in the comments section, while another added, "What us women have to go through to stay fine! 😫 But whatever works! And she's natural honey!!!!!"
"Wood therapy is the TRUTH!! 🙌" added a third.
According to the Olfa Perbal Paris website, the rolling bell is a "2-in-1 tool to absorb and smooth fatty deposits." Meanwhile, the pimple "breaks up the fatty deposits after having absorbed them." The website also states an oil should be "applied upstream to the area concerned" when using both of the products.
Olfa Perbal has specialized in body contouring for 22 years and the French beautician's brand uses a technique called maderotherapy. According to Healthline, maderotherapy, also known as "wood therapy," is a "vigorous massage technique that utilizes wooden, handheld tools, such as rolling pins and vacuum-suction cups."
Earlier this month, Ross proved that using her "torture tools" seemed to be working as she showed off her figure in a series of swimwear snapshots and videos on her Instagram.
"In Vacanza 🇮🇹 | En Vacances 🇫🇷," she captioned one carousel of photos of herself on vacation. In the first photo, Ross posed on the edge of a boat in the middle of the ocean in a black and yellow tiger-print swimsuit, while in another picture she teamed the swimwear with a bright pink skirt.
Meanwhile, a second post showed Ross floating in the ocean in a white swimsuit. "Oh how I love water," she wrote. "I don't love the creatures of the sea but thank goodness they let me visit their world in peace."