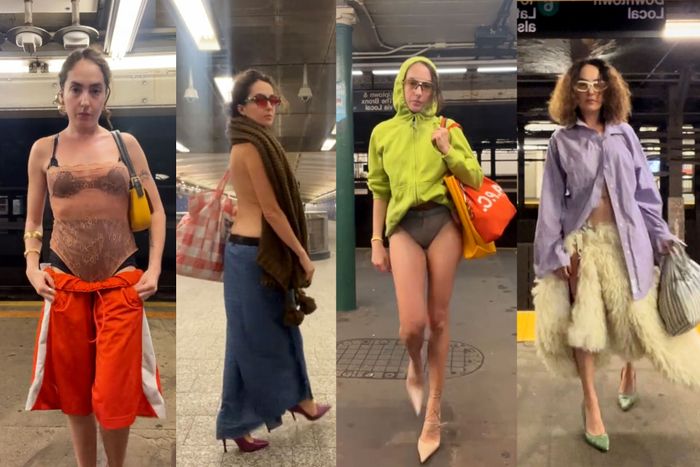 Photo-Illustration: by The Cut; Photos: @subwaysessions/TikTok
Who among us hasn't paced pensively on the subway platform? Have you ever done it in a pair of belted underpants? Kristina Avakyan has. And everyone seems to care. A lot.
Earlier this week, a video of Avakyan walking back and forth while waiting for the 6 train went viral on TikTok and other social-media platforms. In it, she wears a sheer lace onesie layered over a black bralette set with orange basketball shorts rolled multiple times over, so they sat below the lining of her visible underwear, and a pair of fuschia heels. The look is, apparently, polarizing. Some of the comments on Avakyan's post are brutal: "Is the style in the room with us?" And: "I get the vision … but it was put together so badly," plus, "Pls be so fr." Others see the potential: "I see the vision tbh," "I like sis and her fits," and "She's iconic. She's feeling herself and literally dgaf what anyone else has to say about it. Aspirational."
At the moment, the 34-second clip has 1.4 million views on the platform, which doesn't take into account the circulation it now has on Twitter and Threads from people who saved and shared the video. One such video, a screen recording of her profile, has 3 million views. All at once, it seemed, the algorithms had decided she deserved eyes on her, even if some were rolling.
Nearly every other video on Avakyan's TikTok, which she launched less than a month ago, has a comment section much the same: voyeurs arguing whether each respective outfit is "good."
While the way women choose to dress and present themselves has long been policed and examined under a microscope, I found myself wondering, Why is everyone this invested? New Yorkers see greater oddities, on subway platforms and elsewhere, on a daily basis and keep it moving. Avakyan isn't even the first person to capture content while waiting for the train. Hodan Yousuf, for example, has a series doing nearly the same thing. But watchers of Yousuf's content, for the most part, all agree that her eccentric outfits are "good," while Avakyan's following is squarely and severely divided. The latter is what seems to create such a visceral, emotional response.
Shelby Ivey Christie, a fashion and costume historian, noted that Avakyan's proximity to privilege has allowed her to gain a quick spotlight and tweeted that people are going to "tweet that disheveled looking subway white girl into a fashion editorial — she'll be on the front row at fashion week + I don't want no think pieces about white mediocrity + ascension when the time comes." I myself was curious what might happen to a woman with a bigger body in the same clothing? Would she be able to feel as safe? Would she be heavily sexualized by both virtual and IRL passersby? Each of Avakyan's videos seems to unintentionally serve as a rabbit hole of sociopolitical implications.
Nonetheless, her account has slowly started gaining traction, with her content getting sent in several group chats I'm in, questioning whether her sense of style is a level of chic many of us have yet to understand or if we're all simply being trolled. As a result, a fan base of sorts has begun forming. One friend texted me just before Avakyan's account began exploding, saying "Must flag my new favorite TikTokker for you. I'll fight to the death for her," she said. "Like, babe, let her cook. She's Carrie Bradshaw-coded, I refuse to think otherwise." The fashion writer and content creator Alexandra Hildreth defended Avakyan's style on TikTok: "say what you want about individual pieces or the way that they're styled within a singular look, but the overarching concept of her personal style is more unique than people who simply regurgitate exactly what the SSENSE ecommerce model is wearing." On Twitter, she noted the external implications that are even allowing this conversation to happen.
At the moment, Avakyan's TikTok has a little over 18,000 followers, on par with what would be considered a micro-influencer, yet her impact has become pervasive thanks to what one of my colleagues calls "personal-style extremism." Her most recent video features her in a long skirt, heels, and nothing but a blanket draped over her neck like a scarf to serve as a top. How could the clothes on one person's body create a multi-platform avenue for discourse? When in the aging process does playing dress-up become taboo? And why do other people feel personally affected by the outfit choices of someone they will likely never meet?
Clearly, we had a plethora of questions. We asked Avakyan to answer some of them:
What do you do for a living? 
Freelance styling and bartending. Editorials mostly, outrageous looks that require creative vision.
You've described herself as an artist. What art are you making?
Clothing is my art. I also mentioned that my body is a canvas. It's like painting. Every single time, it comes out different, but it reflects your emotion and how you feel.
What are you trying to explore with it?
I like to provoke emotion out of other people. I also like to feel myself; if whatever I put on doesn't give me emotion, I can't wear it. Nowadays, everything is so bland.
How long have you lived in New York?
Twelve years.
Where did you grow up? Did you take the train as a teen, and what did you dress like then?
I'm actually Armenian. When I was very young, we moved to Russia, and then afterward I traveled to France and I studied there for a little bit and I came here afterward. I studied journalism. It made me aware of how people think, and it helped me with my dressing. That's therapy as well.
When did you become interested in fashion?
Since I was very little, I would not be allowed to wear certain outfits. I had a strict mom and dad. I couldn't wear anything too tight or too showy, but I would always have an extra outfit in my bag. I started taking fashion seriously maybe three years ago. I challenged myself to put on an outfit and make an effort and push myself further instead of just putting on a T-shirt and jeans. My vision has gotten better. I like how I dress.
Do you consider yourself a stylish person? 
I would, absolutely.
What has the response online been to your posting your outfits? How does it feel?
Honestly, it can be overwhelming at times, but thank God I'm not a sensitive person. Sometimes I look at comments and some of them are just trying to get attention, but I also have a lot of positive feedback from people who actually follow me that I'm inspired by. They tell me not to stop. I have been flooded with messages, and I'm very excited about it. I just started my TikTok a month ago and I had maybe 100 followers, and now on Twitter, the basketball-shorts video has like 57 million views. How do you go from that? My Instagram is private because I didn't want to show off, but two of my friends have been seeing me in these outfits and told me to post on TikTok because they knew I would go viral. I finally did it, and they were right.
Why do you think your looks have been so polarizing?
I think it's like a car crash. There's something wrong, and there's something fascinating. It's wrong, but it makes you feel something, like, What is it? You can't put your finger on it, and I go with that. I don't like to put on a beautiful dress and just be a beautiful girl, that's too simple. I like to put things together. Skin is the best part of an outfit, in my opinion, so I always try and show it off if I can.
What has the response typically been in real life on the subway?
The most comforting fact is that I live on the Lower East Side, and I never have to go to Queens or Harlem, where people don't understand. Where I live is mostly a younger crowd and people who love that. I've only experienced the positive. People will stop me and take pics. I've never experienced hate in real life, it's only the internet.
I just want to clarify. You said you never have to go to Queens or Harlem where people don't understand. What did you mean by that?
I believe if you live somewhere where it's mostly family-oriented places, like houses or older people, they wouldn't understand your vision, older people with families who are well-established. But because I'm on the Lower East Side and because I don't usually go that far away where I would get misunderstood, Lower East Side is Lower East Side. There's trash everywhere. It kind of makes sense, it's a younger community, people always partying.
Do you sit down on the subway when your outfit doesn't call for pants?
No, I don't. If I do, I always have a spare shirt I put on the seat. Some crazy people have been sitting there. I'm not insane. Most of the time, I just stand up unless my outfit is too showy. I would never sit with my bare butt.
Where do you set your phone to record? You seem to walk kind of far away from it. Has anyone tried to take your phone?
Where I live and I go out, it's always been safe. I put my phone on the door where you push it to get out, I put it super-flat so it doesn't have any angle so you can see my full body. I don't do anything extra with it. Most of the times you see me out, I don't have makeup on except lipstick because I don't know how to do makeup. I don't know how to do hair. I'm terrible at those two things because I have no patience for that. But for some reason, when it comes to my outfits, I can't leave the house unless it's perfect, so I'm always late.
Where are you normally going in your outfits?
It's New York City, you always have to go somewhere. You go to the museum, you go to the park, and all you need is one outfit a day. Sometimes I change twice and I record that. People say you should save your outfits for a special occasion; I don't believe in that. Once you have so many clothes, you can mix and match so many times so nobody can see the same outfit twice. It also started with me having FOMO. Sometimes when you wear a great outfit, you're like, Fuck, I wasted my outfit. That's why I started recording it, because at least people see it this way.
Have you ever been turned away from somewhere for one of your outfits, like when you're not wearing pants?
No, never. People will give you looks, especially older people. It also depends on how you wear it, I don't wear it in a sense of Oh, look at my private parts. Attitude is part of the outfit; it has to go together. If you're not confident, people are going to smell it. I have to remember it's all good, you only live once.
Do you have fun putting these outfits together and wearing them?
I live for it, I love it. You know when people say "I don't have time to get dressed," I don't understand that. Enjoy it, every little bit. And sometimes you don't have time, but I'm still gonna put on an outfit. That's my brush.
Where do you normally shop?
Most of my accessories, I like to do designer: the bags, the glasses, but the rest of the outfit is mostly thrifted. I like to shop at 2nd Street or Goodwill, on websites like the RealReal or SSENSE. I do like Alexander Wang, the Fendis, the Guccis, the Pradas. My biggest inspiration is Alessandro Michele at Gucci, even though he recently left the house, but his vision is everything to me. It's extremely powerful, even Demna, even though there's a scandal and everything. Balenciaga has been very inspiring at times, same with Margiela. And, of course, Miu Miu.
Who are some of your fashion icons and inspirations?
Rihanna for sure, she is beautiful always. Kendall Jenner has good style. Sienna Miller for some reason; there's something about her. I like the way she puts things together. Of course, Bella Hadid too, but I'm sick of hearing about her in my comments. People keep saying I'm trying to be like her, like, we're so different. I understand the basketball shorts. Zoë Kravitz too and Lenny Kravitz.
What kind of clothes do your friends wear, and where do they shop? Are your friends as experimental in the way they dress? 
No. One of my friends is a model, and anything looks good on her. One of my friends just had a baby, so she's not into clothes. One of my other friends likes to shop at Aritzia and Zara, and she mentioned something about Revolve. I have a friend who's a goth, so she always wears black.
What's the weirdest thing that has happened to you since you started gaining notoriety? 
The weirdest thing is that I feel the same. I've been getting a lot of love; they'll DM, and I'm very humbled by those people. If I was sensitive, I would turn off all my social media just to not read all those bad comments. The people that actually see your vision and support you, they write big messages.
When did you start dressing the way you dress now? 
I started recording in 2021, after the pandemic. My father had died, and I was very not myself and I wanted to be inspired, and that's where it came from. I was posting on my Instagram, which was private. I would get eight likes for an outfit, and to me that would be great.
What do you say to those who say that you have the safety and the ability to do this because people perceive you as white and thin?
What do you say on those occasions? Yes, I'm white even though I'm Armenian. I'm not responsible for the color I was born in. I will applaud anyone; anyone who's confident can pull it off. Of course, I'm "privileged" because I'm white, but don't make me feel bad about myself. People will say I like to embarrass myself, maybe I have a kink about it. Maybe I do. I was born this way, I have a talent, and I want to show it off. Why are you talking about my race and my body? I would never talk about that, no matter what color or weight the other person is. I would never comment on that. And I believe if you have comments like that, leave it to yourself. It's not my responsibility to make you feel better about yourself. People who comment that way don't feel good about themselves. There's something in their lives that they're not into.
What are you hoping to gain from all this?
I'm taking it day by day. I'm open to every possibility. I'm willing to explore every opportunity out there. I believe I'm talented and I have a vision.
We Have Questions for @SubwaySessions