Updated at 11:25 a.m.
At 7 a.m. Friday morning, city workers fenced off an encampment at 22nd and Stout streets. David Sjoberg scrambled to pack his tent where he had been living for the past two-and-a-half weeks.
His arms were covered in wounds he said needed to clean, but before he could, he had to move his belongings.
He looked around nervously, as police and city workers came nearer to his site.
"This whole thing that we had put together is now being taken down," he said. "So we're going to try and move to another location and keep moving forward."
This was the first forced encampment clean-up under new Denver Mayor Mike Johnston, who pledged during his campaign not to sweep residents without an offer of housing.
Housing was not offered. Instead, those who wanted it were referred to the Department of Housing Stability website.
The Denver Department of Public Health and Environment (DDPHE), the Department of Transportation and Infrastructure (DOTI), the Denver Police Department and Denver Fire were on hand, as were activists with the Housekeys Action Network Denver, who helped people pack their tents and belongings and move on.
The city justified the sweep based on a rat infestation. Rodents had made a home in the rocks lining the sidewalk placed there by private property owners to deter camping.
The police encouraged people to pack their belongings. The plan is to get rid of the rodents and eventually reopen the block.
"I think they're using it as an excuse — the rats — to get us out of there," said one man, who has been living on the streets for two years. "We have nowhere to go. What people need to realize is we need a hand-up, not a handout."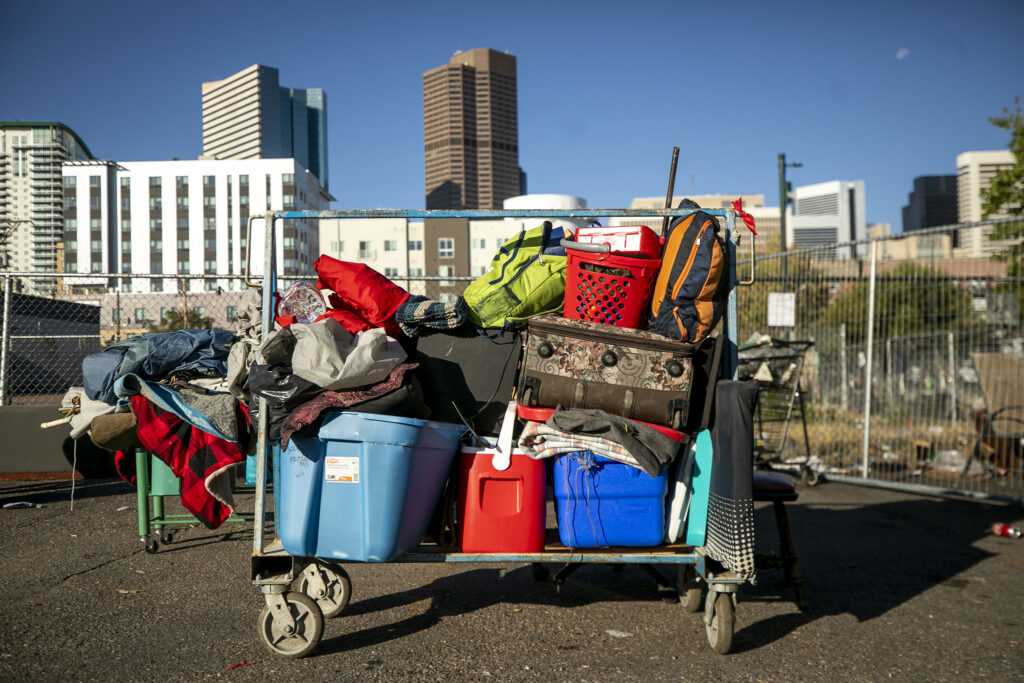 Encampment removals were a signature of former mayor Michael Hancock's administration. They were mostly done to clear the public right-of-way – as opposed to a public health motive – and were led by DOTI.
DDPHE has carried out just 17 sweeps since 2019 in the name of public health.
"I don't know if it's different. It looks the same to me," Wilfredo Gomez said as he packed up his tent.
Here's what happened when Johnston visited the encampment on Thursday.
The mayor arrived in a tinted SUV, but he spent the rest of the hour on his feet. He was joined by District 9's new City Council member, Darrell Watson, and aid workers with the Denver Dream Center.
A man named Carlos was the first person living on the block that he met.
"How are things going? What kind of help can we provide to make a bigger impact for you?" Johnston asked.
Carlos said stable housing has eluded him for about a decade, and that he generally avoids homeless shelters because he grew up in foster and group homes.
"Facilities don't work for me," he told the mayor.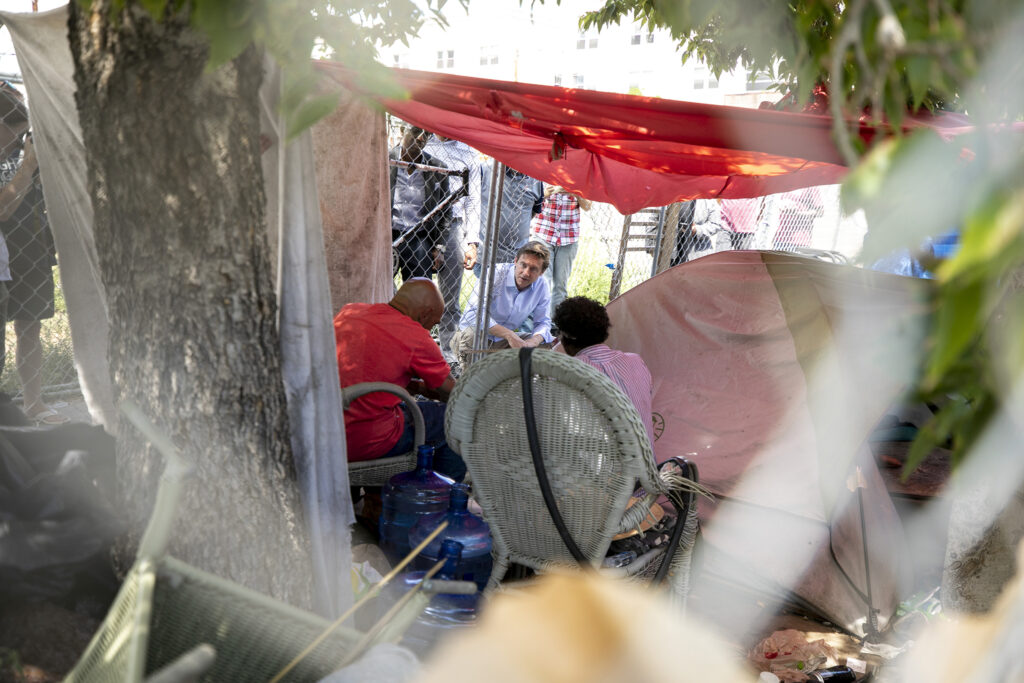 The city is working on a bunch of options, Johnston replied. Maybe a tiny home or converted hotel room might work for him? Then, he pivoted.
"Did you get the notice about cleanup tomorrow?" he asked. "I don't want you to be surprised or stressed out about it."
Carlos nodded. He doesn't have too much stuff, and he expects he'll be able to move along without too much trouble. Johnston asked for Carlos' phone number, and contact info for others he met during the visit.
"We've got to figure out how to stay in touch as we get these units up and ready," Johnston told David Sjoberg, who was living with his wife on the sidewalk.
"The idea is there's choice, right? You want to be in a hotel unit, [or] you want to be in a tiny home? Great, we can do that," he continued. "The idea is to provide stability and safety."
Sjoberg liked what he heard. And he said he's already noticed changes from Johnston's administration, particularly the city's new trash service for encampments.
"It's been fantastic. It's been absolutely wonderful," he told the mayor. "I think it's absolutely wonderful you're coming out here and talking to folks."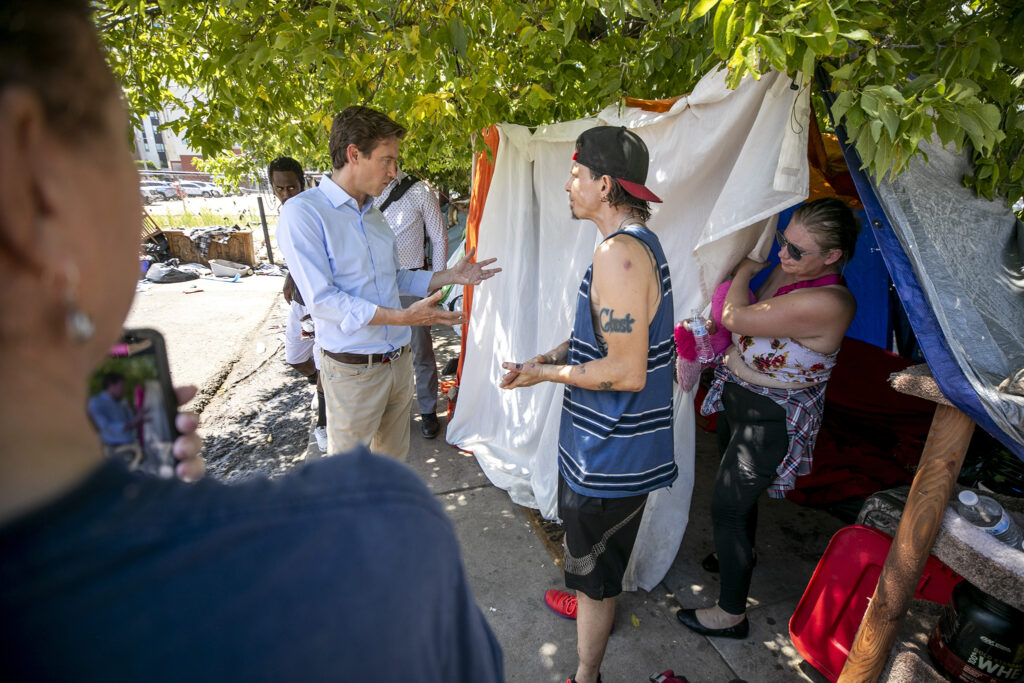 Caryn Sodaro, a longtime Denver activist who publicly needled Mayor Michael Hancock during his administration, said she was also happy to see Johnston's outreach. She's not easily impressed.
"I really like this with the new mayor. He's actually coming out, talking to people, listening to their opinions and what they need and what they want. Hancock never would have done that," she said. "I think it's beautiful that he's come out here."
Some others on the block weren't so sure about where Johnston is heading with all of this. A woman who introduced herself as Princess said she and her friends were excited when they heard about Johnston's pledge to house 1,000 people by the end of the year. It felt too good to be true.
"That 1,000 comes up, they'll go, 'Oh, we met our quota. We got our 1,000 people.' And then that's when everyone's heart is gonna be broke again. Because they're going to feel like they didn't make the cut," she told us. "It sounds good to everyone else, but what are you actually going to do?"
If Johnston's administration did offer her housing, she added, she'd take it in a heartbeat.
"I'm ready right now," she said. "I have a 1-year-old daughter. She's going to be 1 on the 7th. I'm ready."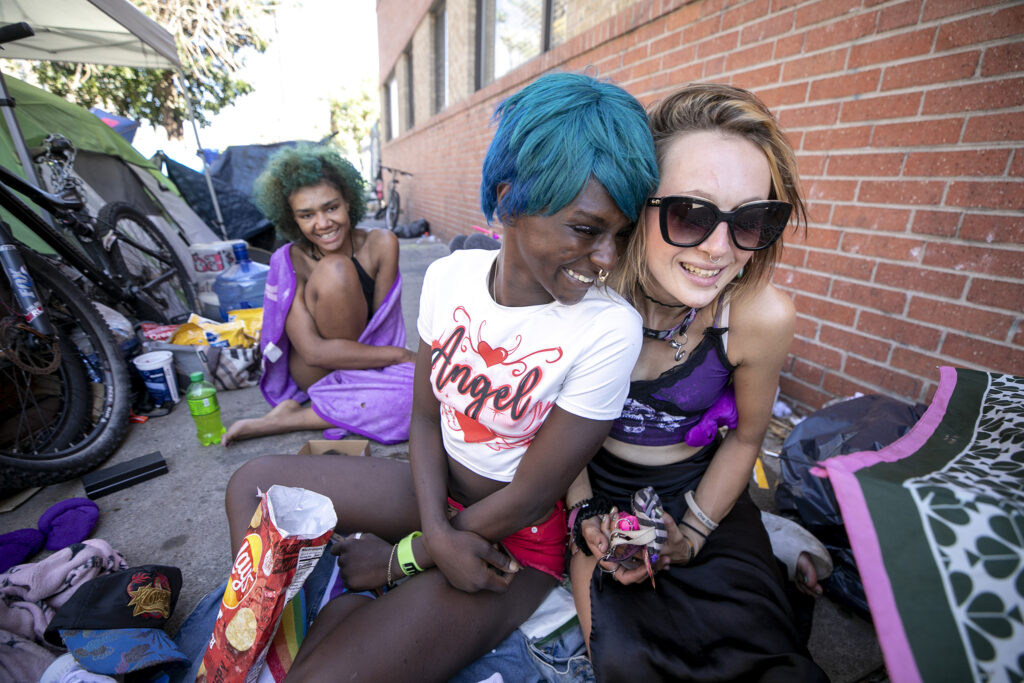 How are Johnston's sweeps different than Hancock's?
Under Hancock's administration, the forced cleanups started at 5 a.m., with police often rousing people from sleep in their tents. Johnston's began at 7 a.m. and encampment residents were grateful for the later start.
In recent years, encampments received a posted notice before many sweeps, depending on what justified them. That practice is continuing, but Johnston has also tasked outreach workers with handing out a friendlier letter explaining his plan to house 1,000 residents by the end of the year and expressing regret for not being able to get people housed immediately.
Department of Housing Stability outreach workers have been visiting the encampment ahead of the sweep more frequently than they did under Hancock.
And DDPHE's mobile health clinic, the Wellness Winnie, has been parked near the encampment.
Unlike Hancock, Johnston has pledged to meet with people living in every encampment the city will sweep.
Johnston has said he would end homelessness in four years. On his first full day in office, he declared a homeless state of emergency. Sweeps aren't really a part of that.
His administration is trying to house 1,000 people by December 31 in a combination of units including hotel rooms, tiny homes and available rental units.
The sweeps, he acknowledged, are counterproductive to that effort. They make it harder for outreach workers to connect people with stable housing.
"As a solution, it doesn't work," Johnston said at Wednesday's press conference. "It just means you're chasing people off one block, and they end up on another block. And so that's why our real intentional focus has been access to housing and to shelter that is dignified and stable and secure."
First, though, in a city with a deficit of housing and individual shelter space, those affordable housing options need to be built or found.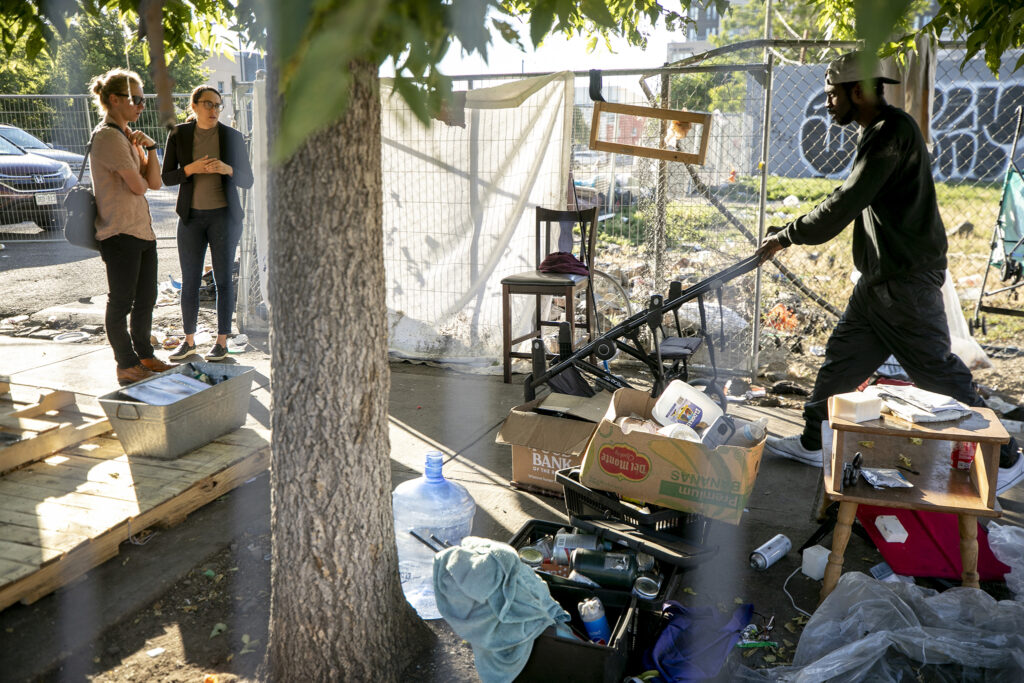 Cole Chandler, the mayor's senior advisor on homelessness, witnessed the sweeps to see how the various city agencies are conducting them.
"The reality is they're just going to have to go to another block, which is what's been happening with these sweeps is that people have just been moved from one block to the next," he said, looking through the fencing on the sidewalk where people packed their belongings. "And we recognize as an administration, that that is not a good policy. And that's what we're working towards resolving.
"We're working to resolve a situation where people actually have a good place to go," he added. "But today, they don't. And so we know that these folks are just going to wind up in another camp on another block. And that is not an effective solution."
Sjoberg managed to pack his camp in under two hours and stood in a parking lot next to a massive pile of his belongings.
How did the cleanup go?
"All right, actually," he said. "Thanks to some of the women in the community that came out and assisted, we were able to get our things out in timely fashion."
Now, he would wait for his friends to come help him move to the encampment they were building a couple blocks away.
"It's the good thing about being a good man," he said. "You have people who have your back, and they help out."