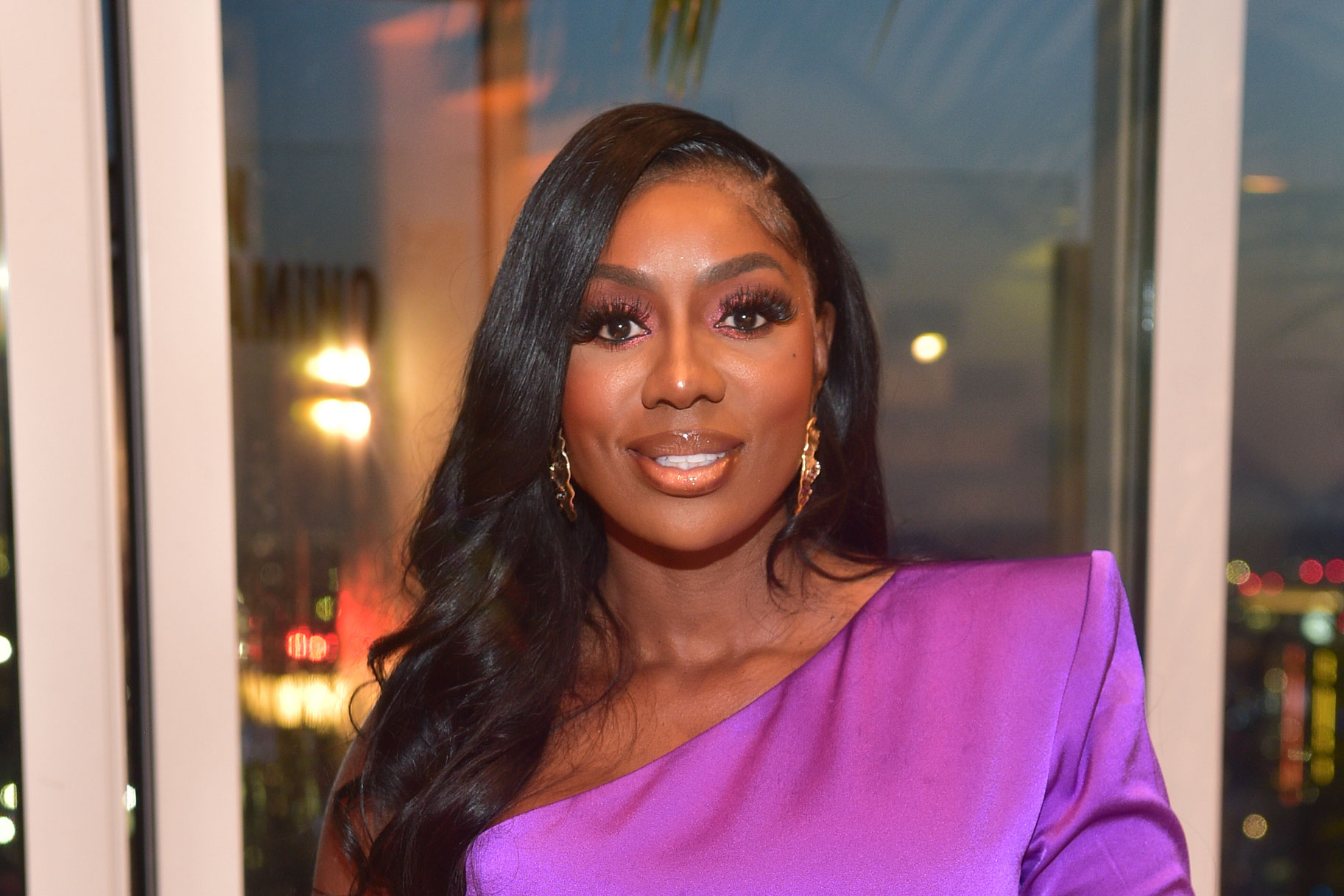 When the Season 7 reunion looks for The Real Housewives of Potomac began making their rounds, we were definitely taken with Dr. Wendy Osefo's stunning take on the blue theme. 
For the occasion, Wendy turned heads in a beaded strapless gown by Rian Fernandez with a high leg slit and a turquoise and cobalt blue ombré effect that cascaded down one side. The striking sheath also featured a peacock-like embellishment that splayed across the bustier top, providing the perfect pop to her overall style. 
What's more, Wendy also gave us some close-up glimpses at the incredible nails she rocked for the occasion. 
"My reunion nails […] every gem placed individually!" the Maryland mom wrote over an Instagram Story of the impressive work. The long, pointed acrylic nails featured beautiful silver, blue, purple, and yellow gems around the tips. "Thank you [Nail Designs by Nancy]," she concluded in the post. 
More recently, while jet-setting abroad with her husband, Eddie Osefo, Wendy showed off her bright and bold style — the likes of which included an art-inspired manicure. 
Wendy Osefo's KAWS-Inspired Nails 
On August 15, Wendy took to her Instagram Stories to share the details of her nail art, thanking nail tech Susan Hopson for colorful, stiletto-style acrylic nails. 
In addition to sharing her manicurist's details, Wendy also shared the "inspo" for her nail designs: the artist KAWS, or Brian Donnelly, whose street art beginnings infused his cartoon- and pop culture-inspired works. 
In the snap, we could see the multicolored, graffiti-like designs that provided the perfect pop to her beautiful neon yellow halter dress with a gold chain strap. 
We got more glimpses of the gorgeous talons when Wendy shared more outtakes from her trip with Eddie via Instagram.
Included in the mix was an eye-popping strapless cobalt blue dress with a matching head scarf and gold statement earrings. 
"Breakfast in Ibiza[,] Dinner in London," Wendy captioned the series of photos, where she also featured snaps of her and her husband getting dinner and drinks in Spain and England. 
More of Wendy Osefo's Gorgeous Vacation Style 
In addition to her travels overseas, Wendy and Eddie visited the Sonoran Desert in Arizona for Wendy's birthday back in May. Unsurprisingly, Wendy gave us some incredible looks along the way. 
The Gemini goddess posed amid numerous green cacti at the end of May in a jaw-dropping neon green tiered tulle dress with a halter-style top.
"BLESSED to see another year and thanking God immensely for giving me the life I always prayed for," Wendy captioned the series of photos, showing how she paired the fancy frock with heels that had a matching green strap over the toes and a pink butterfly embellishment on the back of the heel.