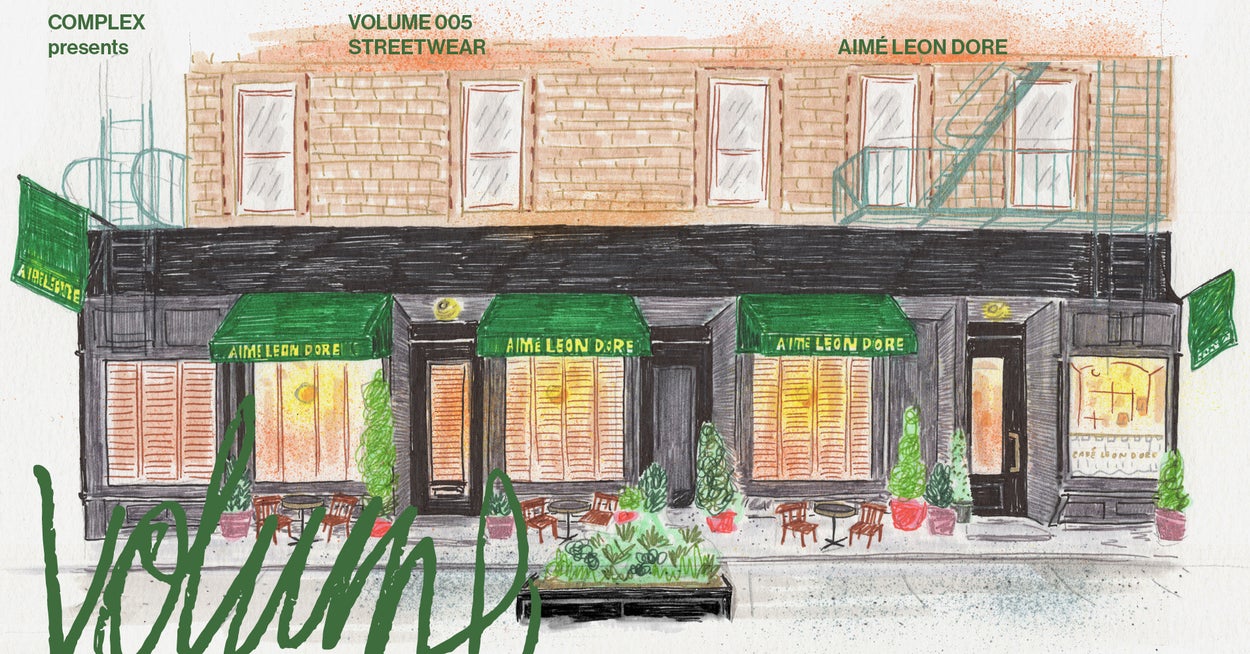 "What are all these people lining up for?" 
It's a question passersbys probably ask themselves as they walk down Mulberry Street between Prince and Spring in Manhattan. If you frequent SoHo and Nolita, you are probably used to seeing young men wearing graphic T-shirts, hoodies, sneakers, and brightly-colored fitted caps lining up outside of shops like Supreme or Hat Club. But this crowd is different. Sure, some of those same young men are hanging out, but there's an older demo of men and women holding coffee and wearing crispy white Oxford shirts, double-knee carpenter pants, and a canvas tote bag slung over their shoulders. You see this archetype sprinkled throughout SoHo and Nolita, but when they all convene in one area it almost feels like a fashion ad. 
The block wasn't always this way. Sure, there were popular eateries like Rubirosa and Parm along with dive bars like the Spring Lounge that drew crowds. And when Noah's flagship, which sits on the corner of Mulberry and Kenmare, opened in 2015 it brought some retail traffic to the area. But in 2019 when Aimé Leon Dore moved onto the block, it completely changed the neighborhood.
With Aimé Leon Dore, Teddy Santis has created a clubhouse, only there's no password needed for entry. Unlike other streetwear brands like Supreme, which shrouded themselves in an aura of intimidation and exclusivity, ALD tows the line between being inclusive while still remaining aspirational. Santis has done that by studying the market, referencing the best parts of successful brands, and then creating a world that feels perfectly primed for 2023. One month, ALD gives us a campaign featuring one of streetwear's most promising young creators, Corteiz founder Clint419. Next month, it's showing us a tuxedo collaboration with Drake's. There is something for everybody. Streetwear, which used to be a rebellious niche of fashion focused on graphic T-shirts and hoodies, has grown into something much bigger. People want to participate in streetwear, but are looking for a bridge that helps them look cool without trying too hard. ALD serves as that bridge, speaking to how much streetwear has evolved, the vast audience it now caters to, and how the industry may need to adapt. 
"It speaks to more than one type of person," says YL, a New York rapper and former employee at ALD's Mott Street shop. "You could be 40-plus rocking stuff like that. They have basic pieces and sweats for the young cats. They have suits for different occasions. They have something for every type of consumer and they do it in a very tasteful way. They're becoming a staple."
Santis created the name for ALD by combining three things: Aimé is French for "loved," Leon is his father's nickname, and Dore is a shortening of his birth name, Theodore. He started the brand officially in 2014, with little to no fashion experience. He handled marketing at Tina Catherine, an optical boutique, in 2010, but most of his resume consisted of working in his family's diner, Midnight Express Diner, on the corner of 89th Street and 2nd Avenue in Manhattan's Upper East Side. The idea for ALD started in 2012. It was how many upstart brands begin, with a simple logo. Kith's Ronnie Fieg posted a picture of ALD founder Teddy Santis wearing the earliest ideation of his brand. It was a gray crewneck with "aimé" written in big cursive lettering across the chest. The style would eventually be released as part of ALD's first official collection two years later. From the beginning, Santis didn't want to just produce graphic T-shirts and hoodies; he was focused on creating seasonal ready-to-wear collections.
When ALD released its first collection in 2014, upscale athleisure was dominating men's fashion. John Elliott had found massive success with his stacked sweatpants and hoodies with side zippers made of French terry. Dao-Yi Chow and Maxwell Osborne's Public School was featuring sporty sweatsuits on its runway. Kanye West debuted his first collection of earth-toned athleisure items for his Yeezy clothing line just one year later. Kith (which released a series of fleece basics with ALD in 2015) was giving its customers a more casual entry into menswear through its own line of French terry basics and collarless Oxford shirts. ALD's collections at the time largely followed the same formula. Looks included cuffed gray sweatpants paired with navy blue bomber jackets and white Oxford shirts. Slim-fit khakis gave some looks a classic menswear feel. And experimental outerwear like a hooded trench coat made of fleece offered a casual spin on a silhouette usually presented in more refined settings. In 2015, it introduced quarter zip hoodies made of deep pile fleece, chunky turtlenecks, and biker jackets. ALD hadn't totally found its identity yet. It still largely followed what was trending in the market. But it was getting there despite some growing pains along the way. A Chelsea boot with a toe box reminiscent of a pair of Air Force 1s and mesh Puma States didn't exactly get people excited. Santis admits the earlier years of ALD came with a lot of experimentation to see what would stick. 
"I didn't know how to make clothes; I wasn't classically trained," Santis told Business of Fashion in 2022. "It was a lot of just trial and error, just falling on my face a bunch until I figured it out."