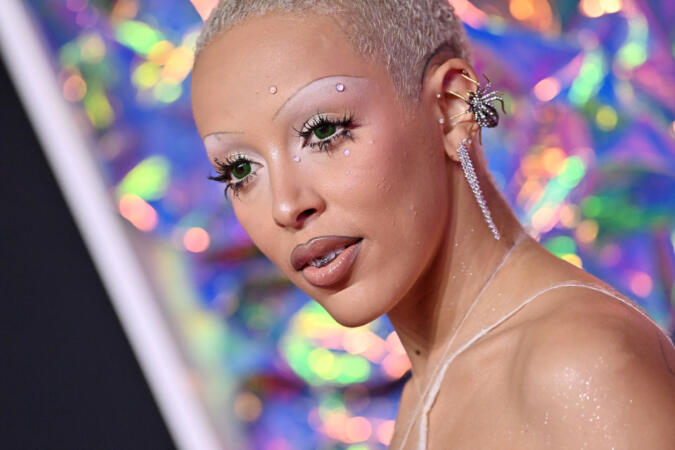 Born on October 21, 1995, in Los Angeles, California, as Amala Ratna Zandile Dlamini, Doja Cat has emerged as a dynamic force in the music industry. Growing up in a household with primarily with a Jewish-American mother, Doja Cat's exposure to a diverse range of musical influences laid the groundwork for her unique sound. Initially gaining attention through self-produced tracks on SoundCloud, Doja Cat blends R&B, pop, and hip-hop elements. Her breakout moment came in 2018 with the viral single Mooo! Soon after, the 2019 hit Say So propelled her to global stardom, including her debut album Amala and subsequent releases which helped solidify her reputation as a genre-defying artist.
Beyond music, Doja Cat is celebrated for her bold fashion choices and unapologetic self-expression, making her one of her generation's most influential and dynamic artists. Her parents, Elizabeth Sawyer, and Dumisami Dlamini, have played a significant role in Doja's artistic range while also providing a foundation for her sense of musical style. Ahead, we'll dive a little into Doja Cat's parents and everything else you need to know.
Her Parents Met In New York
Sawyer and Dlamini crossed paths in New York during his Broadway performance in Sarafina!, sparking a brief relationship according to Rolling Stone. Dumisani moved to the USA from South Africa in the early 1990s to pursue acting, from there, the romance between Sawyer and Dlamini progressed, resulting in Doja Cat being born.
Her Mom Introduced Her To The Arts
In a 2020 interview with VladTV, Doja Cat unveiled an intriguing aspect of her upbringing, sharing that her mother, Sawyer, also pursued a career in the arts. Sawyer ignited Doja Cat's passion for creativity, enrolling her in various performing arts schools and fostering her involvement in a dance crew, where she engaged in breakdance battles. As an intimate testament to their artistic connection, Doja Cat revealed that she wrote her first song for her mother when she was 8—providing a glimpse into the early influences and creative nurturing that shaped Doja Cat's artistic journey from a young age.
Doja Cat Has Never Met Her Father In Person
Doja Cat and her father, Dlamini, unfortunately, didn't have the best relationship. While Doja Cat spent her formative years in the United States, her father primarily resided in South Africa, resulting in the two never meeting. While the rapper and her father have established a degree of connection through social media, their relationship has yet to extend to in-person interactions.
Although their conflicts have remained at the forefront of their relationship, the complexities of their dynamic have not prevented Dlamini from opening up about his daughter. In 2023, he spoke to GQ South Africa, shedding light on their relationship and offering insights into the dynamics that define their connection.
Doja Cat And Her Mother Lived In A Commune In Santa Monica, California
At the age of 8, Doja Cat's mother moved the family from Rye, New York, to the Sai Anantam Ashram, a commune situated in Santa Monica, California. She talked about the move with People stating that the move was restraining, as she didn't have many friends. However, the move seemed to be good in one way- Alice Coltrane, the renowned Jazz musician, influenced a lot of the community.
Her Father Is An Actor
With over 30 years of experience in the entertainment industry, Dlamini boasts an extensive performing arts resume. During a conversation with VladTV, Doja Cat expressed admiration for her father's remarkable talent. In his Instagram bio, Dlamini, with a following exceeding 18,000, identifies himself as a "Stage & TV Actor," an "MC/Host," and a "Motivational Speaker."To Doja's surprise, she didn't know how good of a dancer her father was until she came across a video on YouTube of him dancing for Sarafina.
Her mother's passion for R&B appeared to shape her own affinity for music. Doja cited artists such as Erykah Badu, John Coltrane, Alice Coltrane, Jamiroquai, Seal, The Fugees, and Earth, Wind & Fire as influences, all of which her mother frequently played around the house. While Doja attributed her performance skills to her father, she disclosed that her mother is equally creative in her own right. During a May 2020 interview with VladTV, Doja revealed that her mother is not only a painter and visual artist but also works in designing men's clothing.