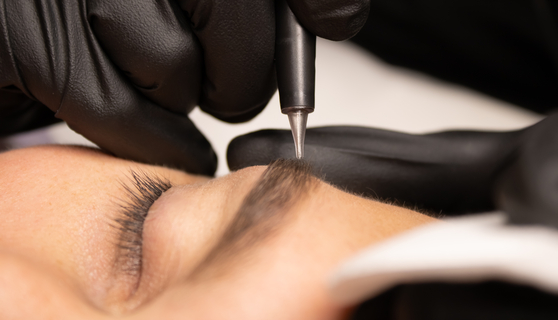 Hair transplantation had always been a dream for 28-year-old Kim, the only solution he believed he had for his M-shaped hairline.
 
A visit to the doctor's office six years ago, however, shattered Kim's hope. Surgery costs were substantial, and the possible side effects sounded too serious to ignore.
 
He went on his with his life — until he heard about scalp micropigmentation, also known as hair tattooing.
 
"The result is so satisfying," said Kim, who requested anonymity because he doesn't want others to know he has a "fake hairline."
 
"A major weakness of mine has been resolved."
 
Across the country, men like Kim are opting for scalp and eyebrow tattoos to improve their appearances and tackle their long-held insecurities with much cheaper and simpler procedures than hair transplants.
 
What was once regarded as a beauty ritual exclusively embraced by women is now gaining traction among men, both young and old, who believe that confidence and self-esteem have a lot to do with hiding bald spots.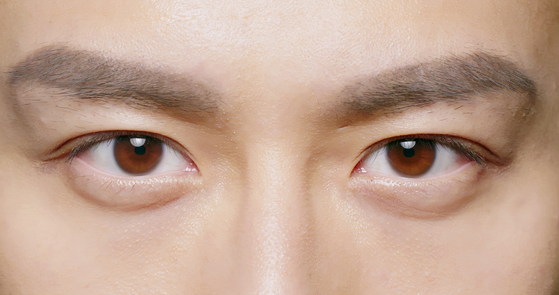 Semi-permanent makeup vs. traditional tattooing
 
The type of scalp and eyebrow tattooing that has grown popular among Korean men is a part of what's referred to as semi-permanent makeup, or semi-permanent tattoos. As implied in the name, such procedures are not permanent, meaning they eventually fade after two to four years, but don't disappearing completely.
 
In traditional tattooing, what's injected into the skin is called ink, whereas semi-permanent makeup uses pigments. Traditional tattoo inks are a lot more concentrated than pigments, which is why they appear bolder and brighter. Pigments have much smaller particles, creating a more natural and softer color on the skin.
 
Unlike traditional tattoo inks, which are injected into the middle layer of the skin known as the dermis, pigments are injected just above the dermis into the uppermost layer, called the epidermis.
 
Confidence booster
 
Men often point to a boost in confidence as the primary motivation for filling in their sparse brows or scalp.
 
Kim, who received scalp micropigmentation for his M-shaped hairline in May, said he had felt insecure about his physical appearance since he was in high school, when a few of his friends first started to ask whether he was going bald.
 
An M-shaped hairline is defined by a section of hair falling lower on the forehead, while the other two sections are positioned nearer to the crown, forming a subtle M shape.
 
When Kim was in college, he visited a doctor in Apgujeong-dong, an upscale neighborhood in Gangnam District, southern Seoul, renowned for its plastic surgery clinics, to explore the possibility of undergoing hair transplants.
 
The doctor said it would cost him 4 million won ($3,050) and that he would have to take hair loss prevention pills for the rest of his life, which, in a worst-case scenario, could lead to erectile dysfunction.
 
"I forgot about it after then," said Kim. "There was no way I was going to spend that much money and end up with erectile dysfunction."
 
Then, earlier this year, an acquaintance of Kim's contacted him, telling him that she had opened a hairline tattoo shop and would provide a complimentary session in exchange for using his photos for promotional purposes.
 
He was in.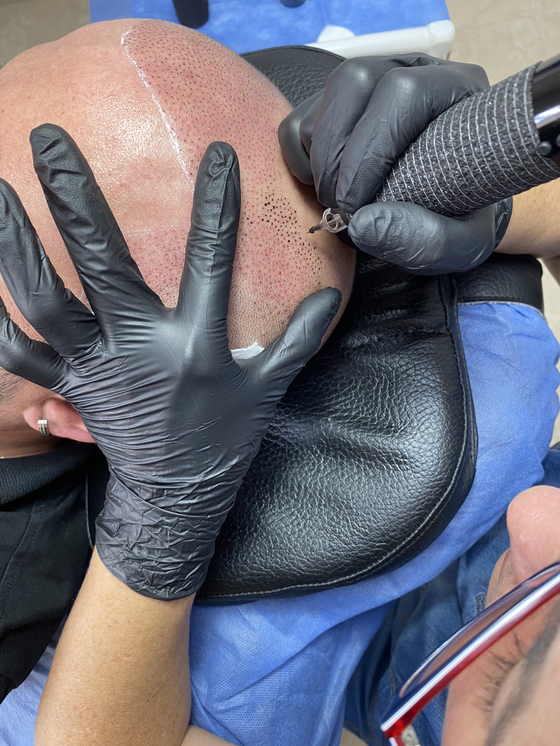 "In a society where people are constantly mindful of how others perceive them, this experience has helped me become more socially outgoing in my daily life," Kim expressed.
 
Jeon Min-ki, 26, who has a marketing job at a local food company, got his brows tatted in 2021 because he, too, felt insecure about his "half-eyebrows."
 
"I was always conscious about my brows every time I had my picture taken," said Jeon. "I was planning on getting a 'body profile' that winter, so I wanted to get my eyebrows done in the spring so that it would look natural by then."
 
Body profiles are glamor shots captured in professional studios that spotlight an individual's physique to showcase the culmination of their fitness journey. Such "Instagrammable" photos were widely popular in Korea in 2021.
 
Jeon expressed high satisfaction with his eyebrow tattoos, as they gave him a "clearer impression."
 
Jin Yeon-su, 29, an Army officer in the Korean military, said he gets his brows retouched every 12 to 18 months after his first procedure five years ago.
 
"I've been interested in grooming for a long time," said Jin. "One day, I saw a colleague trim his brows and decided to try it, too. But it was harder than I thought, and I ended up with uneven brows. That's when I decided to get semi-permanent eyebrows, so I could simply trim along those lines."
 
After the procedure, Jin said five people asked about his brows and proceeded to get their own treatments.
 
"Age notwithstanding, self-care is no longer a choice for men," said Jin. "It's a must."
 
Evolving trend
 
Semi-permanent makeup has been around in Korea ever since the 1980s, when women began to get their eyebrows tatted at salons to boost their appearances without spending time in front of the mirror every morning.
 
In the following decades, tattoo procedures on other facial areas like eyelids and lips gained popularity as women sought more convenient ways to enhance their features. Lip tattooing, also known as lip tinting or lip blushing, enhanced women's lip color for a more defined look.
 
It wasn't until the early 2010s that eyebrow tattooing began to gradually emerge as a trend among Korean men.
 
"Before the 2010s, the only Korean men who had semi-permanent makeup procedures on their eyebrows were normally celebrities, like actors and singers," said Cho So-yeong, a makeup specialist and CEO of Joen Academy in Seoul, who has nearly 20 years of experience training brow technicians.
 
"It then began to become a fad among the broader male population, starting from politicians, businessmen and young individuals who cared about their appearances and wanted thicker, darker eyebrows for a stronger and more reliable impression," said Cho. "Today, semi-permanent eyebrows appeal to men of all ages and professions."
 
In Korea, scalp micropigmentation is known to have started a few years after that, in the mid-2010s, when women began to draw tiny dots on their heads to fill empty patches. As with eyebrows, men subsequently followed suit.
 
There's no official statistics on the number of semi-permanent makeup procedures conducted in Korea, primarily because the vast majority are held illegally at salons or eyebrow tattoo shops.
 
Even with the increasing popularity of traditional body tattoos and semi-permanent makeup in the country, both procedures are strictly classified as a medical practice under Korean law and can only be carried out by medical practitioners like doctors and dentists.
 
Tattooing itself is not illegal, but unlicensed tattooists can face up to 50 million won in fines or even imprisonment. Clients, on the other hand, are not penalized even if they get procedures by a non-medical professional.
 

However, it is highly uncommon for doctors to run their own tattoo shops in Korea. Although many dermatology or plastic surgery clinics do offer semi-permanent makeup procedures, they are often carried out by non-medical beauty technicians, who normally charge between 100,000 won and 200,000 won per procedure, depending on the degree of hair loss.
 
Costs can run up to 3 million won for a full scalp micropigmentation.
 
In a 2019 report on tattoos, the Korea Institute for Health and Social Affairs predicted the number of conventional body tattooists in Korea to be at around 8,800, and that of semi-permanent makeup artists to be at some 18,600.
 
In a 2021 Gallup poll participated in by about 1,000 adults nationwide, 28 percent of respondents reported having undergone a semi-permanent makeup procedure. When considering gender, 45 percent of females indicated they had experience, compared to 10 percent of males.
 
As more people choose to get semi-permanent makeup lately, Cho noted that her academy has been seeing a broader range of students from diverse backgrounds.
 
"When I opened the academy in the early 2000s, my students were mostly makeup specialists like me," said Cho. "Now, I'm getting nail technicians, skin care technicians and hair stylists, just about everyone in the beauty industry, who say their clients keep asking them if they offer semi-permanent makeup services."
 
Changing social perceptions
 
In a conservative and patriarchal society like Korea, where body tattoos were associated with organized crime and makeup was traditionally considered exclusive to women, the shifting social norms regarding male grooming and self-care have significantly contributed to the growing trend of semi-permanent makeup among men.
 
"In today's era, there's a significantly higher level of acceptance toward men wearing makeup compared to the 20th century," said Han Ji-su, dean of the department of beauty industry at Sungshin Women's University in Seoul. "This shift is observable in the rise of the 'gender neutral' trend within the beauty market."
 
As social perceptions of gender roles evolve, Han explained that more women nowadays prefer men who have a polished and charming appearance, even if it involves getting semi-permanent makeup.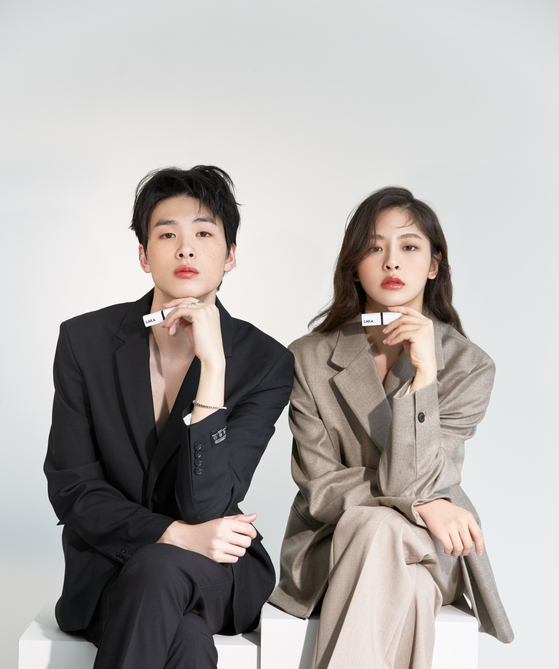 Both Han and Cho also attributed the shift in perceptions to politicians and celebrities confidently showcasing their treated eyebrows and scalps in front of cameras.
 
People Power Party Rep. Ahn Cheol-soo, a former computer science mogul who was often ridiculed for his soft-spoken demeanor, surprised the public in 2021 when he appeared with bolder and thicker eyebrows during his campaign for the Seoul mayoral by-election. Ahn's hair also looked darker and his eyes more pronounced, prompting speculations that he underwent plastic surgery to fix his droopy eyelids.
 
The politician has never publicly commented on the rumors.
 
"Back in the day, people used to associate men having fake eyebrows with being homosexual," said Cho. "Now, they're more like, 'Whoa you got your eyebrows done, too?'"
 
Cho, who mentioned that she often visits the National Assembly in Yeouido to discuss the tattoo legalization issue, said she sees countless lawmakers who appear to have undergone semi-permanent makeup procedures.
 
"It seems like nearly everyone has undergone eyebrow enhancements these days," said Cho.
 
Lee So-hyun, 30, an office worker in Seoul, said she thought fondly of men getting semi-permanent makeup because it indicates they're making an effort to look more attractive.
 
"A colleague of mine who dresses really nicely at work got his eyebrows done recently and it made him look so chic and sharp," said Lee. "I've never seen a male who got his scalps tatted, but if it looks cool on him, I don't see a problem."
 
Ongoing legalization debate
 
Korea has a long, checkered history with tattoo legalization. While negative attitudes still persist toward full-body tattoos, public sentiments regarding small ones have significantly eased in recent years, particularly among the younger generation.
 
But even as society is gradually becoming more accepting of tattoos, allowing non-medical practitioners provide tattoo services remain a highly contentious issue, with older people and doctors particularly opposed to the idea.
 
In the 2021 Gallup poll, 51 percent of respondents expressed support for non-medical professionals offering tattoo services, while 40 percent opposed it, and 9 percent abstained.
 
By age group, those below the age of 50 predominantly expressed support, whereas those aged 50 and above were more inclined to oppose the idea.
 
Korea's tattoo industry largely exists within a robust grey area — tens of thousands of tattoo artists and semi-permanent makeup technicians operate outside the legal framework, fearing police raids and prosecution, although such instances are exceedingly rare.
 
Today, semi-permanent makeup technicians usually work at salons, plastic surgery hospitals and dermatology clinics or in their private studios, mainly relying on promotion through Instagram.
 
Many tattoo artists and makeup technicians have tried to overturn the tattoo ban, but to no avail. Numerous bills have been proposed in the National Assembly to create a licensing system and establish hygienic regulations for the industry, but none have been approved.
 
Opponents, often medical professionals, commonly raise concerns about unhygienic practices and the potential harm posed by non-medical workers, arguing that these practitioners lack the dedicated skills required for safe skin penetration, which could lead to side effects such as infections.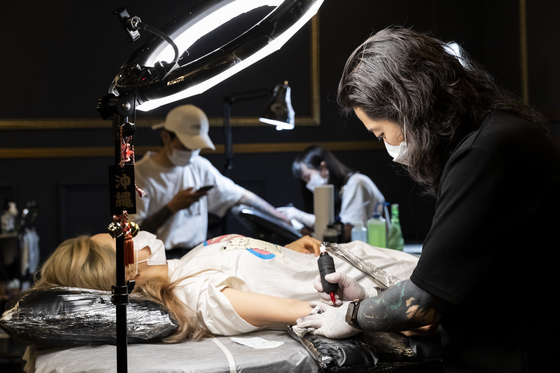 During a debate on tattoo legalization held at the National Assembly in July, doctors argued that tattoos or semi-permanent makeup procedures conducted by tattoo artists pose "significant risks" to public health, thus should not be legalized.
 
However, semi-permanent makeup technicians like Cho argue that potential side effects are the very reason why their services should be legalized. By bringing the entire process within the legal boundaries and implementing stringent regulations on pigments and techniques, they say clients can safely undergo treatments administered by licensed professionals and be safeguarded by legal measures in the event of any problems.
 
"The biggest problem with the semi-permanent makeup industry is that many technicians use cheap, counterfeit pigments and numbing creams manufactured in China," said Cho. "And a lot of people start their own businesses after just a single month learning the techniques. In the absence of regulations, it's the clients who will eventually fall victim."
 
Prof. Han of Sungshin Women's University agreed with Cho for the need of a separate license for semi-permanent makeup technicians, saying that their procedures fall more within the cosmetic domain rather than the medical field.
 
"Semi-permanent makeup procedures fall under the medical law due to the use of needles and numbing cream," Han explained. "However, it's imperative to establish practical regulations that restrict the use of products applicable to semi-permanent practitioners, authorize their procedures and enforce penalties for unwarranted pseudo-medical activities."
BY LEE SUNG-EUN [lee.sungeun@joongang.co.kr]