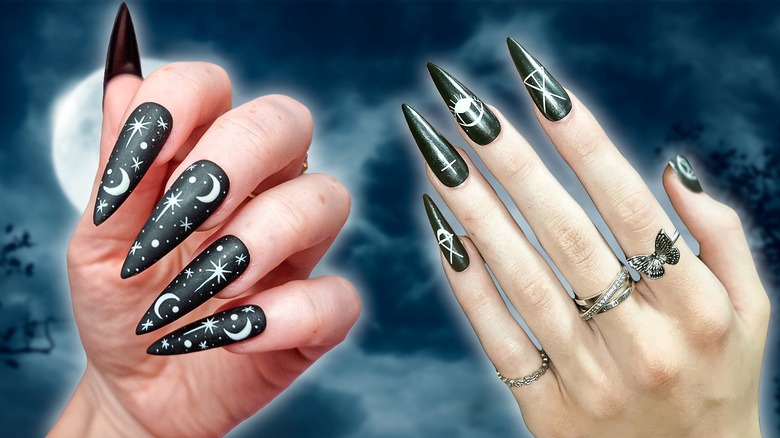 Static media / Shutterstock
Goth and the color black go hand in hand. Although some people believe the stereotype that all goths are evil, nothing could be further from the truth. Goths — like anyone, in a subculture or not — are varied. There are cybergoths, medieval goths, and even pastel goths.
The same goes for witches, who can be perceived as daring, hip, and of course, scary, giving them an allure that we want to channel all year long. While there are many ways to incorporate a goth or witchy style, one of the easiest ways to do it is with your manicure. A witchy manicure can say a lot, making it the perfect choice for people trying out a new look. Whether you are someone who loves nail designs and art or wants to keep things simple, there is something for you.
Even though these nails scream "Halloween," they can be worn any time of year. This is because witchy nail art often revolves around gothic symbols that can be easy to incorporate into your personal style. They may be an out-of-the-box option for some, but we at Glam have curated the perfect witchy manicures that will help you embrace your inner (or outer) goth.
Add magic to your nails
One of the things that makes witches so fabulous is that they have magic available at their fingertips. While we might not have a spell book, we can have our nail tech give us a magical look with sparkles. Drawing stars both big and small give an enchanting effect of otherworldly power, even if you're not at a Halloween party. 
Take a goth or witchy spin on a French tip
If you want to remix the classic French tip look and embrace your inner goth or witch, try smoke nails. The smoke effect, when placed on the tips of your fingers, creates a look that is both eerie and chic. Focusing on the very tips of the nails lets you put a chilling twist on a classic manicure style.
Add mysterious fog to your nails
For the goths who do embrace all things black, this mani is perfect. Imagine a group of witches riding broomsticks through the night, surrounded by dark fog. The best way to incorporate this spooky vibe is with simple designs like moons and stars, and then disguise them with smeared nail polish, creating that "foggy" finish.
Add cute nail art
Who says a witch needs to be scary? If you want to add a bit of whimsy to your witchy manicure, have your nail artist create a few cartoon designs that still embody witchy style. Ideas include bats, a witch's hat, a moon, cats, and more. 
For the pastel lovers
Maybe the pastel goth aesthetic is more your speed, or you want to embrace the "good witch" look. Think "Monster High" or Glinda from "The Wizard of Oz," with light, girly colors, and add a few designs for some edge. If you want to add even more of a magical touch, use nail polish with shimmer.
Keep the focus on design
Another option for those who are not fans of black nails is creating nails that focus mainly on the design. Using a nude polish for the base, including a black design creates a tattooed effect that looks amazing. If you decide to go this route, talk to your nail technician about which designs you'd like for a spooky mani.
Airbrush your goth, witchy look
The minimalists will love airbrushed nails. You can use a variety of colors to create a mysterious look that will be perfect for spooky season, from red and black to gray and indigo. To get this particular look, if you don't have an airbrush machine, you can use the popular eyeshadow hack instead. 
Embrace your inner cat lover
Witches are known to love cats, so why not incorporate them into your next manicure? You can make cat designs as detailed or as simple as you choose, and they will always look good. However, if you're going to go the cat route in a witchy manicure, it makes more sense if they are black — which should satisfy your gothic heart.