A prolific shoplifter who pinched £120,000 worth of designer handbags from luxury stores across London's West End has been jailed. J'naya Andrew, 20, Du Cane Road, Hammersmith, was sentenced to two years and six months in a Young Offender's Institution after a spate of thefts, and a knifepoint robbery, between May 2022 and January 2023, Isleworth Crown Court heard on Thursday (August 24).
Prosecutor Nick Saunders showed the court a series of CCTV clips, each showing how Andrew conspired with others, or worked alone, to pilfer goods from some of London's priciest shops. The first showed Andrew slipping a £4,900 handbag into a large black bag and leaving without paying at Designer Exchange on the King's Road in Chelsea on May 24 2022.
In the next clip, filmed on June 29, Andrew was caught stealing by CCTV cameras at Marc Jacobs on Regents Street. There a worker recognised her and said "we both know what you're doing", but Andrew still barged out with a £406 bag, the court saw. "Even knowing she was being watched she took the bags and pushed past her," Mr Saunders added.
READ MORE: 46 London criminals locked up in July from sickening child rapists and dangerous drivers to cruel family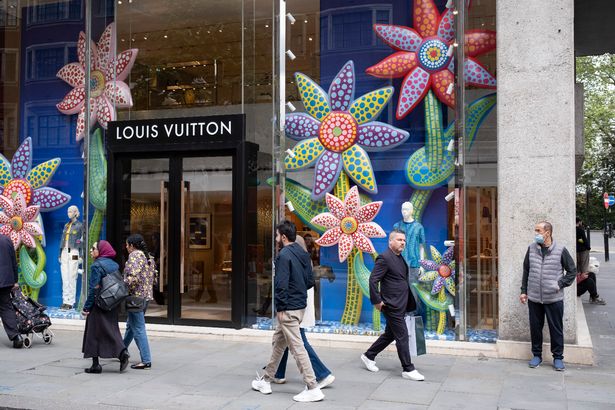 The court also saw footage from Michael Kors Regent Street on October 23 2022, when Andrew walked out without paying for £1,715 worth of designer gear. On November 23 she made off with £1,330 worth of goods from another West London shop, for which an accomplice was jailed for 14 weeks, the court heard.
On November 31, as part of a group, she raided JD Sports in Tooting, shoving clothes worth £400 into a TK Maxx bag before running out of the shop. During the raid a manager who confronted the group and tried to retrieve the items was punched in the face by an accomplice, the court heard.
The use of violence appeared to increase over time, from Andrew pushing past staff to flee and later her accomplices using weapons. On January 1 2023 Andrew and three others looted £6,260 worth of goods from the Versace store on Bond Street while a male stood by the door brandishing a metal object over his head to intimidate staff, the court was told.
Then on January 9 the group returned to Regent Street to rob high-end Italian designer store Furla, stealing £52,395 worth of handbags while a male stood by the door with a knife.
Just four days later, on January 13, the group of six entered Louis Vuitton on Sloane Street and stole another £52,615 worth of handbags while a male threatened staff with a metal water bottle.
When Andrew was arrested on February 18, in possession of a lock knife, she had stolen in excess of £120,000 worth of designer goods, according to Mr Saunders. She was also already serving a Community Order for theft and going equipped to steal convictions on February 11 2022 and October 7 2022, and a shoplifting fine on November 14 2022.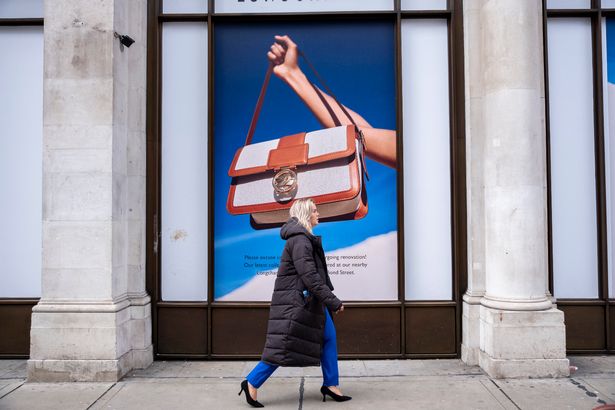 Defending Brian Kennedy passed a letter of remorse from his client to Ms Recorder Charlotte Welsh, and referred her to a psychological report which detailed Andrew's "complex PTSD", history of "appalling trauma", and "significant learning difficulties".
Mr Kennedy then successfully argued Andrew was less culpable for the robbery as she had not known a knife was going to be used by her accomplice. Judge Welsh agreed, and said: "I think the Crown have tried to have their cake and eat it."
But Judge Welsh also recognised the "spate of offending" had occurred when Andrew was already subject to a Community Order for similar offences, and told her she had targeted the high value handbags because they were "easy to sell on and retain their value".
Andrew – who has already served six months on remand – was sentenced to two years and three months for the Furla robbery, 12 months concurrent for the £52,000 Louis Vuitton heist, and eight months concurrent for the other thefts. She was then given another three months consecutive for possession of a knife, making her total sentence one of two years and six months.
Got a story or a tip off? Please email callum.cuddeford@reachplc.com or WhatsApp 07580255582
Don't miss out on the latest crime stories from across London. Sign up to MyLondon's Court & Crime newsletter HERE