Aug 14, 2023 11:43 PM IST
Speaking on the occasion, Bharambe said, "The articles returned today were stolen properties in various crimes. These included mangalsutra, gold chains, gold and silver ornaments, four-wheelers, two-wheelers and other properties including cash
NAVI MUMBAI: Around 250 residents living across Navi Mumbai who were robbed of jewellery, cash and two-wheelers worth ₹5.5 crore were surprised when they received the stolen booty back on Monday from the police. The residents had little hope of getting the lost valuables back and thanked the police team.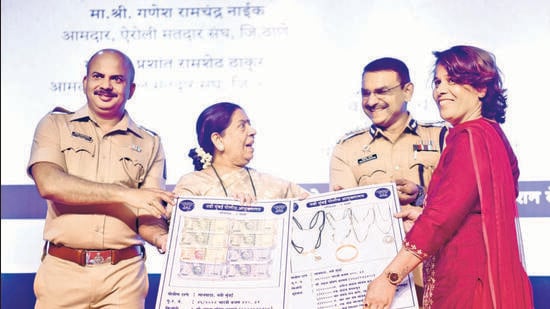 Navi Mumbai police commissioner Milind Bharambe led the special programme called 'property returning ceremony' which was organised at the CIDCO Exhibition Centre auditorium.
The properties were returned to the victims by four MLAs of the commissionerate Ganesh Naik, Manda Mhatre, Prashant Thakur and Mahesh Baldi.
Speaking on the occasion, Bharambe said, "The articles returned today were stolen properties in various crimes. These included mangalsutra, gold chains, gold and silver ornaments, four-wheelers, two-wheelers and other properties including cash."
He informed, "These stolen properties have been recovered after much effort of our personnel. We then ensured that we got the court's permission at the earliest to return the properties to the victims."
Bharambe stated, "Apart from the commercial value of the stolen articles, they have a lot of emotional value for the people. The mangalsutra, jewellery for special occasions means a lot for the people, especially for womenfolk. We are glad that we have put a smile back on their faces."
The commissioner added, "We intend to increase the residents' security and create awareness amongst them against such crimes. It will ensure a secure environment for all."
One of the residents from Kalyan, Rahul Kamble, 60, said, "My son Makarand works in Rabale MIDC and commutes on bike. One day after leaving the office, he found his bike was missing. He complained at Rabale police station. The bike was recovered in just 15 days and 2 people were arrested."
A 35-year-old victim, Dr Kanchi S said, "A couple of months ago, my mobile phone and ₹80,000 cash were stolen from my car parked at APMC market. The police officials assured me that I will get the stolen property back in a short time. Within 3 days, I received a call from the police at 1am and they asked me to confirm that a mobile they had recovered was mine. After verification, they assured me that the cash will also be recovered soon."
Ajay Prajapati, a shopkeeper in the Vashi area also thanked the police for their speedy action. "There had been a theft in my shop in Vashi last year in which around 10 mobile phones worth over ₹1 lakh were stolen. Three days back I was informed that the stolen booty was recovered."