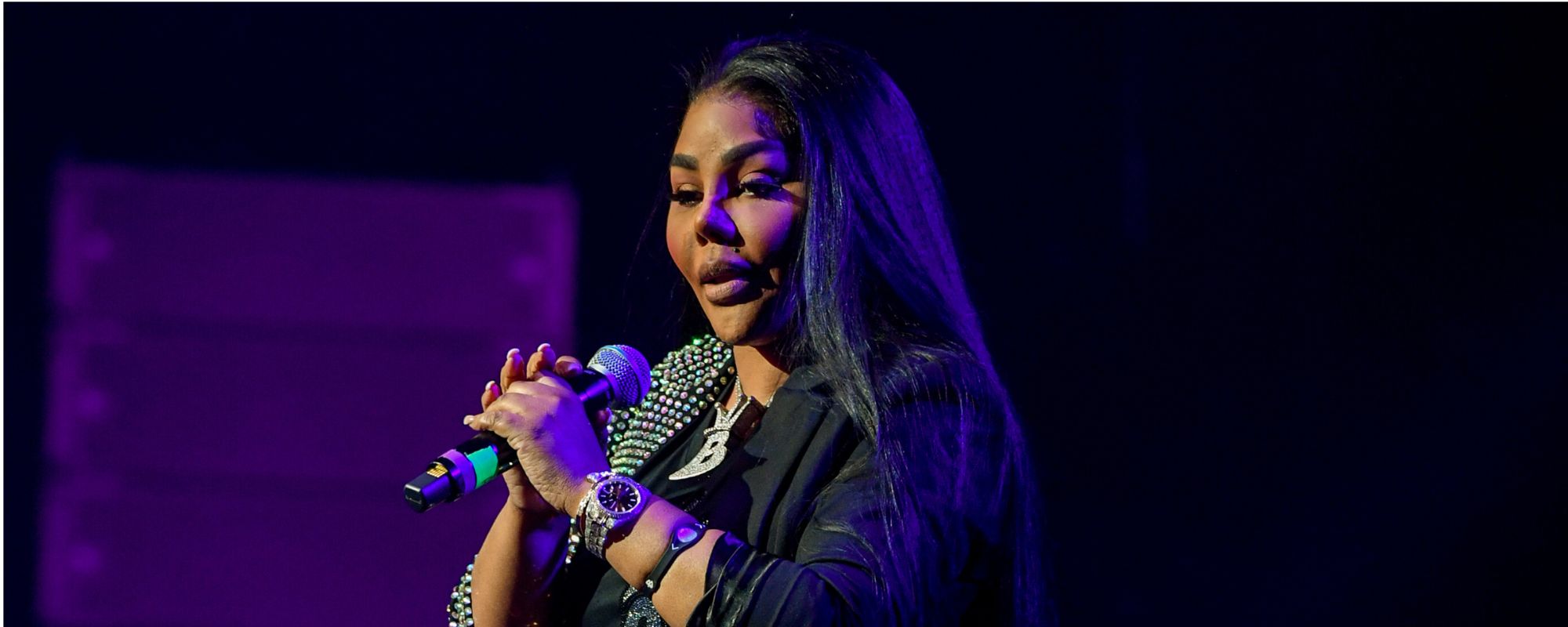 In its 50-year history, the essence and landscape of hip-hop has primarily been dominated by men and themes relating to their lifestyles, the conflicts between them, their sex lives, etc. So, typically, when a female emcee reaches the pinnacle of the genre, it takes them being especially captivating and impressive, uniting female and male audiences in the process.
Videos by American Songwriter
Naturally, this also means many of the greatest female rappers have needed to break through glass ceilings and achieve what was previously thought to be unachievable. When discussing those who have had an impact like this, hip-hop connoisseurs' minds usually conjure up a few names, such as Nicki Minaj or Lil' Kim. In the list below, we round up our top six artists for this criteria and explain how they broke the barriers they did.
MC Lyte
In 1988, as hip-hop began to finally realize its mainstream potential, MC Lyte stood up to the plate to be one of the first emcees to introduce femininity to the sport. Releasing her debut album Lyte as a Rock, the first rap album ever from a solo female act, Lyte etched her name in history.
Inspired by even older pioneers of the genre like Melle Mel and Kurtis Blow, Lyte was able to mold a skillset for herself that appealed to the sounds of the times, making it nearly impossible for even the most stubborn of listeners to deny her talent. As the years went on, she racked up loads of hits, whether it was "10% Dis" and "Paper Thin" from Lyte as a Rock or later songs like "Keep On, Keepin' On" and "Cold Rock a Party."
Missy Elliott
The first female rapper to enter the Songwriters Hall of Fame, where she was inducted in 2019, Missy Elliott's determination and ability to surround herself with premiere talent landed her an iconic career full of chart-toppers. Rising through the ranks alongside stars of the 1990s like Timbaland, Ginuwine, Jodeci, and more, Elliott honed in on songwriting that could captivate both pop and hip-hop audiences.
It's no surprise this would manifest into smash hits like "Get Ur Freak On," "Work It" and "Lose Control," as she would go on to win four Grammy Awards in her heyday. Her creativity didn't just stop in the recording booth, though, as her 1997 music video for her song "The Rain (Supa Dupa Fly)" was named the No. 1 hip-hop video of all time by Rolling Stone this year.
Queen Latifah
Queen Latifah was one of the first rappers, male or female, to demonstrate the marketability of an emcee beyond the microphone. Though releasing exceptional albums in the late '80s and early '90s, Latifah's star power was fully applied on-screen, as her appearances on the iconic FOX sitcom Living Single coincided with her singles "U.N.I.T.Y." and "Just Another Day…" ascending on the Billboard charts.
She was truly a pioneer for multi-hyphenate celebrities that get their start in rap.
Lauryn Hill
After two successful albums within the framework of her group The Fugees, with Pras Michel and Wyclef Jean, Lauryn Hill decided it was time to have a spotlight for herself. Releasing her debut solo album The Miseducation of Lauryn Hill in 1998, it became evident she was one of the most precious jewels of the genre.
Meshing hip-hop, jazz, R&B, and soul, the LP stood out in a rap landscape that revolved around men, thanks to its soothing melodies and introspective songwriting. Though it was one of her only fully fleshed-out full-length releases, songs from The Miseducation of Lauryn Hill still inspire male and female emcees to this day. Some of the tracks have been sampled in recent radio hits like Drake's "Nice for What" and "Be Careful" by Cardi B.
[RELATED: American Songwriter's Top 50 Rappers, One for Each Year of Hip-Hop]
Lil' Kim
While sex-positivity is one of the most prominent approaches for mainstream female rappers in this day and age, it would not come to the forefront until Lil' Kim manufactured a thirst for it in the prime of her career. Combining the sensual appeal of the pop stars of her time with the impressive technical ability of rappers adjacent to her like Notorious B.I.G. and Diddy, Kim was able to revolutionize what it meant to be a female emcee around the turn of the century.
Nicki Minaj
Expanding on the sentiment above about Lil' Kim, Nicki Minaj's emergence in the late 2000s and early 2010s wasn't anything that hip-hop had ever seen before. With undeniably brilliant wordplay, the ability to outshine male rappers at the top of their game, and the proud display of her racy sex drive, Minaj was frequently mentioned as a candidate for "best rapper in the game."
With music videos like "Anaconda," albums like Pink Friday, and feature verses like Kanye West's "Monster," every appearance from Minaj was show-stopping, certifying that there were no heights a female rapper couldn't reach. 
Photo by Aaron J. Thornton/Getty Images