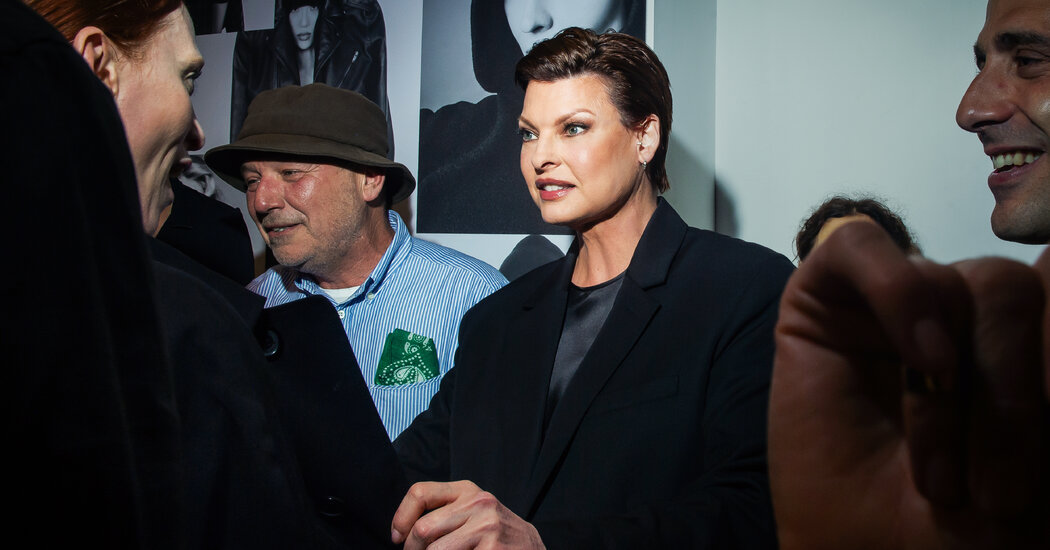 The fashion world came out to honor the star photographer. He didn't show.
At a cocktail party in Lower Manhattan on Friday to celebrate a new collection of clothing and accessories designed by the fashion photographer Steven Meisel for Zara, practically the only boldface name who didn't show up was Steven Meisel.
"I would have been surprised if he had come," said Edward Enninful, the editor in chief of British Vogue, standing outside the event space on Howard Street as the model Kaia Gerber walked by. "He's shy. He lets the work speak for itself."
If Mr. Meisel were a movie star, said another guest, the writer James Reginato, he'd be Greta Garbo.
Mr. Meisel's photo spreads are known for their inventive and often satirical narratives. In "Makeover Madness," a 2005 feature for Italian Vogue, Linda Evangelista posed as a couture-clad socialite with a plastic surgery addiction.
Ms. Evangelista was one of many models at the party, along with a number of editors, stylists and other fashion-world people who have worked with Mr. Meisel.
He seems to be having a moment. In addition to the Zara collaboration, Phaidon is publishing a book this month, "Linda Evangelista Photographed by Steven Meisel." On Oct. 6, Christie's is holding an auction titled "Madonna x Meisel — the Sex Photographs" of more than 40 photos from Madonna's 1992 coffee table book, "Sex."
Mr. Meisel, who shot the cover for Madonna's 1984 album, "Like a Virgin," was her chief collaborator for "Sex." She has credited him with teaching her to treat each photo shoot as "a small film" and to transform in each into a new character. "He was the first person to introduce me to the idea of reinvention," Madonna once said in an interview with Vogue.
Several models at the party spoke of how Mr. Meisel had either found signature looks for them or changed their appearances in ways they had not imagined.
Karen Elson, who made her name with a goth princess look, was decked out in a black trench coat that Mr. Meisel had designed for Zara. She said that when she met Mr. Meisel in 1996, she was "a mousy strawberry blond." On their second shoot together, for Italian Vogue, Mr. Meisel tried something new.
"They shaved my eyebrows off and colored my hair red," Ms. Elson said. "It was the first time I saw myself, if that makes sense. Steven has this uncanny ability to make his subjects feel seen. It was like I had been transformed into who I am, and that's something magical he possesses. They call him a Svengali for a reason."
The model Joan Smalls recalled working with Mr. Meisel on a Moschino ad campaign in which he spoofed a TV series from the '80s where "all the women hate each other."
If only she could remember the name of the show.
"'Dynasty'?" a reporter asked.
"Yes, that's it. Exactly," she said. "It was just so much fun."
Mr. Meisel long ago stopped going to events where he might be photographed. But everyone in fashion knows his look: androgynous, with long black hair and all black clothes, with a punk edge. His designs for Zara were of a piece with that. "It's his uniform," the model Karolina Kurkova said as she picked out a black leather biker cap from the racks.
A few feet away, the hairstylist Julien d'Ys was trying on a faux-fur winter hat that suggested a mash-up of Dr. Zhivago and Rick Owens. Mr. d'Ys described how Mr. Meisel had brought him to New York in the early '80s to meet the designer Stephen Sprouse.
Mr. Sprouse and Mr. Meisel had worked together in the '70s, under the designer Halston. Mr. Sprouse, who died in 2004, was the studio manager. Mr. Meisel, a gifted illustrator, was responsible for providing the Halston seamstresses with drawings that served as blueprints. But he did not get along with the boss, who derisively nicknamed him "Pocahontas," Mr. Meisel told Vogue in a rare interview in 2009.
After some time at Women's Wear Daily, Mr. Meisel was brought to Condé Nast by its editorial director, Alexander Liberman, and began shooting for many of its publications. Prada, Calvin Klein, Louis Vuitton and Versace started calling on him for ad campaigns. In those days, Mr. Meisel went everywhere — Mudd Club, Area, Marc Jacobs shows. The reclusive part, Mr. d'Ys said, came later.
In 2009, when the International Center of Photography staged an exhibition featuring Mr. Meisel's work, the Vogue editor Anna Wintour assigned a profile of Mr. Meisel. The result was an article suggesting that a possible reason for his reclusiveness was insecurity about his weight.
After that, Mr. Meisel shot for American Vogue only sporadically. Asked about the apparent deterioration of the magazine's relationship with Mr. Meisel, Ms. Wintour said in an email, "Steven is an absolutely brilliant photographer, someone whose work defines our era and Vogue's history, and I admire him so much."
At a little past 6 p.m., Tonne Goodman, a former fashion director at Vogue, made a beeline to Ms. Evangelista, who was decked out in a black oversize Meisel for Zara blazer along with her own billowing black skirt and a pair of Meisel-designed biker boots.
"Aren't they great?" she said.
Mr. d'Ys gave Ms. Evangelista a kiss hello, which turned into a long embrace.
"He gave me my original haircut!" Ms. Evangelista said, recalling a shoot from early in her career, when Mr. Meisel was behind the camera and Mr. d'Ys styled her hair. "He's the one who made me cry."
As Ms. Evangelista told it, she wasn't prepared at the beginning to change her look so drastically. But that's what it was like working with Mr. Meisel.
A reporter asked her why he appeared to be having a resurgence.
"But is it a resurgence?" Ms. Evangelista said. "I don't know. I think he's done a few things all at the same time, and there is this younger generation that's coming to appreciate him now and discover him, I guess."
"He's legendary," she continued. "We all go into our quieter moments and then resurface. It's not like he ever went away. Not like me."