LONDON CALLING: What could be more London than ducking into a cozy pub, sitting in a park surrounded by pigeons, or simply joining the throngs on the crowded, lively streets?
Reinforcing the British essence of his JW Anderson brand, designer Jonathan Anderson is curating an exhibition celebrating the capital city at Offer Waterman, a blue-chip gallery specializing in modern and contemporary art.
Titled "On Foot," the showcase will mingle the fashions Anderson does for his signature brand, and the Spanish luxury house Loewe, with installations celebrating various aspects of London, from the "salubrious streets of Mayfair" to the "provocatively storied alleys of Soho," according to a statement provided exclusively to WWD.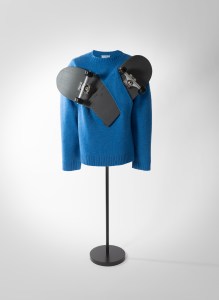 "The exhibition will unfold like a walk through London, embracing the stark contrasts and unlikely juxtapositions that even a short journey through the city offers up," it added.
As a curator, Anderson sought to bring contemporary artists into dialogue with iconic works of modern British art.
Galleries will display works by artists including Igshaan Adams, Frank Auerbach, Lynette Yiadom Boakye, Hans Coper, Shawanda Corbett, Sara Flynn, Lucian Freud, Anthea Hamilton, Barbara Hepworth, Akiko Hirai, David Hockney, Leon Kossoff, Stanislava Kovalcikova, Florian Krewer, Doron Langberg, Jennifer Lee, L. S. Lowry, Henry Moore, Cedric Morris, Dame Magdalene Odundo, Jem Perucchini, Walter Sickert and Christopher Wood.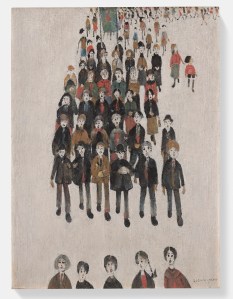 Hamilton, a frequent collaborator with Anderson, has teamed with the designer to create a limited-edition of his quirky pigeon-shaped resin clutch bag, which became a sensation after appearing on "And Just Like That."
The lifelike accessories will be presented in the exhibition and the JW Anderson store in Soho.
The display will be open to the public from Sept. 18 to Oct. 28, with an invitation-only preview on Sept. 16, the same day as the JW Anderson women's show for spring 2024 during London Fashion Week. — MILES SOCHA
THE FACES OF CHOO: Jimmy Choo, the luxury accessory and footwear brand owned by Capri Holdings, has released its fall 2023 campaign, featuring K-pop star and global brand ambassador Mi-Yeon Cho alongside American model Rebecca Longendyke.
Named the brand's first global face earlier this month, Cho was photographed in Paris by Stas Komarovski. In the campaign, she sits on the stairs and leans toward giant columns behind her.
The star, who is a member of the popular girl group (G)I-DLE, carries a red Diamond Top Handle bag and wears a pair of cranberry Diamond Tilda slingback with chains.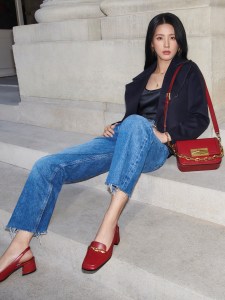 Meanwhile, Longendyke is captured by Mikael Jansson as she crosses Avenue Montaigne, where a Jimmy Choo store is located. She sports a black version of the Diamond Crossbody bag and opts for a pair of studded black Cece boots.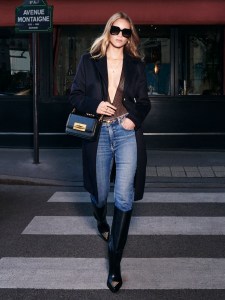 The brand said Cho brought Jimmy Choo's "glamorous yet playful spirit" to life, while Longendyke "embodies the confident and empowered mood of the Jimmy Choo woman."
In an earlier interview, Sandra Choi, creative director of Jimmy Choo, said, "Mi-Yeon is magnetic. From her musical talent to her captivating performances and inimitable personal style, she truly embodies the confident, playful spirit and creative energy of Jimmy Choo."
With more than 4.4 million followers on Instagram, Cho has amassed a loyal following for her fashion styles. Her dedicated fan account shows that she has been dressed by top brands such as Prada, Bottega Veneta, Burberry, Fendi and Dolce & Gabbana.
As reported, Jimmy Choo's parent Capri has agreed to an $8.5 billion takeover from rival accessible luxury group Tapestry, which owns the Coach, Stuart Weitzman and Kate Spade brands. The combination will create an American mega-fashion group centered on accessories and which also will include Michael Kors and Versace. — TIANWEI ZHANG
CALZEDONIA'S MILAN SHOW: For the first time, Calzedonia will be staging its Calzedomania show in Milan, on Sept. 19 during the city's fashion week.
The Verona, Italy-based hosiery, innerwear and swimwear company is planning live performances and events dedicated to tights. The "Legs Show," to be held at Milan's Allianz MiCo convention center, will follow a "Legs Casting" that kicks off on Sept. 9 through a dedicated landing page on the brand's website and promoted through guerrilla marketing activities throughout the city.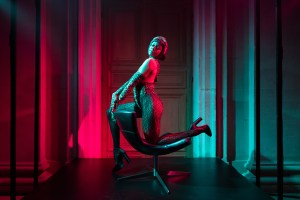 This is the second edition of the event, as  "Calzedomania — A legs celebration" took place on Sept. 26 last year in Paris, debuting during the French capital's fashion week.  
Working with event organizer Villa Eugénie, the show was held at Palais Brongniart, eschewing a traditional catwalk format in favor of a brand experience celebrating hosiery, with a giant art installation and a room featuring contortionists bending and twisting around a light installation.
Calzedonia has previously held events in Italy, including the Calzedonia Leg Show, held in Verona in 2017 in the presence of Julia Roberts, its brand ambassador at the time. Meanwhile, guests at its Calzedonia Forever Together Summer Show in Rimini, Italy, in 2013 included Sarah Jessica Parker.
As reported, Gruppo Calzedonia, founded by chairman Sandro Veronesi, logged another year of growth, closing 2022 with revenues that surpassed 3 billion euros.
In the 12 months ended Dec. 31, revenues rose 21.6 percent to 3.04 billion euros, compared with 2.5 billion euros the year before.
The group controls the Calzedonia, Intimissimi and Tezenis labels as well as knitwear brand Falconeri, bridal line Atelier Emé and wine retailer Signorvino. In September last year, it bought an 80 percent stake in the Antonio Marras brand, with the goal to further expand the designer's business around the world.
At the end of December, the group had 5,328 stores, of which 3,484 were outside Italy. — LUISA ZARGANI
U.S. UNIFORMS: The Ladies Professional Golf Association has unveiled the uniforms that the U.S. team will wear at the Solheim Cup tournament that will be held at Finca Cortesin in Andalusia, Spain, from Sept. 18 to 24.
Dunning, the official uniform supplier for the 2023 and 2024 seasons, will provide the U.S. team — including the athletes, caddies, team captain Stacy Lewis and assistant captains Morgan Pressel, Natalie Gulbis and Angela Stanford — with complete uniforms and outerwear to be worn during practice and play at this year's competition.
Not surprisingly, the outfits sport a palette of red, white and blue and feature technical fabrics such as Coolmax with moisture wicking and breathability properties as well as stretch. Key pieces include a quarter-zip pullover, a hoodie and a vest and jacket pairing featuring PrimaLoft.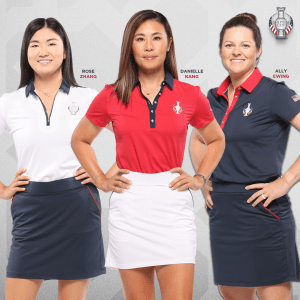 "Working with the Dunning team on designing our U.S. uniforms for 2023 and 2024 has been an incredible collaborative and interesting process," said Lewis, a four-time U.S. Team competitor. "Their team is open to all the ideas we've brought to the table and their expertise in working with these performance fabrics has elevated those ideas into some beautiful uniform pieces."
"The Solheim Cup is the absolute pinnacle of women's competitive golf and we're truly honored to be associated with the U.S. team and the event's spirit of competition," added Michael J. Setola, chief executive officer of Dunning. "Golfers often say there's no greater honor than playing for your country, and as we strive to meet the performance needs of players at the highest levels of the game, we feel just that way, too."
The Solheim Cup is held every two years and pits the best U.S. players against the top Europeans.
The collection will also be available for fans to purchase on the Dunning and Solheim Cup websites as well as at a select group of Dunning's network of 1,500 country clubs, resorts and golf retailers across the U.S.
Dunning launched a women's golf collection earlier this year. The company was founded by Ralph Dunning in 2001 and sold to Tharanco Lifestyle in 2011. Tharanco, a brand management and operating company, also owns the Greg Norman Collection label. — JEAN E. PALMIERI
FESTIVALS' END: Ravers, despair. Summer is coming to a close, and with it, London's festival season. 
The three months saw a string of music celebrations take place across the city, from BST Hyde Park kicking things off with performances by Lana del Rey and Blackpink to Billie Eilish becoming the Reading Festival's youngest headliner. 
To celebrate, brand engagement was out in full force.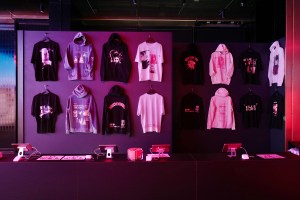 Take pop star Eilish, who held a pop-up shop with an exclusive, London-themed selection of her merchandise ahead of her performance at the weekend-long fete from Aug. 24 to 26.
Little Simz, who has taken the U.K. by storm with her rapping, singing and acting, was a staple on the festival circuit, headlining Europe's largest outdoor jazz festival, Love Supreme, alongside Grace Jones and performing at All Points East in August with a set at American Express' "Amex Afters" at Shoreditch's Village Underground.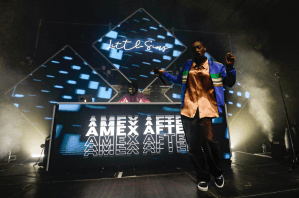 "All Points East and Village Underground have always held a special place for me as both a performer and a Londoner, so performing tonight for this one-off 'Amex Afters' crowd has been incredible," Little Simz said.
Also kicking off at the end of August was Formula 1's 2023 Dutch Grand Prix, which took place from Aug. 25 to 27.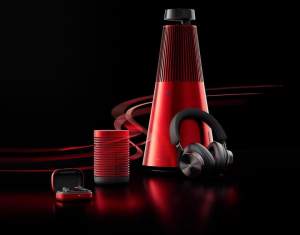 To celebrate, audio and home entertainment company Bang & Olufsen unveiled a new collection with motorsport behemoth Ferrari with two speakers, headphones and wireless earphones, all branded with Ferrari's prancing horse emblem. 
"The combination of best-in-class performance, graceful aesthetics and meticulous craftsmanship brought B&O and Ferrari together to create the collection. This is elevated by the unrivaled heritage of both brands, making this collaboration one to remember," explained Bang & Olufsen chief executive officer Kristian Teär. — VIOLET GOLDSTONE
THEORY'S NEW HIRE: Theory has tapped Chloé's chief commercial officer, Marco Gentile, as its new chief executive officer for Europe and U.K., effectively immediately.
"His wealth of experience in the luxury space in this market will be pivotal as we focus on continued growth and expansion in the region," Dinesh Tandon, global CEO of Theory, said in a statement.
Theory has been expanding its retail presence in London with store openings in Covent Garden, Battersea Power Station and Regent Street.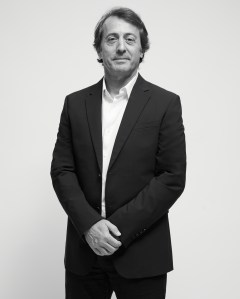 "Theory is an iconic brand with a storied reputation and history in the U.S. and beyond. I'm looking forward to working with the teams in the U.K. and Europe to continue to identify a strategic vision for this important pillar of growth for the brand," said Gentile, who will be working from the brand's London headquarters on Regent Street.
At Chloé, he oversaw the brand's global retail and wholesale operations and strategy. Before that, he spent 12 years at Burberry, climbing the ranks from European chief financial officer to president of the brand's Europe, the Middle East, India and Africa markets.
Gentile has an economics degree from the Catholic University of Milan. — HIKMAT MOHAMMED