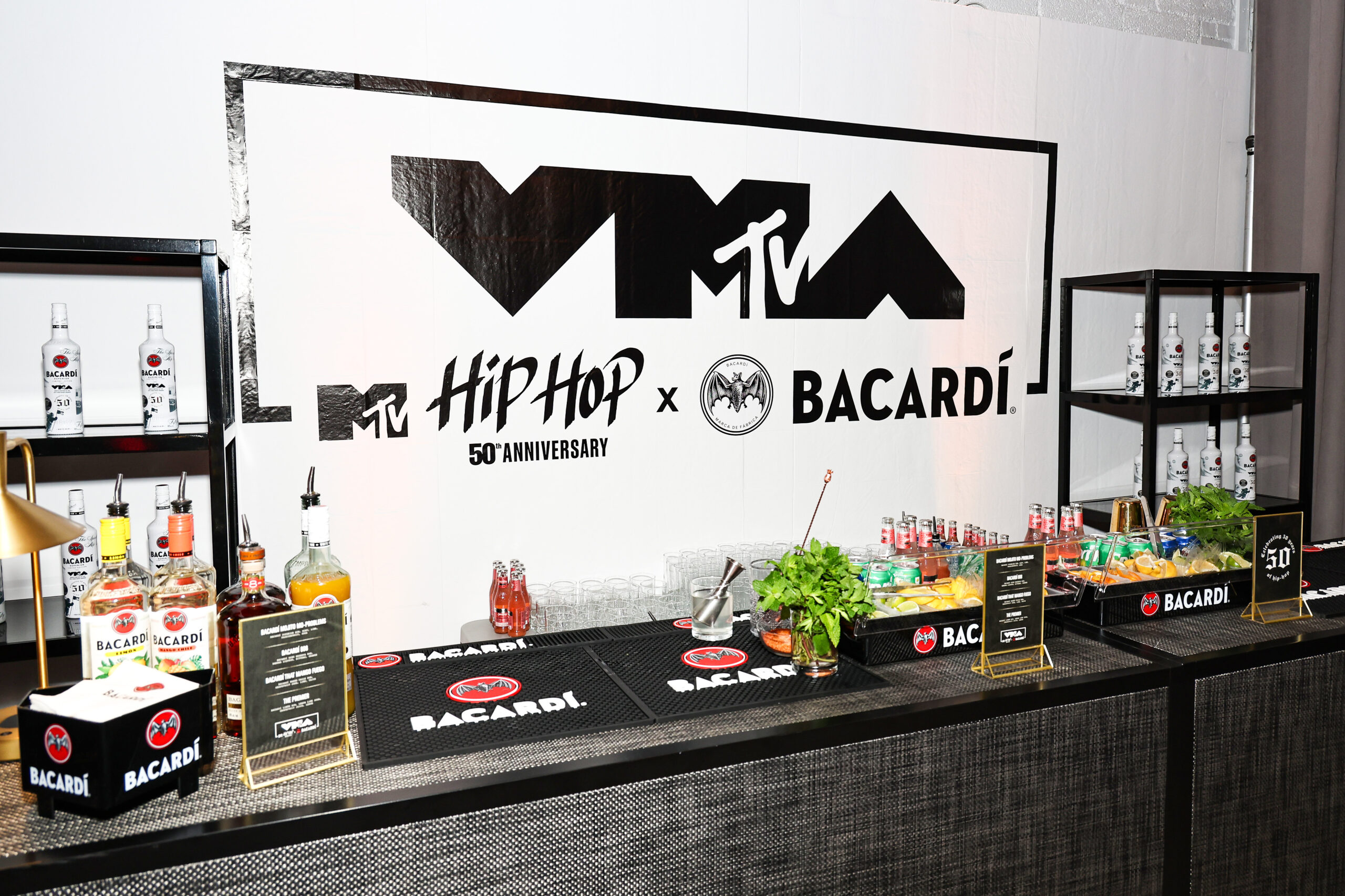 There's no party like a Bacardi party! Last night at 45Grand in Soho, New York was a celebration for Hip-Hop, fashion, and cocktail lovers.
BACARDÍ rum has partnered with MTV in celebration of 50 years of Hip Hop. As the first Sprirts Partner of the MTV Video Music Awards, the brand hosted an NYC pop-up, titled "BACARDÍ Vintage". "As a vanguard of the visual identity of music, we're honored to be the first-ever Spirits Partner of the MTV VMAs, especially during the 50th anniversary of Hip Hop," said Lisa Pfenning, BACARDÍ's Vice President of North America. "As the VMAs have long celebrated both the sound and the style of Hip Hop, BACARDÍ has long been embedded in Hip Hop culture, inspiring some of the most memorable lyrics, movements, and music video moments from artists who have defined a generation. We look forward to working with MTV and Paramount Brand Studio to present this monumental celebration and highlight the multiple points of Hip Hop culture." The one-day-only experience featured covetable pieces and exclusive merchandise, courtesy of Stadium Goods and New York's hottest vintage shop, Metropolis.
Inside of the event included a hip-hop inspired sneaker wall and limited edition BACARDÍ VMA capsule collection designed by Stadium Goods. An exclusive collection of archival items curated by Metropolis echoing the 5 decades of Hip-Hop fashion, a "secret" BACARDÍ speakeasy through the fitting room entrance where DJ Townes and DJ Premier spun while guests danced the night away enjoying BACARDÍ VMA cocktails, which also will be the official cocktail menu served at the 2023 MTV VMAs. [The specialty cocktail flavors included "Mojito Mo-Problems" cocktail made with BACARDÍ Superior, the BACARDÍ 808 featuring BACARDÍ Ocho and "the Premier", an exclusive cocktail paying homage to the Hip-Hop Legend.]
Among us were some very special guests who also popped in to celebrate the event. The notable attendees included Grammy-Award winning artist Ashanti, TV personality Justina Valentine, singer Destin Conrad, musical artist Ric Wilson, and DJ Myles O'Neal (son of Shaquille O'Neal).
The VMAs will air live on Tuesday, Sept 12 at 8p.m. ET/PT. The BACARDÍ x MTV Limited Edition Bottle is now available for purchase nationwide here. Every bottle will include a QR code that gives fans a chance to win tickets to this year's VMA ceremony!
Checkout our reel recap of the event below: