From wrinkles to saggy skin to age spots, there are the obvious beauty bothers that go along with aging that we tend to fixate on. Yet beauty experts say there's another obvious spot on our faces that can make a big impact when it comes to making us look older: sparse eyebrows. And the good news is that filling out your eyebrows is easy — and make a huge difference in the overall look of your face. Read on for the causes of sparse eyebrows and the expert-backed remedies — from home remedies like castor oil to in-office procedures — for making them look fuller.
What causes sparse eyebrows?
When it comes to the reasons why we get sparse eyebrows (also called hypotrichosis), topping the list for women in their 50s is often hormonal fluctuations.
"Reduced levels of estrogen and progesterone in women can cause hair loss in the brow area," says Michele Green, MD, a board-certified dermatologist in New York City and advisor for Gya Labs skin and hair care line. "These hormonal changes lead to finer hair shafts and a decrease in hair production from the follicles in brows."
Another common issue can be years of over-plucking or aggressive hair removal habits like waxing or threading, which can damage hair follicles, making it harder for new hairs to grow.
However, Dr. Green says there is a whole list of other factors that may also contribute to sparse eyebrows, which include:
Medical conditions: Dermatitis, fungal infections, thyroid disorders and other skin-related issues can impact eyebrow density.
Nutrient deficiencies: Being deficient in nutrients like zinc, protein, biotin and iron can contribute to hair loss in the brow area.
Stress-related hair loss: Triggered by stress, surgery or infections, telogen effluvium is a condition that can cause temporary eyebrow hair loss.
Autoimmune diseases: Alopecia areata can result in patchy or complete hair loss, including in the brow area.
Medications and treatments: Drugs, like anti-thyroid medications, can lead to eyebrow thinning.
"While thinning brows are a natural part of aging, there are numerous solutions, both long-term and quick fixes, to address the issue," says Dr. Green. "It's all about finding what works best for the individual and their unique brow needs." Keep scrolling for all the options that will help you achieve thick and youthful brows.
The best at-home solutions for sparse eyebrows
Dr. Green recommends the following at home treatments that help regrow sparse eyebrow hairs. Her key for using DIY remedies? Consistent use will yield the best results. Here, the three she recommends.
Nourishes weak, brittle brows: castor oil
Applying castor oil, which is packed with ricinoleic acid, stimulates circulation and blood flow to brow hair follicles, encouraging hair growth. Plus, the oil is rich in vitamin E that moisturizes brows to prevent breakage and helps hairs complete their growth cycle. (Click through to discover more hair-thickening benefits of castor oil.)
To use: Simply coat a spoolie brush with castor oil and sweep onto clean, dry brow hairs twice a day. Noticeable results can be seen within 30 days.
Nixes brow fallout: dandruff shampoo + rosemary oil
Using Nizoral (Buy from Amazon, $11.97), an anti-dandruff shampoo can kill off the follicle-weakening yeast buildup that causes brow hair fallout. Boost the hair-thickening benefits by mixing in rosemary oil, which contains hair-growth encouraging rosmarinic acid. (Click through to learn more about how Nizoral plus rosemary combats hair loss.)
To use: Simply massage 1 tsp. of Nizoral shampoo and 2 drops of rosemary essential oil onto damp brows for one minute; then rinse. 
Boosts healthy brow hair growth: a brow serum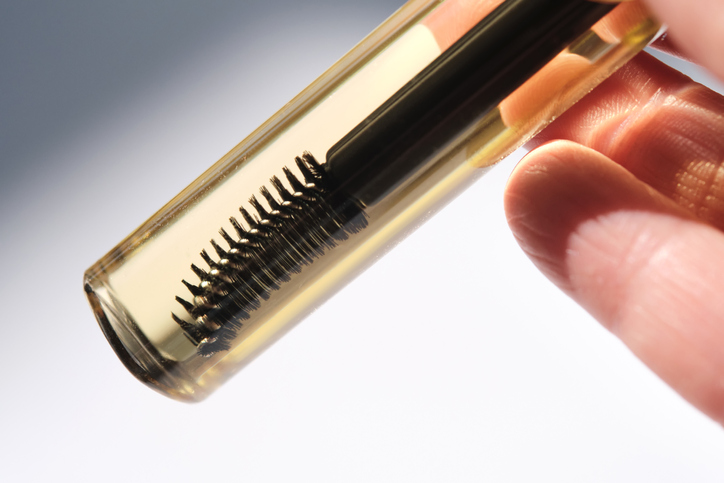 Brow serums are packed with nutrients that nourish and strengthen the hair follicles that make up eyebrows, promoting healthy growth over time to thicken brows. And a serum like Vegamor GRO Brow Serum (Buy from Vegamour, $72) contains biotin and zinc that prevent shedding and stimulate hair growth for fuller-looking brows.
To use: Brush a serum onto clean, dry brows twice a day to see results within one month.  
Makeup that helps sparse eyebrows look instantly thicker
One tip before you start filling in your brows: many makeup artists say it's vital to start with brow mapping, which creates a guide to enhance your natural brow shape. As seen in the video below from TikToker Michelle Tirone @michelletirone, the technique is easy and will ensure any product that's applied to brows creates a flattering look. "It's important not to overdraw your brows, because that will drag down your face," she says.
Her easy way to map out your brows:
Mark your brow's starting point: Grab an eyebrow pencil and hold it to the side of your nose, right above your tear duct. Now, put a dot there. This is where your brow should begin. 
Locate your arch: Next, find your eyebrow's height by placing the pencil directly against the side of your nose, and line it up through the center of your pupil to create a diagonal line from the outside of your nose to the center of your eye. This is where your arch should be. 
Find your brow length: Hold the brow pencil to your nostril and point it at the outer corner of your eye, then mark where the brow ends. Figuring out the brows' length is necessary for creating facial proportion.
Once you've mapped the shape of your brows, keep scrolling for the top temporary solutions that make sparse eyebrows look two times thicker in a flash.
Fills in sparse eyebrows: brow pencil
Choose a skinny eyebrow pencil that matches your hair color and use short, feathery strokes when applying. Try a pencil like Morphe Micro Brow Dual-Ended Pencil and Spoolie (Buy from Morphe, $8).
"You want it to be skinny so the fine lines will mimic real hair," advises Hillary Kline, a makeup artist based in Minneapolis, Minnesota. "Start at the arch of the brow and work outwards." Then, use a spoolie brush to blend in the color to blur the lines a bit, which makes brows look more natural.
For an in-depth tutorial on how to use a brow pencil to create naturally fuller-looking brows, check out the below video from YouTuber and makeup artist Shonagh Scott.
Adds dimension to sparse eyebrows: brow shadow
Applying a matte eyeshadow, like Ulta Beauty Collection Matte Eyeshadow Single (Buy from Ulta, $9), in a shade slightly lighter than your brow color, creates a shadow beneath brows so they look more dense. "I always use a thin, angled brush to apply powder in the direction of hair growth, gradually building up the color and density," says Kline. "The powder fills in gaps and adds volume."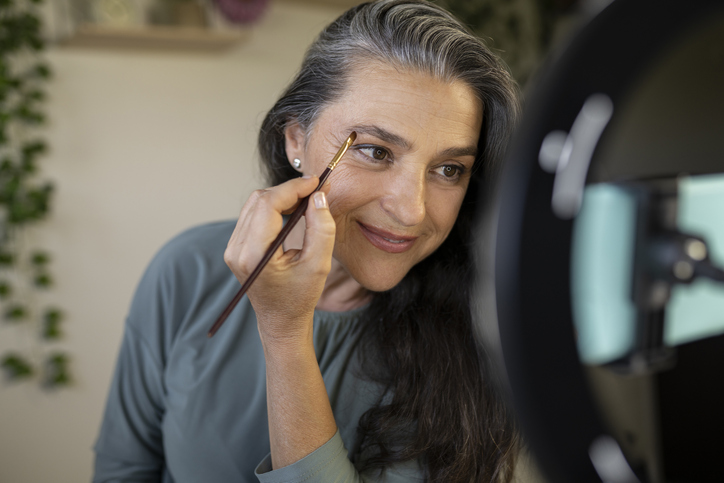 Bulks up sparse eyebrows: brow gel
Using a brow gel that contains microfibers, like Hourglass Arch Brow Volumizing Fiber Gel (Buy from Hourglass Cosmetics, $29) creates thicker brows in just a few strokes. "These tiny hair-like fibers mimic the appearance of hairs when brushed on," says Kline. "The trick with applying brow gel is to back comb it into the brow hairs." By doing this, you'll ensure the gel nestles at the base of hairs for a long-lasting hold that boosts sparse eyebrows. 
Reshapes sparse eyebrows: a brow stamper
Brow stamps are a stamp coated in brow powder that can provide a filled in and more defined eyebrow shape quickly. "Brow stamps are great for those who might not have a steady hand," says Kline.
Most come with a stencil kit, adds Kline, who suggests finding the option that most closely matches your brow shape and place the stencil over your brow. Then, simply pat the stamp, like KISS New York Instant Brow Stamp and Stencil Kit (Buy from Walmart, $6.99), which is coated with brow powder, onto your brows for an instantly fuller look.
Watch this brow stamp work its thickening magic in action by checking out the below video from the Ivy Beauty YouTube channel.
Fluffs up sparse eyebrows: brow 'soap'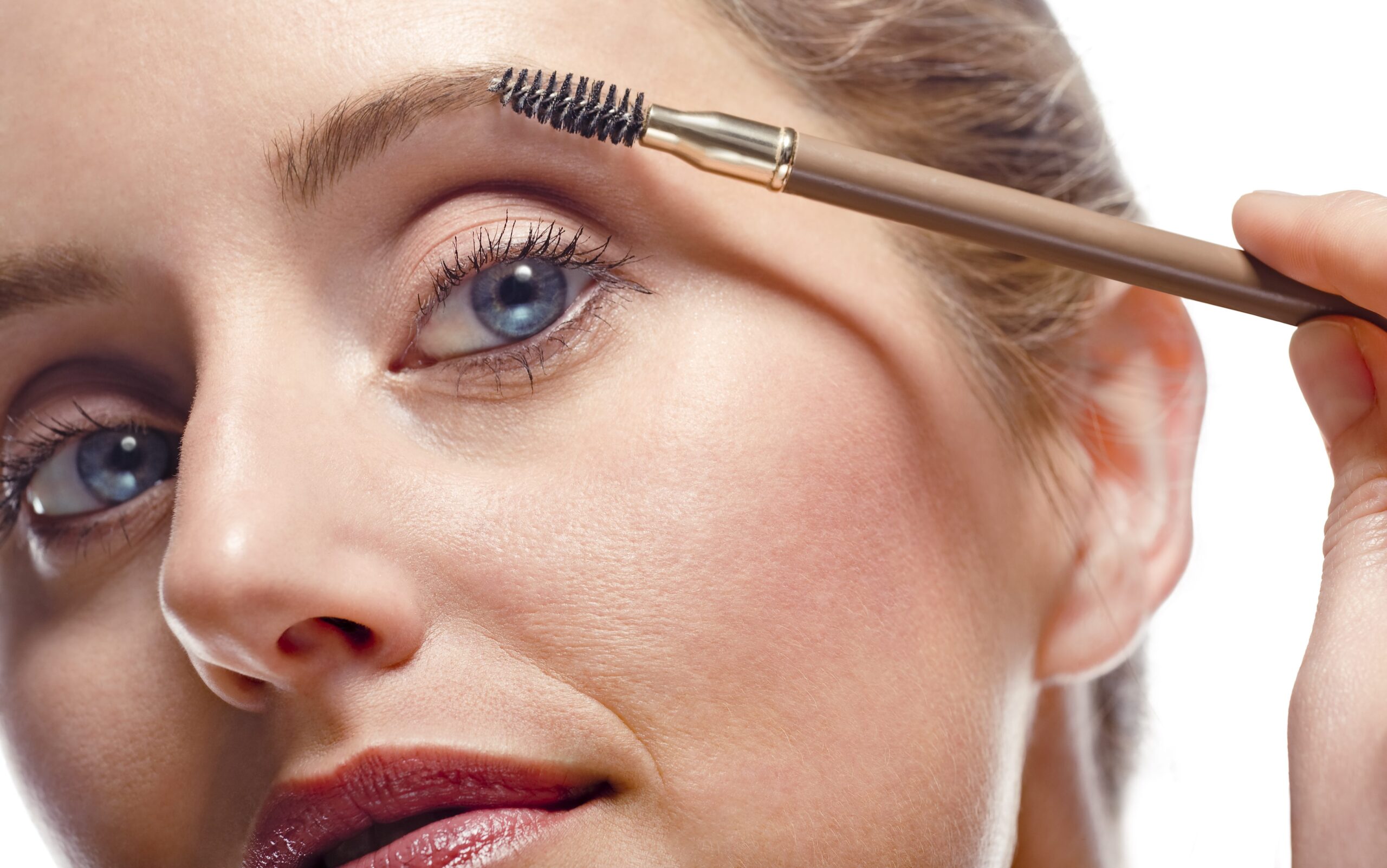 Soap brows can be seen all over TikTok, which involves "thickening" sparse eyesbrows with a glycerin-based soap product, like e.l.f. Soap Brow Clear (Buy from Ulta, $6). The soap helps fluff up and separate brows, a temporary fix that's similar to getting brows laminated (more on this in the "salon treatments" section), says Kelly Martinez, a permanent makeup artist and owner of INKredible Permanent Makeup Salon in Scottsdale, Arizona.
To use: Simply dampen a spoolie brush, then swipe through the soap and apply it through brows, pushing hairs upward. Let sit one minute so brow hairs get tacky as the glycerin dries. Then use spoolie to shape and smooth brows. 
See for yourself how simple this technique is by watching the below video from YouTuber Magdaline Janet.
The best Rx remedies that reverse sparse eyebrows
If at-home options aren't doing the trick, there are two prescriptions that are study-proven to thicken eyebrows. Dr. Green notes that when it comes to the following treatments, you can expect to see noticeable growth within 2 to 3 months of consistent use.
Minoxidil: This hair loss medication comes in the form of a topical foam or solution, which is applied to brows up to twice a day. Minoxidil is a vasodilator that dilates blood vessels to increase hair growth. While the Rx is typically used to treat hair loss on the head, one study found minoxidil to be a safe and effective way to treat thinning eyebrows. Cost: If not covered by insurance, the out-of-pocket costs can run anywhere from $30 to $80 for a one-month supply. 
The best salon treatments for sparse eyebrows
Microblading and microshading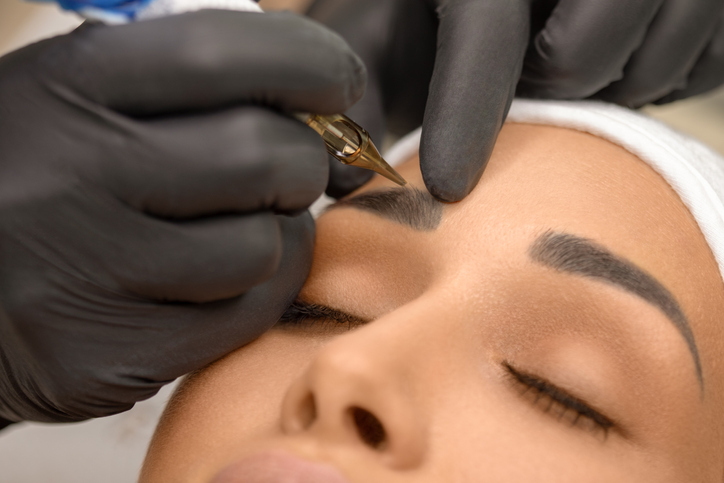 Microblading and microshading, which are done at brow and permanent makeup salons, use tattoo ink that closely matches the color of your hair, and is applied to the brow area to create fuller brows. Microblading is when a tattoo artist draws in fine lines to mimic natural brow hairs with a specialized tool to fill in sparse eyebrows. And microshading is when micro doses of pigment are applied to create a shadow under brow hairs to make them look fuller.
Each treatment can last up to 3 years, says Martinez. Though, she suggests getting touch-ups every 12 months to ensure brows stay looking full. After microblading or microshading is done, brows will need to be kept dry for 10 days. And scabbing is very common as skin heals, lasting 5 to 7 days. Cost: The initial procedures and touch-ups can run between $100 and up to $500 or more per session, depending on your location. 
Brow lamination
This is a semi-permanent process, which is done in lash and brow-specific salons, shapes brow hairs and raises the arch, which in turn gives eyes an instant age-defying lift. "When laminating brows, you're basically restructuring the hairs so they stay brushed up," says Martinez.
The first step is applying a solution to soften brow hairs so they can easily be manipulated into the shape you want, and then "laminating" them with a hardening solution to keep them in place. "The treatment takes less than an hour," says Martinez. And the lifted results of a brow lamination lasts for about six weeks. Cost: From $35 to $125 per treatment, based on your location. 
Brow tinting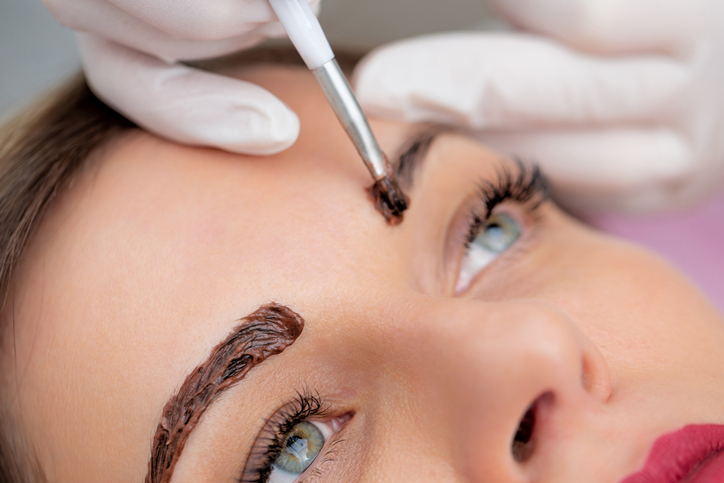 Tinting treatments, which are also done at lash and brow-specific salons, use a semi-permanent dye that matches the color of your brow hair and is applied to eyebrows, which gives them a fuller and more defined look. Plus, the dye also helps mask any errant grays on brows. "The process takes about 20 minutes," says Martinez. "Once the technician mixes the dye, it is applied in two layers." And after the dye is wiped away, lush, fuller-looking brows are revealed. Results will last about 4 weeks. Cost: From $20 to $40 per tinting session. 
The best in-office procedure for sparse brows
For those that want a more permanent solution for sparse eyebrows, women are opting for hair transplants. Eyebrow transplants are a cosmetic surgery outpatient procedure where a cosmetic surgeon takes a skin graft with both the hair and its roots from areas on the scalp like near the nape of the neck or around the ears and moves it to the eyebrow area.
"After about 3 months, new growth should appear," says Inessa Fishman, MD, plastic surgeon at Aviva Plastic Surgery in Atlanta, Georgia. Recovery post-transplant takes about a week and side effects include redness/tenderness (along brows and the scalp where follicles were taken) and swelling. Cost: Anywhere from $3,000 to $6,000 depending on your location. 
Don't give up!
Eyebrows are as unique as fingerprints, so one method that may be better for one person, might not work best for others. "Remember, the main goal is to enhance your natural beauty so you look more youthful," says Martinez. That's why she suggests playing around with different methods to find what suits you best.
Whether you choose to go with regrowth treatments or makeup tricks, you've got all the info you need to achieve fuller eyebrows that will beautifully frame your face, lift your features and make you look younger.
---
Click through for more on boosting hair growth:
Thin Brows and Lashes? Try These 3 Cures for Boosting Hair Growth
Castor Oil Proven to Regrow Hair on Head, Eyebrows + Eyelashes — For Pennies A Day!
Microblading: 'I Got Semi-Permanent Eyebrows in My 50s and I Feel Years Younger'
---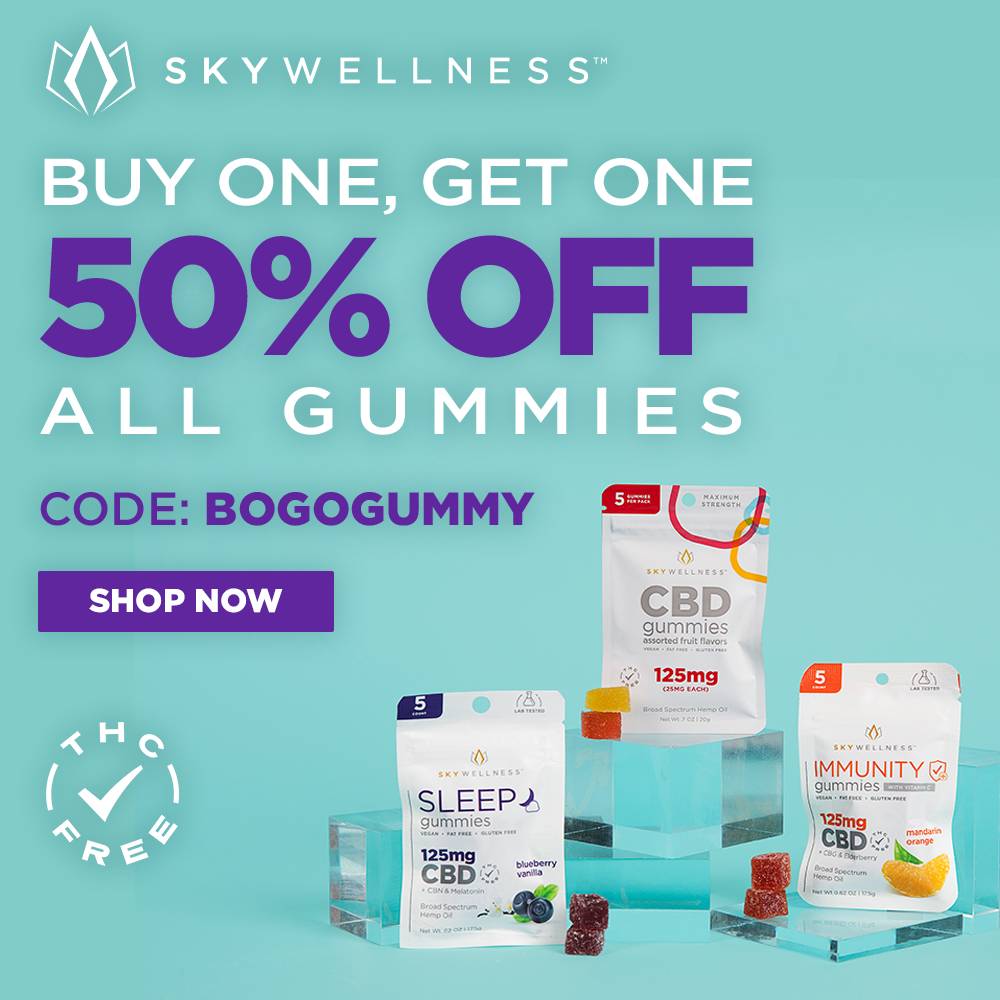 BOGO Never Felt So Good
Whether you're looking to sleep better, have less anxiety, get pain relief or simply unwind the mind, these award-winning CBD Gummies from Sky Wellness do just the trick! Available in a variety of flavors, don't miss this special BOGO offer. Learn more at SkyWellness.com.