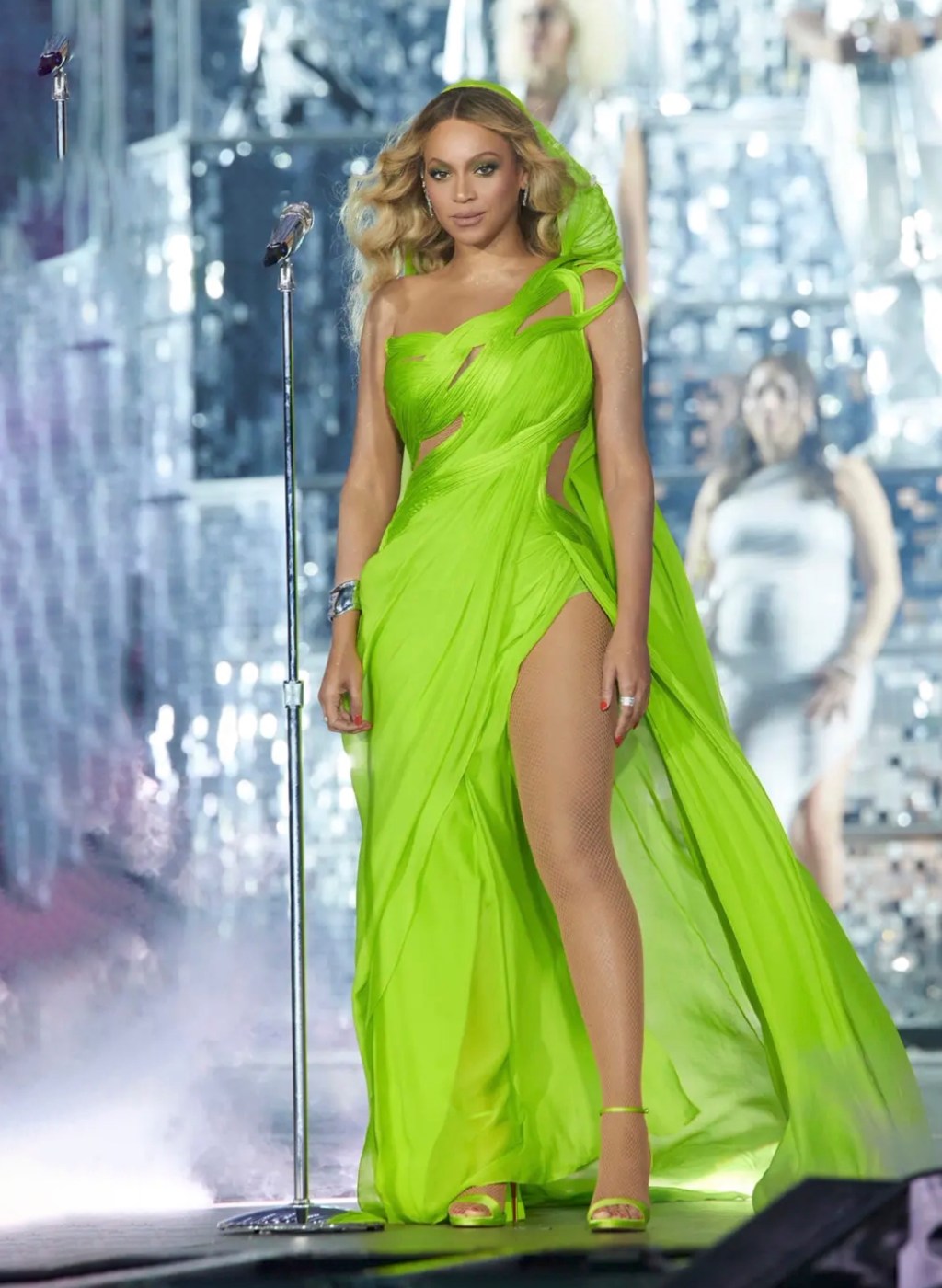 Concertgoers aren't the only ones who want in on Beyoncé's "Renaissance World Tour": designers do, too.
India-based Gaurav Gupta is one of several designers the most nominated female artist in Grammy history has worn onstage.
Just as millions of her fans are splashing on the sparkle for her tour appearances, so, too, is Beyoncé — sometimes in Gupta's designs.
This is the first time that an Indian designer has suited up the star for any of her tours, according to Gupta. Beyoncé donned the label twice during Atlanta stops on Monday and Aug. 11, as well as during an Aug. 9 concert in Charlotte, North Carolina. Her choices included an embellished bodysuit, a modern neon green sari and a gown with more than 20,000 crystals and more than 20,000 sequins.
Gupta connected with one of the star's stylists through the entertainment-oriented agency Maison Bose earlier this year. After sending "quite a few sketches" of potential looks, a few were selected and Gupta and his team went to work. Once completed, they were fitted on Beyoncé's "body double" in Paris about 8 weeks ago, the designer said.
The timing is prime for the company, which generates 95 percent of its business from its home country, and is trying to have more of an international presence. In its 19th year, the company employs 600 people and has five freestanding stores. The label is debuting in the U.S. through distribution in five Neiman Marcus stores, and trunk shows are planned for the months ahead. Bergdorf Goodman is also part of the expansion plan. Having focused on couture in the past, the company does not offer e-commerce directly. Gupta, who declined to comment on annual sales, said it is too soon to tell what the halo effect of Beyoncé wearing a few of his designs will be. But the company clued in Instagram followers with the news.
For Beyoncé, the designer made a white custom crystal bodysuit, drawing from the house's sculptural shapes and silhouettes, as well as its infinity logo. "For me, Beyoncé stands for 'infinity' so it was fitting for Beyoncé to wear something that was inspired by our infinity logo for the first time that she wore the brand," Gupta said.
The company invested between $15,000 and $25,000 into each look, but the payback in terms of publicity is incalculable, according to the designer. "It sets the standard for the brand," he said. "But more than that, she just brings a smile to everybody. And she's genuinely a culturalist. She drives culture. That's what I relate to the most."
Addressing the cultural significance of Beyoncé wearing an India-based brand, Gupta said until recently she had mostly performed in established European or American designer brands that have been around for 30, 40 or even 100 years. Choosing a resource from India that is relatively new to the couture calendar despite having been in business for nearly two decades helps consumers to see Gaurav Gupta in a much more elevated space, he said.
The second look worn by Beyoncé recently was Gaurav Gupta's contemporary interpretation of a sari — a neon green one with a contoured bodice and a hip-length side slit. Noting how the sari has been worn traditionally in India for "thousands of years," Gupta said his version debuted during last month's haute couture show in Paris. Gupta acknowledged the garment's traditional history emphasized that people in India are wearing shirts, trousers and skirts, making it a global culture.
By wearing a more modern version of a sari onstage, Beyoncé is giving the sari a global platform, Gupta said. "I'm a part of the universe and so is she. For me, India is one of my inspirations," Gupta said.
Beyoncé's style influence in India is consistent with her global impact, Gupta said. "Her influence is all over the world and India is part of the world. She is one of the most interesting people. If you talk to anyone on the street in any part of the world, most [of them] would probably know Beyoncé, and knows that she stands for amazing taste and excels in music, art, culture and fashion. Fashion is a major part of that."