Cardi B and Megan Thee Stallion put on a booty-shaking display for first-ever performance of Bongos at the 2023 MTV VMAs – as Doja Cat, Olivia Rodrigo, and more deliver show-stopping performances
Cardi B and Cardi got audiences on their feet with their first-ever live performance of their new collaboration Bongos at the 2023 MTV Video Music Awards.
The music icons put on a booty-shaking display as they delighted fans with their infectious new track with an army of festively-dressed dancers.
It all began with Cardi, 30, descending on a chandelier before she kicked off the track on her own. Megan, 28, then made her own dramatic entrance, strutting onto the stage as she rapped off her portion of the track.
The superstars, dressed in skimpy blue looks, danced upon a tropically decorated stage complete with palm trees and club lighting. 
Cardi wore a tiny blue dress and bootie heels while Megan rocked a slightly more revealing look which showed off her trim waist.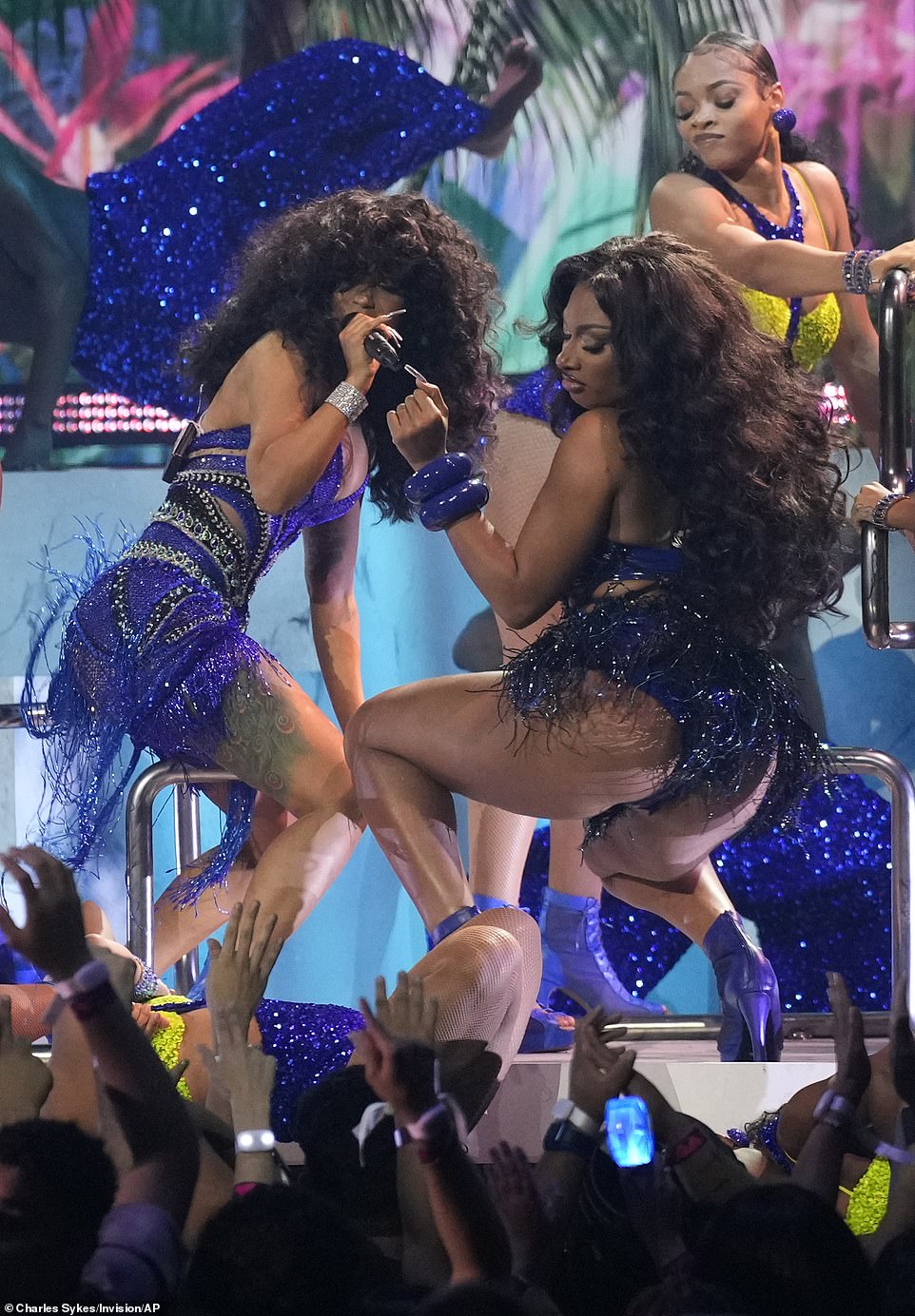 The star-studded crowd screamed their approval by the end of the high-energy dance routine as Megan showed her fans some love with a heart sign.
Shakira, the recipient of this year's Video Vanguard Award, brought down the house with an epic medley of her classic hits including She Wolf and Hips Don't Lie.
The performance began with Shakira inside a glowing tunnel as she gyrated against the walls in a glittering crop top, mini skirt, and boots.
Then, she emerged onto the stage for a robotic dance routine to her track Te Felicito before rocking out to Objection.
The performance was not without the use of knives – Shakira danced along with two daggers in her hand – and her classic hit Whenever, Wherever.
Like a true rock star, she even did some crowd surfing with her dancers to her track Shakira: Bzrp Music Sessions, Vol. 5 before she was elevated onto a platform overlooking the entire crowd.
Demi Lovato wowed the crowd with a medley of their classic hits including Heart Attack, Cool For The Summer, and Sorry Not Sorry.
The hit-maker wowed in a slick leather look and her hair styled down with a dramatic side part.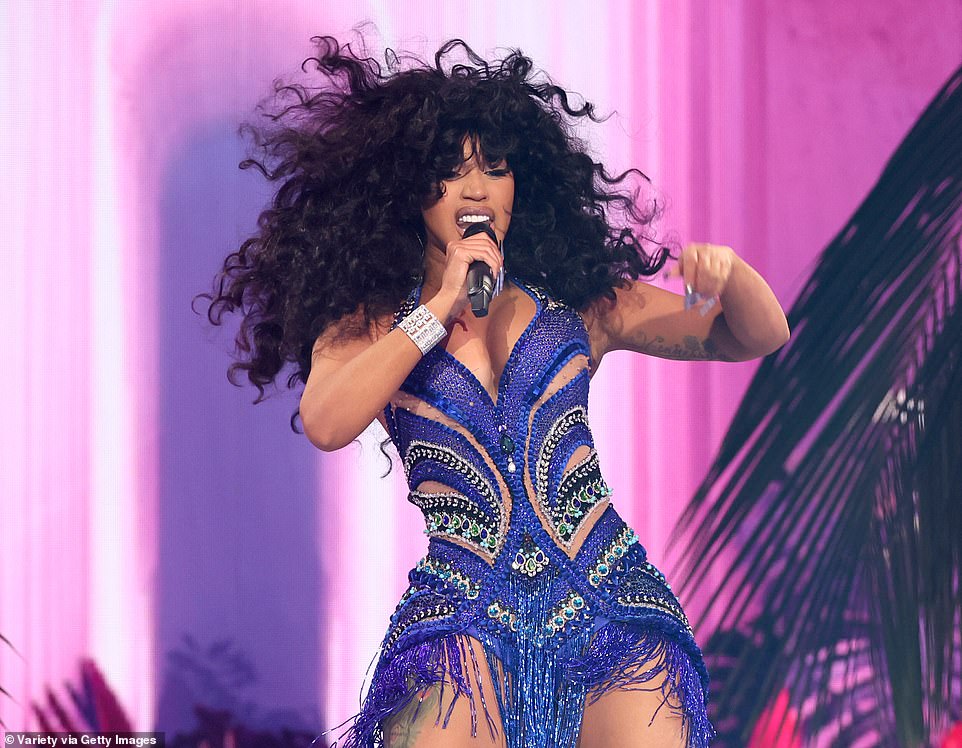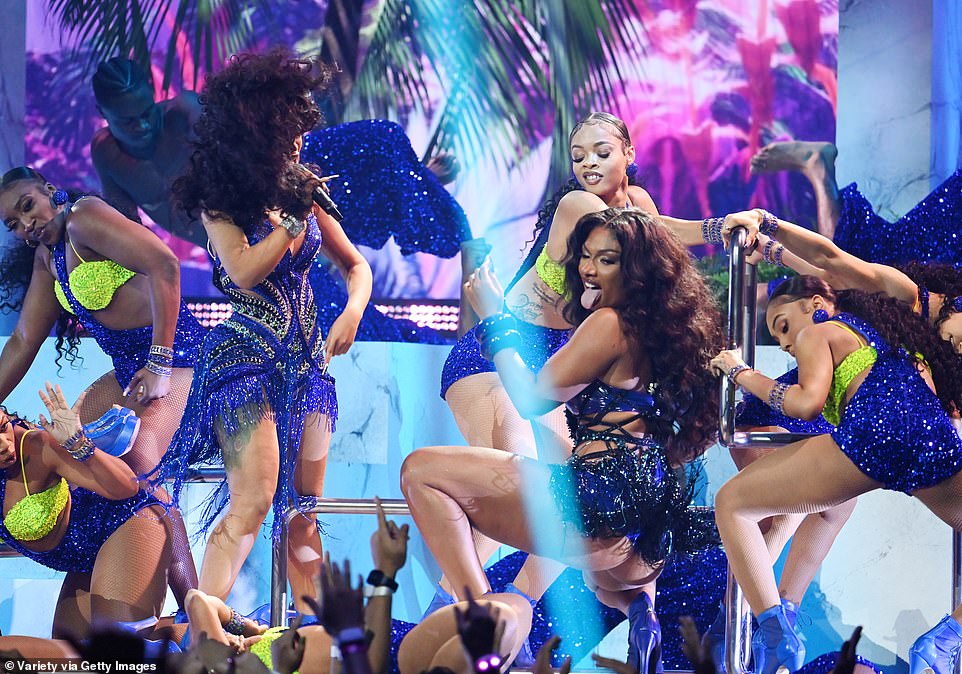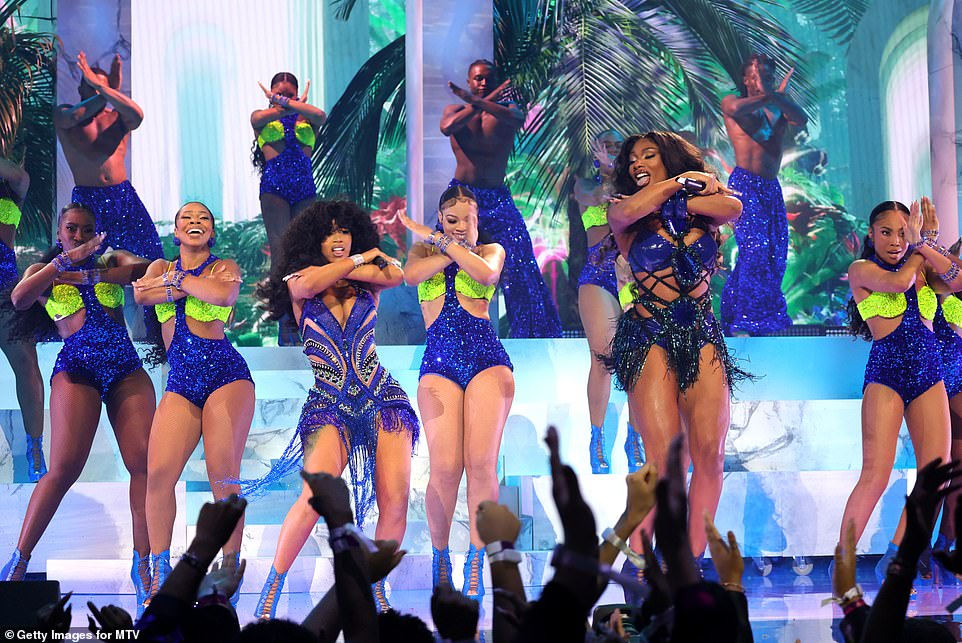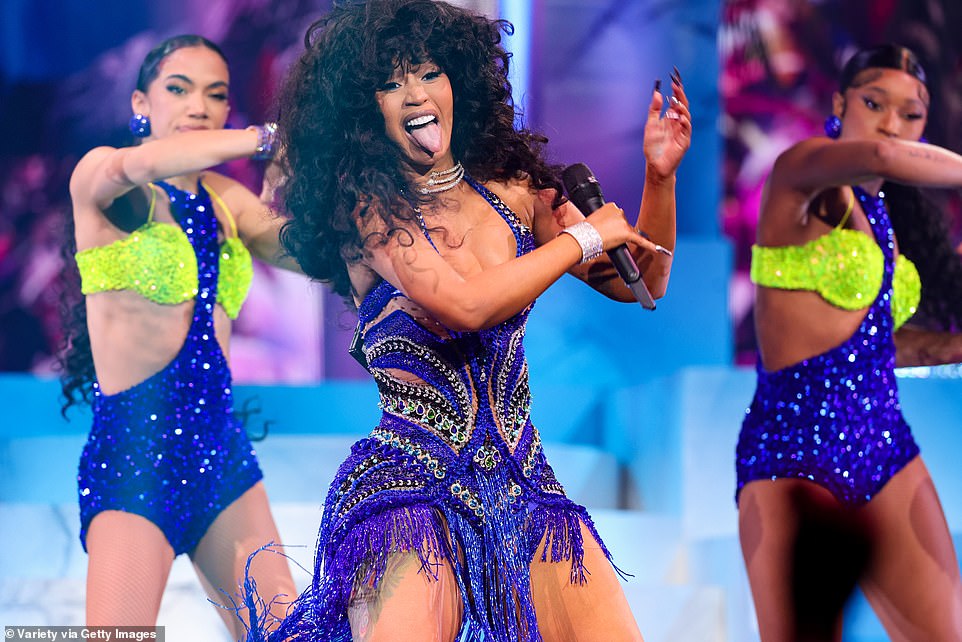 The crowd also went wild for Olivia Rodrigo, who treated fans to renditions of Vampire and Get Him Back.
The performance recreated the music video for Vampire, starting from Olivia singing inside a forest before the stage began to malfunction – just like in the original video.
Olivia, clad in a red crop top and pleated skirt, returned to the stage with an army of pink-clad backup dancers.
The audience rocked out to Olivia's head-banging track Get Him Back.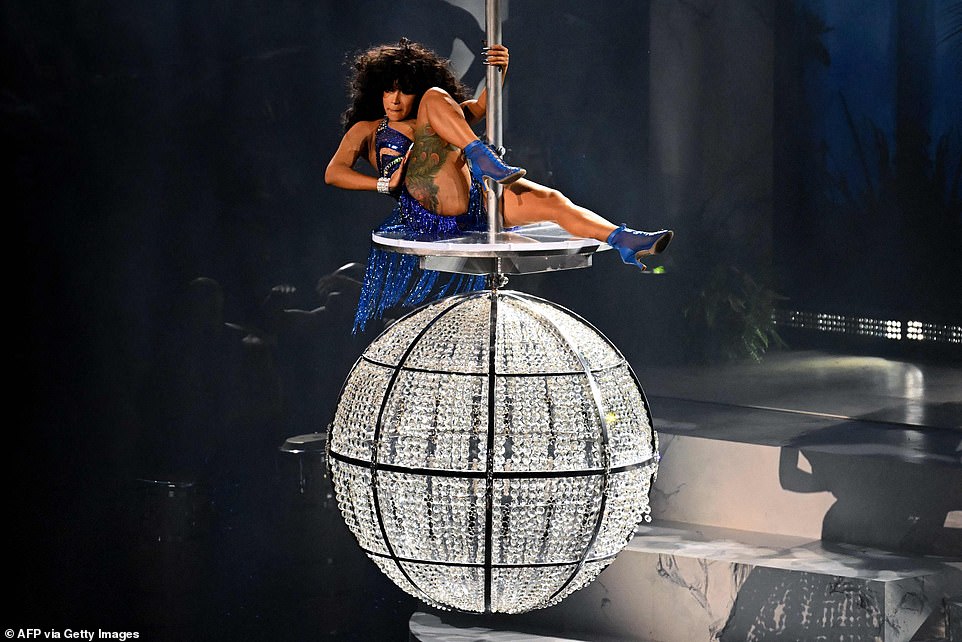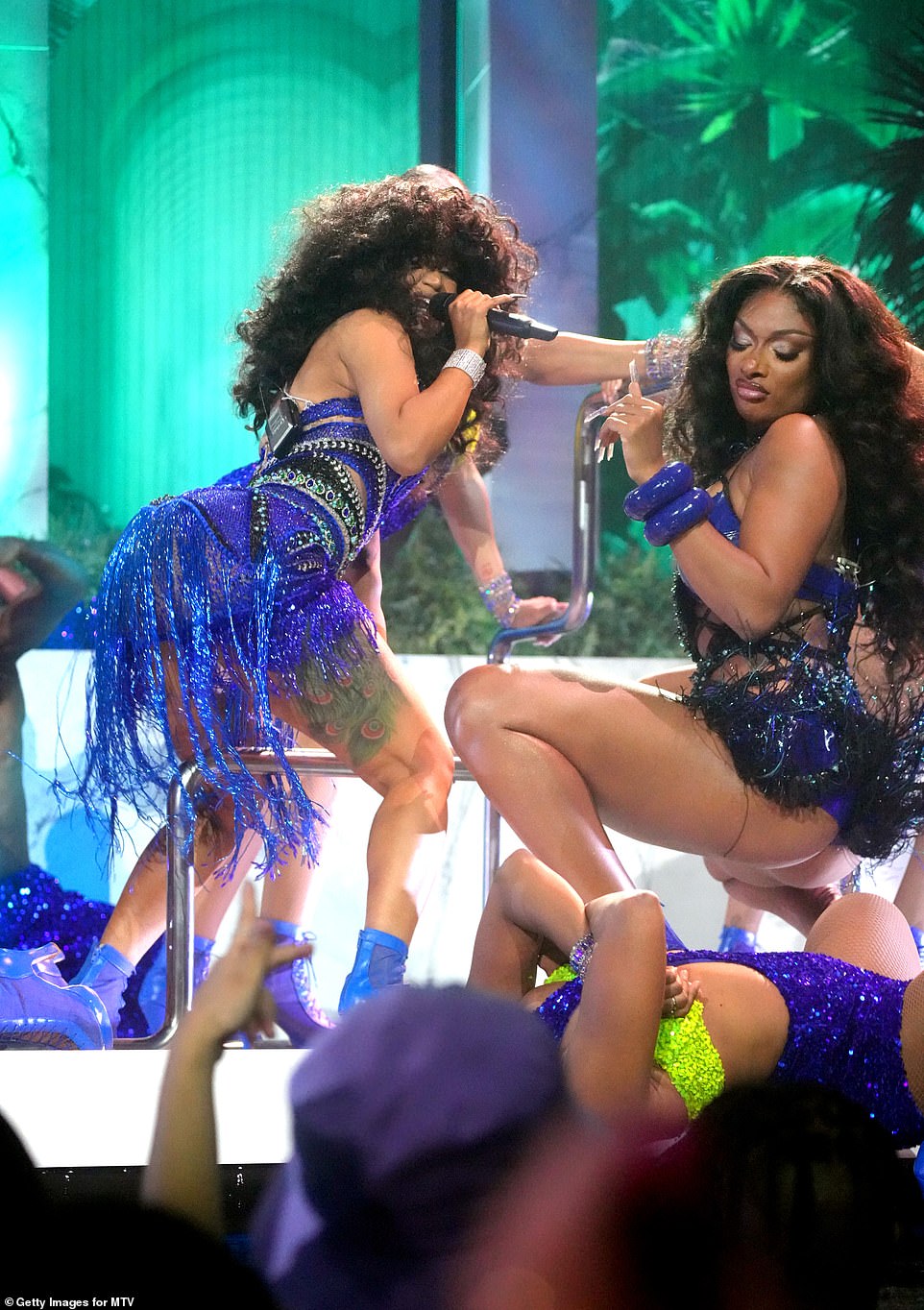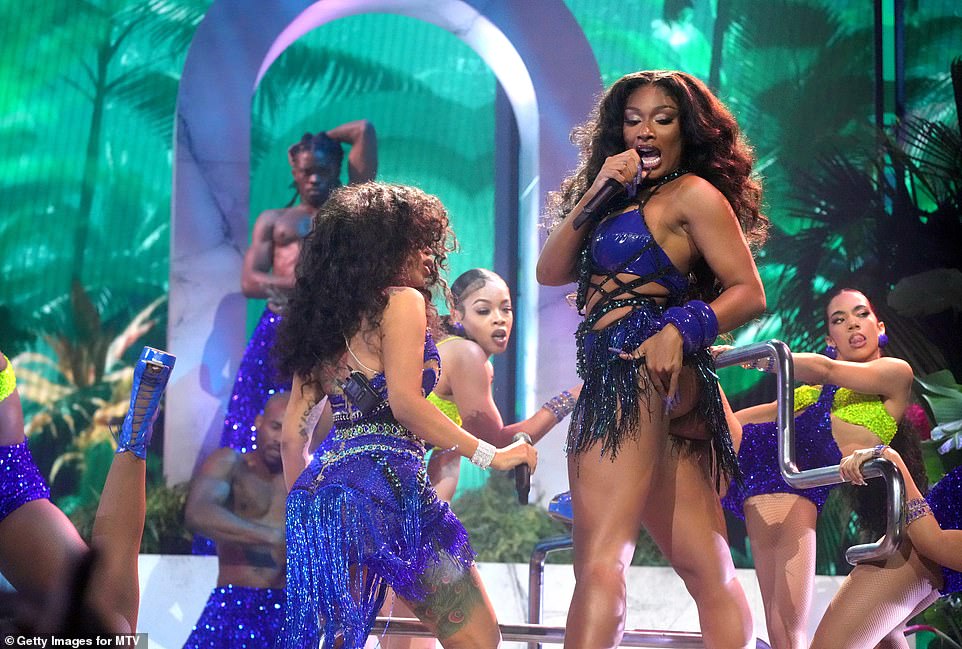 Diddy, who received this year's Global Icon Award, kept the party going with his iconic track Mo Money Mo Problems and more. 
The 2023 MTV Video Music Awards (VMAs) is being held at the Prudential Center in Newark, New Jersey. 
The show is hosted by rap royalty Nicki Minaj, marking her second consecutive year in the role. It is the first time the ceremony has been held on a Tuesday. 
Airing live in more than 150 countries, the global fan-filled spectacle honors the best music videos of the past year with unforgettable performances, epic tributes and show-stopping appearances from music's biggest stars.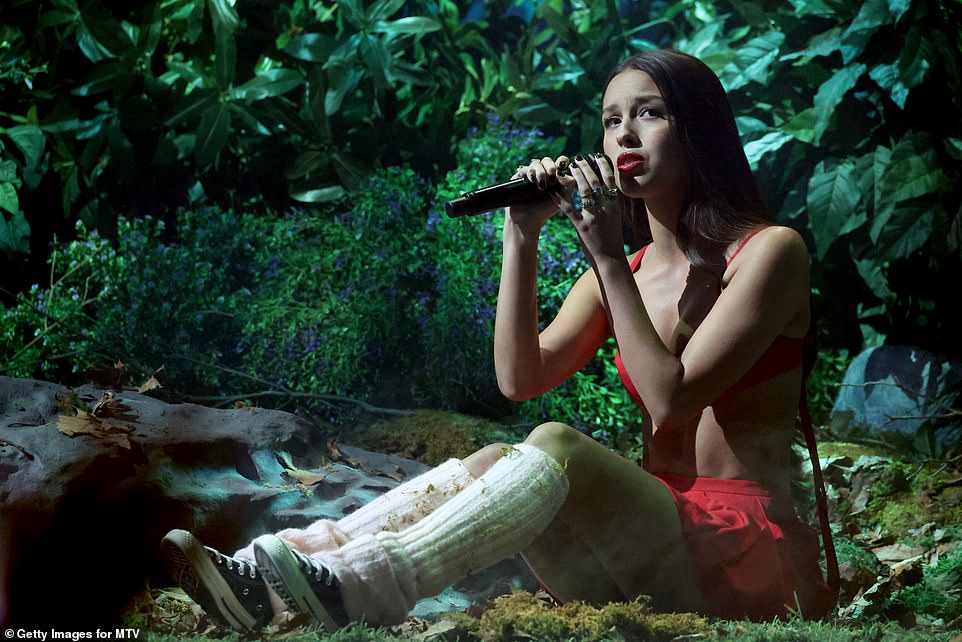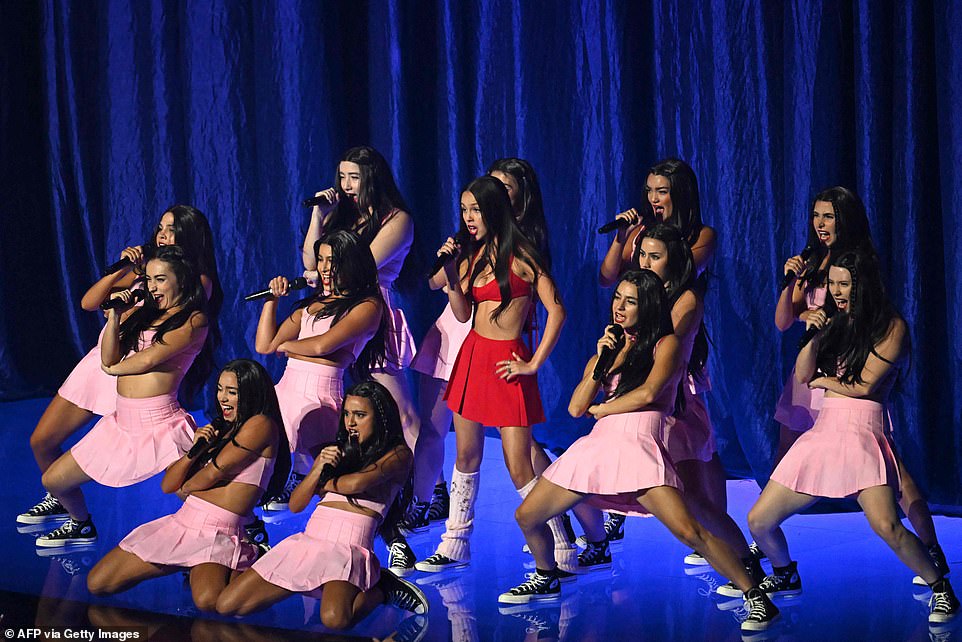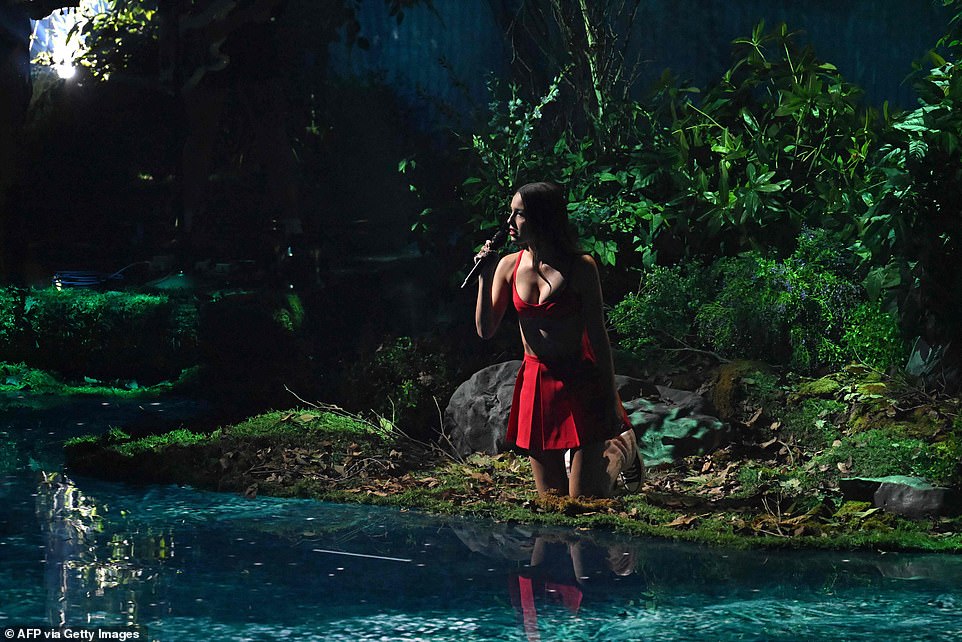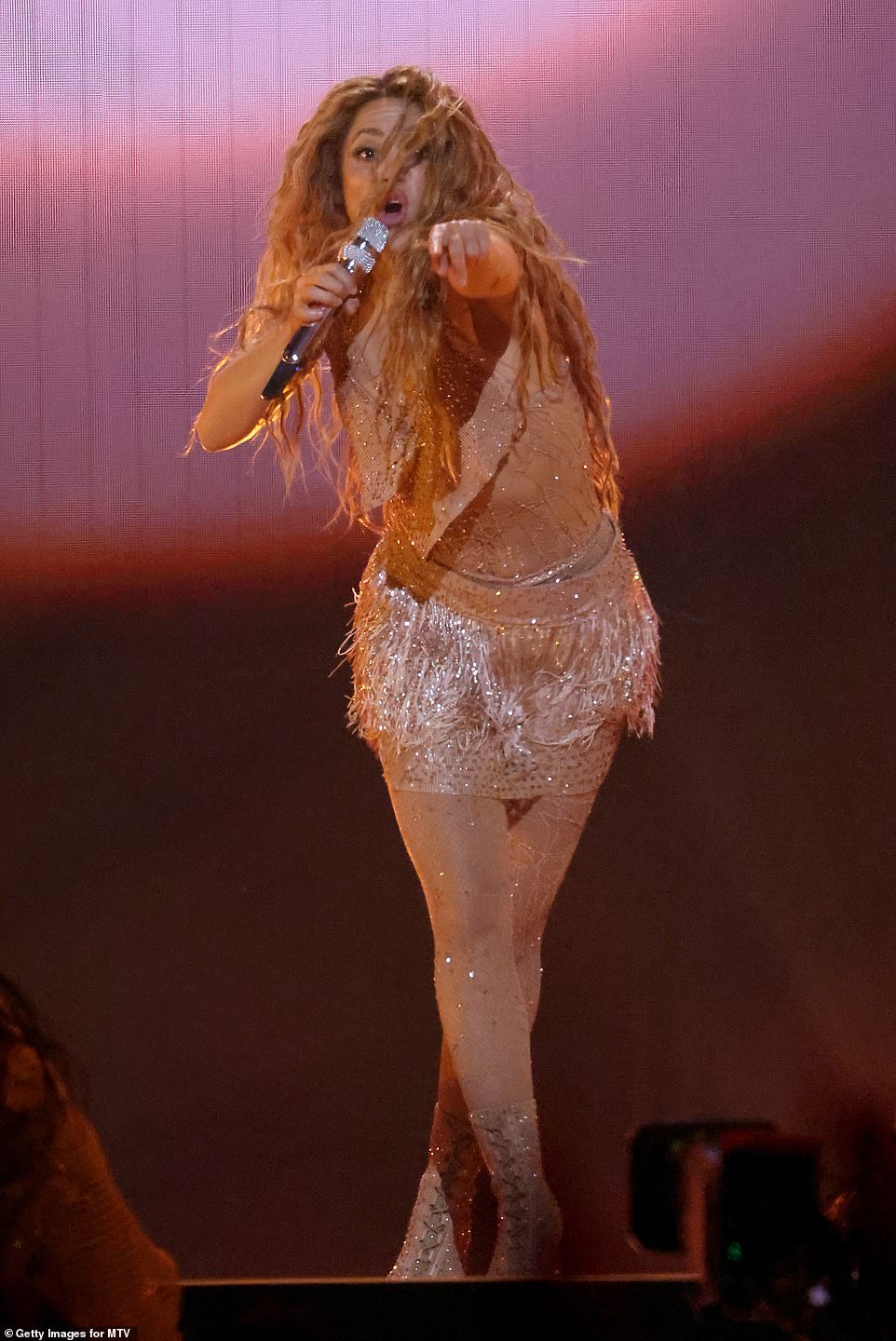 A new award category has been introduced this year titled 'Show of the Summer' that will be decided upon entirely by fans.
Taylor Swift won in multiple categories at the MTV Video Music Awards Tuesday at the Prudential Center in Newark, New Jersey.
The 33-year-old singer told the crowd as she accepted the award for Best Pop for Anti-Hero, 'I love making pop music, I love making pop music videos, I also love making country.
'I love slinking around different genres and the only reason I'm allowed to do that is because you, the fans, gave me the opportunity to do this.'
She added, 'One big adventure and it's all so much to challenge myself to make music that's different than what I made last and I just love you for it. But I really love making pop music, so thank you so, so, so much.'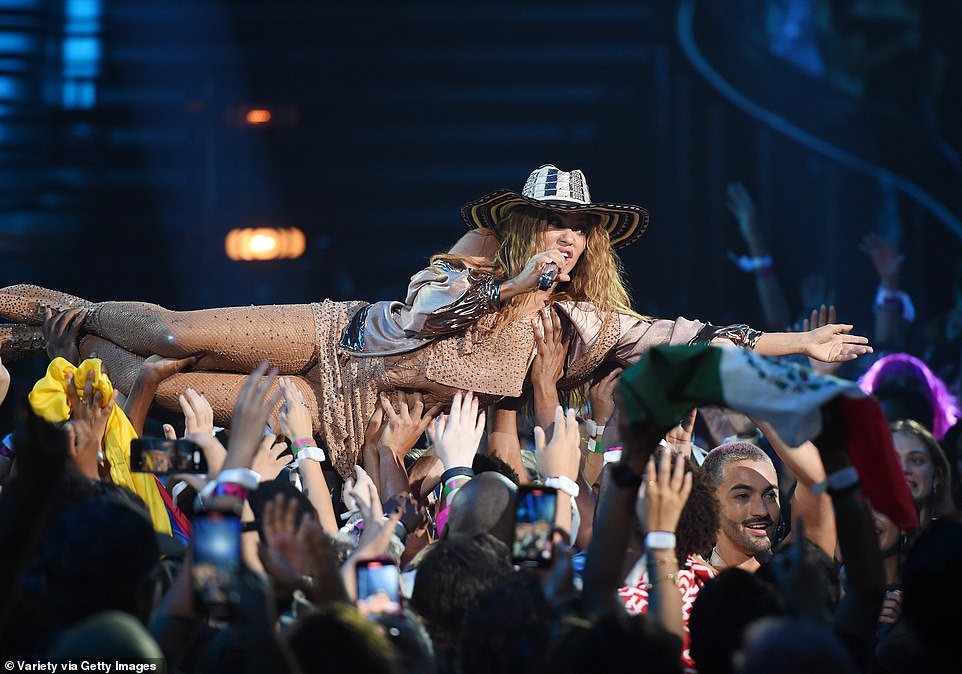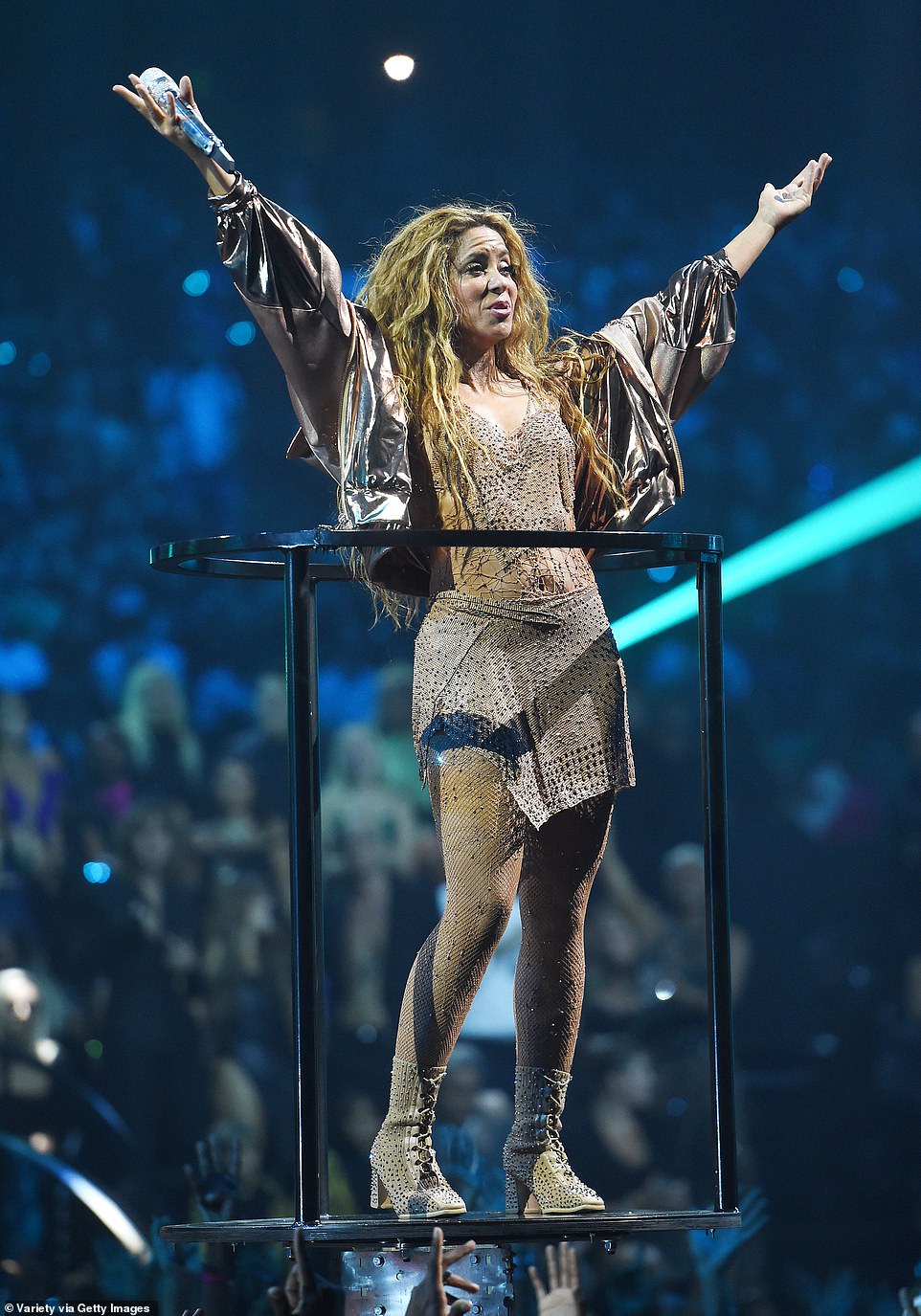 Swift won her second award for Song of the Year for Anti-Hero.
'I want to say, I'm really, really lucky that I get to write songs with one of my best friends in the world, his name is Jack Antonoff,' she said in her second speech. 'I'm so lucky I've been making music with him since we worked on an album called 1989 – we will continue working together until 2089!'
The superstar continued: 'Anyway, I am so, so happy because this is validating my favorite part of what I get to do.
'I started writing songs when I was 12 and it always starts with a very isolated emotion, a very specific type of insecurity or self-loathing that I feel like I'm the only one who is feeling in that moment but then when I go out on tour and I've got stadiums singing the words back to me..
She added, 'It brings me to this very relaxing feeling of maybe we all have the same issues, so thank you so much to the fans, I love you so much, this means the world to me. Thank you!'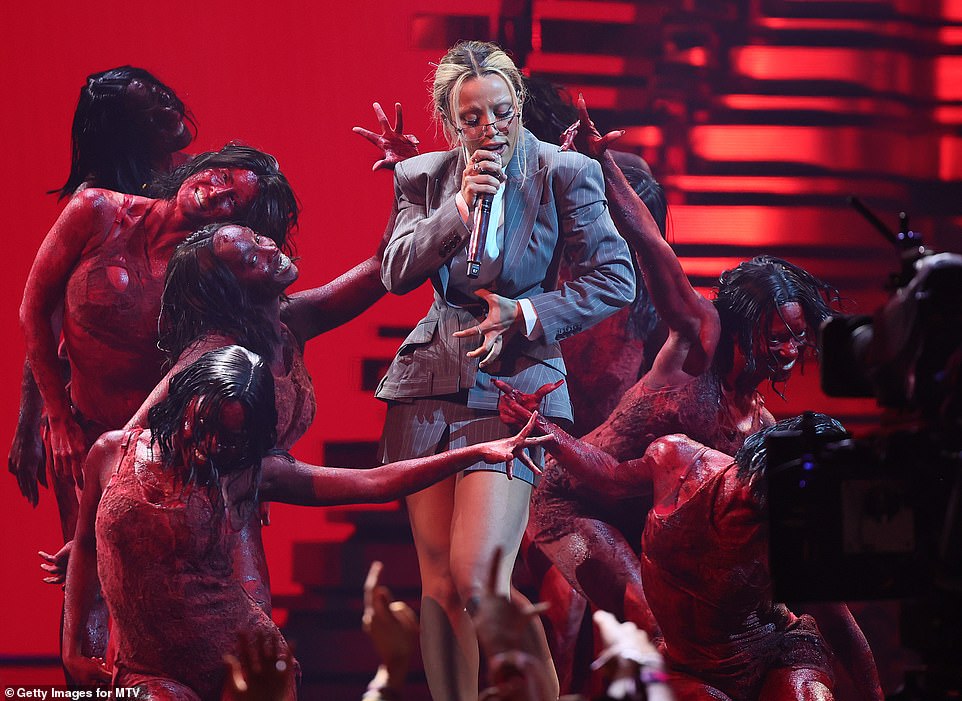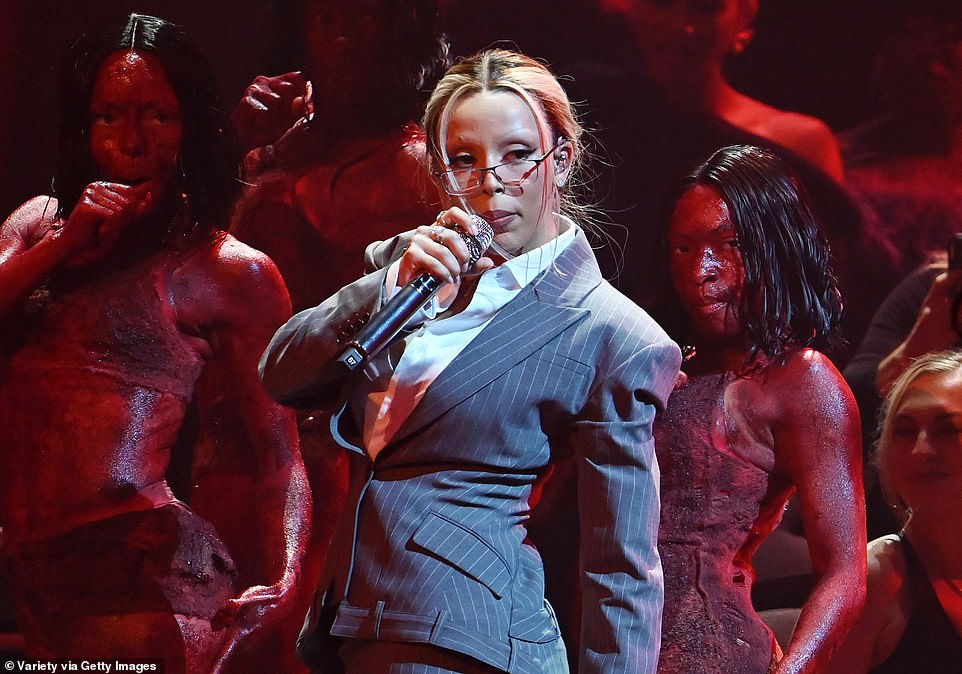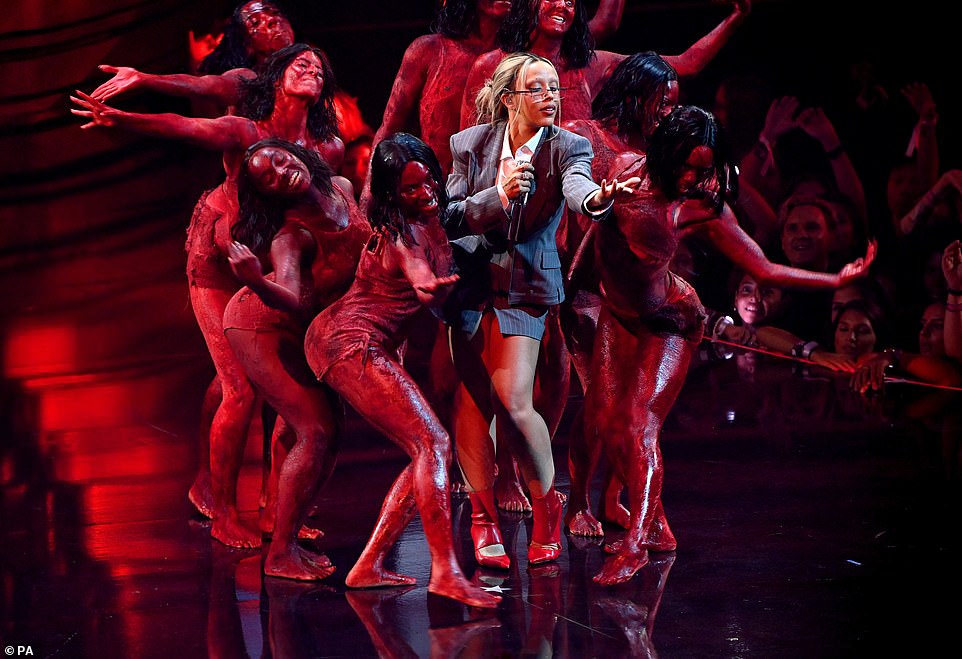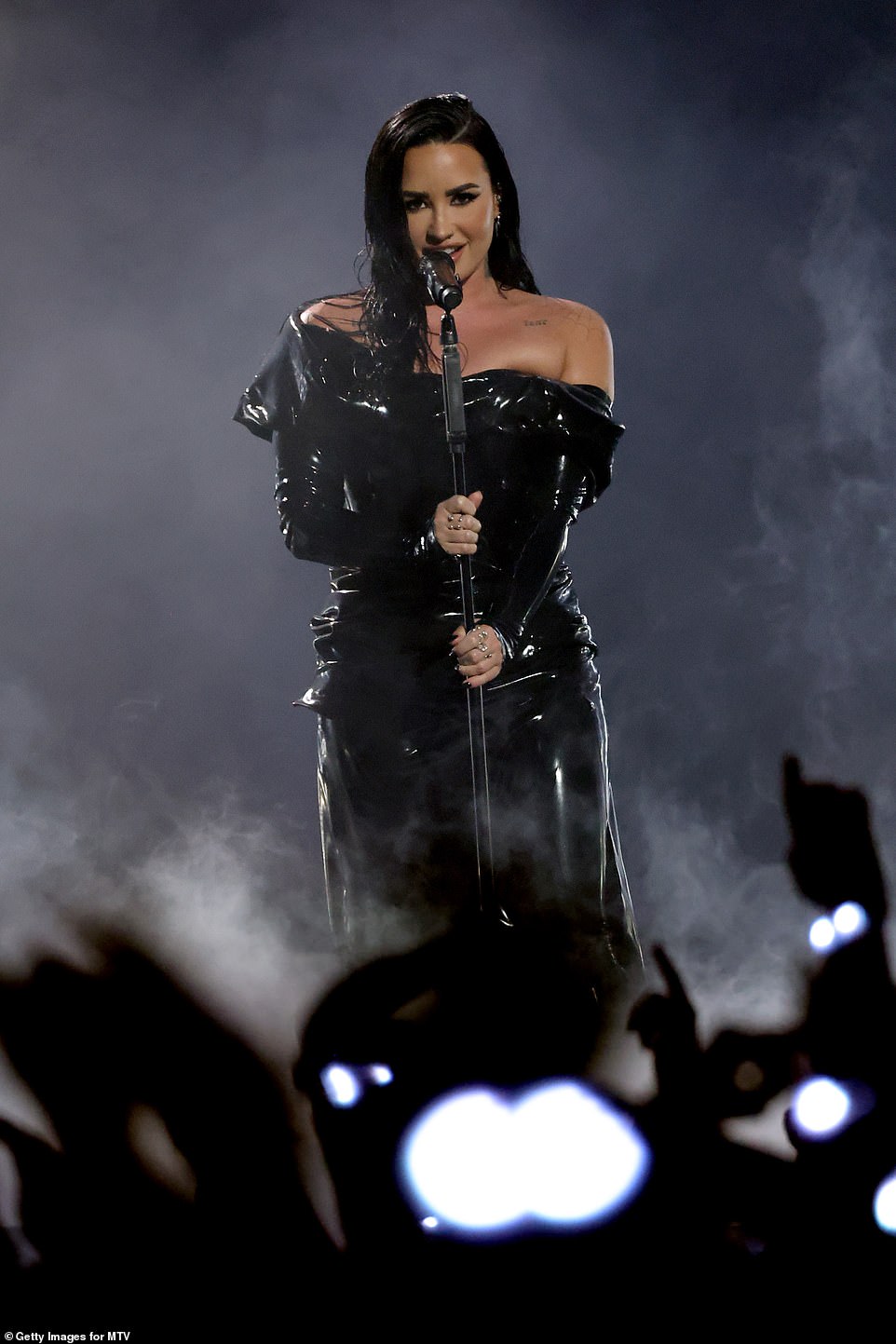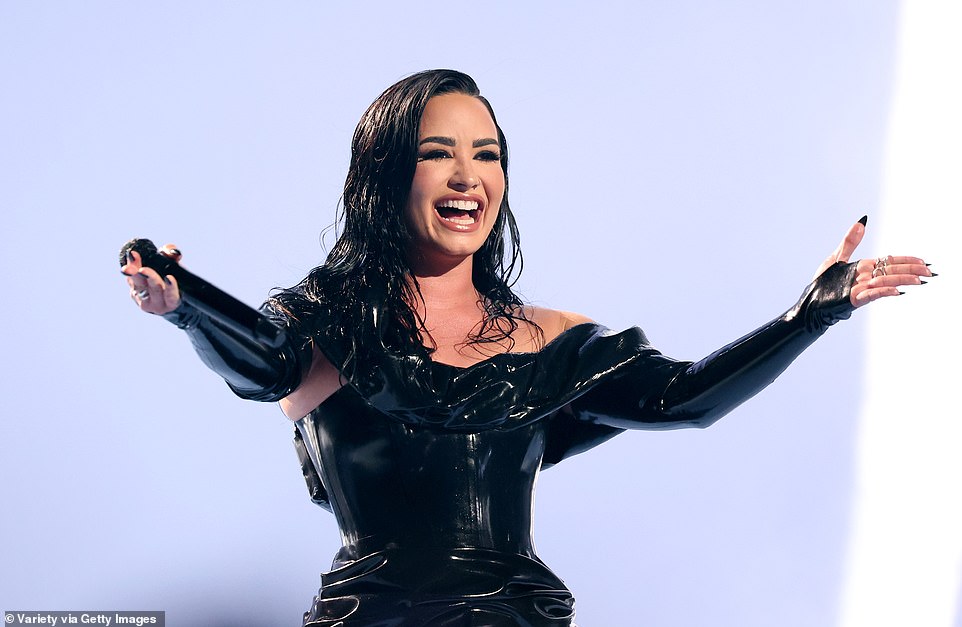 Anitta was named the Best Latin Winner for her song Funk Rave.
'We are here again, Brazil, we are here again,' the Rio de Janeiro native, 30, said in her acceptance speech. 'For the second time, we are here. Thank you so much for my fans, without you I would be nothing.'
The band Stray Kids won in the category of Best K-Pop for their track S-Class.
SZA was named the Best R&B Winner for her song "Shirt; she was not able to appear at Tuesday's event.
TOMORROW X TOGETHER won the honors for PUSH Performance of the Year for Sugar Rush Ride, while Dove Cameron won the category of Video for Good for Breakfast.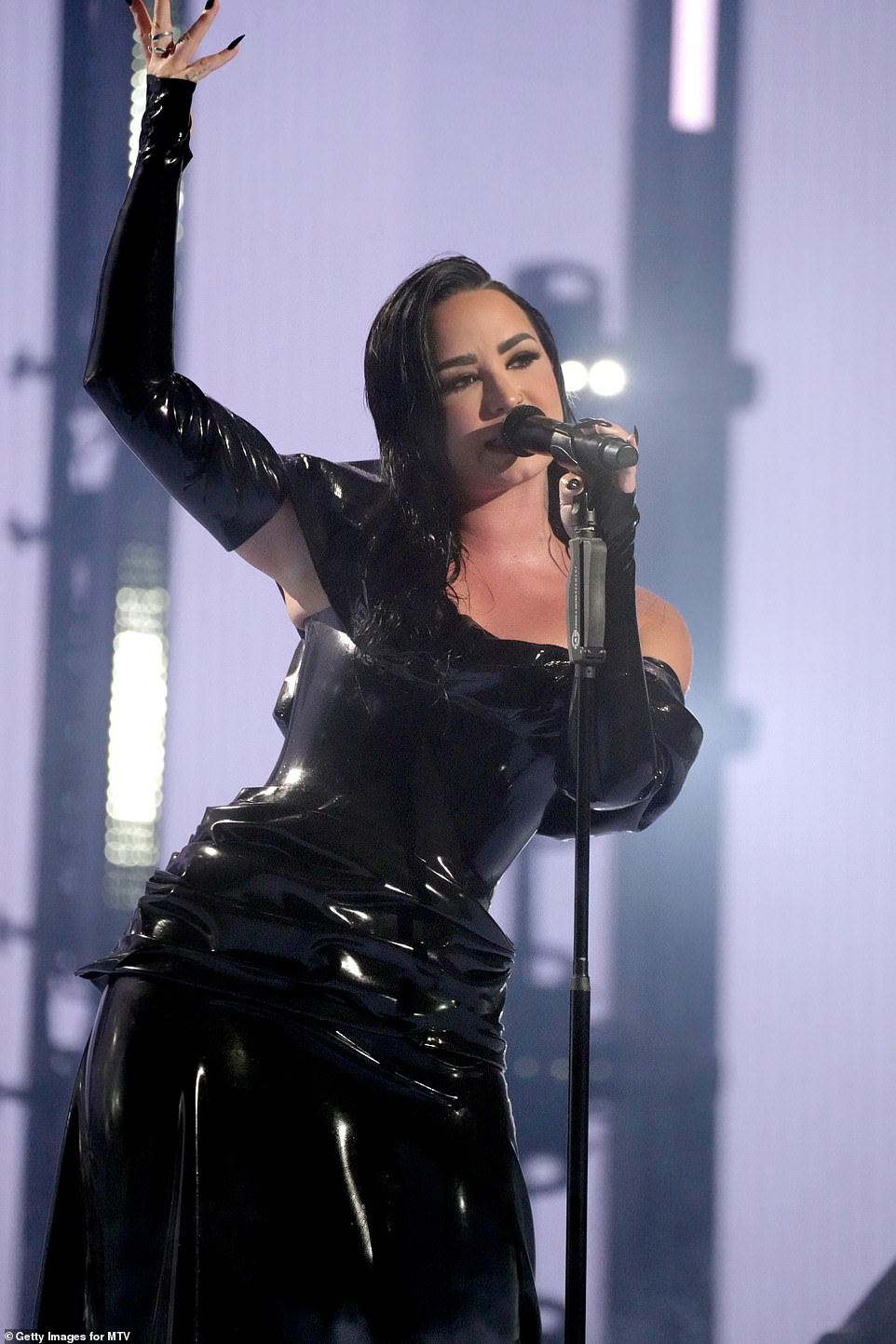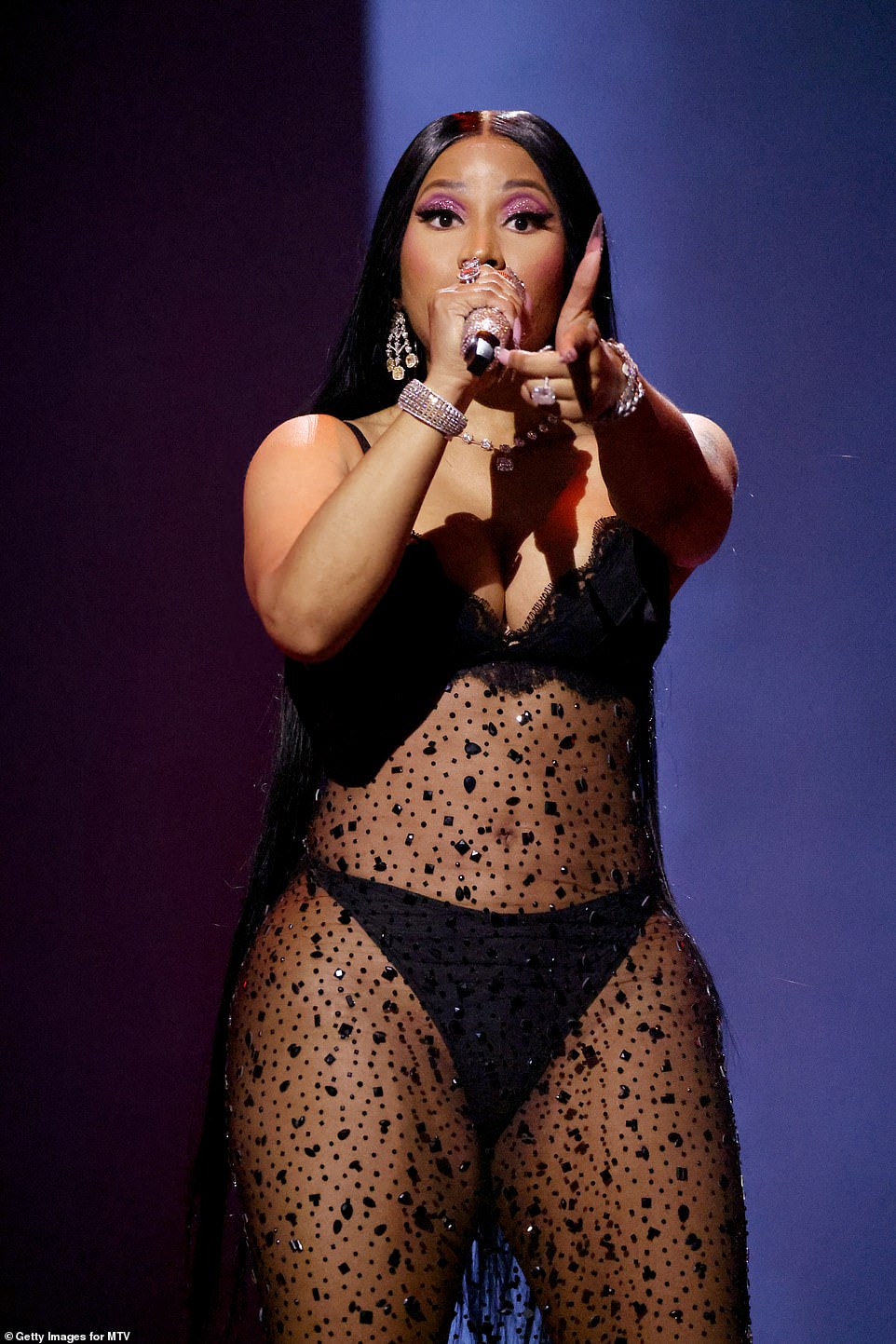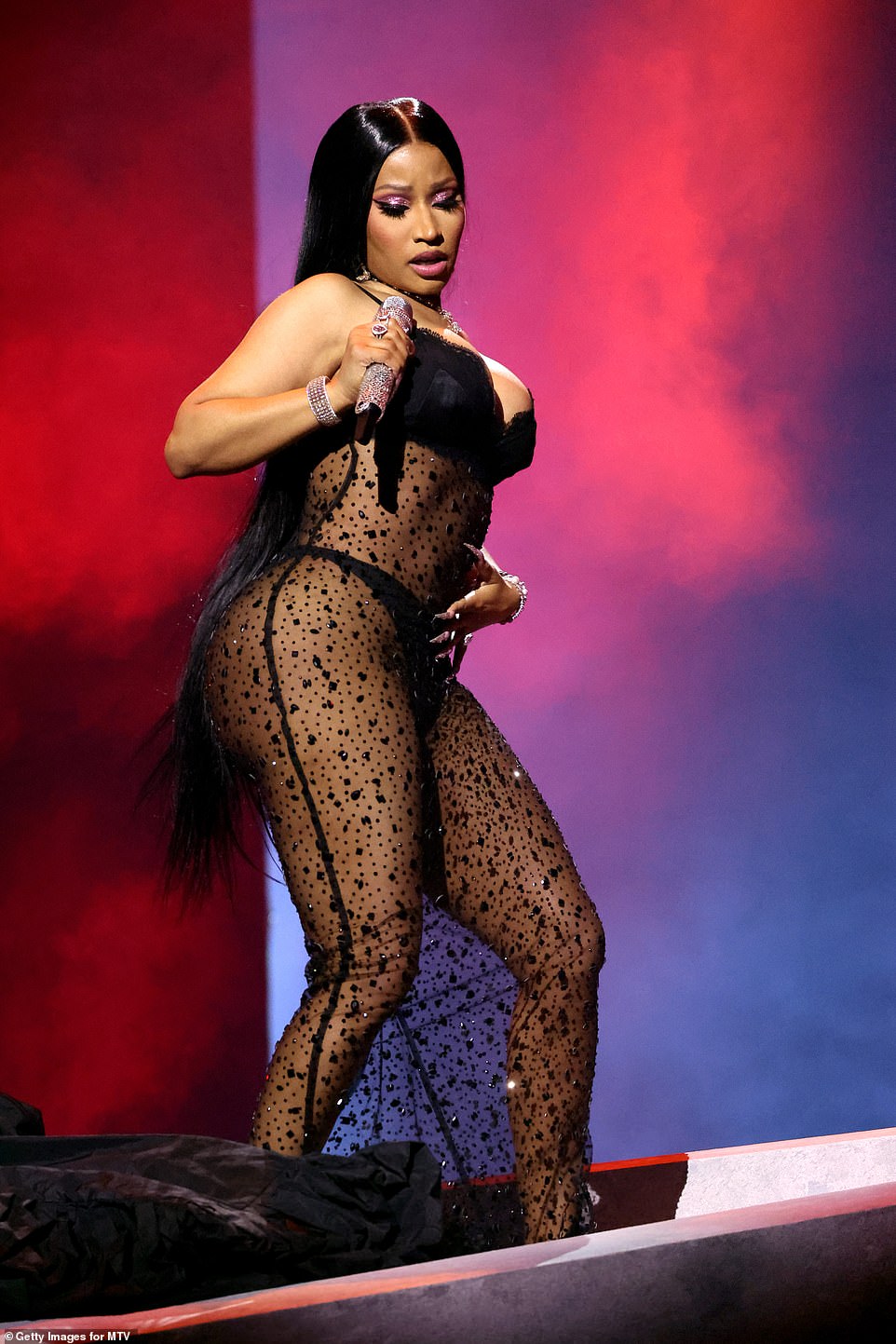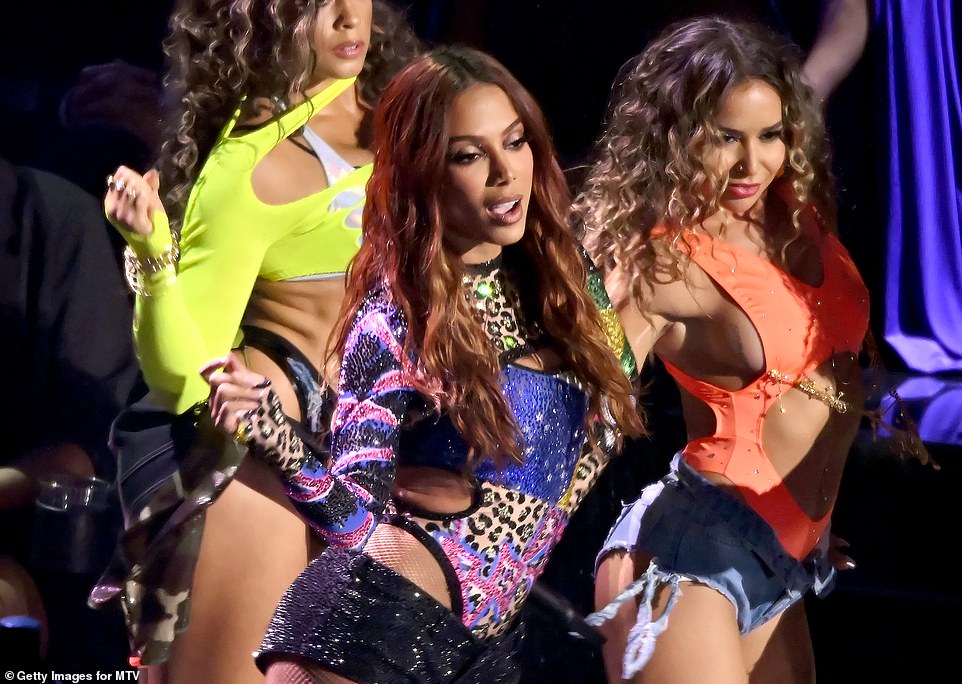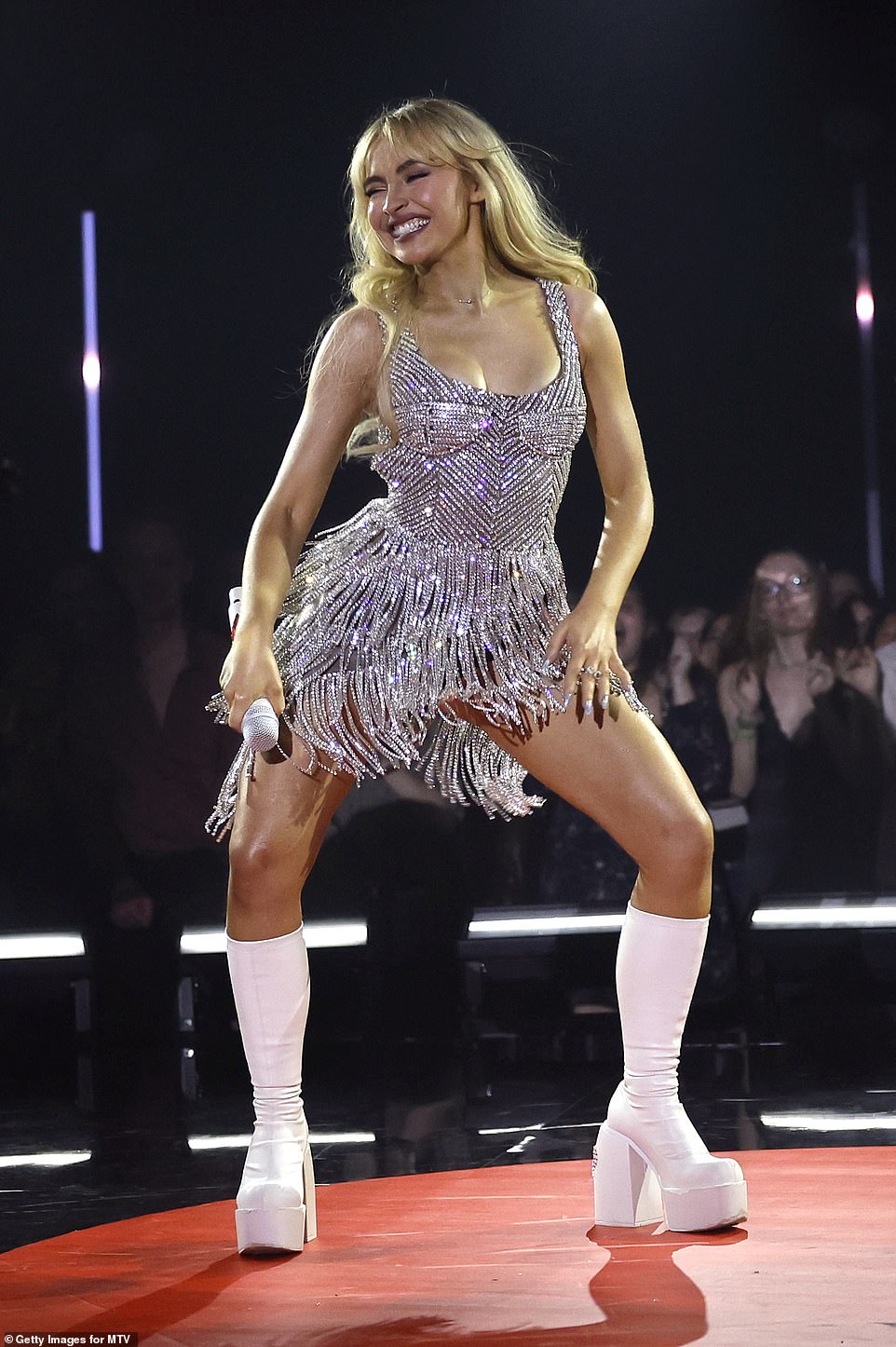 Shakira was honored with the Video Vanguard Award and performed as well.
'Tonight I want to thank people who have played a key role in my visual history,' she said. 'And the amazing women who work with me for not only smart but always help me push through all my challenges while wearing so many hats. You girls are amazing, thank you so much!'
The Whenever, Wherever singer, 46, also thanked her family and fans in accepting the vaunted honors.
Previous recipients include Beyoncé, Nicki Minaj, Madonna, Janet Jackson, Jennifer Lopez, Rihanna, and Missy Elliott.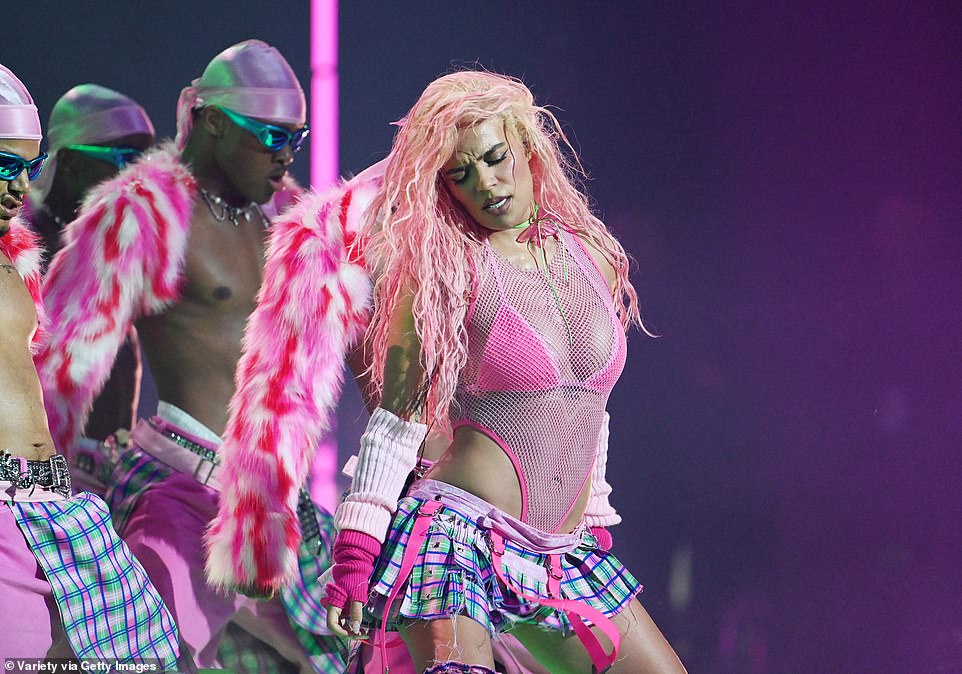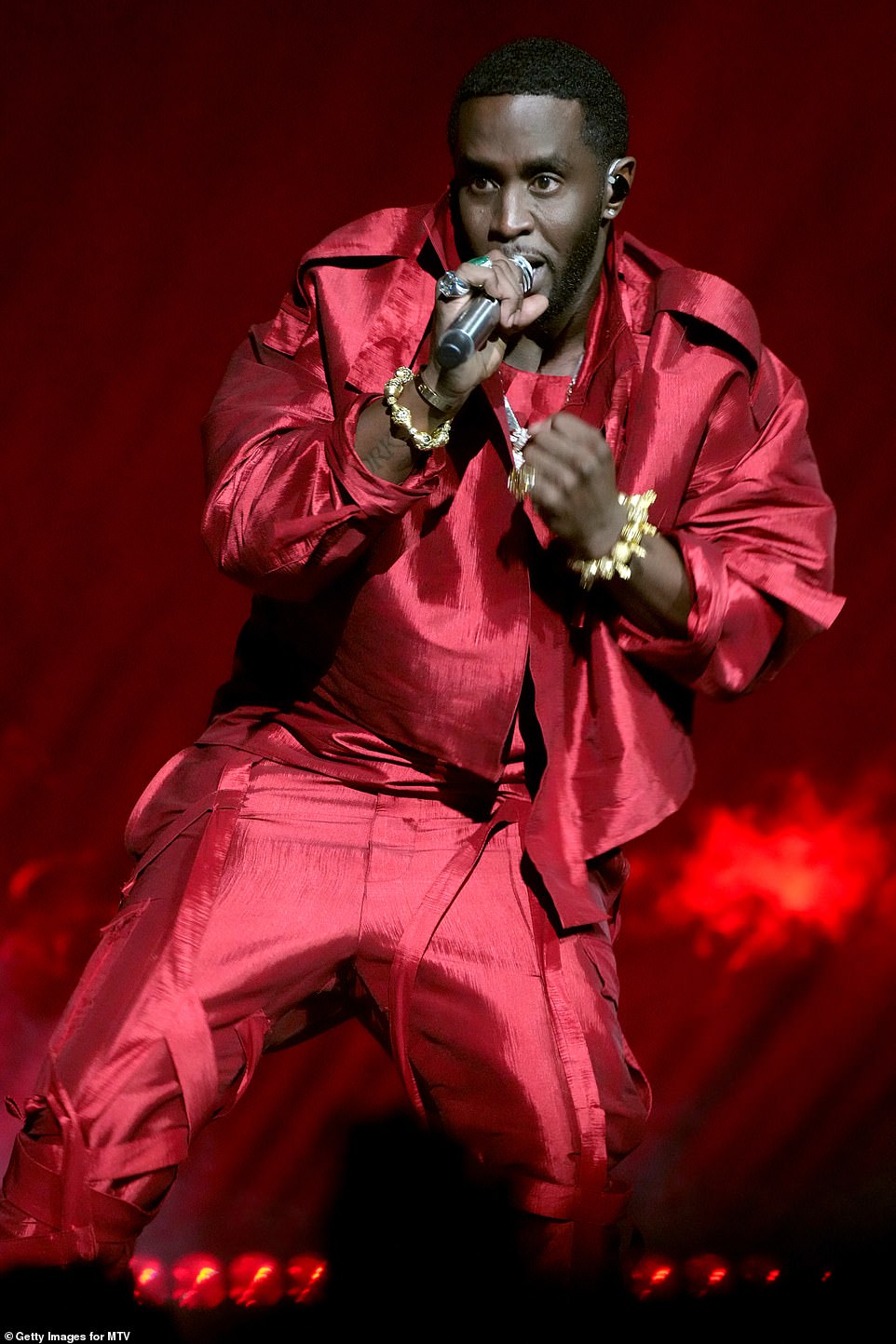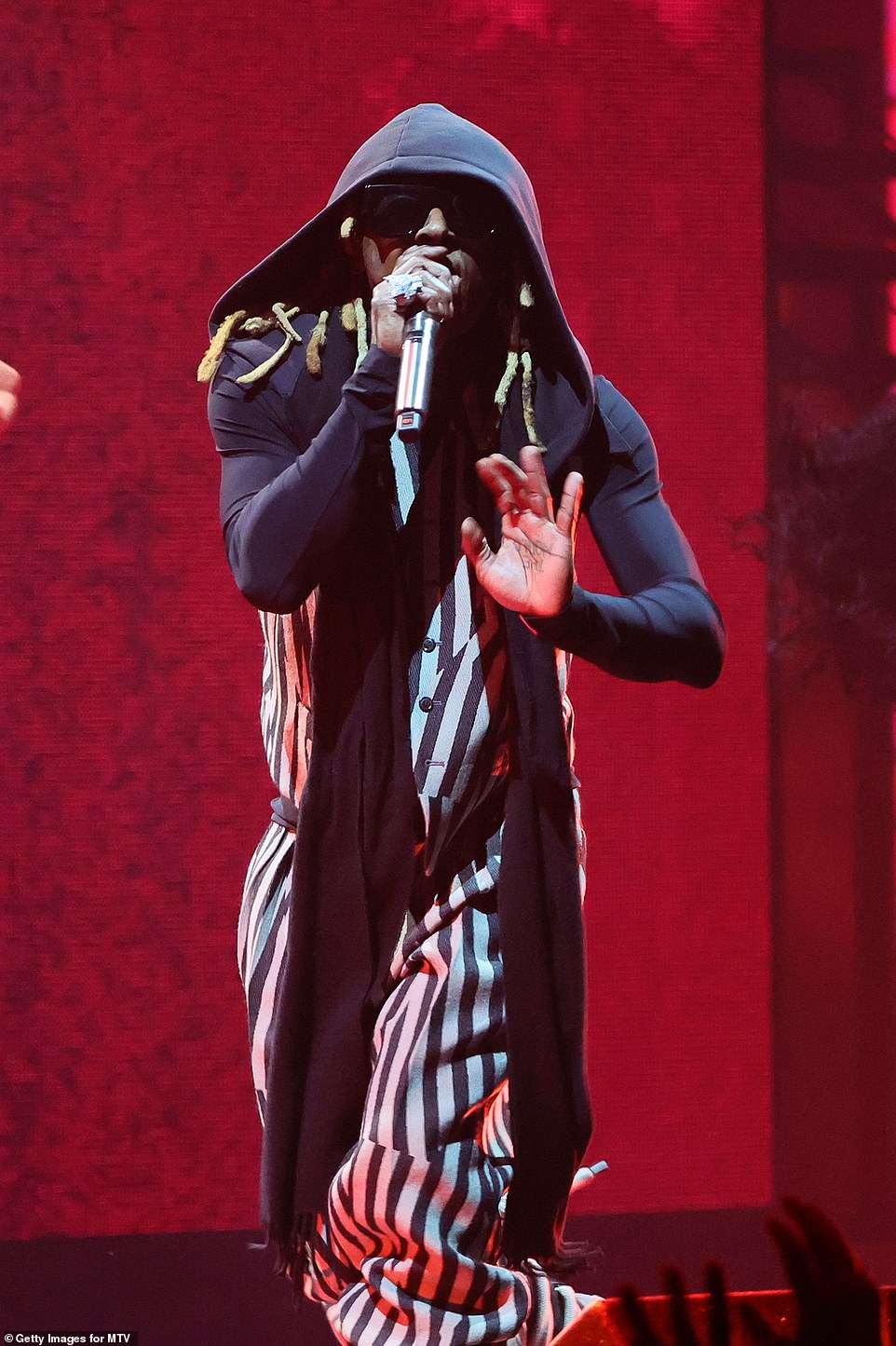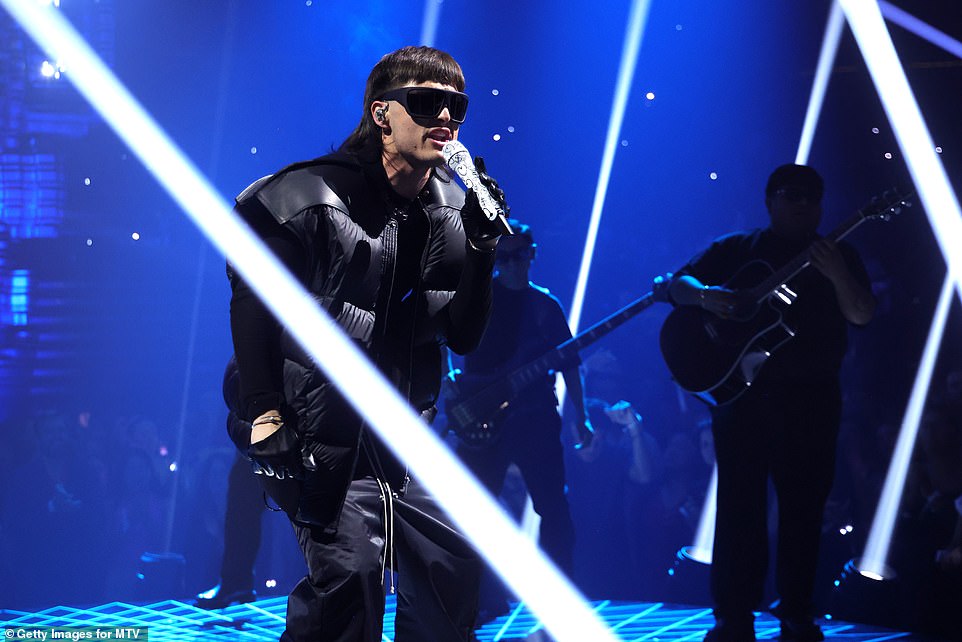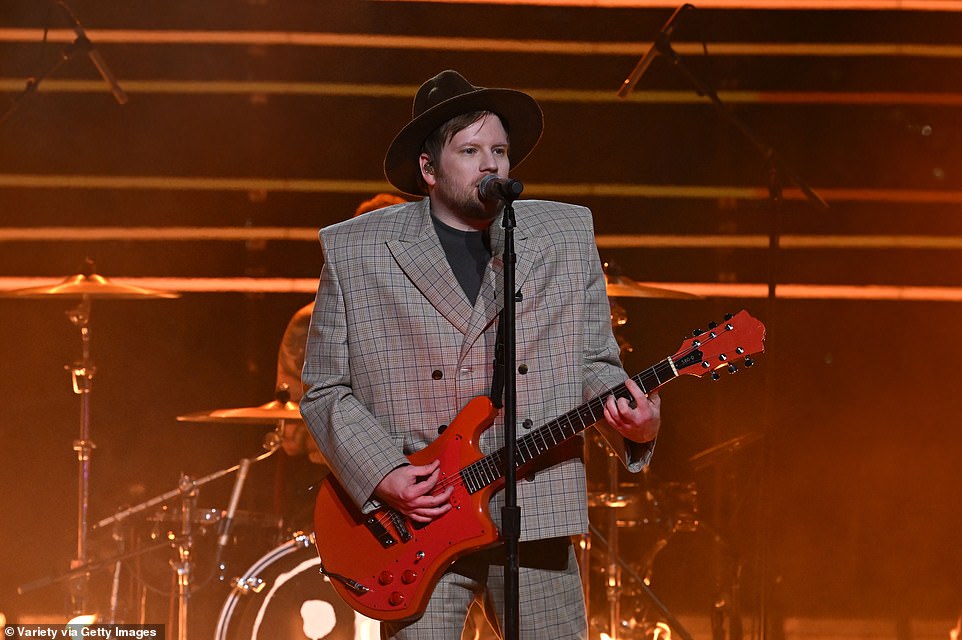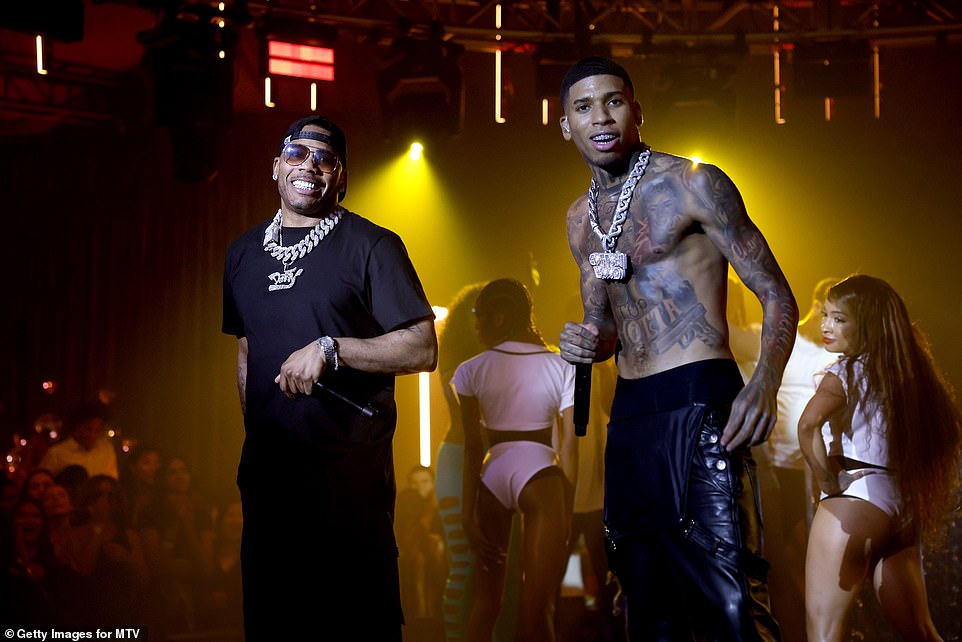 Diddy was named receive the Global Icon Award and performed at the VMAs for the first time since 2005.
'Love wins, y'all, love wins,' said Diddy, who became the third recipient of the award, following the Red Hot Chili Peppers in 2022 and the Foo Fighters in 2021.
In his acceptance speech, Diddy said, 'This is so surreal. I appreciate you all coming in just giving me my flowers and celebrating me.
'Of course I got to thank God, because that's my secret weapon. It don't matter what religion you are, make sure you know there's a higher power of love and I want to just say I give all glory to god, thank you so much. This is a dream come true.'