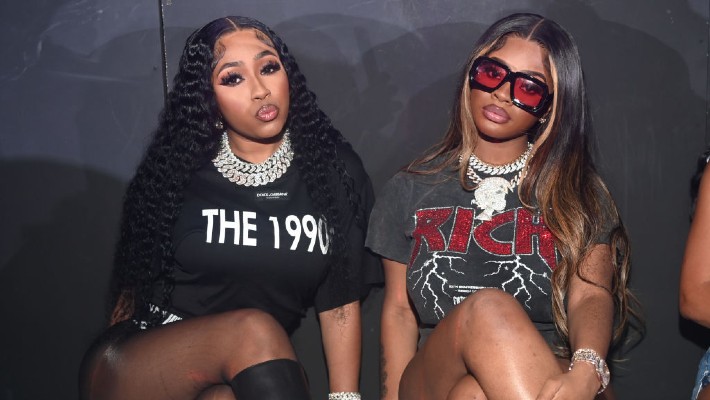 Finding love doesn't mean a self-proclaimed baddie has abandoned the movement's manifesto. The club's head figures, City Girls, can attest to this. The rap duo (consisting of Yung Miami and JT) are both happily linked to other entertainers, but instead of walking away from the cause, they've doubled down on the core principles. On their new Mike WiLL Made-It & P-Nasty-produced single, "Face Down," the group offers a sassy response to the growing online discussion that they've changed their ways.
As if the Girls Gone Wild-inspired cover art for the record didn't send a clear enough message, out the gate Yung Miami declares her allegiance to the City Girls lifestyle, rapping, "Face down, ass up, sl*t me out / I don't even let a broke n**** eat me out / He know this p*ssy stay wet in the middle of droughts / I make him face me, nasty, squ*rt in his mouth / I need that car paid for and a new house / Said 'Do I look basic? Wife me now' / I heard cash rules, let me show you how / Bettеr spend that sh*t, baby, ice me out."
The listener knows she means business thanks to the distraught clip of her beau, Diddy, leaving a designer storefront after one of her extravagant shopping sprees.
JT follows it up, rapping, "If he ain't blowin' a bag, b*tch, pick a better n**** / I'm in that new coupe, might go vroom-vroom / B*tches that be hatin' on me really ain't got no room / I mean literally, no house b*tch, no room / I'm a city girl, so he gotta be a tycoon / Face down, ass up, that's the way I like to f*ck / You want a b*tch from the city, huh? P*ssy pretty, huh? / Got a n**** out of motherf*ckin' Philly, uh," reminding everyone she's still madly in love with fellow rapper Lil Uzi Vert despite her violent tangent during the 2023 BET Awards.
Adding to their growing tribute to Miami hip-hop legend Luke, "Face Down" contains a sample of his 1990 song "Face Down, Ass Up" featuring 2 Live Crew. The record is the latest offering from the pair following after "Good Love," "I Need A Thug," "Piñata," and "Act Bad," with Diddy featuring Fabolous further fueling their claims that an album is on the way.
Listen to City Girls' single "Face Down" above.