Share this post or save for later
Byron Myrick remembered the joy he felt in the '90s when his hair was locked by Janine Colter, current owner of Hidden Jewel Salon and Spa.
"And it was a beautiful experience," Myrick said. "We became fast friends all those years ago."
Myrick loved his locs – a traditionally African hairstyle consisting of twists, coils or braided strands of hair.
When a corporate restaurant chain came to Lawrence, Myrick took his experience in the industry and applied for a management position. He landed a first interview.
"Everything went spectacular," Myrick said. "Everything went well. I had no doubt in my mind for a second that I would not lock down the position. I know my way around the kitchen."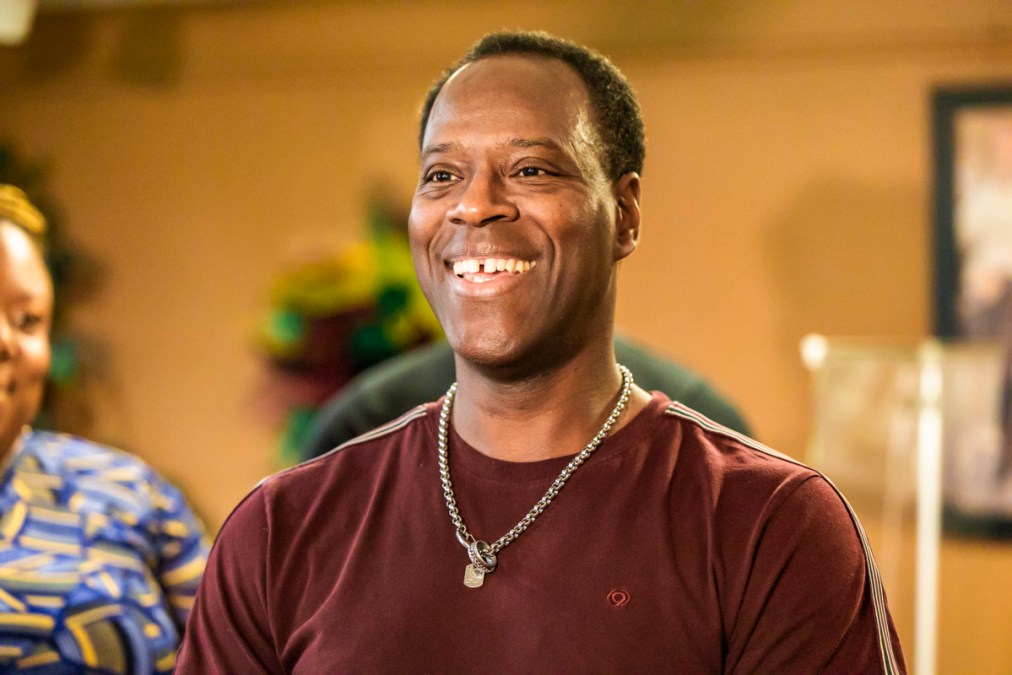 Still, Myrick sensed what he called "some hesitancy in this company bringing (him) aboard."
During a second interview with a corporate executive, Myrick learned he could have the job but with one condition.
"I guess that they decided that they wanted to bring in another Black man to tell the other Black man that, 'We'd like for you to cut your locs in order to seal this position.'"
That discrimination forced Myrick to make a difficult decision about his hair, which he described as beautiful. He talked with his wife and family.
Ultimately, Myrick chose to cut off the locs he'd worn for five years. He took the management job and stayed with the company for seven years.
"When I think back on it, was I disappointed? Yes … but I made a choice at that time and it was more about the well-being of my family at that time," Myrick said.
Myrick's personal experience was one of several shared on Monday during a news conference in support of proposed Ordinance No. 10003, also known as the CROWN Act.
CROWN stands for Creating a Respectful and Open World for Natural Hair. If adopted by the Lawrence City Commission, it would prohibit race-based hair discrimination because of hair texture or hairstyles such as braids, afros, cornrows, locs, twists, curls, afros, bantu knots, hair that is tightly coiled or curled, and other styles.
Monday's event was sponsored by grassroots proponents of the CROWN Act on the eve of the commission's first reading of the ordinance. If passed on Tuesday, Aug. 15, final approval for the CROWN Act could occur at the Aug. 22 meeting.
The ordinance acknowledges the discrimination Black, Indigenous and other people of color face because of their natural hair texture and style. And it notes the impact of that discrimination, including "serious health, housing, workplace, educational, and economic consequences" and the "denial of basic civil rights, especially for Black people."
Commissioner Amber Sellers called the opportunity to express support of the CROWN Act "a joyous day."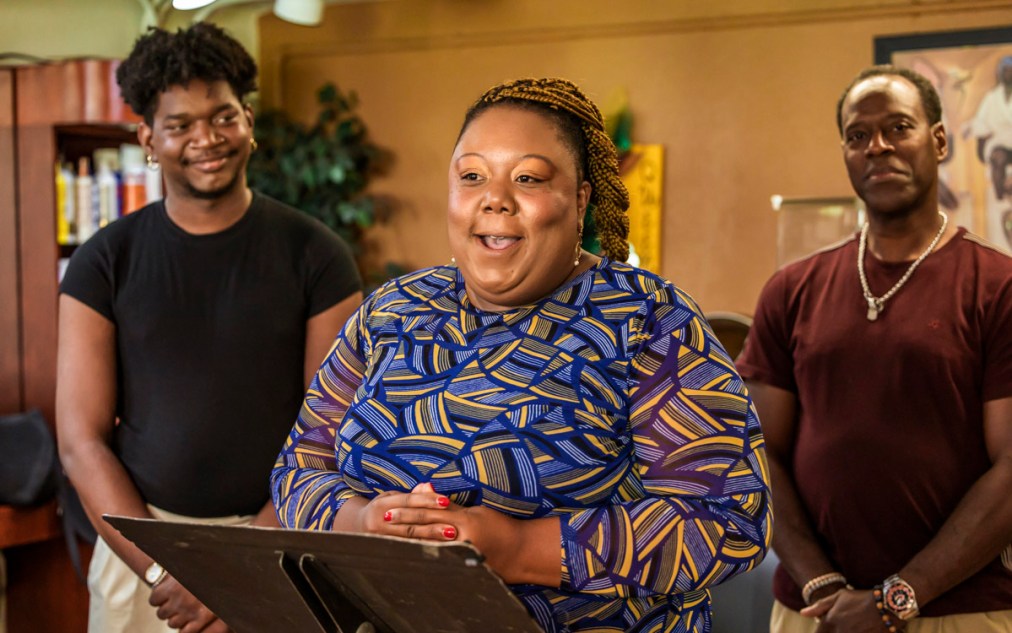 "We need to remember that we have to put people first in policy if we truly want to create spaces where everyone feels respected, but also that they can see themselves in their community and their leadership, and be able to feel happy about thriving," Sellers said.
She spoke about trauma she's experienced because of hair discrimination, including an experience she's carried with her since age 6.
Sellers loved to swim. She also loved her hair, which she described as long, thick, big and flowing.
"And so, one day I had the opportunity to go swimming with some cousins," Sellers said. "And as I emerged from the water and sat by the side of the pool, there was a young family that came through — a white family. And the little girl pointed at my hair and she said, 'Mommy, her hair looks like Joy's hair.' And apparently Joy was their dog. And her mother said, 'It sure does.'"
Sellers said that early experience played "a lot on the mind of a young Black girl." She went on to struggle with her hair's identity and its worth in her work, specifically how the balance between her intellect and poise was reflected in her hair. She said she felt traumatized until 2014 when she cut her hair off and "learned what it felt like to be natural and to experiment and to have joy."
Although the CROWN Act is law in 22 states, statehouses in Kansas and Missouri still lack the political will to get the job done, said Michele L. Watley, founder of Shirley's Kitchen Cabinet. The nonprofit organization has advocated for the CROWN Act since 2019 at the state level and more recently among local municipalities such as Lawrence, Topeka, Hutchinson, Wichita and the Unified Government of Wyandotte County.
Shirley's Kitchen Cabinet has partnered with local activists and organizations such as Black:30, B.L.A.C.K. Lawrence, Loud Light and Lawrence KS Juneteenth to push for the CROWN Act's passage.
Passing the CROWN Act, Sellers said, would create safe spaces in Lawrence that could be realized mentally, physically and economically.
"We're creating an opportunity for Black women, men and children to see themselves and to see themselves accepted, welcomed and encouraged to be a part and be engaged in their community," Sellers said. "This is people politics at its core, where we can't depend on Topeka to get the job done. That's what local control is about."
Watley emphasized that hair care products are a big industry. Meanwhile, the pressure for Black people to conform to unnecessary societal appearance standards can have dangerous effects on one's health — even scalp burns, Watley said. Studies also have shown higher rates of cancer among women who use chemical relaxers.
During a time when Kansas companies are challenged to fill jobs, inclusive and diverse workspaces are a necessary tool in creating economic prosperity, Watley said. Passage of the CROWN Act would ultimately increase the state's talent pool and result in economic growth.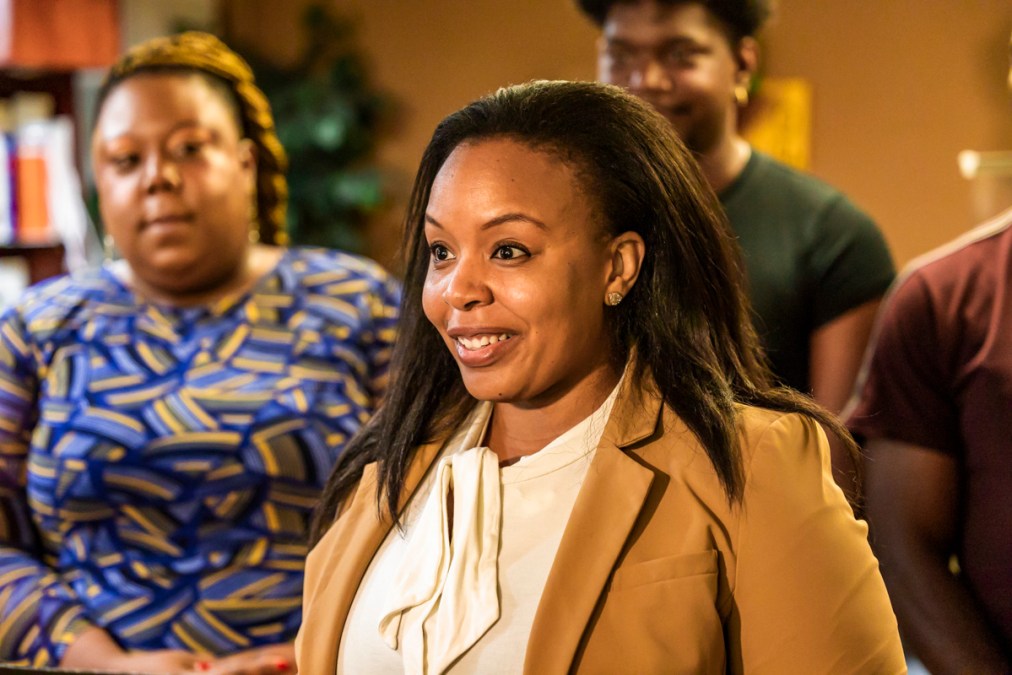 "What we're talking about is access — access to economic prosperity," Watley said. "Black people and other people of color should not be blocked or kept from having access to employment because of their hair."
Colter, a licensed professional cosmetologist for 24 years in Lawrence and president of Lawrence KS Juneteenth, summed up the importance of hair on one's body. Colter said when she noticed her own hair loss, she knew she should see her doctor.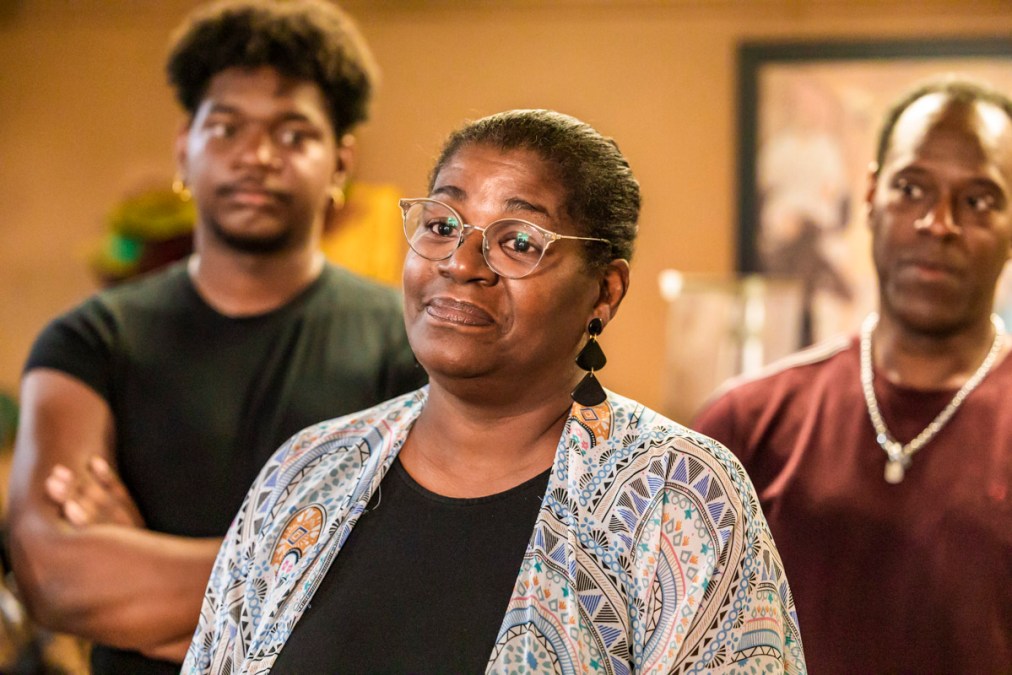 "If you look at hair, it's all over our body. It is a protectant. It is our crown," Colter said. "It is who we are and we should not be shamed for wearing our hair how we choose to. We should not be forced into chemically changing our hair … That's colors, that's relaxers, that's everything. We get to be who we are. There is nothing more beautiful to me than natural hair."
The Lawrence City Commission meets at 5:45 p.m. Tuesday at Lawrence City Hall, 6 E. Sixth Street. Meetings are livestreamed via the city's YouTube channel, youtube.com/lawrenceksvideo.
Live public comments during the meeting can be made in person or via Zoom by registering at this link. Written public comment can be emailed to ccagendas@lawrenceks.org and must be received by noon the day of the meeting.
The full meeting agenda can be found at this link. The commission will also consider a proclamation to declare the week of Aug. 21 Black Business Week.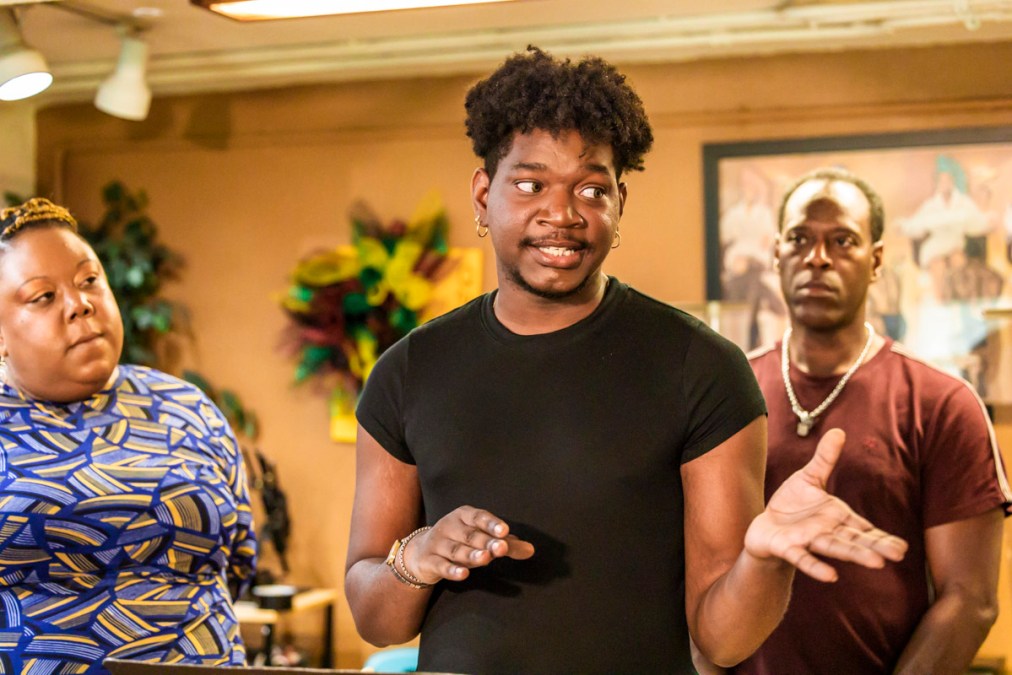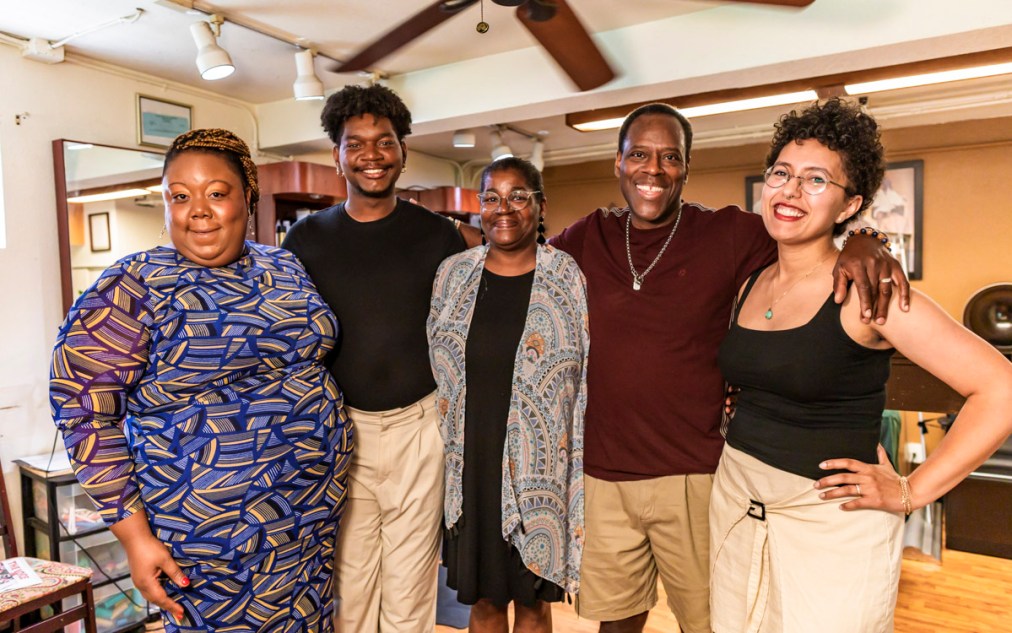 If our local journalism matters to you, please help us keep doing this work.
Don't miss a beat … Click here to sign up for our email newsletters

Tricia Masenthin (she/her), equity reporter, can be reached at tmasenthin (at) lawrencekstimes (dot) com. Read more of her work for the Times here. Check out her staff bio here.
More on anti-discrimination ordinances: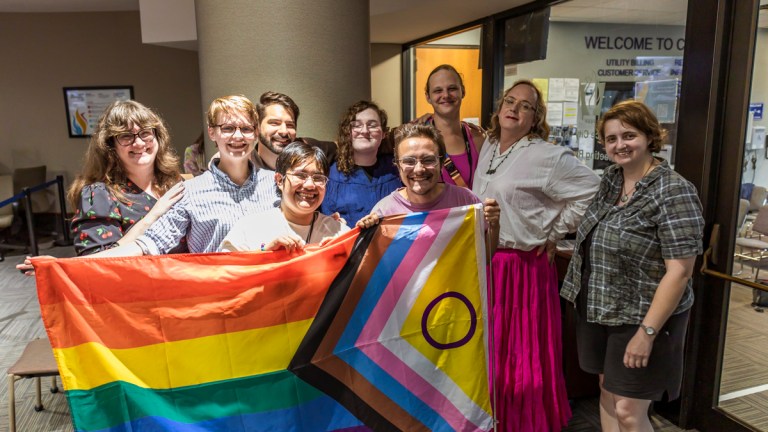 Share this post or save for later
Activists with No SB 180 in Lawrence, who recently saw the Lawrence City Commission act quickly to pass a local ordinance against Kansas' anti-trans legislation, are celebrating their successful campaign with a party this week.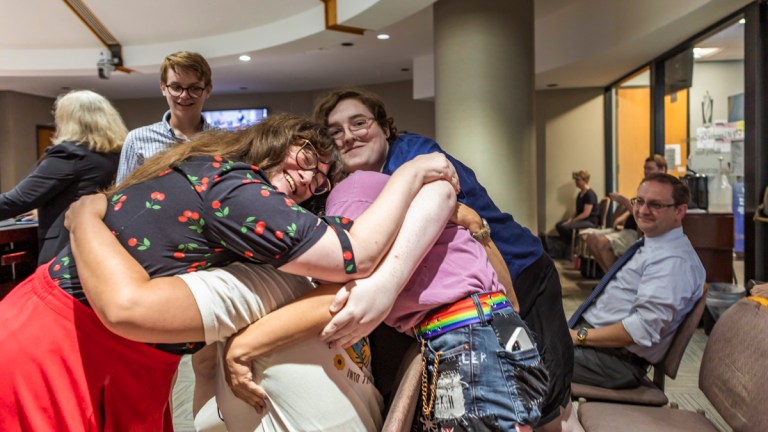 Share this post or save for later
Lawrence city commissioners on Tuesday gave final approval to an ordinance that expands local protections for transgender and gender-nonconforming people in the wake of Kansas' new anti-trans legislation.
Latest Lawrence news: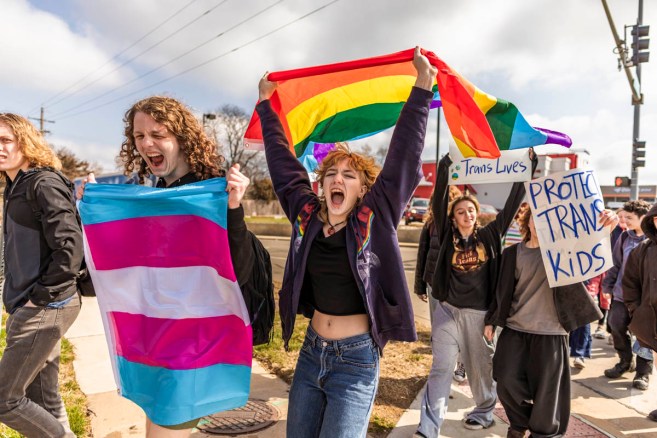 Share this post or save for later
A new statewide policy bars transgender girls from girls' sports, but the Lawrence school district is still evaluating what compliance will look like and voicing support for trans and gender-nonconforming students and employees.