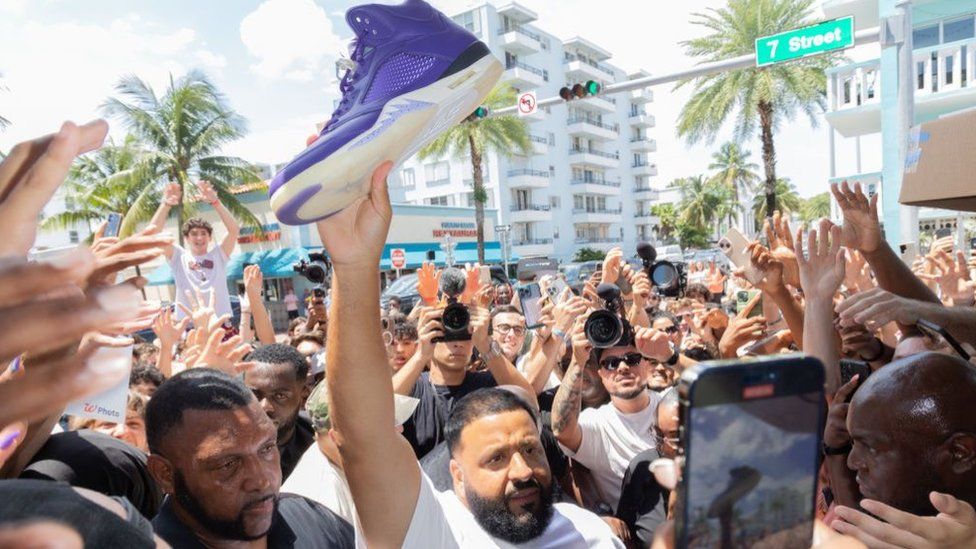 Fans of DJ Khaled recently stopped traffic on the streets of Miami.
The crowd weren't there for a new album drop.
They had come to check out the recording artist's new concept store, a massive space full of "athleisure wear" and sneakers that is the result of his work with the German streetwear company Snipes.
"Today was so special FANLUV THANK YOU !" the artist later wrote in a series of Instagram posts featuring videos of him chatting to shoppers and promoting the anthem Let's Go Shopping.
The Grammy award-winning music mogul isn't just the brand's hype man.
Shortly after he began working with the brand, he was recruited as Snipes' chief creative officer, becoming the latest A-list name to spin his celebrity profile into a C-suite title, or high-ranking executive role.
It's a title he doesn't take lightly.
"They had me as the face of their stores, it was just a beautiful opportunity and we ended up loving each other. Now I have a job at Snipes," he told the BBC ahead of the store's opening.
But what can a celebrity like DJ Khaled really contribute to the role of creative officer?
The producer points out that he is more than just a celebrity.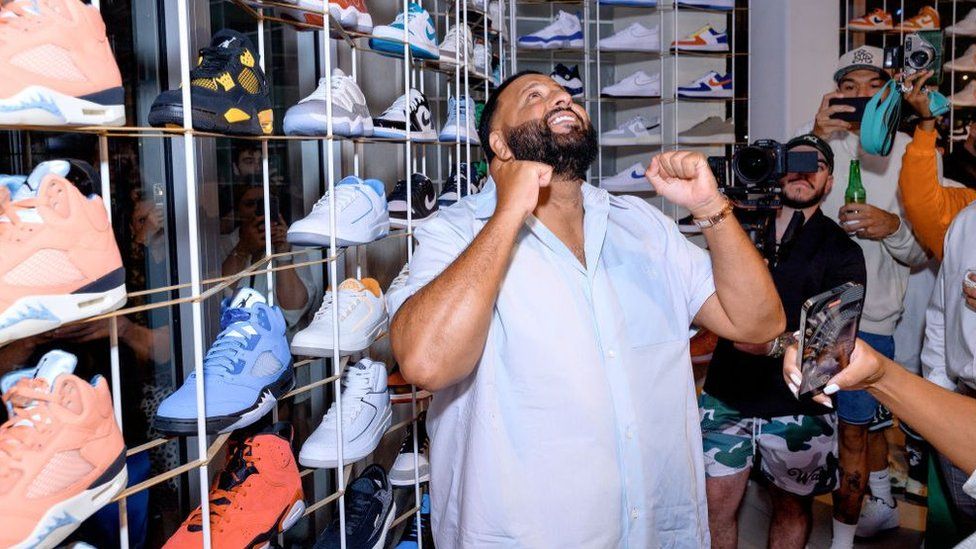 According to Sven Voth, chief executive and founder of Snipes, DJ Khaled's appointment did raise eyebrows outside of the company when it was first announced in 2019.
"Everybody in the United States thought this German guy's a little crazy because this is a little bit too much for what it is," he says.
At the time, Snipes had only 65 shops in the US.
Mr Voth credits the rapper's dedication for helping grow the company's footprint to over 300 stores today.
"I think that was the best starting point we could have," he says.
Return of the celebrity creative director
DJ Khaled's role is part of a re-emerging trend of famous faces taking on top corporate positions.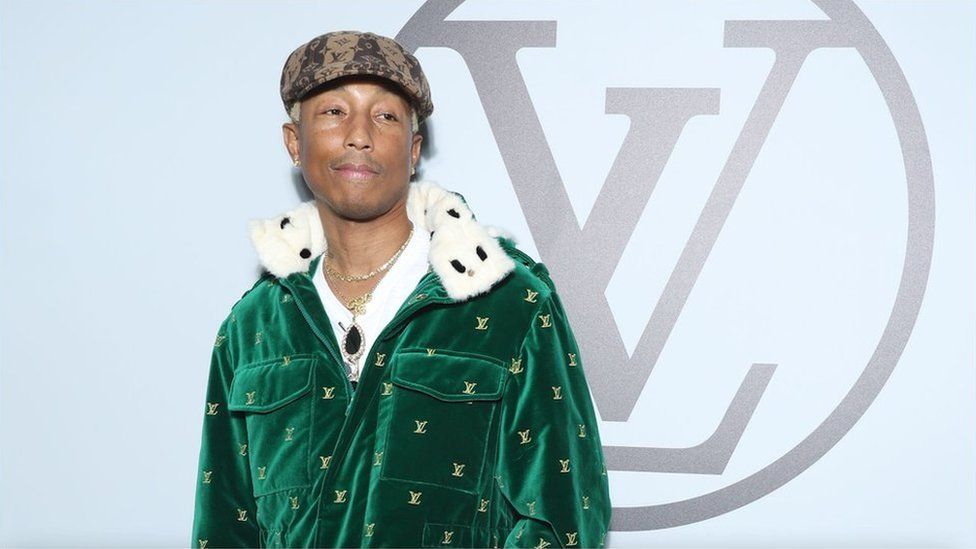 Traditionally, the creative director was the person who defined the creative vision of a brand from sketching the collection, to overseeing ad campaigns and the design of the boutique.
With a celebrity creative director, the rules are more fluid, reflecting a change in how brands harness the power of celebrity.
The companies are looking for a deeper "personification of their brand" by employing celebrities, says Matt Nastos, CEO of Maison MRKT, a digital marketing agency.
"Brand ambassador relationships are more fleeting, while having celebrities as part of your organisation has an implied authenticity and longevity."
The pairings don't always work out.
Nearly 15 years ago, Mounir Mouffarige, the boss of Emmanuel Ungaro, hired Lindsay Lohan as creative director to jump start the languishing fashion label.
It was a disaster, the 2009 show plagued by wardrobe malfunctions and faulted for unoriginal designs distinguished only by an overabundance of hearts.
Famed New York Times fashion writer Suzy Menkes wrote at the time: "The Emanuel Ungaro show on Sunday may go down in history as the final gasp of celebrity madness."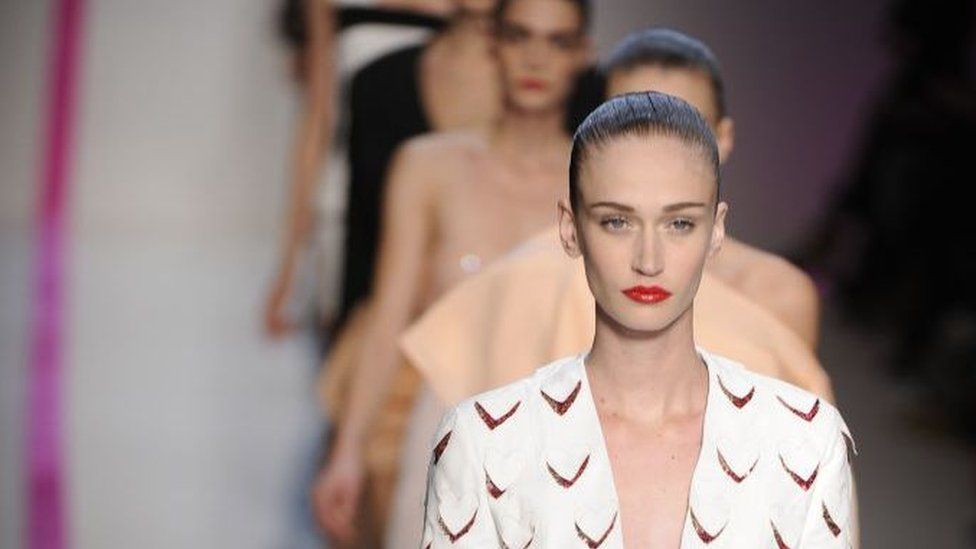 The Lohan debacle "put everyone off the idea for a long time", says Godfrey Deeney, international editor-in-chief of the Fashion Network.
But that changed when the hip hop community got involved.
"They had very different ideas of style and how they want things to look," Mr Deeney says. "And to the surprise of a lot of the French and European luxury managers, it really connected with a new audience, a new generation."
Designer and DJ Virgil Abloh represented a monumental shift. His work with Kanye West impressed the fashion industry and his proximity to the rapper helped him to climb the ranks to become creative director for Louis Vuitton menswear, infiltrating the rarefied world of high fashion.
Part of this trend can be attributed to the rise of social media, hip hop's outlet of choice.
From Snapchat to Facebook, Instagram to Tik Tok, rap artists thrive at using these platforms to grow their fanbase. Whether it's DJ Khaled's Snapchat stardom or Lil Nas X pumping out memes on X, the platform formerly known as Twitter.
And fashion brands want a piece of that.
"When you look at the social media accounts that each one of these creative directors has built up, that is an enormous megaphone for these brands," says Matt Nastos.
Unlike traditional marketing, social media and the user information it collects allows these brands to target specific outcomes, like going after a customer that is five or 10 years younger.
"They can then go through the process of matching to understand… how much overlap is there between their respective audiences," he says, using Pharrell's Louis Vuitton appointment as an example. "There might be audience subsets within Louis Vuitton they're looking to augment."
To some, the lack of qualifications on paper may feel unfair. But social media has changed the way the world sees brands.
And as long as it makes the company money, the celebrity creative director is here to stay.
As DJ Khaled has been telling us for years with his hit song… All I Do Is Win.
Additional reporting by Nathalie Jimenez