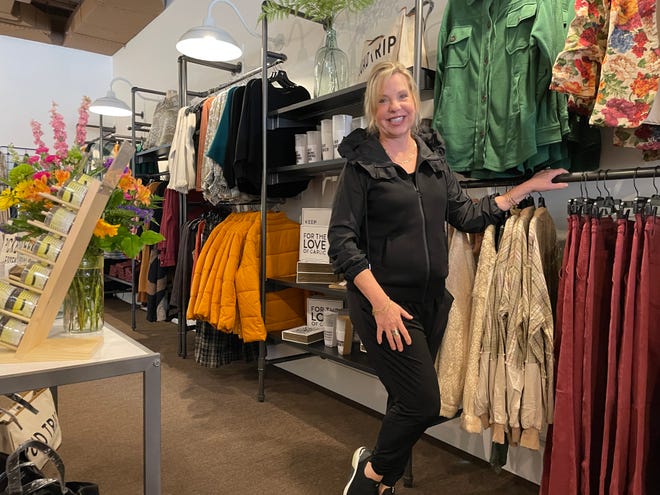 BRIGHTON — Women's clothing boutique owner Karen Backus has opened the doors to The Coral Sash Boutique in Brighton earlier than expected.
Backus decided to open the shop at 203 W. Main St. in time for the "street-warming party" the city held Friday, Aug. 25, and Saturday, Aug. 26, celebrating the reopening of a portion of Main Street.
"We didn't want to miss out," Backus said.
"We had so much fun that weekend meeting people. It was a welcoming and fun experience, and I think everyone was excited to be down here. The city did a good job of getting people back downtown."
She said a live performance Friday by The Jill Jack Band across the street generated enough foot traffic that the store stayed open late — until almost 10 p.m. — on its first day.
A new adventure
The shop is the business' second location. Backus originally opened The Coral Sash in South Lyon, a shop she continues to operate, and her employees work at both locations.
She expanded to downtown Brighton after Debbie Carley, who owned Beverly Rae's, decided to step away from ownership. Carley is only "semi-retired" she previously told The Daily. She's now one of Backus' employees in Brighton.
More:'Retired but not gone': Beverly Rae's owner to work for new boutique opening soon
Backus said the shop carries women's clothing and accessories. She said, on opening day, the store saw shoppers of all ages.
"It made us happy to have generational shopping," she said. "The biggest trends for fall are probably jumpsuits, anything with bling, animal prints, and matching sets. I like the baby doll dresses that are ruffled, tiered. Another trend is the wrap (dress)."
The brands and styles she carries, she said, are always changing. She carries different clothing and accessories between shops, but some brands are popular enough to carry at both, like Judy Blue Jeans and fuzzy "teddy bear" jackets.
The Coral Sash already has a digital presence, including a smart phone app and social media. The store livestreams fashion shows and tips.
"We do in-store events, themed events, community events," Backus said.
On Thursday, Sept. 14, from 4-8 p.m., the shop in Brighton will host Ashley Gold, who appeared on reality TV show "Hardcore Pawn" and owns a jewelry business of her own. Gold will do a pop-up shop for permanent jewelry, which is meant to be worn all the time.
Among other upcoming events, the store will host two "Witches' Bingo" events this fall, Oct. 19 at Oak Pointe Country Club in Genoa Township, and Oct. 26 at Tanglewood Golf Club in South Lyon.
— Contact reporter Jennifer Eberbach at jeberbach@livingstondaily.com.