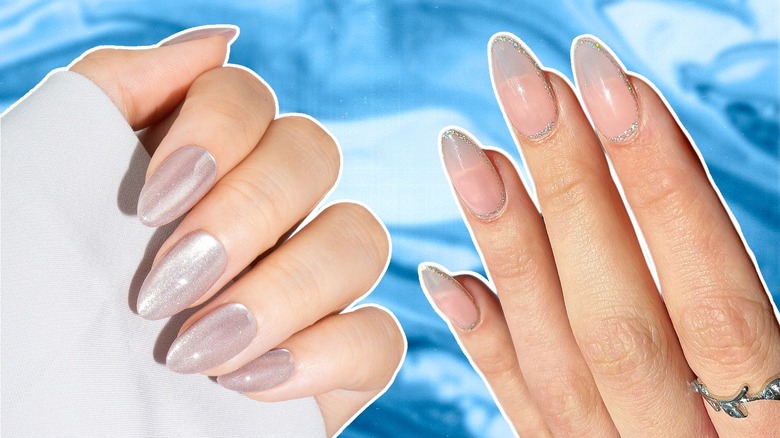 Static Media / Shutterstock
For those who are looking to try a new nail shape, almondetto is the way to go. This new shape is a hybrid between an almond and a stiletto nail that can look great on anyone. It elongates your fingers and creates a narrow look that long-nail lovers are sure to adore. When creating the nail shape, it's important that the tips are not too round or too pointy to get the desired look that you're going for. 
If you're wondering how to wear these nails, they look great with almost any design or aesthetic. That is because its narrow shape and refined edge can complement a soft design or add to a funky acrylic set. These nails have already been rocked by a myriad of celebrities including Hailey Bieber (the queen of nail trends), Saweetie, and even Selena Gomez. If you need more inspiration on how to wear the almondetto trend, we have your back. 
Glitter ombré nails
Glitter is a fun addition to any manicure, so why not add it to your next almondetto set? For a creative spin, you can use chunky glitter to create a gradient ombré that looks very festive and fun. To imitate an ombré nail, apply the glitter layer by layer instead of all at once. 
Melting chrome nails
Almondetto nails are beautiful and structured, so adding a manicure style that's opposite creates a unique effect. Melting chrome nails imitates the look of the polish falling off your nail without making a big mess. If you want to create this nail, it's best to go to a nail technician who specializes in nail design.
Airbrushed nails
Airbrushed nails are as perfect as they sound. Instead of using the traditional nail polish brush, you use an airbrush machine to layer colors on top of each other and create a beautiful effect. When you pair it with your almondetto nails, you have the opportunity to make funky nails that stand out from the crowd.  
Shimmering amondetto nails
For those who want to add an angelic effect to their almondetto nails, keep the nails nude and add a light shimmer topcoat. These are great because they bring a gentle shine to your acrylic set, without using chunky glitter. This style looks great in the light and highlights your unique nail shape. 
French tips
French tips are a classic nail trend that will never go out of style. They can be done in a myriad of ways that — when combined with almondetto nails — can create a trendy twist. While French tips are traditionally done with a nude base and white arch, the combination can be done in any color based on your preferences.
Abstract nails
If you want to try a new nail shape but you don't know what design to use, then consider trying abstract nails. Abstract nails are perfect because they can be done in a variety of ways, as they don't require any structure. While you can take a reference photo to the salon, it might be fun to let your nail technician freestyle some unique artwork.
Vine nail art
If you are a fan of simple designs, add a few vine designs to your almondetto nails. Vines are amazing for beginners getting into drawing their own nail art, as well as those who are into going to the salon. They look great on anyone and can work for both the minimalist and the people who want to wear something extra.